Best Of
Top 5 new bikes at the Cologne Show
Brand new bikes for the following year are traditionally unveiled at the Autumn shows – particularly the huge EICMA even in Italy every November before then also being shown at the UK's Motorcycle Live, which follows at the NEC in Birmingham.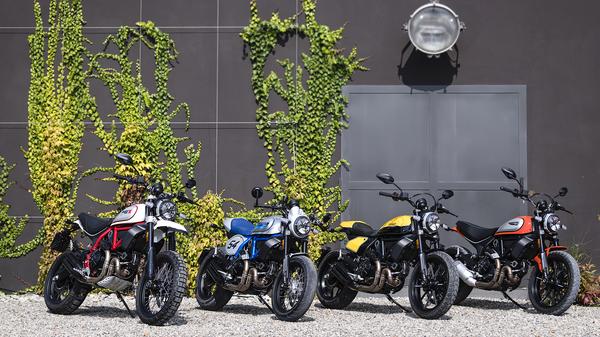 But every other year there's an added bonus – the biennial Cologne Intermot in Germany, which ranks second only to EICMA, and which traditionally, too, sees the unveiling of a raft of new bikes – and this year is happening right now.
So although we'll have to wait until November to see ALL of 2019's new bikes, more than a few have just been revealed. Nor are they 'just' from the local German or European manufacturers, either – although BMW, Ducati, with its updated Scrambler 800, and Italian compatriot Moto Guzzi, with its funky, adventure styled V85TT, all have a significant presence – the giant Japanese manufacturers often choose Cologne to debut their new machines, too. Kawasaki, for example, have this year chosen Intermot to unveil their significantly updated (and nearly 30bhp more powerful) supercharged Ninja H2 but at the other extreme has also chosen the German show to debut its return to the A1 125cc class with the new Ninja 125 and Z125. While Yamaha has also got into the act with not only revealing its new Tracer 700 GT at Intermot (see below) but also revealing their virtually all-new learner sportster – the YZF-R125. But which new bikes grabbed our eyes the most and were the highlights of the whole show? Here's our pick of the best…
1. Suzuki Katana – the one we've all been waiting for…
Suzuki, of all the Japanese 'Big Four' manufacturers have probably been the least prolific when it comes to new models in recent years – but they've arguably more than made up for it with this – it's all-new Katana. Although reviving the hugely-exciting and iconic Katana brand and imagery – Suzuki's Katanas of the early 1980s were probably among the most dramatic Japanese bikes ever – it's actually based on an existing machine: the GSX-S1000. In that sense, like Kawasaki's Z900RS retro, which is based on the Z900 roadster but with retro-styling, the new Katana is a thoroughly worthy and proven machine – and with 148bhp a decently performing one, too – but with all-new retro styling that inspires the spirit of the past. On this evidence, it more than works, too. Though no replica, it's instantly recognizable, well-specced, stylish and should be usable, too. As long as they don't make it too expensive…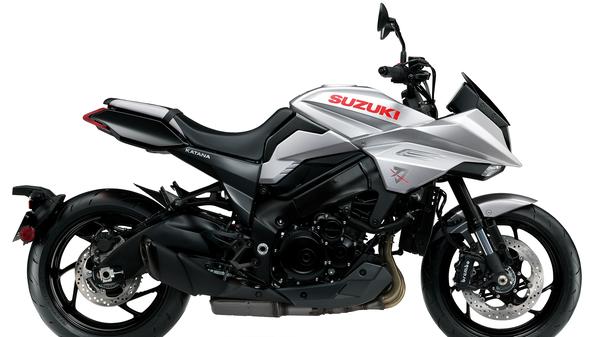 2. Indian FTR1200 – the revolutionary American one
After teasing the motorcycle world for the best part of a year with a 'concept bike' version, American Harley-Davidson rivals Indian finally unveiled their production FTR1200 in Cologne. Based on the V-twin, 1200cc Scout cruiser and inspired by Indian's all-conquering, 750cc US flat track racers, the FTR is a flat-track-styled roadster that promises to shatter forever the idea that American marques can't make performance bikes. With 120bhp from the reworked engine, a new, lightweight, tubular steel trellis frame, state-of-the-art inverted forks and Brembo brakes, we fully expect a fun-packed, retro-styled super-naked to rival the likes of Ducati's Monster but with its own unique US style. Two versions will be available: the base FTR1200 and a higher spec S with fully-adjustable suspension, three rider modes, traction and wheelie control and a customizable 4.3in TFT screen. We can't wait!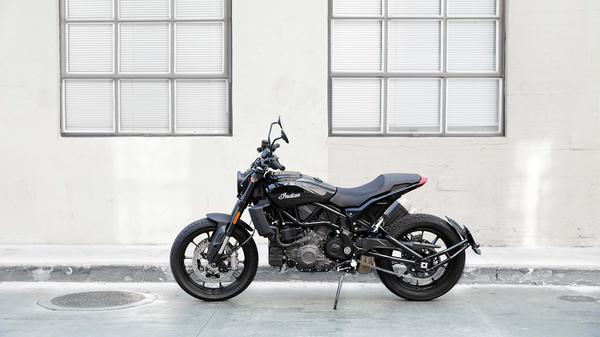 3. Yamaha Tracer 700 GT – the bargain but luxury all-rounder
Following the huge success of the updated and uprated Tracer 900 GT launched for 2018 – whose mix of fun, versatility and added luxury proved so good we made it our Sports-Tourer of the Year – Yamaha have perhaps unsurprisingly followed it up for 2019 by launching a similar version of its cheaper, little brother – the Tracer 700. Like the impressive, three-cylinder 900, the 700cc twin version is basically an up-specced version of the already brilliant standard Tracer. As such, the GT gets a higher, touring screen, more ergonomic and comfortable seat and colour-matched, 20-litre panniers. This time round, however, to keep things more affordable, the 700GT doesn't get the heated grips, cruise control and TFT screen which also helps set the bigger 900GT apart. But with a lively, 74bhp twin, lightweight and nimble chassis and added versatility and comfort it still looks set to be a great – and very affordable – all-rounder.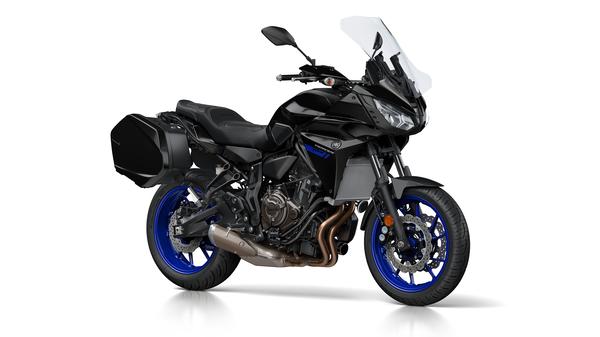 4. Ducati Scrambler – the uprated uber-cool ones
Italian legends Ducati, meanwhile, unveiled not one – but THREE – new versions of their stylish, entry-level Scrambler retros: the flat-track-styled Full Throttle; the Café Racer, with new wire wheels and bar-end mirrors, and an updated, trail-style Desert Sled. All get new side panels, LED lights, improved switchgear and more which debuted first on the updated Scrambler Icon last month. The 800cc V-twin powertrain, tubular steel trellis frame and easy manners of before are all unchanged.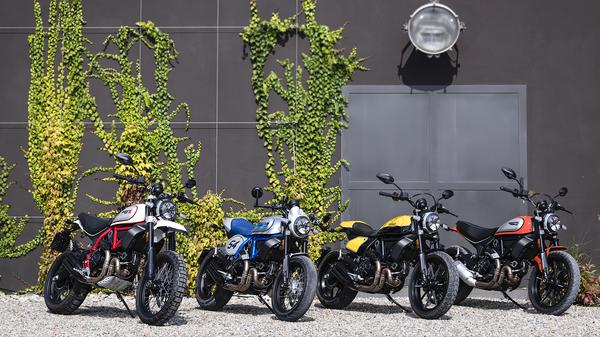 5. BMW R1250GS – the high tech one
No sooner had AutoTrader announced the latest R1200GSA as our Adventure Bike of the Year in our 2018 Bike Awards – than BMW reveal a new updated version for 2019! In truth, much of the bike, certainly chassis and equipment-wise, is unchanged. Instead, the big news is all about the engine: the familiar boxer twin's capacity is raised to 1254cc but the bigger news still is an all new head design BMW calls 'ShiftCam' where each of each cylinders' twin camshafts have a novel second pair of lobes per valve with very different profiles which is 'shifted' into place depending on throttle position, load etc. The result, in simple terms, is variable valve-timing such that softer, more torque performance is generated at low rpm with more power from the more extreme profiles at high rpm. Or, in other words, an overall power boost to 134bhp (from the old 1200's 125) without any loss of low down tractability. The standard GS version (along with a similarly-powered new R1250RT tourer) by the end of the year with the full-blow Adventure variant due in the New Year.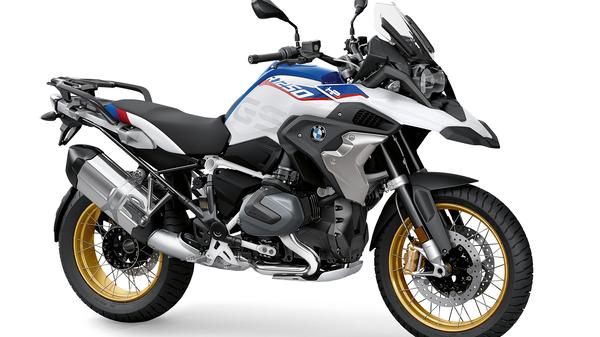 And finally…
Of course, these weren't the only new bikes unveiled in Cologne – merely the highlights. In addition, Kawasaki had their aforementioned updated Ninja H2, Moto Guzzi unveiled its new V85TT adventure-styled machine, Yamaha had their virtually all-new YZF-R125 and Triumph unveiled not one, but TWO significant new versions of its popular, retro Bonneville family.
The new Street Twin and Street Scrambler both now get the more powerful, 1200cc version of the Bonneville twin as seen on the Bobber and Speedmaster plus a host of other updates including stylish new clocks. Whatever else the leading bike manufacturers come up with in Milan next month, 2019 is already shaping up to be a great year for new bikes!