Best Of
Top 5 new bikes at EICMA
With the Cologne Show in October and Motorcycle Live coming up the bike show season is in full swing and with it the first tantalizing looks at all the new machines for 2019.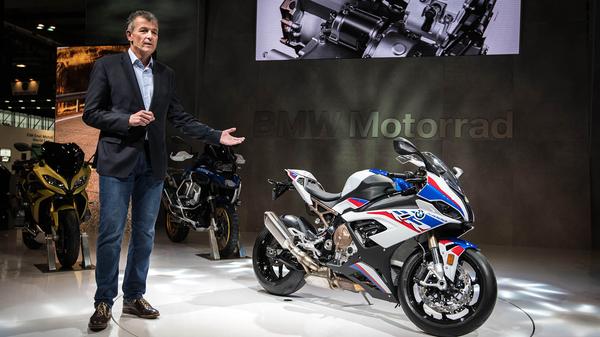 And the biggest show of all is the annual EICMA in Milan where, as expected, all the leading manufacturers unveiled a host of stunning new machines ranging from all-new, full-bore, superbike exotica from the likes of BMW and Ducati, both promising to light up the World Superbikes championship in 2019, to mouth-watering street scramblers and retro roadsters from Triumph and Honda to a new breed of middleweight adventure bikes from both Yamaha and KTM which promise to redefine the very concept of 'dual-purpose' machines.
All of these will also be on show to the UK public at the forthcoming Motorcycle Live at the NEC near Birmingham if you want to see them yourself. And with further new unveilings due there – with revived British marque Norton promising an all-new middleweight scrambler among others – it promises to be a 'must-see' event. In the meantime, though, and just to whet your appetite a little – here's our pick of the five best bikes unveiled in Milan.
1. BMW S1000RR – Superbikes redefined
While Ducati new, homologation-special, race-ready R version of its stupendous Panigale V4 superbike was one of the stars of Milan arguably even more sensational was BMW's unveiling of an all-new S1000RR – particularly as it's far more likely you or I will ever get on board one. The original S1000RR revolutionized litre-class sports bikes when first unveiled in 2009 thanks to its class-leading 190bhp, radical electronics and sumptuous quality and this first, fully revamped version looks set to do the same again. It's smaller, lighter, more powerful (now with 207bhp) and, thanks to even more sophisticated electronic rider aids, claimed to be actually easier to ride as well. What's more, BMW intend to prove as much on the world racing stage as well by also announcing in Milan that, for the first time in years, a BMW works racing team, lead by Brit Tom Sykes, will be competing with the new bike in next year's World Superbikes championship. Can't wait!
2. KTM 790 Adventure – the new 'dual-purpose' standard?
When Austrian off-road specialists KTM launch a whole new concept in dual-purpose bikes their pedigree demands that they're taken seriously – and with their eagerly anticipated, all-new 790 Adventures (two versions will available) they look to have delivered just that. Available as the stock, more dual-purpose orientated Adventure and as a more full-bore, off-road 'R', complete with longer travel suspension, more dirt-biased tyres and slightly revised bodywork, both are based around the parallel twin, 799cc engine which debuted in the 790 Duke in 2018. And with the same, punchy 95bhp, slim, manageable proportions plus KTM's usual top-notch electronics (including the latest full-colour TFT display) and cycle parts such as brakes and suspension, both look set to deliver world-beating on/off road versatility. In short: if you want a genuine adventure bike truly capable of mixing it on the road AND dirt for us mere mortals, KTM's newcomer could well be the one!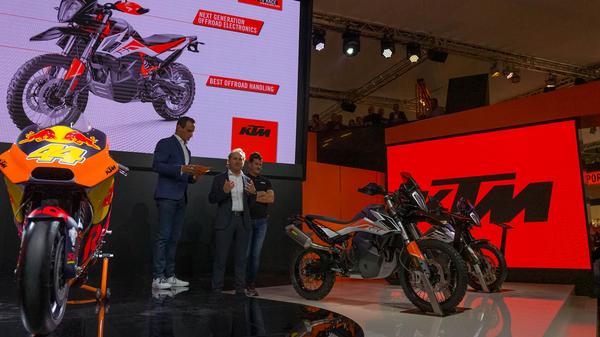 3. Honda CB650R – the return of Honda's Hornet
With this year's show season dominated by astonishing superbikes, concept-defying adventure machines and ultra-hip new retros it's easy to overlook the more affordable, middle-of-the-road offerings that most of us actually buy – unless you're Honda that is. 'Big H' might have no new 'wonderbikes' for 2019, but what they have done is thoroughly refresh and update not just one but TWO of its families of middleweights. So, not only have Honda's A2 licence-friendly family of 500cc twins, the CB500F roadster, CBR500R sports bike and CB500X adventure variant had a bit of a makeover and spruce up, their middleweight fours, the CB650F roadster and CBR650F sportster get a significant update, too. The biggest of these is to the CB650F. Now dubbed the CB650R, as the name-change suggests it's now meaner and sharper than ever – though still completely user-friendly. Styling is now Honda's 'Neo-Café' style, in line with its recent CB125R, CB300R and CB1000R, it gets LED lights, a new LCD dash, there's uprated USD forks and radial brakes and power is up by 5% too, all in all making it much more like the old and much-loved CB600F Hornet than ever!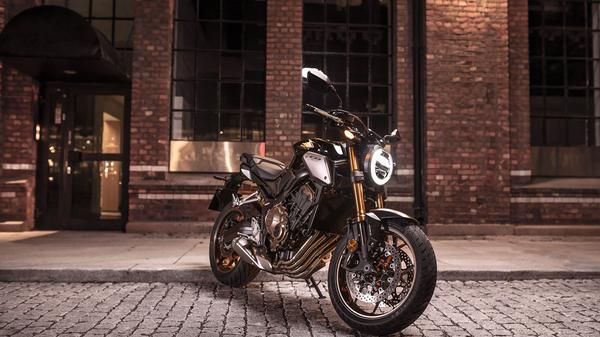 4. Triumph Scrambler 1200 – the retro adventure one
British marque Triumph were one of the first to produce a retro-styled 'street scrambler' when it first launched its 800 Bonneville Scrambler in 2006. Now, with a whole sub-culture that's grown up around the genre and with Triumph themselves having launched an all-new Bonneville in both 900 and 1200cc forms in 2016 it was perhaps inevitable that the Hinckley marque would eventually re-invent its Scrambler version, too. And for 2019 they've done exactly that. The all-new Scrambler 1200 draws from both the Bonneville 1200 and its Tiger 800 and 1200 adventure bikes to promise a new breed of truly off-road potent but still retro style scramblers. Available in two forms, the new bikes, like Triumph's Tigers, comes in base XC and top-spec XE forms – although both have genuine off-road potential. The detuned engine delivers a respectable 89bhp, there 21/17in wire wheels front/rear, quality suspension and Brembo brakes, updated LCD clocks and LED lights, tons of neat retro details (and further accessorizing options) while the XE version gets higher spec, longer travel suspension, uprated electronics and more. If ever you wanted a scrambler with true off-road – or indeed adventure – ability, it looks like it's finally here!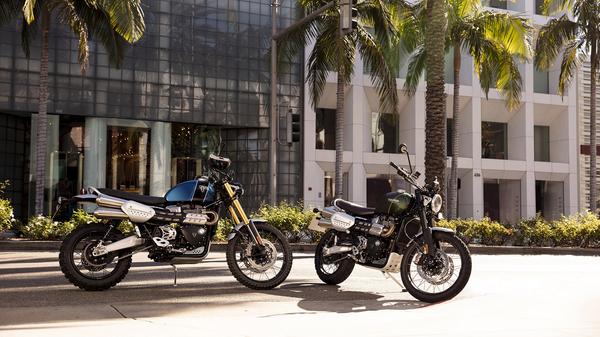 5. Yamaha XTZ700E Tenere - the desert racer one
If KTM was hoping to have things all its own way with its new middleweight adventure bike, the 790 Adventure, then, thanks to Yamaha, they'll have to think again. The Japanese firm's headline new bike for 2019, like the Austrian firm, is an all-new, truly dirt-capable, middleweight adventure machine based around a parallel twin engine. Called the 700 Tenere in honour of Yamaha's previous desert raiders, its based around a reworked version of the perky motor in Yamaha's hugely successful MT-07 family. On top of that there's 21/18in wire wheels front and rear, proper, long-travel dirt suspension, a dedicated off-road fuelling map, a rugged, all-new, tubular steel frame and bodywork including funky four-beam headlight that looks like its come straight off a Dakar Rally competitor. If you were fancying you own on/off road adventure to, say, the wilds of Africa anything soon, KTM has got serious competition.