Best Of
Top 5 new adventure bikes for 2019
Despite the growing popularity of retro bikes such as Triumph's Bonneville and the revival of superbikes, thanks to phenomenal new machines such as Ducati's Panigale V4 (our bike of the Year 2018) and BMW's all-new S1000RR, one category of motorcycle remains head-and-shoulders the most popular of all: adventure bikes – and there's a bumper crop of new offerings for 2019.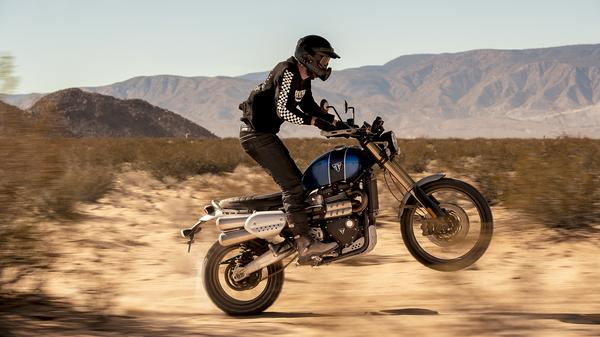 Adventure bikes are the do-it-all, 'two-wheeled SUVs' of motorcycling. With their upright, lavishly equipped riding positions they're all-day comfortable for two; with masses of luggage options possible they're brilliant touring machines; larger capacity versions such as Ducati's Multistrada 1260, with 160bhp on tap, have almost superbike standard performance and handling and yet many, thanks to their long suspension, rugged build quality and semi-knobbly tyres, are credible off-roaders, too. And when you add-in the luxurious features many are now available with, ranging from the latest, full-colour, TFT flat screen dashboards to heated grips and seats, adjustable screens and more, that huge popularity – despite sometimes the high price tags to match – isn't at all difficult to understand.
At the very top of the tree has long been BMW's brilliant, class-defining R1200GS – but that's had a significant makeover for 2019 to become the new R1250GS with, as before, a larger Adventure' variant available, the R1250GSA. But rivals are running the German bike closer than ever. What's more, for 2019, a new smaller, lighter breed of adventure bike with even more hardcore off-road ability has emerged with new bikes both from KTM and Yamaha. While, in addition, new, 'retro-styled' adventure bikes are also beginning to emerge designed o those who want the adventure bike experience, but with more fashionable, retro styling. So what are the big-bore adventure bike newcomers for 2019, what are they like and which should you go for? Here's Autotrader's pick of the 2019 Adventure bike newbies to help you decide…
1. Triumph Scrambler 1200 – the retro/off-roader one
Retro-specialists Triumph have come up with one of the most intriguing new adventure bikes for 2019 by mashing together the retro and adventure breeds. The new Scrambler 1200 is based on the 1200cc parallel twin from the Bonneville/Thruxton but retuned to give a meatier 89bhp and this has been fitted into an all-new, off-road orientated chassis then dressed in semi-retro styling. The result is not just one, but two models: the more basic, street-orientated XC starting at about £11,500 and the taller, slightly more hard-core, more off-road and better equipped XE for about £1000 more. Both have 21in wire front wheels, twin Brembo radial front brakes, fancy clocks, top notch electronics and genuine off-road ability but the XE, with an extra Off-Road Pro riding mode, more sophisticated, longer travel suspension and a slightly longer swingarm, plus other mods. If you want a bike that does it all but which also, genuinely, gives you the flavor and style of Steve McQueen riding the Baja dunes in 'On Any Sunday', no bike does it better…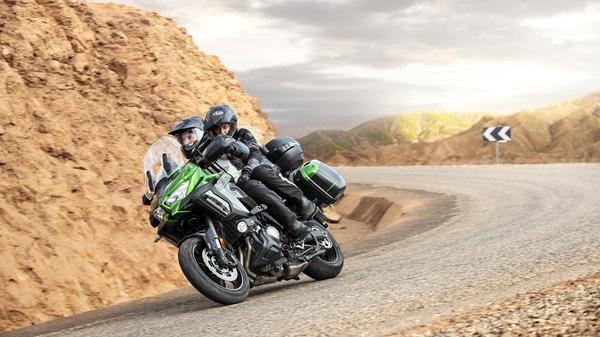 2. Kawasaki Versys 1000 SE – the upspecced, grand tourer one
The transverse four-cylinder Versys has always been a bit of an oddball ever since it was first introduced in 2012. Essentially a longer-suspended, detuned and restyled Z1000SX it was more a sports-tourer with adventure styling than a genuine off-roader with added road luxuries, as are most true adventures. But by being affordable (originally under £10K), comfortable for two and a reasonable performer it proved a hit – despite its 'unusual' looks. Updates in 2015 improved the look and specification while for 2019 it's been updated once more. Again, two versions are available, all with a host of options packages. The base Versys continues, now starting at just over £11K, with an unchanged, silky smooth 118bhp engine but with a restyled fairing including adjustable screen, new clocks and switchgear all derived from the H2. But the bigger news is the new, uprated SE version which gets Kawasaki's novel electronic suspension, quickshifter, LED cornering lights, colour TFT clocks from the H2 SX, heated grips, handguards, the works. On the downside, all that adds up to a price starting at well over £14K, so the bargain tag no longer applies. Nor has it, despite the impressive spec, the composure and performance of some equally priced rivals, but if you want a high-spec, hugely comfortable and smooth, adventure styled grand tourer, it's certainly worth a look.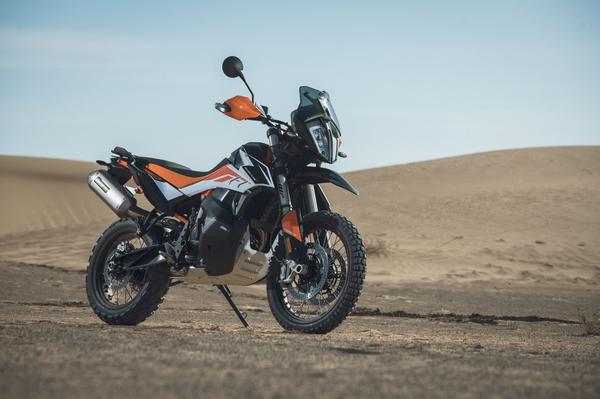 3. KTM 790 Adventure – the true off-road one
There's no other way of putting it – KTM's all-new and eagerly-awaited 790 Adventure is a game-changer. Until now, the Austrian off-road specialists offered either lightweight, small capacity singles or big (1000cc+) machines. The 790 changes all that. Based around the punchy, sophisticated, 94bhp parallel twin first introduced in 2018 with the 790 Duke, the Adventure is, unsurprisingly, a faired, adventure-style version with, as you'd expect from a firm with such a dirt pedigree, simply brilliant off-road credentials. As with some of the other bikes here, two versions are available: the base 790 Adventure, starting at just over £11K, and the more hardcore, off-road orientated R priced currently at just under £12K. Both promise genuine 'adventure' ability thanks to clever features such as their 20-litre 'pannier' fuel tanks along with top spec touches such as a colour TFT display and state of the art electronics. But best of all is how they go – particularly off-road, where the R's top-spec, WP 48mm forks, 189kg light weight and ergonomics that make most previous adventures seem like lumbering behemoths, comes to the fore.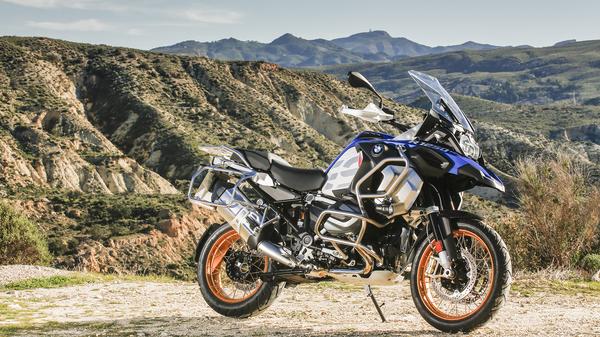 4. BMW R1250GSA – the uprated king
BMW's boxer-powered adventure duo need little introduction. The preceding R1150GSA, back in 2002, was the original, purpose built, big-tanked adventure bike, as found fame and popularized in Ewan McGregor and Charley Boorman's Long Way Round TV journey. That bike was updated to 1200cc form in 2005 updated in-between and then fully revised in 2013. Throughout all of that it's become established as not just the benchmark big adventure but also a best-seller. But with the performance of rivals such as Ducati and KTM starting to creep ahead, the German marque has given it a significant update again. For 2019, the famed GS has not only grown to 1250cc, it gains their clever 'ShiftCam' technology, which varies the inlet cam according to throttle position so allowing both peak power and low down torque to be maximized. The result is a useful boost to 134bhp (from 125) enough to keep up with most rivals. In addition, there's a new, fancy TFT colour display, uprated electronics, LED lights and more enough to have you wondering, in fact, if anybody needs anything more from an adventure machine. The answer, for the moment at least, is a resounding 'No'.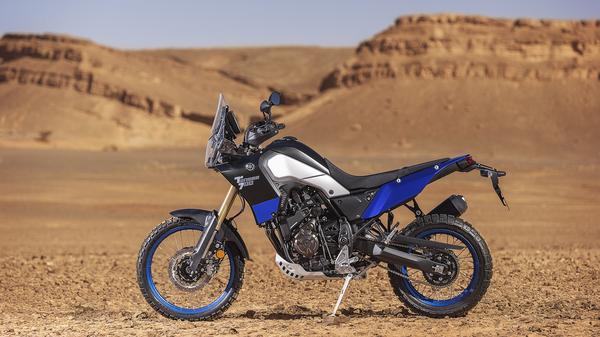 5. Yamaha Tenere 700 – the desert racer replica
It's been a long time coming – the Japanese giant have been teasing the public with repeated showings of its prototype 'T7' for a number of years – but Yamaha's all-new, lightweight, twin-cylinder, off-road-targetted adventure bike is finally here – and it looks to have been worth the wait. On paper it has a lot going for it: a retuned version of the MT-07's brilliant 689cc parallel twin producing 73bhp; and all-new chassis featuring a 21in front and 18iun rear wire wheels for genuine off-road ability; decent long-travel suspension and a look and overall style that shouts 'Dakar Rally replica'. Granted, it's less luxurious and road-potent than, say, a Ducati Multistrada, nor, with a meagre 16-litre fuel tank, has the long-legged range of bikes like the R1250GSA, with 30-literes to draw on. But as a do it all, off-road centric fun bike little, bar maybe KTM's pricier new 790 Adventure, comes close.