Best Of
Top 5 Alternative 3 Wheel Motorbikes
If the continuing popularity of Piaggio's MP3 three-wheel scooter family and the recent introduction of Yamaha's radical, Tracer 900-based Nikken, leaning three-wheeler motorcycle (see our reviews here) proves anything it's that there's a growing interest in three-wheeled scooters and motorcycles.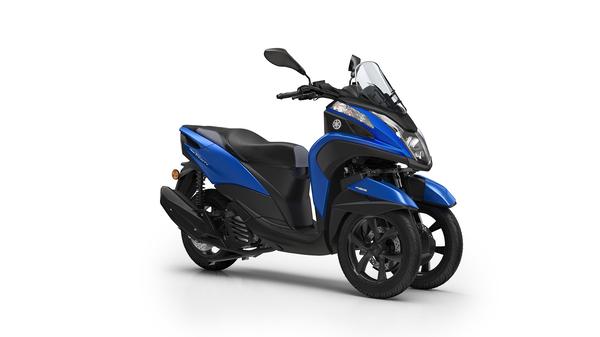 There are good reasons for this. Conventional motorized two-wheelers can be intimidating for raw novices for two main reasons: firstly by being alien machines both to ride and control – few, after all, unless they've had a childhood packed with junior motorcycles, are capable of easily getting on and riding a motorcycle or even scooter without relatively extensive training, initially off-road.
And secondly, and perhaps even more importantly, conventional two-wheelers also have an at least questionable reputation when it comes to safety. You don't have to be a genius, after all, to know a two-wheeled motorcycle of scooter is inherently unstable; they fall over – especially in slippery conditions. Three-wheelers change all that. We've reviewed the latest examples of the breed, machines like the Yamaha Nikken, Piaggio MP3 and Peugeot Metropolis previously – but that's by no means the end of the story. 'Leaning 3-wheeler scooters', as exemplified by the Piaggio MP3 whereby two front wheels operated by a sophisticated parallelogram suspension system, provide far more front grip than a conventional single front wheel, yet still enable the rider to 'lean' around turns, remain the most common. This system both eradicates the likelihood of falling over while also delivering a far greater sense of security, especially on slippery roads, hence their popularity in the oil-strewn and pot-holes city centres – but there are others, too, to suit all tastes and requirements, some of which you may have never heard of. Here's our pick of some of the best…
1. Yamaha Tricity 125 – the accessible one
With all the bally-hoo recently surrounding Yamaha's Nikken 900 three-wheeler, it was perhaps inevitable that the Japanese firm's earlier, smaller and perhaps more conventional three-wheeler, the Tricity 125 scooter, has been a little overshadowed – but it's more than worth a look. With its 125cc engine making it A1 eligible, leaning wheel design, linked brakes and affordable £3800 price it's arguably one of the easiest, least intimidating and most accessible ways onto three wheels and is a slick way of getting around town.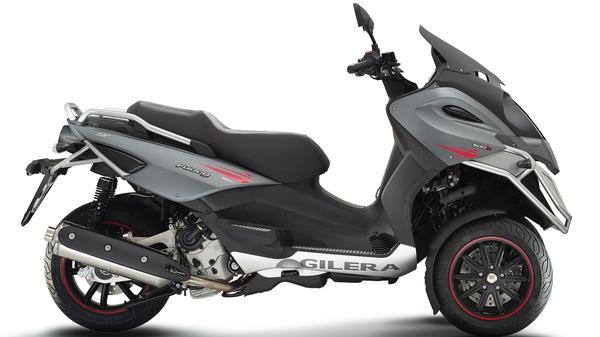 2. Gilera Fuoco 500 – the sporty one
Sadly no longer available new in the UK, although there are plenty of used options available ranging from £2500-5000, the Fuoco was launched in 2007 by parent company Piaggio as a slightly larger, sportier alternative to its own MP3 leaning scooter. As such it's got bags of aggressive style, with 39bhp from its 493cc single cylinder engine, it's capable of over 90mph plus it's practical and mildly entertaining as well, so much so that it's a shame it was deleted from Piaggio's line up in 2014.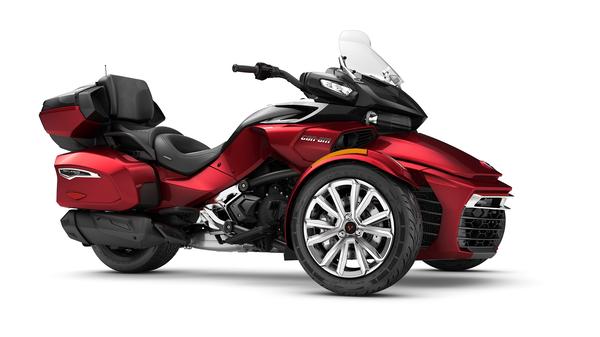 3. CanAm Ryker & Spyder – the half-car/half-motorbike one
Something of a one-off oddball in the motorcycling world, CanAm's rigid (ie non-leaning) three-wheelers are still worth a look. Made by the huge, Canadian BRP group (Bombardier Recreational Products) who also make a huge range of ATVs, snowmobiles and the like, their first three-wheeler, the Spyder, was launched in 2007 using a Rotax V-twin engine, rigid, car style front axle and motorcycle rising position and powered rear wheel. To date over 100,000 have been sold, mostly in the US. Six different versions are currently available priced £16-26,000. The Ryker, meanwhile, was introduced this year as a more lightweight, affordable version using a 600cc engine with prices starting from £8600.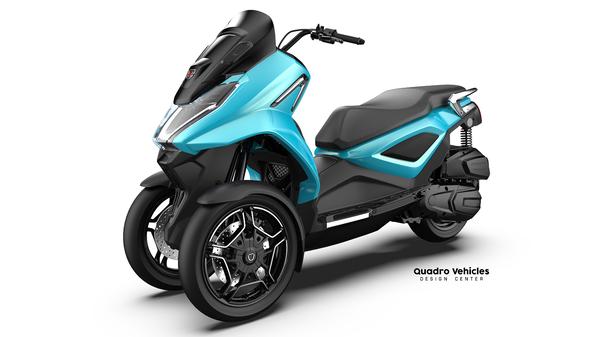 4. Quadro – the European one
Founded in Switzerland in 2010, Quadro Vehicles is a name unfamiliar to most but has built a growing reputation for its novel three – and four – wheeled leaning scooters. The 350cc QV3 and lightweight 300cc Nuvion are its current three-wheelers and, although rare in the UK, can be found new with prices starting at around £4000 and feature an impressive spec including TFT digital display. But even more left-field is its leaning FOUR-wheeler, the Qooder. If you want to stand out – and be secure – on a scoot, there's no better way.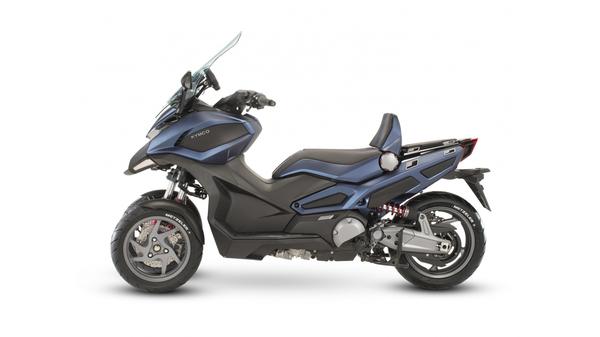 5. Kymco CV3 – the future one
Taiwanese manufacturer Kymco have grown over recent years to become a significant player in the scooter world and on the strength of this concept leaning three-wheeler unveiled last year at the Milan show, it, too is about to move into the three-wheeled world. Looking like a mash-up between a Piaggio MP3 and Yamaha Nikken and presented with a version with even a roof it's powered by a 550cc parallel twin engine and is expected to be launched in production form later this year.