Feature
New bikes for 2021!
A whole raft of new motorcycles have already been confirmed and unveiled for next year, with more still to come. Here's our pick of the best so far...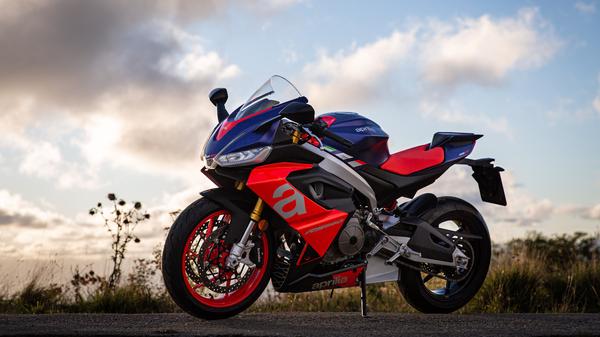 Words by: Phil West
Published on 6 November 2020 | 0 min read
1. Aprilia RS 660 – the new supersports
With the virtual complete demise of the old 600cc, four-cylinder supersports category it's been a while since there's been a new middleweight sports bike that's been worth getting excited about – but that's certainly the case with Aprilia's all-new RS660. Conceived as a new kind of sportsbike in being unintimidating with just 100bhp from its parallel twin, 660cc motor, roomy and road relevant with non-extreme ergonomics and also, at around £10K, affordable, too, the RS is also a genuinely credible sports machine thanks to weighing just 183kg and having good quality suspension, brakes and electronics. It's no 170+bhp, 1100cc RSV4 weapon, admittedly, but on the road at real world speeds it feels like one and is arguably even more enjoyable and usable. In fact it's so good it could be the start of a whole new middleweight sports class.
2. Ducati V4 Multistrada – the revolutionary Italian
A revolutionary addition to the adventure bike class – in more ways than one. Ever since Ducati unveiled its all-new, 200bhp V4 Panigale superbike in 2018, so signifying the end of the Italian firm's reliance on V-twins for its flagship sports machines a similar switch to V4 power for its popular and versatile Multistrada adventure bike family has been on the cards. For 2021 Ducati has confirmed it's finally here and, although, as we write, the final bike has yet to be fully unveiled Ducati has also confirmed that not only will the new bike feature pioneering radar-assisted cruise control (as also debuting in 2021 on the latest BMWs and KTMs) but even more radically its V4 engine, called the 'Granturismo' will radically ditch Ducati's traditional desmodromic valve operation in favour of traditional camshafts and valves. Should be amazing!
3. Ducati Scrambler 1100 Pro Dark – the stylish retro
Another Ducati newcomer for 2021 is this new 'Dark' version of its updated-for-2020 Scrambler 1100 Pro duo. In case you didn't know already, the Scrambler 1100 is the bigger, more powerful, less novice-orientated version of its popular Scrambler 800 retro family. Two new versions were introduced for 2020: the standard, higher-barred 1100 Pro and the lower-barred but higher spec 1100 Sport Pro, complete with Ohlins suspension. Both also got a styling tweak and engine revisions to comply with Euro5 regulations although peak output from its aircooled V-twin remained unchanged at 85bhp and 65ft-lb of torque. They're decent rides, too, with the Sport Pro standing out for its cultured ride and handling, even if it's performance is a little disappointing, especially for its £12K+ price. The new Dark, however, changes that by basically being, as with previous Ducati Dark models, a more affordable version. Accordingly it's based on the standard 1100 Pro but comes with different mirrors and plain black livery (which actually suits it well) and costs a full £800 less at just £10,495 making it a truly tempting entry point into Ducati's bigger retros.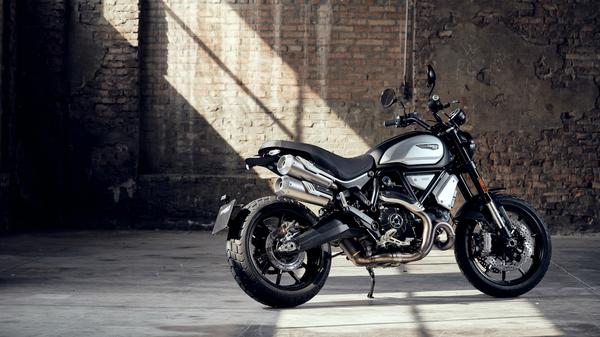 Ducati Scrambler 1100 Pro Dark
4. Triumph Trident – a great name returns
OK, it's not quite here yet, but enough 'spy' shots and details have been released by the Hinckley-based British firm to know that the long overdue return of the Triumph Trident is worth getting excited about.
The original Triumph Trident 750 first emerged in 1968 as the great three-cylinder hope for the ailing British marque against the likes of Honda's then revolutionary first 750 four, the CB750, although in reality it was a case of 'too little, too late'. John Bloor's revived Hinckley Triumph concern rekindled the name for its 750 and 900cc three-cylinder roadsters when the brand new concern launched its first six all-new bikes in 1991. These were among the best received of the new models and lived on until 1998. Now, 22 years later, the evocative name is being revived once more, again as a three-cylinder roadster but this time between 600 and 750cc and conceived as an 'entry-level' machine to take on the likes of Yamaha's popular MT-07 700cc roadster twin. Details have yet to be confirmed but, being a triple and a Triumph it promises to have Hinckley's distinctive character and good handling, also be available in A2 licence trim and cost, hopefully, under £7500. We can't wait!
5. BMW R1250RT – the best gets better
No bike dominates its class so comprehensively as BMW's definitive tourer, the big, classy and comfortable boxer-powered R1250RT. Available in various capacities and formats, the RT has been the 'go-to' tourer ever since the original R100RT arrived way back in 1978, however since its latest reincarnation in 2014, despite a small recall glitch, it's proved head and shoulders above all-comers. Lighter and better handling than ever it combines sumptuous comfort and optional equipment with a class-leading fairing, flexible boxer performance and far better handling than any bike of this type. That bike was boosted by nearly 10bhp to 134bhp with the adoption of BM's new 1250cc 'ShiftCam' engine in 2019 and now, for 2021, that bike gets an even bigger update, partly to comply with Euro5, but also gets new radar-controlled adaptive cruise control (a'la Ducati V4 Multistrada, see above), a face lift to match (including new LED lights), massive new 10.25in TFT dash and more. If you want the best all-round tourer this will be it.
6. BMW M1000RR – the 'M' designation gets onto bikes
Nor is German marque BMW restricting its 2021 newcomers to sensible tourers – another shock is the unveiling of its M1000RR, which sees BMW's first use of its famous 'M-sport' designation, previously restricted to its high-performance cars, applied to a two-wheeler for the first time in the shape of the M1000RR, a tuned, high spec, limited edition and hyper expensive version of its latest S1000RR superbike. Internal engine mods including high compression forged pistons and lighter conrods help raise the rev ceiling by 500rpm, in turn boosting peak power to a bonkers 209bhp. Chassis mods include revised, more adjustable geometry, new Nissin calipers and updated electronics, while the bodywork also boasts new carbon fibre winglets intended to improve aerodynamics and downforce. Primarily a 'homologation special' for BMW's WSB effort it's arguably the ultimate BMW superbike and costs just under £31,000.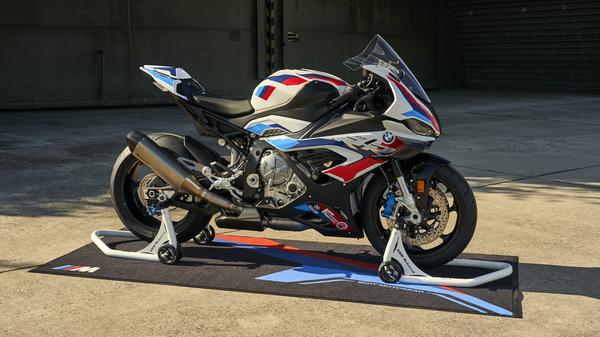 BMW M1000RR
7. KTM 1290 Super Adventure – a new adventure king?
Although yet to be officially unveiled various spy pics have confirmed the imminent arrival of KTM's new flagship adventure machine which, like before is to come in two forms – a road-biased S and a more off-road R with 21/18in wire wheels, longer travel suspension, knobbly tyres, slightly revised bodywork and so on. The key updates for both, however are: a revised, 1301cc, Euro5 compliant V-twin engine based on that of the latest Super Duke super naked; a new, lighter chassis including an aluminium sub-frame and new bodywork incorporating, as with Ducati and BMW, that musty-have electronic riding aid for 2021 – a radar senor for its new adaptive cruise control system.
8. KTM 890 Adventure – more, more more!
And, with Austrian firm KTM vying to be the adventure bike kings, one new orange adventure model just wouldn't be enough for 2021, so there's two – the second being this new 890 version. Basically, as with last year's 790-890 Duke upgrade, it's a larger version of the 790 Adventure launched in 2019 but now with 90cc larger, 889cc version of its punchy parallel twin motor that's also now Euro5 compliant. As such, both power and torque are up (to 103.3bhp and 73.8ft-lb respectively) plus there's also a revised shock, lightened frame, uprated brakes and improved electronics while, as before (and also with the 1290 version), to variants are available, a standard machine and a more off-road able R version.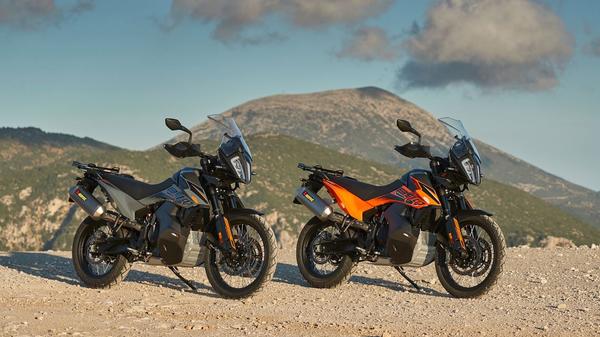 KTM 890 Adventure
9. Suzuki Hayabusa – return of the speed king
Although not yet officially confirmed, we're expecting, due to a combination of leaked reports out of Japan and official patent applications, a virtually all-new and long overdue replacement for Suzuki's original hyperbike, the GSX1300R Hayabusa, in 2021. The original, 197bhp 'Busa was first launched in 1999 and, thanks to its radical aerodynamics and huge power, immediately set the new benchmark for speed. A significantly updated successor came in 2008 with a further revision including new brakes in 2013 before it finally fell foul of ever-tightening EU emissions regulations and was deleted in 2018. For 2021, however, it's back with a significantly enlarged engine we're expecting to be around 1440cc, revised intake and exhaust to meet the latest regs, new bodywork and dash and a whole raft of the latest electronic rider aids packages, we expect, as 'S.I.R.S', or 'Suzuki Intelligent Ride System'.
10. Honda Forza 750 – watch out TMAX!
Just when Yamaha's TMAX was seeming to have everything its own way in the 'super-scooter' class, Honda has just unveiled the biggest ever version of its popular Forza, which is a UK and European best seller in the 125 and 300cc categories. For 2021 the whole family is refreshed: there's an updated 125 with a taller screen and new USB socket; the 300 becomes the 350 with an extra 30cc and 4bhp, taller electric screen and a new look and, best of all, there's an all-new 750 version which replaces the old 750 Integra, uses a revised and now Euro5 compliant version of that machine's clever, semi-automatic, 'Dual Clutch Transmission' or 'DCT' 750cc parallel twin and promises to be a brilliant commuter.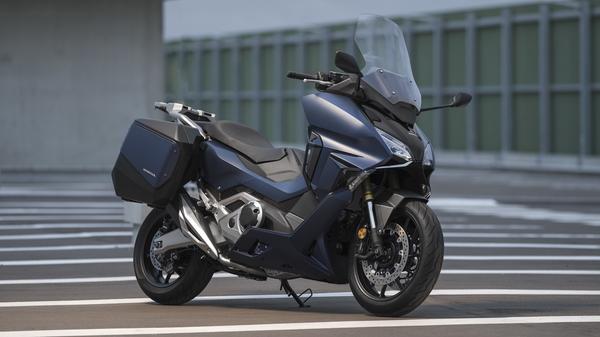 Honda Forza 750
11. Kawasaki Versys 1000 S – S model joins SE
Kawasaki's slightly oddball but brilliantly versatile and affordable four-cylinder 'sport adventure', the Versys 1000, gets another significant makeover for 2021. Last updated in 2019 when two models were offered: a more affordable base version and a top spec SE with semi-active suspension, fancy paint, full colour TFT dash and more. Now, for 2021, the SE gets more sophisticated still via updated electronics with a price now approaching £15K while the base model becomes the S complete with quickshifter, TFT dash, cornering riding lights, heated grips, improved riding modes for just under £13K.
12. Honda CB125F – economy measures
Last (for now) but by no means least – especially when it comes to fuel economy – is Honda's all-new replacement for its worthy, straightforward 125cc commuter, the CB125F. Although the name of the machine is unchanged, virtually everything else about it is, ranging from the lighter frame to updated dash and bodywork now including a small screen. But the biggest news of all is an all-new engine which, although still an air-cooled, four-stroke single features a raft of updates which, although the 11bhp performance is unchanged, fuel economy is improved by a massive 27% so that the venerable commuter is now capable of a massive 188.4mpg.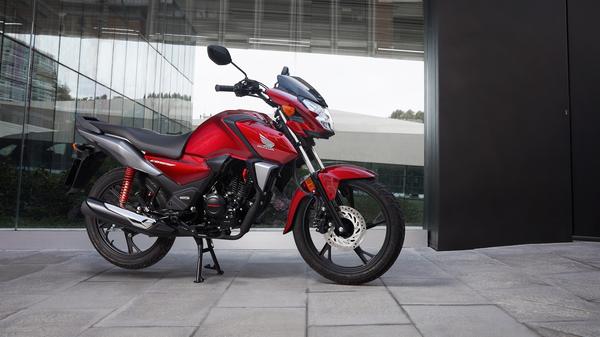 Honda CB125F