Advice
How to Measure Yourself to Find the Right E-Bike
Here we'll guide you through the process of measuring yourself for an e-bike, to help you make an informed decision to find the perfect e-bike for you.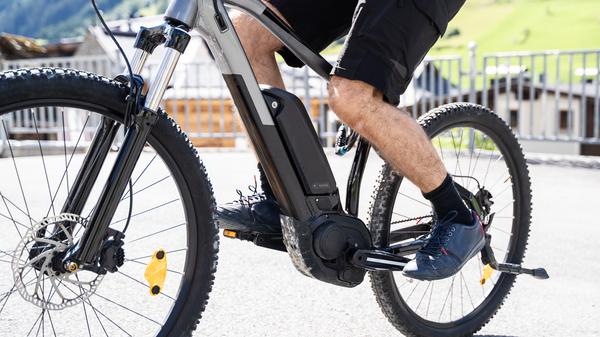 Words by: Auto Trader
Published on 2 August 2023 | 0 min read
Choosing the perfect e-bike for you involves a little more than just considering the different types and models available. One crucial part is finding the right size that fits your body and riding style.
E-bike sizes can vary between brands, so it's important to know how to measure yourself accurately to ensure a comfortable and enjoyable riding experience.
Measure Your Inseam Length
The inseam length is a fundamental measurement when determining the appropriate e-bike size. To measure your inseam, stand with your back against a wall and place a book between your legs, firmly against your groin. Measure from the top of the book to the floor. This measurement provides an estimate of the minimum standover height you should consider when selecting an e-bike. Ensure there is ample clearance between the top tube and your body to ensure a comfortable and safe fit.
Consider Reach and Stack
Reach and stack measurements determine the bike's overall length and height, respectively, and play a significant role in your riding position. To measure reach, sit on a flat surface with your back straight and arms extended forward. Measure the distance from the base of your neck to the tips of your fingers. For stack measurement, sit with your back straight and measure the vertical distance from the centre of the bottom bracket to the top of the head tube.
Assess Top Tube Length
The top tube length influences your riding position and comfort on the e-bike. To measure the top tube length, start by measuring your arm span from fingertip to fingertip with your arms outstretched horizontally. Then, divide this measurement by two. The resulting value provides an approximate range for the top tube length to consider.
Evaluate Seat Tube Length
The seat tube length affects your leg extension and pedalling efficiency. To measure the seat tube length, stand against a wall and measure the distance from the floor to your crotch. Consider this measurement as a reference for finding an e-bike with an appropriate seat tube length. It's important to note that e-bikes often have a sloping top tube design, so the seat tube length may not directly correlate with the standover height.
Seek Professional Assistance
If you're unsure about measuring yourself or need additional guidance, it's beneficial to visit a reputable bike shop. Experienced staff can assist you in measuring your inseam length, recommend appropriate e-bike sizes based on your measurements, and help you find the right fit within different brands and models. They can also consider factors such as your riding style, intended use, and personal preferences to ensure an optimal fit.
Measuring yourself accurately is a vital step in finding the right e-bike that provides comfort, control, and an enjoyable riding experience. By investing time in measuring yourself properly, you'll be on your way to finding the perfect e-bike that will enhance your cycling adventures for years to come.
Where can I buy an e-bike?
Find an e-bike for sale on Auto Trader
here
.