Feature
Harley's new 2018 Softails
Where there were once two ranges - Dyna and Softail - there's now just one, eight-strong range of Softails, all of which show that Harley belies its image, going through something of a revolution.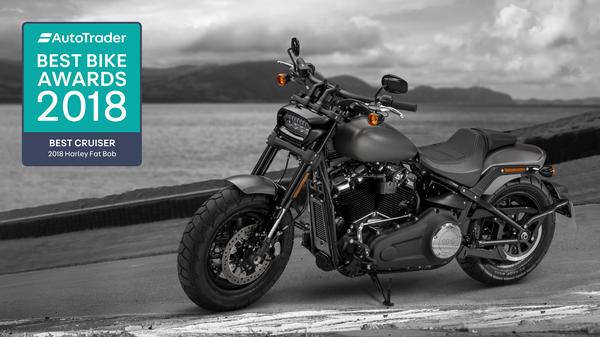 You'd be forgiven for thinking that Harley-Davidson, the American cruiser giant whose image is based very much in the '50s, doesn't do 'change' or modern high tech very well.
But, in recent years, although that carefully nurtured image remains entrenched in 'Happy Days' diners and jukebox culture, there's been a quiet revolution in Milwaukee in terms of tech. First, in 2014, under the 'Project Rushmore' banner, Harley gave its touring family, including the legendary ElectraGlide, a complete update that included new, partially watercooled, 'Milwaukee-Eight' engines, fully updated suspension and brakes, plus lots of new gadgets and luxury, such as an impressive 'Infotainment' system, LED lights and more.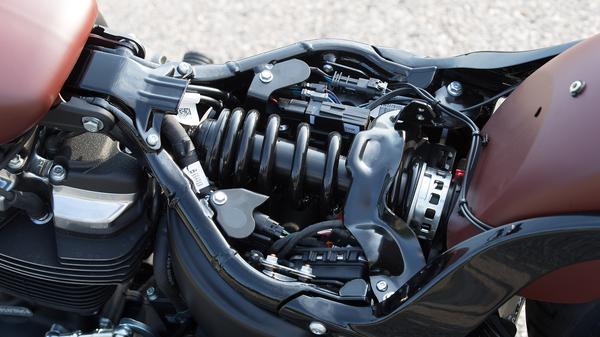 While now, just as radically, the US firm has totally revamped its 'big twin' cruiser line-up – with this new eight-strong 'Softail' range being the result. And although, on face value – and especially if you're not a Harley devotee – they may seem to be not that much different from the old, believe me when I say this is big, big news. The resulting new Softails are not just lighter, better handling and quicker; they're also far more modern, better equipped and stylish as well.
To recap: until now, aside from its touring family, Harley's big twin cruisers, ranging from the classic Low Rider to the monster Fat Boy, were either 'Dynas' or 'Softails'. The 'Dyna' bit referred to the twin-shock rear suspension of some models, such at the Low Rider and Street Bob, while the Softail models, like the Fat Boy, instead used a rear suspension arrangement where two, shorter-travel shocks were hidden away under the gearbox to give the classic 'hardtail' look, albeit with a slightly compromised ride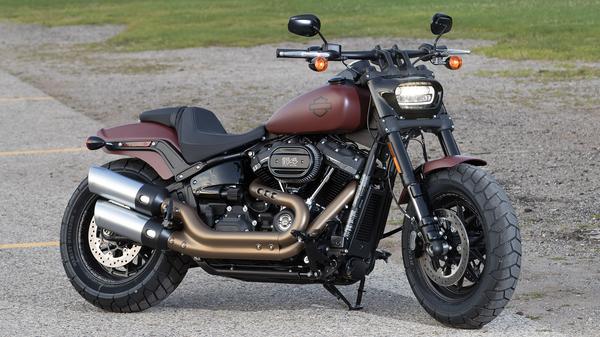 This has now changed. The Dyna and Softail ranges have now been replaced by one, all-new Softail family based around an all-new, more advanced frame which now has a single, angled, cantilever monoshock under the seat reminiscent of Yamaha's old RD350LC. This new tubular steel frame is not just lighter and stronger than before, it's comprised of fewer components and, via a modular system of three differently angled headstocks and two widths of swingarm, it can be configured into eight different bikes, as outlined below.
Nor does it end there. The classic, 45-degree Harley V-twin has also been uprated to 'Milwaukee-Eight' spec, which is not just larger (at 107cubic inches, or 1746cc) and more powerful than before, but now also has liquid cooling for the first time, specifically around the exhaust valves via a neatly hidden radiator mounted between the frame downtubes. In addition, four of the new eight-bike range is also given the option of the bigger and more powerful still 114ci (1868cc) version of the engine as well. Last, but by no means least, the styling and bodywork have been updated and refreshed across the range, there are snazzy new LED headlights, and the instrument displays were updated as well. Here's our guide to all the new Softails.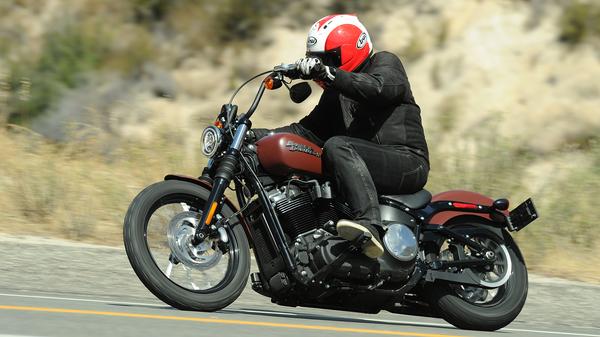 FXBB Street Bob (Starting at £12,295)
Most basic, 'bobber' style entry into H-D's Big Twin line-up is inspired by '60s/'70s-style choppers and defined by its high 'ape-hanger' bars, which limit practicality and comfort but, being lower than before, aren't as extreme as they look. Previously a Dyna, thanks to the new chassis, it's noticeably lighter and tauter than before, cleaner-looking and, with neat new touches such as its LED headlamp and 'barely-legal' miniaturized clocks set into the top handlebar clamp, classier than ever as well. Powered by the 107in engine only, big Harleys don't get plainer, bolder or more honest and affordable than this.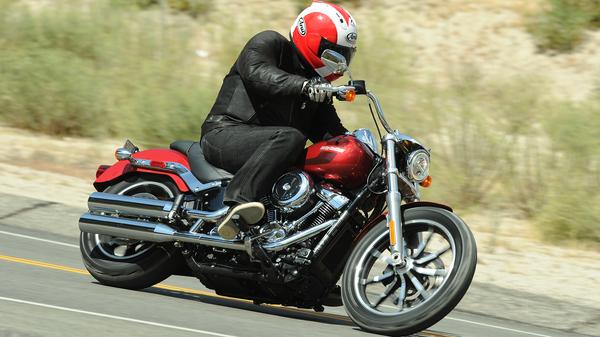 FXLR Low Rider (Starting at £13,645)
Another Softail that was previously a twin-shock 'Dyna'. The original 1977 FXS Low Rider is considered the very first factory custom and proved an instant hit, changing the course of H-D history. This latest version faithfully continues the classic look, complete with lashings of chrome and metalflake, has a usefully ultra-low seat and, without over-fat tyres or extreme geometry is a neutral handler. Unexceptional in many ways, it's also a decent step up from the old bike and, again, is powered by the fruitier 107ci motor. If you want a classic, unintimidating, big Harley at a good price, this is the one.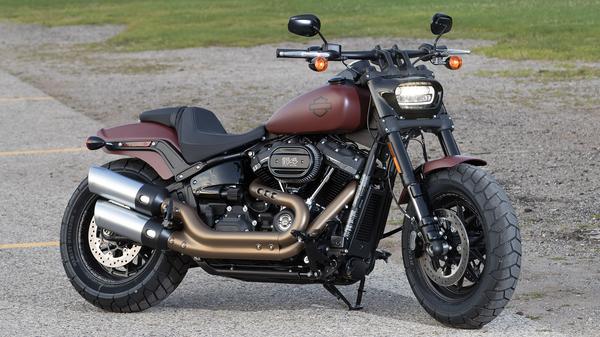 FXFB Fat Bob (Starting at £14,295)
Probably the most striking of all the new Softails, the all-new Fat Bob is the hot rod of the range, with all the looks, chassis dynamics and engine potency that suggests. Available with either the 107 or 114ci motors and with the sharpest steering geometry in the range, the Fat Bob is also the only one with twin front disc brakes and fat, inverted front forks. As a result, and despite a semi laid-back riding position and chunky, semi-knobbly tyres, the 'Bob begs to thrashed and scratched. It's no sports bike, admittedly, but it's arguably madder than any previous Harley, great-looking, thanks partly to that aggressive, 'letterbox' LED 'lamp, and has plenty of 'bad-ass' attitude.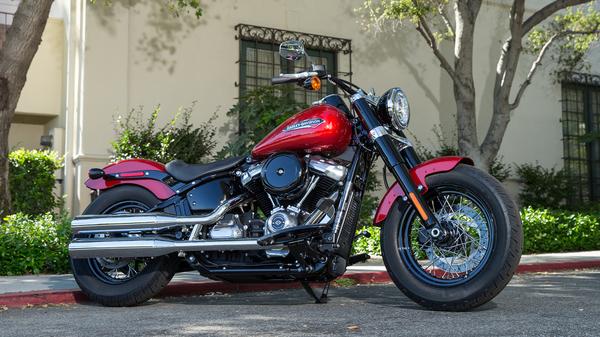 FLSL Softail Slim (Starting at £16,045)
Like some of the other new Softails, the Softail Slim has had a styling change of direction to go along with its uprated-for-2018 mechanicals. Now inspired by the post-WWII 'bobber' fashion, where returning GIs chopped-down (or 'bobbed') their ex-military Harleys, the Slim is low, lean and blacked out, but with slim, small-diameter tyres. The result, along with the uprated engine and improved chassis, not only looks great, but is low, easy and comfortable to ride and a sweet handler through the twisties as well – in fact it's arguably the best of the whole range.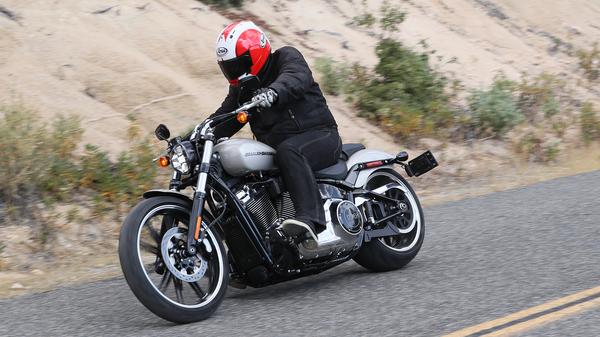 FXBR Breakout (Starting at £17,245)
This dragster-inspired 'modern chopper' is, apparently, one of Harley's most popular big twins in the UK, so, engine and chassis updates apart (it also gets the 107 or 114ci engine options), the Breakout is also arguably one of the least changed. The kicked-out forks, narrow 21-inch front hoop and drag bike-style ultra-fat 240-section rear means it's certainly not nimble and corners can take some effort. But, it looks a million dollars (partly thanks to those lovely, 10-spoke, cast alloy 'Gasser' wheels) and in a straight line it is, quite literally, a blast.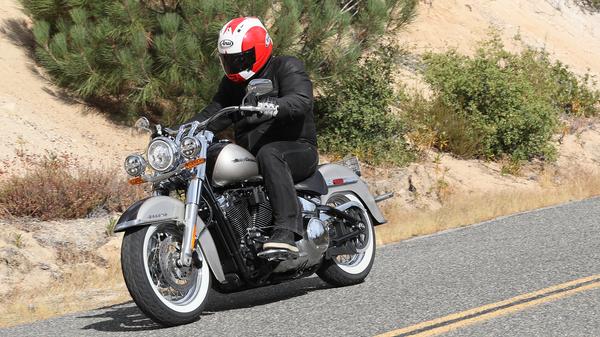 FLDE Deluxe (Starting at £17,245)
With the styling changes to the Softail Slim and Heritage Classic (both of which have now gone for a more '40s 'look'), the Deluxe is arguably the sole remaining '50s-style bike in Harley's Softail line-up – but, boy, does it do it well! With classic whitewall tyres, lashings of chrome, pull-back bars and extra riding lights, the Deluxe has the Art Deco look down pat. And, with the improved chassis and engine, new lights, clocks and more, it not only goes and handles noticeably better than before, it's better-looking at a standstill, too.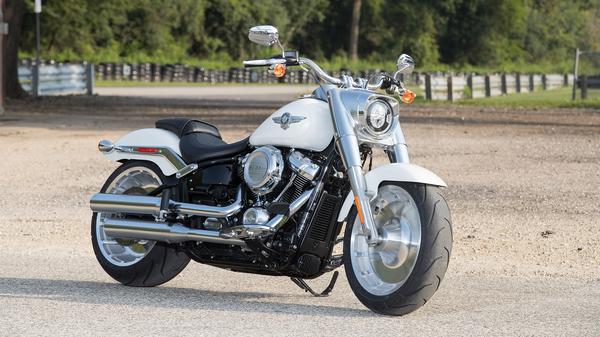 FLFB Fat Boy (Starting at £17,545)
With its definitive, unique, solid disc wheels and chunky styling, the original 1340cc Fat Boy proved an instant hit when it was launched in 1989, although it's fair to say its visual impact has dwindled over the years since. Not any more. Now with massive new wheels and tyres (comprising a 160-section front hoop and an even fatter 240 at the rear) along with a big, piercing LED headlamp and more, the new Fat Boy has a simply massive presence that can't help but force a grin. Of course, all of that, despite the chassis improvements, can make tillering it through the twisties something of a wrench, but you do get used to it. Once again, the Fat Boy is fit for The Terminator.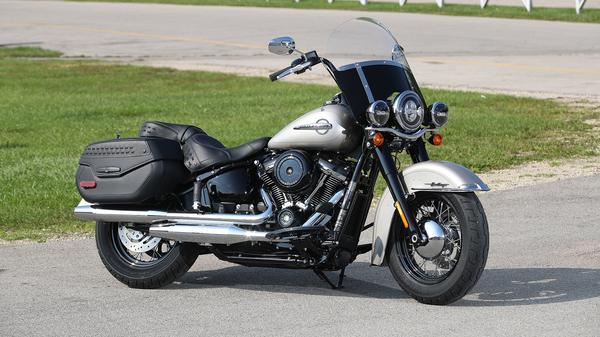 FLHC Heritage Classic (Starting at £17,995)
Previously a slightly glitzy and gaudy '50s style bagger complete with Plexiglas screen and tassled leather panniers, the Heritage, too, received a stylistic change of direction for 2018 to go along with the chassis and engine updates common to the rest of the range. Now it's more '40s-inspired, with a blacked-out, semi-military feel – it's the sort of bike you expect Captain America to ride. It's also a practical and classy one, too, thanks to the detachable windshield, new, lockable saddlebags and uprated performance and dynamics. Overall, it's a useful bagger, with impressive handling, 107 or 114ci engine options and a more distinctive style than ever.