Best Of
Top 5 Harley tourers for 2020
'Touring bikes' for most Europeans may conjure images of autobahn-busting BMWs likes the R1250RT or high-tech heavyweights such as Yamaha's evergreen FJR1300 but the true kings of touring machinery are arguably US legend Harley-Davidson. So, what different types are there, exactly? What's new for 2020 and what do you get for your money? Here's our current pick of the five best Harley tourers for 2020 to help you decide…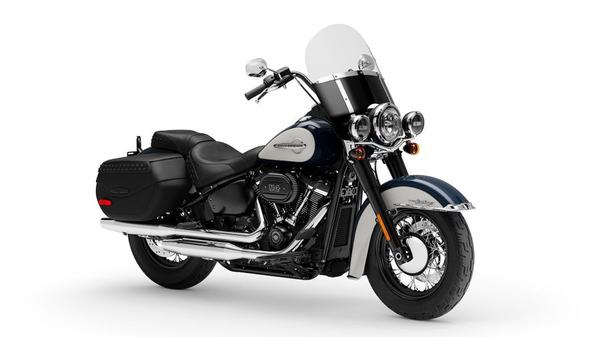 Built for the wide-open reaches of America where many riders think little of embarking on 1000+ mile road trips to the likes of Sturgis or Daytona, Harley have been producing its take on touring bikes since the 1940s. And, with repeated evolutions and innovations ever since, introducing, for example, the 'full-dress tourer' in the 1960s with the first ElectraGlide and later coming up with the 'Bagger' concept in the late 1990s with its first Street Glide, it can claim to lead the way.
And, for 2020, with not only a whole family of touring machines but also some new additions which again elevate the whole breed to a new level, there's now more – and better –
Harley tourers
available than ever before.
1. Harley-Davidson Heritage Classic – the WWII era replica Softail
Harley fully-updated its Softail family of cruisers in 2017 with an all-new
'Softail'
hidden monoshock frame wo go with its uprated 'Milwaukee Eight' V-twin engines plus a host of styling and detail improvements including LED lights and new instrumentation – and they were a big step up. The most 'touring-centric' of these was the new Heritage Classic. Where the old Heritage was a 1950s-styled cruiser with fat tyres and soft panniers, the new Classic adopted a more convincing 1940s, 'Captain America'-style look and was also a better tourer thanks to improved comfort including a new screen. Although not truly an out-and-out tourer and still featuring soft saddle bags, it's better than most, looks great, is easy to handle and impressively versatile as well.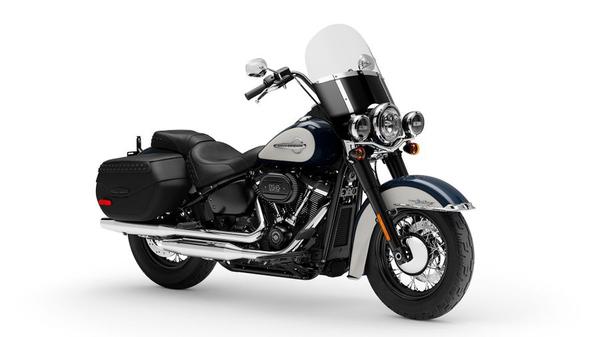 2. Harley-Davidson Road King – the retro 'light' tourer
Defined by its forks-mounted Plexiglas screen, hard panniers and 1950s, fat-tyred styling, the Road King was first introduced in 1994 and became an instant hit thanks to its blend of retro looks with decent distance comfort and practicality. It's evolved continuously since and now boasts the latest 'Milwaukee-Eight' 107ci engine and more modern wheels but still evokes the stripped-back retro style and airy practicality that made it so popular in the first place. If you want the best of retro style and touring practicality, without going as hard-core custom as a bagger, the Road King, still starting at under £20K, is a great, timeless buy.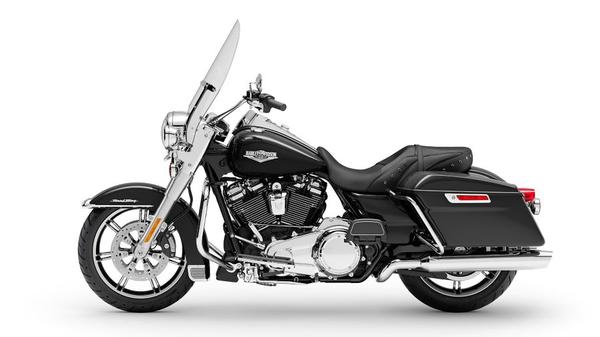 3. Harley-Davidson Street Glide Special – the definitive 'Bagger'
If the launch of the original Road King created and all-new model, Harley went even further when it unleashed the Street Glide in 2006. Effectively a 'chopped-down' ElectraGlide tourer with a low screen and twin hard panniers, or 'bags', the
Street Glide
was designed by Willie G Davidson himself to be his own personal ride and was conceived to be the ideal compromise of Glide comfort and practicality with chopped back custom good looks. It was an instant hit, too, so much so that it became a Harley best-seller, which it remains to this day, inspiring a whole new class – the 'Bagger'. There have been numerous updates since with this latest incarnation now having smarter, skinnier wheels as is the custom fashion, the latest 'Milwaukee-Eight' 114ci V-twin, the latest linked Brembo brakes and the sort of styling touches only Harley can deliver. No, it hasn't quite the full coverage comfort of an ElectraGlide but it does have more than enough for most and more than makes up for any shortfall with class-leading style.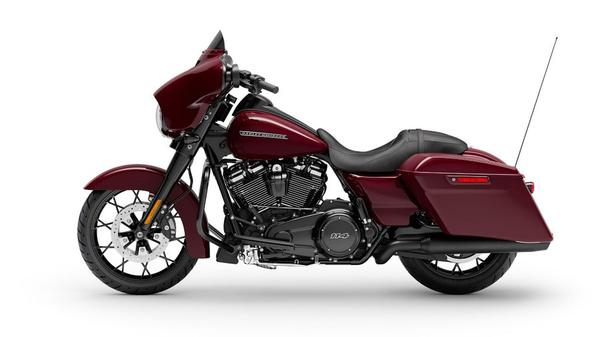 4. Harley-Davidson CVO Road Glide – the new, top-spec 'Bagger'
The Road Glide, as its name suggests, is closely related to the Street Glide bagger. But where the 'Street' has a chopped-down, fork-mounted 'Batwing' fairing, the Road has a touch more comfort and slightly lighter steering, albeit arguably at the cost of some of the Street's good looks, by having a larger, frame-mounted, twin headlamp version. In truth, there's not much to split them, not least on price with the Road being £100 more when like-for-like versions are compared. But an exciting newcomer for 2020 is the new CVO Road Glide.
Harley's CVO bikes
(CVO stands for 'Custom Vehicle Operation') are their ultra-exclusive, top spec, hand-built, limited edition versions of selected models, with a different choice each year. Accordingly, the new CVO Road Glide gets special paint and finishes; the CVO-limited 117ci version of the V-twin engine uprated audio systems and much more. In fact, it's the ultimate Road Glide, as it probably should be considering its almost £34,000 price.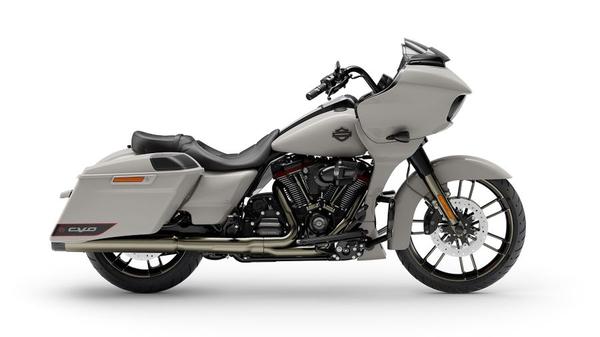 5. Harley-Davidson Ultra Limited – the original 'full-dresser'
When laymen think 'Harley tourer' most conjure an image of the classic 'Batwing' fairing-ed, three 'box' ElectraGlide, which is hardly surprising considering both the bike's popularity and its longevity, dating back to 1964. What's less well-known, however, is, despite those virtually unchanged classic looks, how much Harley's range-topper has changed, advanced and improved – especially in the last few years. First it was given a comprehensive overhaul with much improved brakes, suspension, 'Infotainment' and more as part of 'Project Rushmore' in 2014, then it's since been further improved with the latest, partially liquid-cooled, 'Milwaukee-Eight' 114ci engine, further improved infotainment including touchscreen TFT screen and new wheels. For years, the big Glide, though authentic, lacked the performance and particularly the luxury and sophistication of Japanese and European rivals. Now, although still not quite matching their performance (although for most that won't matter) it certainly does in terms of luxury, audio and quality.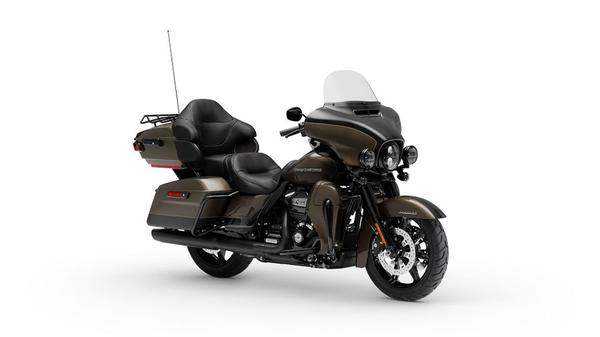 Interested in a Harley-Davidson?