Best Of
Our guide to café racer gear
With the rise in popularity of retro-styled motorcycles, whether that be 'old school' café racers with their sporty riding positions, 'ace' cars and number boards, or scramblers, which hark back to the dirt bikes of the 1960s and '70s, there's also been a big rise in the amount of retro-styled motorcycling gear to go with it.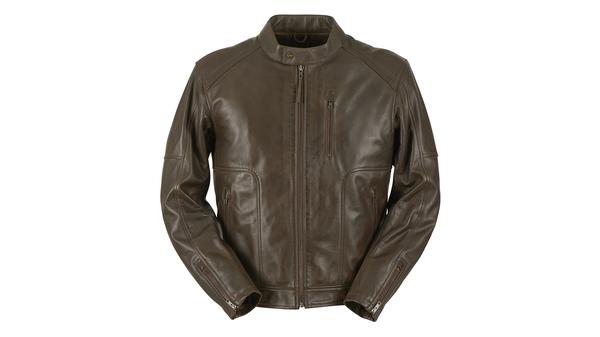 After all, there's not much point riding around on a full-on, drop-dead gorgeous, '70s-style café racer if you're going to completely spoil the all-important 'look' by wearing contemporary styled clobber, whether that be helmet, jacket jeans or even boots and gloves.
Until recently, however, with motorcycling gear styles limited and the important of both correct – and legal – protection AND the need for practical warmth and comfort, there wasn't much choice. Now, however, much of that's changed. In truth, retro-styled leather or textile motorcycle jackets aren't that new, having been around for the last decade or so – although there is now a wider choice than ever. But what's certainly changed is the increasing choice of retro-styled denim riding jeans, complete with Kevlar protection, which look great both on and off bike; the growth of armoured riding shoes and ankle boots to go with them; the increasing popularity of smart, retro-style bike gloves and even, particularly in the last couple of years, the emergence of growing numbers of retro-style (but fully legal and up-to-date) crash helmets, both in café racer or scrambler styles. But what's out there, what does it cost, what should you look for and what do you get for your money. To help, here's our pick of some of the best…
Furygan Bronson – a typical retro leather jacket
French brand Furygan have been in the top tier of motorcycle leathers for decade, have long been leaders in classic, casually-styled wear and were at the forefront of retro jackets way back in the early Noughties – but they're not the only ones, Italian brands Alpinestars and Dainese, along with the likes of RST, Helstons and more also have plenty of choice so do your research first. Furygan's latest retro jacket, the Bronson, is in soft, brown, premium leather with subtle, classic branding and a khaki liner, giving it a stylish, timeless look that can be worn comfortably both on and off the bike. Protection-wise, there's triple stitching, leather and foam reinforcements on the elbows, CE-approved D3O armour in the shoulders and elbows and a back protector pocket. Better still, there is a removable, thermal padded lining for protection against the cold, five pockets (four outside and two inside), leather stretch behind the shoulders and adjusters at the waist. It currently costs £369.99, which is typical for a quality jacket.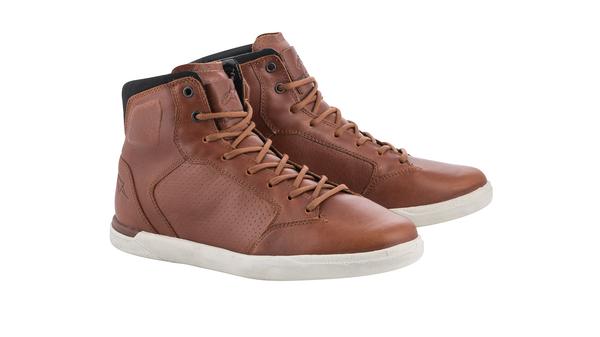 Alpinestars J-Cult – the latest retro riding 'shoes'
Italian quality market leader Alpinestars, which today is seen throughout motorcycle sport, actually started out in 1963 making ski wear before moving into motorcycle boots in the 1970s and thereafter gloves, full leathers, textiles and more. And although plenty of other retro footwear choices are out there, 'Astars' remains one of the best known, with the largest range of styles, which is why we're featuring their new 'J-Cult' here. Riding 'shoes' – ankle boots, more like, make no claim to be as protective as traditional, full length motorcycle boots, but for day-to-day use, especially in summer (which is how mow retros are ridden, after all) they're fine and have the added bonus of being comfortable and stylish off-bike, too. The lightweight J-Cult has a full leather upper, elasticated collar for comfort, full rubber sole for grip is showerproof and has toe reinforcement and ankle protectors. They're priced around £140.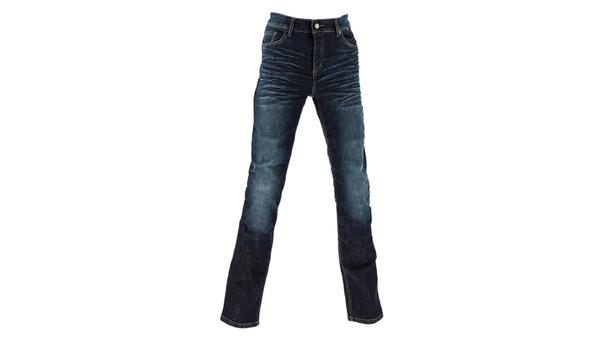 Richa Katie/Skinny Lady – typical (women's) riding denim jeans
Back in the '70s bikers may have ridden around in their street Levi's or Wranglers but today's motorcycle denim jeans are far more sophisticated and protective – and, as exemplified here, come in a huge range of sizes and styles for both men and women! Most of the leading motorcycle clothing brands, including Alpinestars and Dainese, have their own offerings but Richa provide perfectly good, middle-range options. Their new 'Katie', ladies versions, come in a 'lived-in', stonewashed blue colour, so they'll feel like your old favourite jeans, come in sizes 10-26 with a current RRP of £139.99, while their 'Skinny Lady' Jeans have a figure-hugging cut. Both come in a mix of denim and polyester stretch fabric with a soft polycotton lining and are reinforced with Dupont Kevlar® on the hip and knees. They also feature adjustable CE-approved D3O protection in the knees. Their current RRP is £124.99.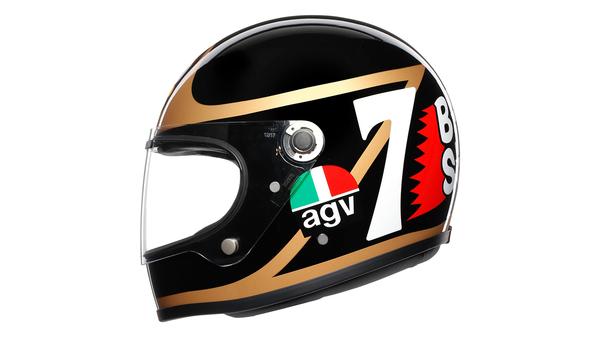 AGV X3000 'Barry Sheene' – the classic retro-styled helmet
When retro-styled crash helmets first began appearing a few years ago, with legendary brand Bell leading the way with its 'Bullit', which was inspired by its classic Bell Star from the early '70s, there was a degree of skepticism fuelled by concerns of putting style before safety – not any more. The Bullitt has proved hugely popular, comes in a range of designs and is packed with modern safety features, all starting at around £260. While the latest, quality, retro full-face helmet on the block is legendary Italian brand AGV's all new take on its classic X3000 from the early '80s. Now available in the replica livery of its most famous wearer of all – Barry Sheene – it's made from 100% modern materials in the style of the helmets made by the Italian company back in the 1970s with an advanced composite fibre outer shell, a removable and washable lining, a traditional double D-ring retention system, and a flip-up two-position visor with a stud closure. Plain versions start at £299 with the Sheene version, complete with suede lining, £499.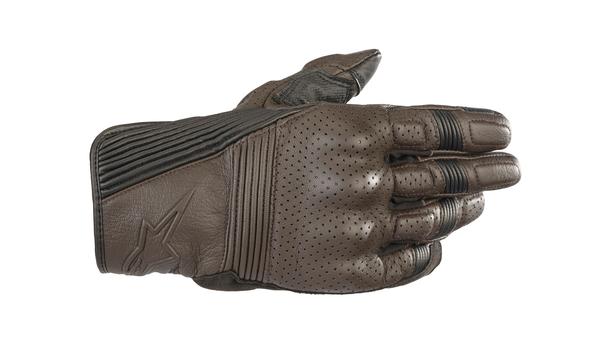 Alpinestars Mustang V2 – brilliant retro leather gloves
Second only to boots, Italian motorcycle clothing giant Alpinestars are known for their quality and stylish gloves best – which is why we're featuring their latest retro versions here. Feel free to look further afield, however, as more and more bike clothing makers do their own retro offerings. The Mustang V2 is designed as the perfect summer glove for the street oriented rider who demands comfort without compromising protection. It's made from full leather with padded reinforcements and a hard polymer knuckle protector for high levels of comfort and safety and even features a touchscreen compatible fingertip to use with smartphones or GPS. They cost around £76.