Best Of
5 Best motorcycle covers
If you own a motorcycle but aren't fortunate enough to also have a garage in which to keep and protect it the next best alternative is a motorcycle cover. We've picked out five of the top-rated covers available, covering a range of styles, to help you decide.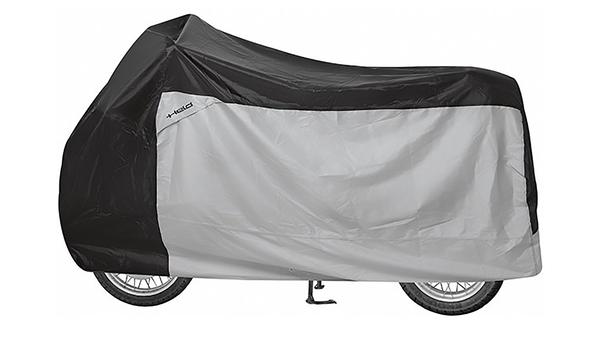 A decent cover will not only protect your bike from the worst of the elements but it can also help as a theft deterrent, making it difficult for potential thieves to identify your machine plus, if the cover as attached securely, also making it more difficult to steal.
But with a huge variety of covers available at a wide range of prices, which should you go for and what do you get for your money?
1. Held 'Professional' motorcycle cover, £52.99–£69.99
Held is a highly-regarded German motorcycle accessories and clothing firm and the 'Professional' is its highest rated motorcycle cover, again earning the 'RiDE Recommended' tag.
Its claimed to be fully waterproof with and outer shell in tough polyester, an elasticated band front and rear, contains vents to help prevent corrosion, has heat-resistant side panels that are also silver for high visibility, has special eyelets to enable it to be locked to your bike, is claimed to be resistant to UV light and can regulate temperature and comes with its own storage bag. Six different sizes are available.
2. Oxford 'Stormex' bike cover, £49–£58.49
This top quality, all-weather bike cover is by leading British motorcycle accessories firm Oxford Products who do a variety of different types of cover, all highly regarded, with the Stormex also gaining a prestigious 'Recommended' rating by RiDE magazine.
Oxford describe the Stormex as their 'ultimate cover' and it features a tough outer layer that protects against weather and knocks, a soft, heat-resistant lining to protect your bike's paintwork, reflective panels for maximum visibility at night, strategically positioned holes to allow the use of a lock, a 'lock pouch' that keeps your lock off the ground and is available in four different sizes.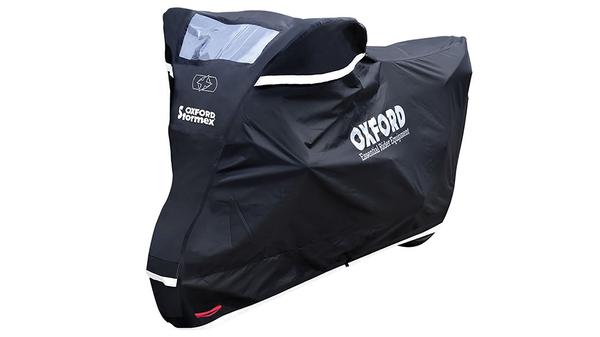 3. R&G Adventure Motorcycle Cover, £56.99
This fully waterproof motorcycle cover is from British motorcycle accessory and protection specialists R&G and has been designed specifically to fit larger adventure and touring machines. It's based on their original 'Superbike' cover, made from the same quality waterproof material, features and elasticated rim and 'belly' strap to ensure a good fit and also has front and rear chain loops to lock it to your bike, hi-viz reflective logos and trim piping for added visibility and also has a PVC window with curtain to enable the number plate to be revealed (or not) as desired.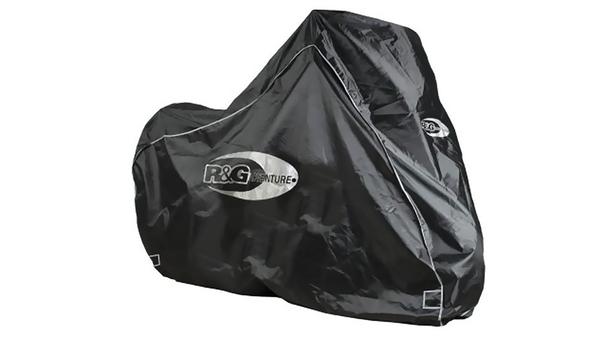 4. Gear Gremlin motorcycle cover, £22.99–£52.99
This more affordable cover is from Gear Gremlin, is manufactured from 100% durable polyester with an elasticated hem to ensure a good fit, is claimed to be waterproof and as well as keeping your bike or scooter dry from the rain it is also claimed to provide protection from sun, dust and UV rays. It also comes in seven different sizes.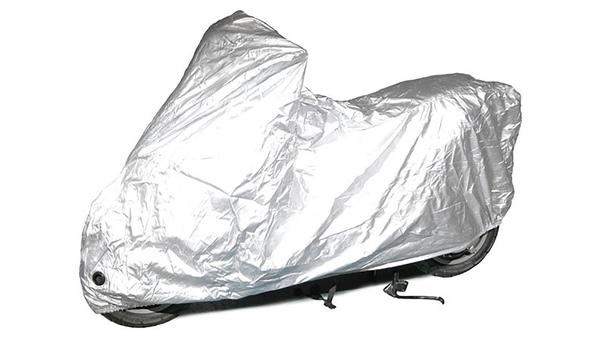 5. Bike It Heavy Duty Rain Cover, £21.99–£23.99
Last but by no means least is this is a simpler (and affordable) motorcycle cover offered by another leading motorcycle accessories firm 'Bike It'. It's made from specially-shaped, heavy duty PVC and is claimed to be fully waterproof. The cover is also claimed to be resistant to UV light, comes in three different sizes and also comes with its own storage bag.