Best Of
5 Best motocross bikes
What should you go for? It all depends on your abilities, needs and budget. We've chosen to look at five different types of new motocross bikes, albeit ones to suit a variety of budgets.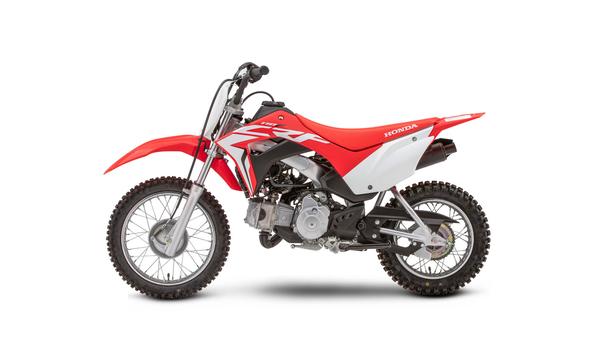 Motocross bikes – or motorcycles specially designed for off-road motocross racing – may sound like a very specialized, niche group of machines, and in many ways they are. These 'scrambler' bikes (as your granddad probably called them) all invariably share punchy, single cylinder engines, slim, lightweight chassis with long-travel suspension and big diameter wire wheels fitted with 'knobbly' dirt tyres. That's no surprise: this type of bike is designed for one thing – to go as fast in the dirt as possible.
But beyond those broad basics a huge variety of motocross machines are available, ranging from kids 65cc racers to open class 450cc machines (the largest capacity now allowed for racing), which are the preserve of true experts. In between there are traditional racing classes of 125 and 250cc, but there's also 300s and 350s two-strokes and four-strokes and bikes ranging in price from just over £2000 new to ones costing £8000+.
1. Honda CRF110F – the best kids' 'fun' bike
Although not, strictly speaking, a racing machine (being more a leisure bike aimed at youngsters) so many you riders start out on off-road motocrossers just for fun, gaining experience and skills before moving onto bigger bikes, that we decided we had to include Honda's brilliant CRF110 here. The little CRF has been purpose-designed as a first timer machine for those in the 8-11-years old age range (yes, some kids bikes, such as Yamaha's perennially popular PW50, provide a great start for even younger riders, but the bigger CRF is fun for a wider age range of riders for longer). It's brilliantly executed, too. There's a reliable, simple 110cc four-stroke engine; an electric starter; sturdy, easy chassis, is both a doddle to ride and great fun and, best of all, is affordable, starting at just £2275. As a result it's a great fun dirt bike for those starting out in off-roading and the perfect stepping stone if they thereafter was to step up 125 or 150cc motocross racing.
Find a Suzuki Honda CRF110F here
.
2. KTM SX 65 – the best junior racer
Austrian off-road specialists have been the world-leaders in motocross machines for years and the expertise dominates in the junior, kids racing classes, too. The introductory racing class is for 65cc machines (the next step up is to 85cc) and KTM's 65 SX is a fully-fledged racer for riders between 8 and 12-years-old. There's a powerful two-stroke engine with six-speed gearbox and hydraulic clutch (a class first); a lightweight tubular steel frame with cast aluminium swing arm; dinky 14in front, 12in rear wheel sizes (a 'big wheel' version is also available) quality, fully-adjustable WP front forks – the works. Of course, to go along with all that 'big bike' spec you'd expect a 'big bike' price, too – and, starting at £4299 the SX 65 certainly isn't cheap – but if you want the best…
Find a KTM SX 65 here
.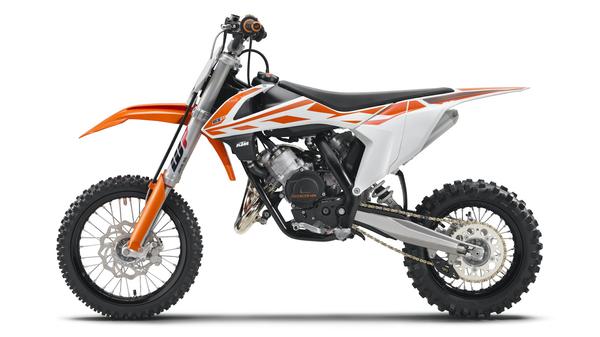 3. Yamaha YZ250 – the best 'old school' two stroke
From the late 1960s up to the mid-1990s all the 'best' motocrossers used two-stroke engines, being favoured for their light weight and extra power over comparable four-strokes. In the '90s, however, a new breed of high-tech four-stroke 'thumpers' took the ascendancy so much so that today, few manufacturers still offer big 'strokers'. Yamaha (along with KTM and Husqvarna) are among the exceptions, however, and its latest YZ250 (not to be confused with its four-stroke YZ250F) is among the best and remains popular for its light weight, sharp power. Its chassis is rated as one of the lightest and sweetest handling of all thanks to an aluminium frame which gives a superb balance of rigidity and strength; its has top quality suspension front and rear and as soon as you kick start the high performance engine into life you'll experience a manic exhaust sound combined with the evocative smell of a two-stroke that gets your adrenaline going like nothing else. On the downside its power delivery is far less flexible than a four-stroke and at peak power it's so vicious it's really only for experts, but if you want a quality two-stroke, even at prices starting at over £7200, it's still one of the best.
Find a Yamaha YZ250 here
.
4. Kawasaki KX450F – best motocrosser for experts
Although 250cc four-stroke motocrossers remain hugely popular due to their combination of accessible power, quality chassis yet lighter weight, as there's such there's a huge variety of machines on offer from all the main manufacturers, no one bike stands out. Yamaha, Honda, Kawasaki, Suzuki, KTM, Husqvarna and more all offer brilliant 250s with little to split them. However, the big 450 'expert' class is different and remains the most respected of all. Again, all the main players have great offerings, but Kawasaki's KX450F has, in recent years especially, consistently been rated the best. Its fuel-injected engine is among the most powerful and tractable; its aluminium chassis among the leanest yet strongest and it's well-built and brilliantly equipped. Yes, the KX450F is pretty fearsome, and new prices start at an equally fearsome £7700, but it's definitely among the best.
Find a Kawasaki KX450F here
.
5. KTM 350 SX-F – the classiest 'all-rounder'
It might not be a surprise to see motocross specialists KTM in this round up twice but it might be to see it in here with a 350. The Austrian manufacturer turned conventional MX thinking on its head when it brought out its first four-stroke 'between-category' 350 SX-F in 2010 and promptly swept the 450cc class world motocross championship first time out. The reason for that success is simple: it's punchy 350cc engine has virtually as much power and smooth flexibility as a 450, yet it's chassis is almost as light and nimble as a 250 – in fact it's the perfect compromise between the two classes. That brilliance also makes it a great compromise even if you're not fighting for world championship titles delivering a blend of abilities that best suit most riders. Of course, all that brilliance, including top-spec WP suspension and other components, doesn't come cheap, starting at over £8000, but then the best never does…
Find a KTM 350 SX-F here
.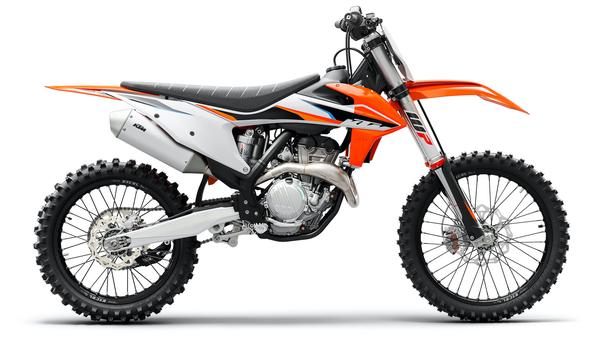 Looking for a different motorcross bike?