First Drive
2016 Honda CB500F first ride
The A2 category is brimming with competition, but the Honda CB500F is still worth putting on your shopping list. Phil West reports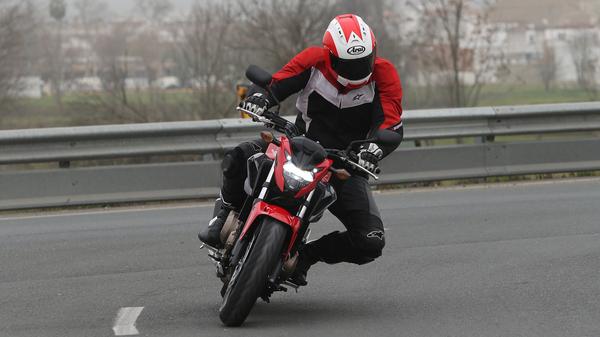 Location: Carmona, Spain
Pictures by Zep Gori, Francesc Montero, Felix Romero and Ulla Serra Video by Dom Read-Jones and Rowan Muskin
Need to know:
Facelifted/updated A2 licence-friendly 500cc twin family
Improved looks, specification and components
On sale early April, priced £5099-£5599
Auto Trader verdict:
Introduced three years ago, Honda's A2-licence compliant, 500cc twin triumvirate have proved a big success among novice riders, offering an unthreatening but enjoyable 'first big bike' experience at a decent price. But although not dull, their styling was a little, shall we say 'safe'.. That's now all changed with a younger, more aggressive-makeover and improved components like exhaust, forks, lights and even levers. Already good bikes, at just £100 more than the old, and with no 'full 500cc' rivals, they're almost a 'no-brainer'.
What is it?
Honda introduced its all-new, Thai-built 500cc twin trio, comprising the CBR500R sportster, CB500F roadster and CB500X adventure-styled machine, three years ago to meet the new European A2 licence regulation which limits under-24 full licence-holders to bikes with no more than 47bhp.
The Honda threesome were an all-new, clean sheet design based around the same 47bhp liquid-cooled parallel twin motor and tubular steel trellis, which was intended to be both novice-friendly and affordable while at the same time delivering a 'first big bike' flavour. They've been a huge hit, too, with 90,000 so far sold worldwide, over a third of those in Europe. In the UK the most popular is the CBR500R. For 2016 Honda has given all three their first significant makeover. Although the basic engine and chassis is unchanged there have been a raft of mods – over 200 parts have been changed overall – mostly to update the bikes' looks and attitude. In come: all-new, more aggressively-styled bodywork; slightly improved performance via a new exhaust, improved air intake and uprated suspension plus a slighty uprated spec with a larger tank and improved filler cap, span-adjustable brake lever and more.
What's it like?
Essentially, with the engine and chassis of all three barely changing, they're the same ultra-friendly, extremely easy to ride, affordable and yet engagingly fun middleweight twins they always were – only better.
From a first glance it might seem like just a mild restyle. In the flesh, and in the riding, however, it's significantly more than that. We didn't get to try the 'X' adventure version in this test as it's yet to enter production. It's also the least changed of the three receiving just a one-litre larger fuel tank and 100mm taller screen, although both are welcome updates. Unlike the CB and CBR much of the 'X's previous bodywork is retained, as is the old model's more plain exhaust, which Honda explain was necessary to let it still be able to take Honda's official optional extra panniers. Instead, it's the 'naked', roadster CB and fully-faired, sports CBR which are changed the most. I tried the CB first on the roads around Camona, near Seville, in southern Spain, and, considering it's a naked bike, with relatively little bodywork, was surprised at how fully revised it is and how much difference it makes. Honda say the intention was simply to modernize the looks of both the CB and its CBR sibling, in particular to make it more aggressive-looking. To achieve just that, Honda brought in MX-er stylist Kei Fukuyama, who also worked on Honda's CBR and CB 650 a couple of years back, and who was tasked specifically with reducing and sharpening the CB's bodywork. The result is comprehensive and striking and comprises: an all-new seat unit and rear end, complete with new sub-frame; new, one-litre larger fuel tank; reduced side and radiator covers plus and all-new, again sharper, LED headlight and matching cowling. (A new LED taillight, meanwhile, matches things up at the rear.) It doesn't end there, either. New, preload-adjustable forks (which also feature on the new CBR) nudge the CB away from the 'budget' feel it had before and are proudly shown off via the adjusters themselves being mounted in flashy, blue-anodised fork tops visible through the top yoke. This top 'triple tree' is embellished further with a stylish new, alloy top nut, while there's also a new five-way adjustable span brake lever which is both a positive boon for inexperienced riders and further helps to banish the 'budget' impression of the old, as does the stylish new exhaust. In the flesh the CB500F is a genuinely stylish and cool bike to be around. From the saddle it's better still: low, slim and light the CB's completely unthreatening while at the same time, being a 500, seeming like a proper, full size machine (unlike some rival 300s I could mention). It's also, like before, an absolute doddle to ride: the controls are comfortable and light; the power delivery completely linear and predictable with nothing to scare anywhere; the ride is smooth and cosseting and the brakes strong enough without being fierce. The CB's more than just a 'soft' learner bike, though: those 47 horses are enough to put a smile on many a more experienced rider's face (it did mine); will willingly (and eventually) propel this lightweight to well over 100mph and being so light, easy and predictable it's also great fun to fling around through the twisties. I had a ball. The last bike with 47bhp that was so much fun, I reckon, was the iconic RD350LC, and though that was more cutting edge and with an addictive two-stroke power band, the budget, four-stroke CB reminds of it more than a little… After that I expected to be slightly underwhelmed by its CBR brother but, surprisingly again, the opposite was true. In the plastic the sportster is even more alluring, right down to its fake 'carbon fibre' fairing inner, enough for it to confidentally rub shoulders with its CBR600 and 650 bigger siblings. Thanks to the new exhaust, they both sound much better, too. Nor is the CBR any more extreme or demanding to ride: the bars are around 50mm lower and slightly pulled back but the riding position is still completely natural and comfortable; the screen does a welcome job of fending off some of the elements and, overall, it's a great introduction to sports bikes any owner will be proud of.
Should I get one?
Honda is keen to point out its family of twins are the only full-bore 500s which meet the A2 criteria and therefore the best 'first big bike' experience. It has a point, but then that was already true three years ago.
What's changed is Honda's likeable, effective, versatile and affordable 500 twins are now, for the first time, genuinely exciting looking, temptingly equipped and, in short, bikes that any A2 licence-holder would be buzzing (to use the vernacular) to own. With sharper style, improved spec, racier colours and even a better soundtrack on top of its previously worthy but a little budget and bland ability, the CB/CBR/X family, at only £100 more than their predecessors, are more tempting than ever. The only question really is which style do you go for? Ability-wise it doesn't really matter: they're all winners.
Key facts:
Model: Honda CB500F (CBR500R)
Price: £5099 (£5599)
Engine: 471cc liquid-cooled four-stroke twin, six-speed gearbox
Power/Torque: 47bhp/32lbft
Top speed: 115mph (est)
Economy: 83mpg (claimed)
Range: 490miles (claimed)
Also consider:
KTM 390 Duke
Aggressive, funky, single single roadster from the Austrian off-road specialists is punchy and great fun but limited over distance
Kawasaki Z300
Stylish, entry level roadster twin derived from popular Ninja 300 sportster. Good looking and fun but revvy compared to the bigger Honda.
Yamaha MT-03
New 42bhp roadster twin is, like the Kawasaki, derived from a sportster sibling (in this case the R3). Again, fun and funky by not a full 500.