Expert Review
Isuzu D-Max pickup (2017 - ) review
The D-Max looks to take on the likes of the Toyota Hilux as a value-for-money, working pick-up truck. But can it also cut it as an alternative to an SUV?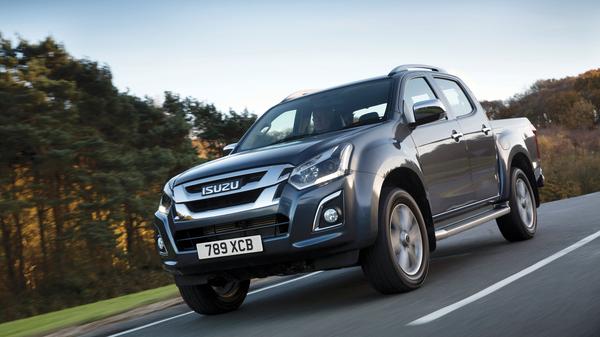 Words by: Phill Tromans

Additional words by: Auto Trader
Last updated on 20 January 2020 | 0 min read
The Auto Trader expert verdict:
The D-Max is a competent, no frills pick-up that will tackle heavy loads and off-road terrain with aplomb, at a very competitive price. But those expecting car-like quality will be disappointed by its cheap interior and unrefined performance.
Reasons to buy:
Good towing performance
Value for money
Decent off road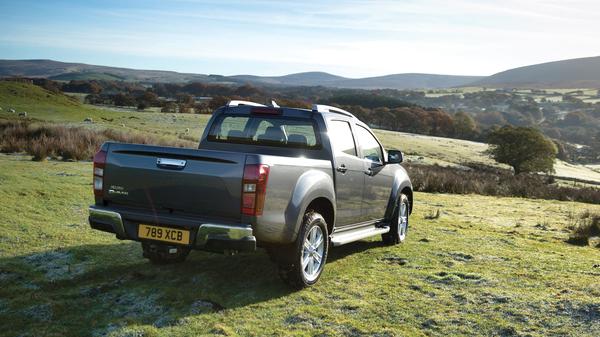 Why buy?
When it comes to being a working vehicle and hauling stuff around, Isuzu has a proven winner, and it's that utilitarian aspect of its talents that most appeals. It's very affordable to buy and now has added creature comforts thrown in for those that want it to be more car-like.
Expert rating: 3/5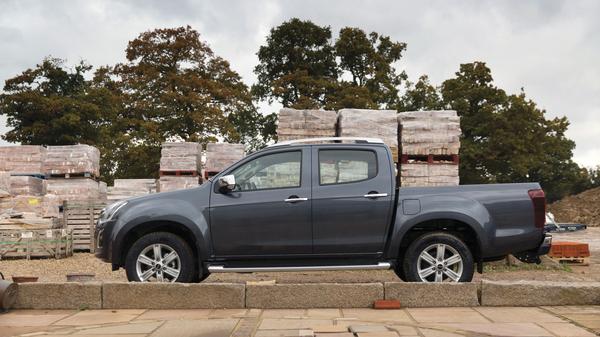 How good does it look?
A glance at the D-Max will tell you it's built for utility rather than beauty, although this 2017-onwards facelift has a few more features than the truck upon which it is based, which debuted in 2012. All models get LED daytime running lights, with more visual fripperies as you rise up the range. The D-Max comes with three cab options – single, extended or double cab – and with two or four-wheel drive, and the specs for each step of the range vary slightly depending on which combination you opt for. Entry-level Utility models get 15 or 16-inch steel wheels, while the next step up – Eiger – rides on 16-inch alloys. Yukon, Utah and top-of-the-range Blade models get 18-inch alloys. The Blade also gets puddle lamps and an Aeroklas canopy with roof spoiler, as well as a wide opening tailgate. Utility models are available in all three cab types, while Eiger, Utah and Blade are only available as double cabs. Yukon comes in both double and extended flavours.
Expert rating: 3/5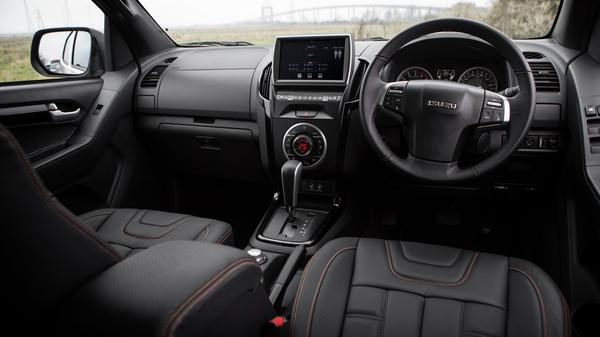 What's the interior like?
There's no getting round it; the general interior quality of the D-Max is poor by modern standards, with scratchy, cheap plastics everywhere. It wouldn't feel out of place among vehicles from more than a decade ago and lags behind its competitors. But this is a working truck, so how much this bothers you depends on how you're using it; it is at least easy to wipe clean of dirt and dust. Higher grades add some gadgets, with a 7.0-inch touchscreen infotainment system in Yukon and Utah models, and a 9.0-inch version in the Blade. Both are aftermarket additions added by the UK distributors and are a bit fiddly to use, although Utah and Blade models include sat-nav, Apple Car Play and Android Auto. The larger screen in particular feels somewhat bodged into the dashboard, restricting access to the storage compartment behind it. Still, the seats are comfortable and offer a range of adjustment, although bizarrely Blade seats adjust manually while the Utah chairs do so electrically.`
Expert rating: 2/5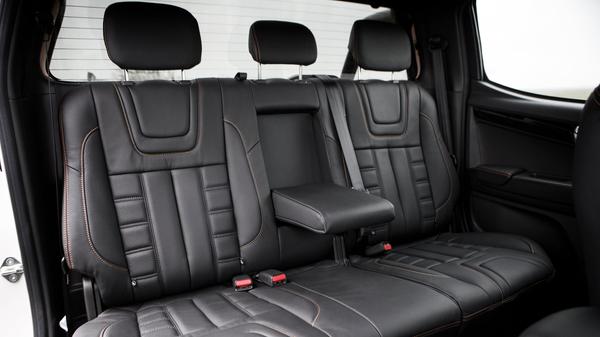 How practical is it?
This is the D-Max's party piece; go-anywhere, haul-anything grunt work at a rock-bottom price. Isuzu proudly proclaims the D-Max can carry six Suffolk sheep in the back. We'll take their word for that, but the load area measures 2338mm (single cab) or 1483mm (double cab) long, and 1580/1530mm (single/double) wide, which gives a decent space to lug stuff around and one that's bigger than Nissan's Navara or Mitsubishi's L200. Inside, there's reasonable space in the back for two adults, two glove boxes and another lidded storage area on the dashboard, as well as pull out cupholders and a storage space under the centre armrest.
Expert rating: 5/5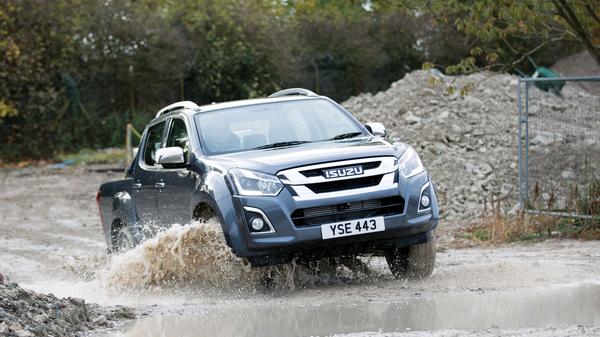 What's it like to drive?
Pick-ups are generally unsophisticated on the road, but the D-Max makes a good fist of things. The ride is on the soft side but it holds composure well through corners, even with nothing in the back; normally an area that similar vehicles can struggle. Caution should be the name of the game when towing, but we've tried it with a full load at speeds up to 40mph it felt stable under acceleration, braking and cornering. The D-Max also drives well off-road, with Hill Descent Control standard on all models to keep things under control on steep slopes. We've only tried four-wheel drive models, although this will be featured on almost all D-Maxes sold, as rear-wheel drive is only available on single cab Utility models. It's worth noting the D-Max's relatively low weight means it counts as a passenger car when it comes to speed limits; some larger double cab pick-up trucks, including the Hilux and Amarok, count as commercial vehicles and therefore must be driven more slowly on certain roads.
Expert rating: 3/5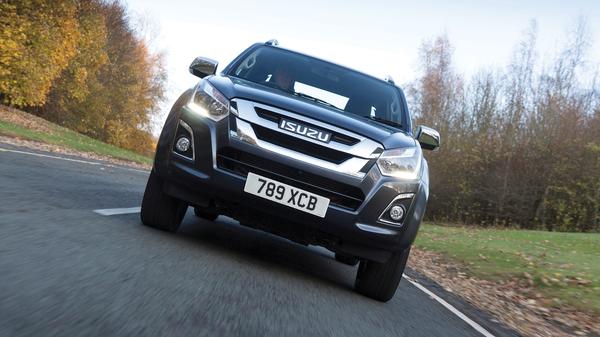 How powerful is it?
There's just one engine available in the D-Max: a 1.9-litre diesel unit that, from 2017 onwards, replaces the previous generation's 2.5-litre. It's linked to either a manual or automatic gearbox, which have been engineered to best take advantage of the torque available. The result is decidedly agricultural in character and sound, but there's no denying that it's effective. The D-Max can carry 1000kg in the load bed and tow up to an impressive 3500kg, and it does so with little straining. We pulled a trailer carrying another D-Max, and a load bed full of hay bales at the same time, and it didn't struggle at all. The engine's noisy on the road, and neither gearbox will win awards for slickness or refinement, but they serve a purpose well.
Expert rating: 3/5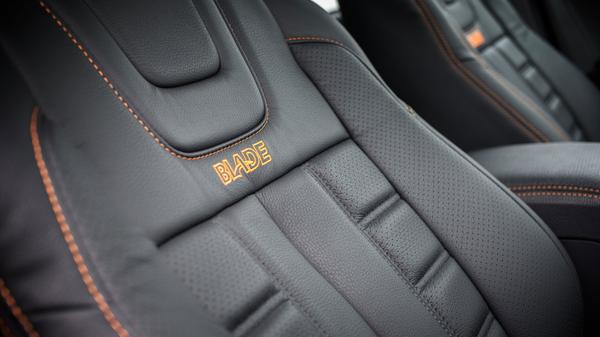 How much will it cost me?
One of the Isuzu's key selling points is its price, which is more than competitive against all its key competitors, and it should hold its value well when it comes to resale. The fuel economy will vary by model, but they're broadly in line with other pick-ups. One useful minor note is that unlike some rivals, the 1.9-litre engine in the D-Max doesn't require the addition of any AdBlue. AdBlue is a liquid used to reduce emissions in some diesel engines, added via a second filler cap under the fuel flap.
Expert rating: 4/5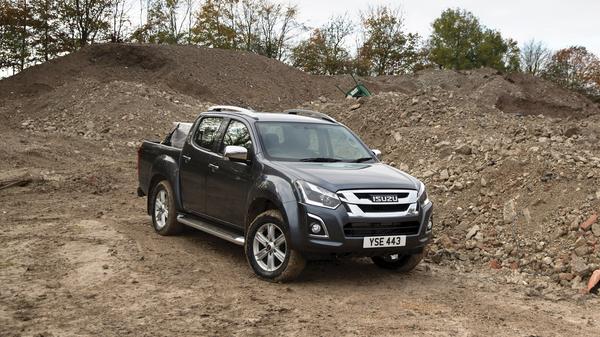 How reliable is it?
It's a bit tricky to comment on Isuzu's reliability, as the company is small by international standards and so doesn't feature on most reliability studies. However, we're encouraged by the company's standard three-year, 60,000-mile warranty that the UK importers have increased to five years and 125,000 miles.
Expert rating: 3/5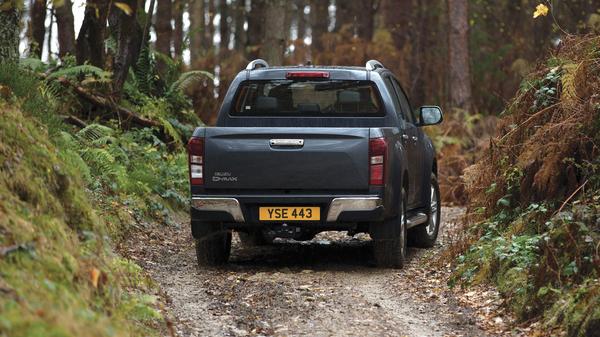 How safe is it?
The D-Max comes with six airbags – front, side and curtain – and while safety organisation Euro NCAP hasn't crash tested this facelifted version, the 2012 model scored four out of five stars. Isuzu says the revised version has improved pedestrian safety thanks to a redesigned bonnet and front bumper. Compared to most passenger cars, though, the D-Max's safety features are relatively few.
Expert rating: 3/5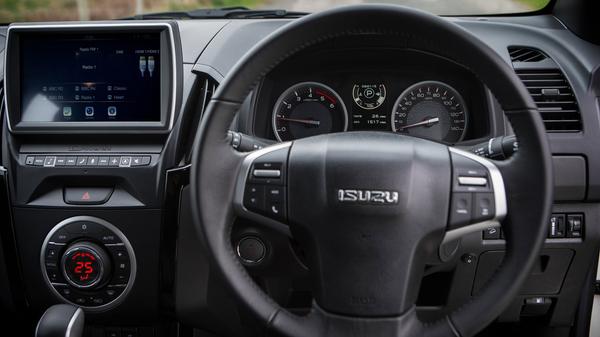 How much equipment do I get?
Aside from basics like central locking, the entry-level Utility model is pretty spartan. As you move up the range, more lifestyle elements are introduced; Eiger gets a reversing camera and some armrests, while Yukon makes things more car-like with a touchscreen infotainment system. It's only when you get to Utah that the real creature comforts arrive though; it adds keyless entry and sat-nav, DAB radio, Apple CarPlay and Android Auto. The top-of-the-range Blade model adds front and rear parking sensors and interior illuminations in the footwells, as well as leather upholstery and floor mats emblazoned with the Blade logo.
Expert rating: 3/5