Guide
An A-Z of Van Terms
With a vast range of terminology used to describe van features and specs, it can become extremely tiresome frantically googling them. Look no further than our extensive list, covering the 19 most important van terms you need when deciding which vehicle suits your needs best.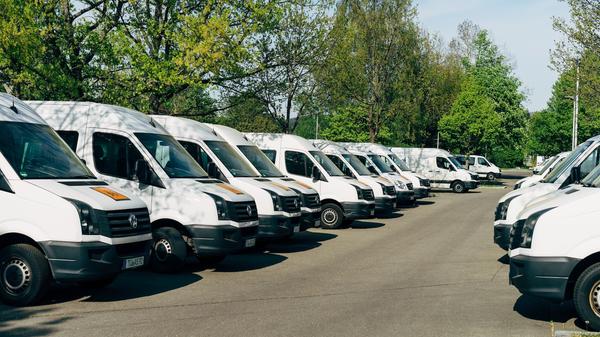 Words by: Auto Trader
Published on 30 July 2020 | 0 min read
1. ABS (Anti-Lock Brakes)
Anti-lock braking systems are an extremely common safety feature in modern vehicles. They prevent the wheels from locking up when braking which subsequently helps maintain grip with the road.
2. Box Van
Box vans are cubed-shaped, as the name suggests. This provides the optimal space for particularly bulky loads such as large parcels, making it the preferred choice for couriers.
3. Bulkhead
Bulkhead is the name given to the partition found between the cab and cargo area of a van. Often made of steel, it provides important protection for passengers from the load in the back.
4. Conversion Van
A conversion van is a cargo van that has been outfitted by a third party company to suit a variety of needs. This outfitting can be in aid of anything from improving comfortability features for a motorhome, to making the load area suitable for industrial work.
5. Crew Van
Crew Vans offer versatility by having a second row of seats behind the typical front seats. This allows you to carry up to six people, or remove them altogether for more bed space.
6. Dropside Van
Dropside vans are commonly used in construction and landscaping work. They are particularly well suited to this due to their large open bed and the ability to fold down the sides for ease of access. They are great for carrying loose items such as soil and gravel.
7. EBA (Electronic Brake Assist)
EBA is another feature found in all modern vehicles. It aids the driver in coming to a complete stop in emergency situations that would have otherwise been impossible. It gauges when a driver is executing an emergency stop and provides the additional force needed.
8. EBD (Electronic Brake Distribution)
Working in conjunction with the anti-lock braking system, EBD is a subsystem which stabilizes the amount of force subjected on each wheel of the car, providing safer braking.
9. ESP (Electronic Stability Programme)
ESP is another of a number of modern safety features. It is tasked with improving a vehicle's stability and preventing tyres from losing control, helping to direct them towards where the driver intended to go.
10. GTW (Gross Train Weight)
Shown on the plate or sticker of a vehicle, gross train weight is the total GVW plus the weight of both the trailer and its load.
11. GVW (Gross Vehicle Weight)
Also known as MAM (Maximum Authorised Mass), gross train weight means the weight of a vehicle including the maximum load that can be carried. By combining these weights, drivers can be certain of being safe on particular roads.
12. HP (Horse Power)
Horsepower is a unit of measurement of an engine's power. Generally speaking, the more horsepower, the more acceleration the vehicle will have. Not to be confused with torque, which is the brute force and 'pulling power' of an engine.
13. Load Space
Load space refers to the amount of space inside of a vehicle which is designed to carry a load. It is often given in litres of square meters.
14. Luton Van
Luton Vans are similar to box vans in their shape. However, the difference with a Luton van is that the box shape extends over the top of the cabin, providing a bit more load space.
15. LWB, MWB, SWB (Long/Medium/Short Wheel Base)
The wheelbase of any vehicle is the distance between the centre of the front and rear wheels. Obviously, a Long Wheel Base has the largest distance, then medium and short.
16. Panel Vans
Also known as a blind van, panel vans are smaller cargo-base vehicles based upon the chassis of cars. They offer a more compact alternative to truck-based chassis whilst providing adequate space for smaller loads.
17. PAS (Power Assisted Steering)
PAS is a steering system in vehicles of all types that uses engine power to aid the input from the steering wheel.
18. Payload Capacity
A van's payload capacity is the maximum amount of weight that can be added to the load without compromising on safety. It does not include the empty-weight of the vehicle.
19. Tipper Van
Similar to a Dropside van, a tipper is a light commercial vehicle with a flatbed cargo area behind the cab. The main difference between the two is that whilst a Dropside van provides seating for six passengers (including the driver), a tipper van is smaller and only provides space for three.

Okay, we missed out a few letters but we hope this guide was useful to you!