Expert Review
Volkswagen Grand California review
Grand in every sense, VW's full-size California offers first-class accommodation for all the family

Words by: Erin Baker
Published on 1 February 2023 | 0 min read
The Auto Trader expert verdict:
Volkswagen created the template for all successful camper vans with its original T2, a legacy the plush, Transporter-based California has done much to celebrate. The Grand California supersizes that effort with a full-on family holiday wagon combining beds for four people with a myriad modern creature comforts. Unlike the smaller California, however, its considerable height means this is not really a vehicle for everyday use. Choose from the 600 or more luxurious, longer 680 model.
Reasons to buy:
Four beds
Modern bathroom
Mood lighting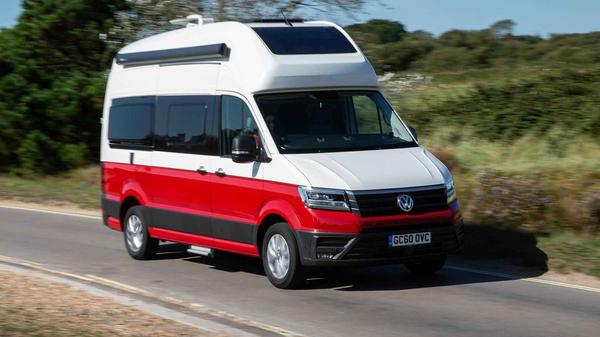 Drive
The Grand California is very tall, so watch out for carparks, overhanging trees and height barriers. It is in fact so much bigger than the standard California that it feels far more unwieldy to drive, and you wouldn't want this as your daily commuter. That said, for its size and weight, it accelerates happily through its automatic gearbox and steers well. You get a small window at the rear for some visibility, but you'll be relying heavily on the wing mirrors, sensors and parking camera. Also, note to self: stow the ladder to the top bunk before you set off, to stop it ricocheting round the vehicle, and be careful where you park because if you slide open the side door, the step automatically comes out - it nearly hit our driveway wall.
Expert rating: 4/5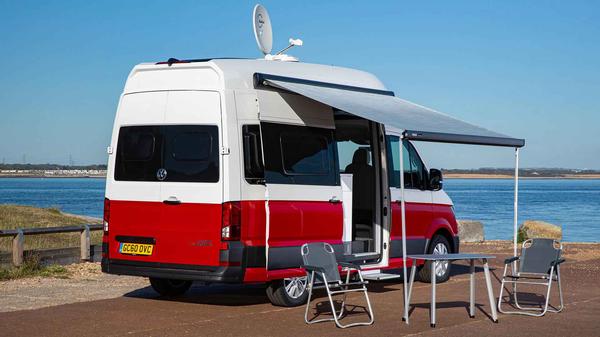 Design
From the outside, this looks like a massive, ungainly, old-fashioned van with its upright grille and raised roof. It's not a cute or pretty thing, unlike the California, which looks cool and modern. We got some teasing comments from neighbours during our loan about having a truck on the driveway, even with its merry white and red paintwork. However, they can sneer all they like, because inside it's a contemporary exercise in smart design. You get lots of recessed lighting, smooth surfaces concealing cupboards, a fridge and smart cooking area. Even the door to the bathroom blends in.
Expert rating: 3/5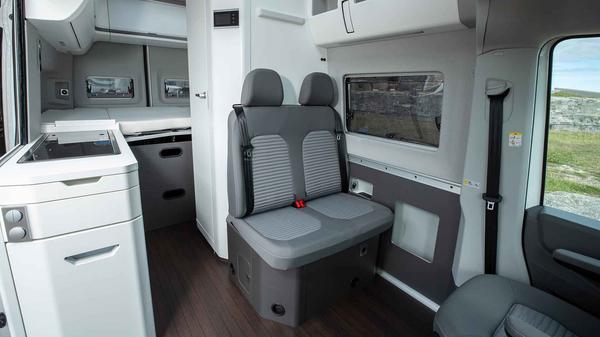 Living
This is the raison d'être of the Grand California over its smaller sibling. You could exist happily in this van for the entire summer. You can hook your phone or iPad up via Bluetooth to rear speakers for entertainment, which cleverly keeps that area separate from the vehicle's audio, and my kids spread out on the rear double mattress in the day with a pack of Uno and their books. The handbrake drops to the ground to allow the front seats to pivot rearwards so they face the two-man bench behind. A table then slots in between the seats to form a great eating area with a fab view out of the side windows, but it's also great for families to do colouring or board games together. There's an awning attached to the side for outdoor living, but everyone can stand up and move about thanks to the height of the vehicle. Best of all, the Grand California has a simple, bright, separate bathroom with toilet and shower.
Expert rating: 5/5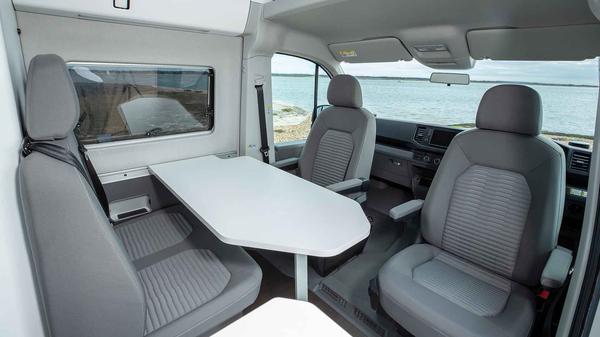 Dining
You can specify two fold-out chairs and a table stored in the rear doors if the weather is good enough to eat outside, or you can make use of the four seats inside the vehicle with a table slotting in between them on a rail below the side window. A deep fridge is neatly tucked away in the middle of the van, below the hob, and there is a fold-out wash basin and lots of cupboards for storing food and crockery. Nothing feels cramped or compromised.
Expert rating: 5/5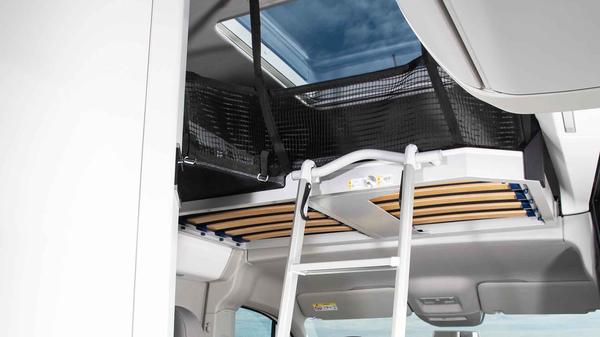 Sleeping
The double bed on the "ground floor" is plenty wide and long enough for two adults, while the double bunk bed above the driver, accessed via a ladder, is fine for two further adults, as long as they don't mind the ceiling being inches above their face. A flap pulls down to create a pillow on one side, and the whole platform pushes back in above the driver when you're on the move. Every window around the van has its own blind to really block out the light on summer nights. It's a very clever, comfortable design.
Expert rating: 5/5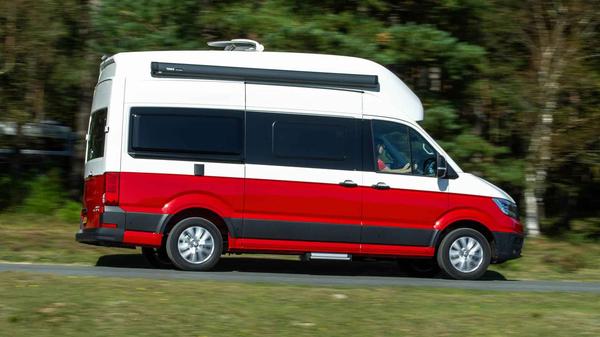 Value for money
The Grand California doesn't come cheap, with a starting price north of £80,000, but then neither does the standard California or indeed any other Volkswagen van or car. You are paying a premium for the badge and extra styling inside that goes with that. However, rest assured that if you're wondering whether the Grand California is worth the extra spend over the smaller version, it certainly is if you want sleeping space for four people. In other words, this is a very different sort of purchase from the standard California - it's not an everyday driver, but it is a true motorhome for proper family touring and big escapes.
Expert rating: 4/5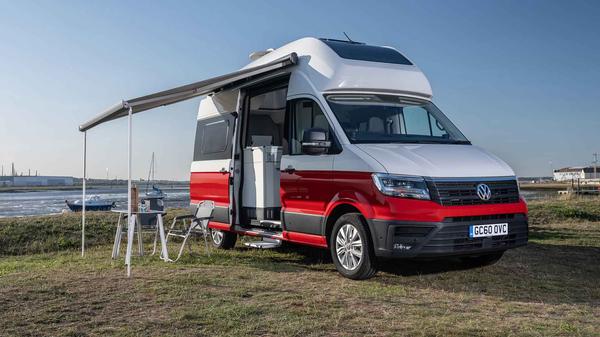 Why buy?
Comfort, space and technology for four people who are off to create some lasting memories. Easy to drive, despite the size, but parking could be an issue. Also a must-buy for those who want a proper bathroom on board. Expensive but negates the need for hotel accommodation on holiday, so do the maths.
Expert rating: 4/5