Expert Review
Volkswagen California Review
You don't need to be a hippy to enjoy Volkswagen's California but you'll definitely need a sense of adventure.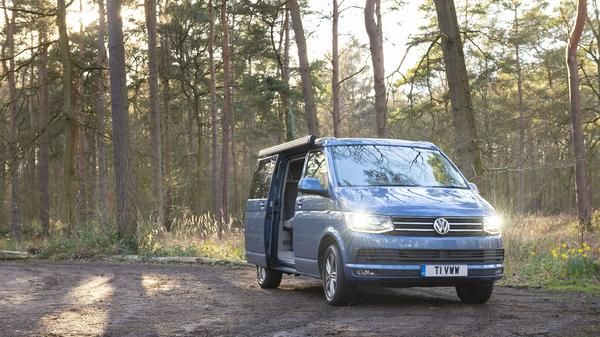 The Auto Trader expert verdict:
I have to admit to being a bit of a VW fan. Our household has two – a Passat estate and an Up! I love their reliability, versatility and capability. The California, although of course, much larger (and way more expensive) than both of these cars has the same qualities with an added dollop of adventure. There's the feeling that you can go anywhere, whenever the mood suits you, park up and sleep. I've toyed with buying with one myself and then renting it out when I'm not using it. If this is something you're considering – you can make up to around £900 per week during peak season. That should give you an idea of how popular they are. Having said that, many choose to keep the California to themselves as their main vehicle using it for school runs, shopping trips and of course mini breaks when the mood suits. I used it as both a car and as a camper and can see the advantages it offers for both.
Reasons to buy:
Top tech
Great-looking
Drives mainly like a car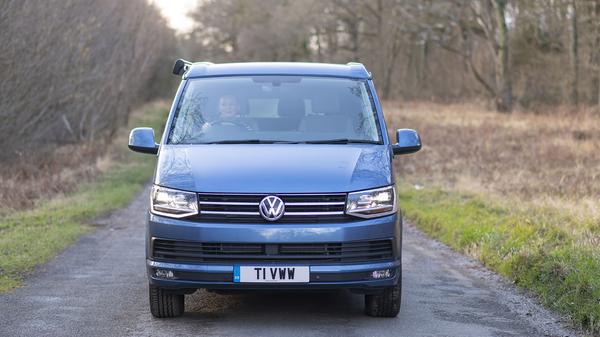 Drive
Those with motorhomes will always be aware they are driving a large unit but when you're driving one of these, it's easy to forget that you've got a house on wheels behind you. The model I tested was an automatic and I found the gear selector a little clunky. Given, I only needing to put it in drive, reverse and park but there was something awkward about its positioning. It's speedy so motorways are joyful and country roads fun to drive on. If you make a wrong turn down a narrow street as I did, you'll be delighted that it's got a decent turning circle. When it comes to cornering, there's a bit of roll but you expect that with a van of the size and you will feel it when you're driving in high winds. It's just a reminder that you're not in a car and that can only be a good thing.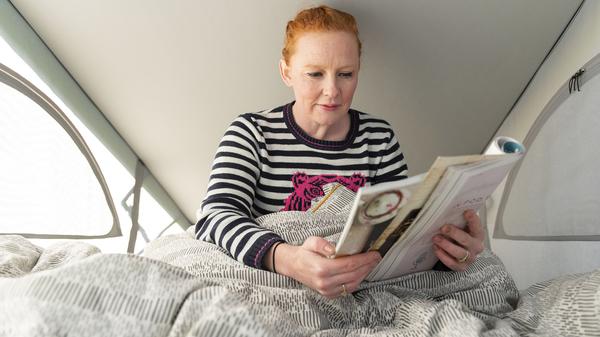 Design
This is a really good looking van that draws many admiring glances and there's so many features that make it really appealing to those on the lookout for a new campervan but also those who are 'VW 'til they die'. The alloys and the leather steering wheel give it a deluxe feel and if you want to pay the extra for metallic paint (£696) then it will be even more flash. Heated seats up front come as standard and are welcome addition to the already comfortable seats that make long journeys a pretty easy ride. I like to have the music up loud when I drive so I enjoyed skipping tracks on the steering wheel controls much to the annoyance of my passengers. Every little thing has been thought of from the picnic chairs and table that are stowed away in a zipped bag in the boot to the torch which my friend discovered by accident (it's next to the gear selection and was originally mistaken as a cigarette lighter). There's lots of happy discoveries that definitely put the exciting back into camping. The driver and passenger seat turn round to face inside the van but we found this a bit of a faff. We wondered if maybe the handbrake had to be taken off to move it which I realise sounds ridiculous, but if you're in that situation, you might also be flummoxed. There's plenty of storage – another clever touch – once you start looking you'll find it everywhere. When I was on a campsite, a motorcaravanner came over for a look and asked how much it was. "But you don't even get a toilet", he said. I nodded but did show him the shower (not as standard) which hooks up to the water tank and can be used outside. "Ah but that's only really good for surfer types", he added. To a man who owns a cheaper motorhome with an onboard full-sized washroom and lounge, you can see his point. In fairness he did add: "I guess it's not really aimed at me."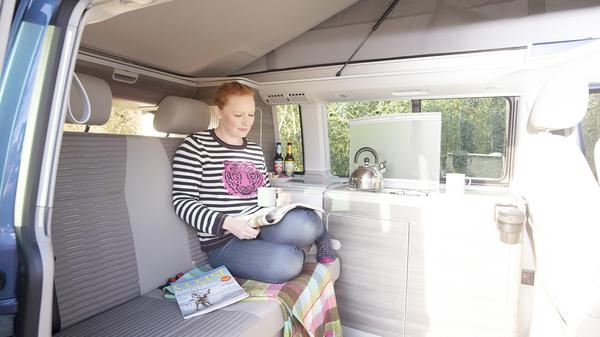 Living
There's the perfect amount of space to watch films on a iPad or laptop but if it's rainy and you've got little people with you, you'll need to have a back up (does children still do colouring? If so, pack some colouring books) or insist on really early bedtimes.
Dining
The table and chairs stowed in the back can be used in or out of the van. In warmer weather you'll be able to eat al fresco but if it's not so pleasant outside, there's plenty of room to eat in the van. We discovered this when we called McDonalds on the way home. And yes, I served it up on plates. The cupboards in the van I tested were dark wood effect which definitely give it a more homely feel and the two-burner hob with glass cover are more than adequate for cooking a meal.
Sleeping
One of the most fun aspects of staying in the California is the bed set up. This van can sleep four – there's a double 'downstairs' and a double 'upstairs'. To use the pop-top, you'll need to navigate the control panel in the main cab. Then it's a case of sliding back the cover and pressing a button. It doesn't take long to fully open the roof but you do need to keep hold of the button. When you close the pop-top, the controls prompt you to check that you've closed the windows and turned the lights off up there. That's a great bit of housekeeping. Spacewise, the top bunk is generous enough for sleeping two but you won't want to be doing much else, such as..reading in bed. I'm only 5'5 and I couldn't sit up in bed without the roof touching my head. But sleep downstairs, once you've configured the bed and you can get plenty of headroom if you make sure the roof is up. Given you'll be in the kitchen sink, but it's brilliant! Literally, breakfast in bed.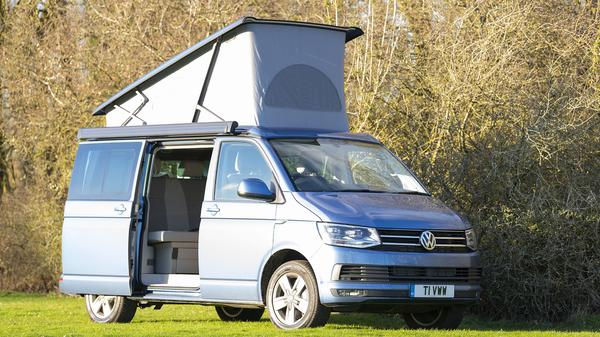 Value for money
The California Ocean starts at around £55k (including VAT) with the higher spec model coming in at around £63K. In some parts of the county, you could (probably) buy a house for that but do the maths – if you're going to go away at least once a month and use it as your regular wheels then it's going to eventually pay for itself. You can also park it on your drive so you'll never have to pay for secure storage.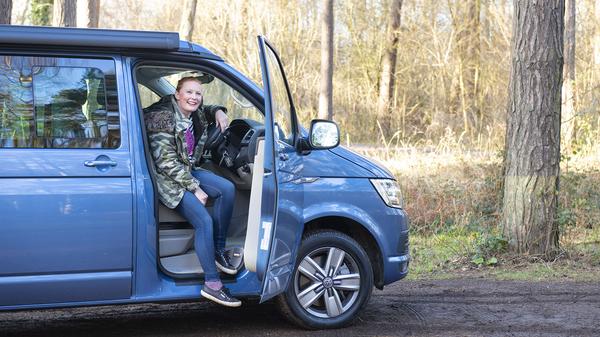 Why buy?
You're cool and you want everyone to know how cool you are. In seriousness though, you buy a van like this because it's versatile and you can mini break at a moment's notice. The California is a statement and a declaration of your free-spirited ways even if you've got a sensible day job and two kids. Reviewed on site at Stamford Caravan & Motorhome Club Caravanclub.co.uk Images courtesy of Kingsley Singleton.