Guide
Campervans – hire before you buy
Whether it's brand new or secondhand, buying your first campervan is a pretty big deal and there's a lot to consider before you pick up the keys. Before you commit to buying one, why not hire one first?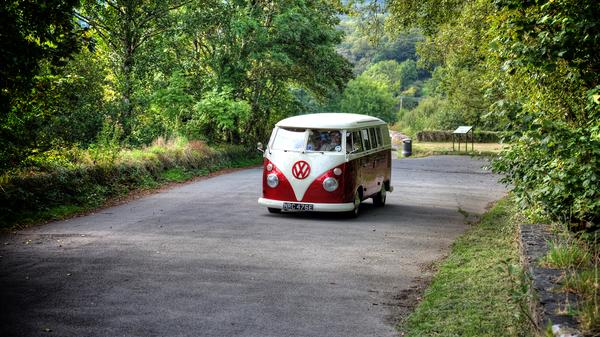 You'd unlikely buy a car without so much as a test drive and when it comes to a campervan, you're going to want to do more than take it for a spin – you'll want to drive it, cook in it and most importantly, sleep in it! Here's our tips for testing.
Test more than one van
Buying a campervan isn't cheap and you will definitely want to be sure that the keys you're holding fit your life as well as your van. Consider sizing – how many people will realistically be travelling and sleeping in it? Of course, you can always visit a dealer or private seller
(have a look here)
to have a good poke about the van but there's no substitute for giving it a proper test and often, the only way to do that is to hire one and see how you get on.
Take everyone (including the dog)
Once you've hired your van, take everyone with you who will be coming on future trips and if permitted, that includes the dog. Get a realistic idea of the space and how well you all fit in. Do kids need space to stow their stuff and do you need a place to put all your pots and pans. A holiday is supposed to be relaxed so if it feels too cramped for your family – it's not the van for you! If you are taking Fido then read our feature on the
best dog-friendly camping here.
Go to places you've never been before…
Owning a campervan will definitely bring out your wild side so plan an epic break that takes in all types of roads. This is important as you want to know how confident you'll feel when you're driving and maneuvering it and how comfortable it is to be in the driving seat. Having said that, most campervans are compact and don't feel much different to driving a car. It's a different story if you're looking at buying a motorhome as these tend to be much bigger units.
…and regular destinations
Unlike motorhome, campervans tend to be used as a second vehicle to do the school pick up (lucky kids) and do regular errands such as going to the supermarket. It sounds boring but if you can do a few day-to-day tasks in your campervan, you'll get a much better idea of how well it's going to fit into your life.
Get a good night's sleep
If you rock up to a dealer with your duvet and pjs, you'll get some questionable looks but if you've hired one it's essential you get to grips with the sleeping arrangements. Typically, parents prefer little ones to sleep in a pop-top roof if there is one while they are normally happier sleeping downstairs. It may be that you decide to take a tent with you if spacing is snug but you'll only know this from being in the van for any length of time.

Knock up a nice meal
Of course, we'd all like to eat out everything but the joy of having a campervan is being able to cook in it. Most will have basic appliances that run on
gas
so always have a gas bottle on board unless you want a cold dinner. Don't forget to take pots, pans and tableware
(we love this)
and space saving items.
Once you've sampled supper in your campervan, you'll know whether it's an experience you'd want to repeat or whether there were too many cooks in the kitchen...
Consider costs
Not only do you have to buy the van, you also need to insure it and keep the tank topped up so do the maths. As soon as you pick up your hire van, make a note of the mileage and keep your eye on the fuel gauge. Of course, you can look up MPGs online but it's a good idea to try and work it out yourself.
Check out some insurance quotes here before you sign on the dotted line.
Home is where you park it
Depending on the size of your vehicle, parking can take a little getting used to. It's always wise to look up where you are going ahead of time to plan where you will park. Don't be tempted to sleep overnight in a car park either. Always look for a campsite which is a much safer option especially when you're new to campervan life! Search campsites at
pitchedup.com
Ready to hire?
Great! There's hire companies all over the UK including:
Quirky Campers
Wanderlust Camper Co
Vanglorious
Have a camper and want to hire it out?