Expert Review
Auto-Sleepers Ford Air Campervan Review
After practical holidays that up the style stakes on the road? Meet the Auto-Sleepers' Ford Air campervan.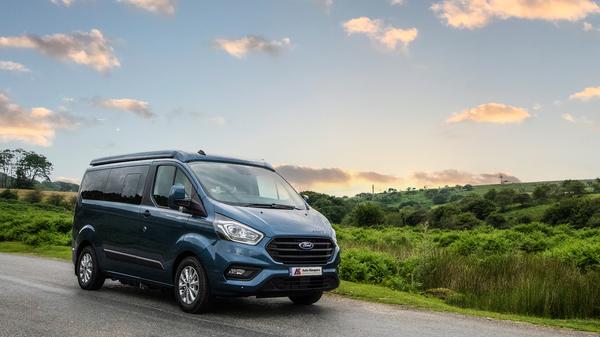 Words by: Ben Hackney-Williams
Published on 17 January 2022 | 0 min read
The Auto Trader expert verdict:
No more heavy homes on wheels that exclude many younger drivers. No more lively livery decisions from a design team solely using stickers to stand out. This stylish Ford conversion comes with plenty of spec as standard; it's available from Marquis Leisure and makes for a great family or couple's campervan.
Reasons to buy:
Suitable for both couples and families.
Subtle styling means more vehicle versatility.
Weight of 3200kg means it's accessible for every driver.
Drive
Based on the Ford Transit van, sometimes it's just nice to know exactly where you stand when it comes to your drive time before a holiday in a new campervan. Glossing over the stereotype of that douchebag driver in a white van, the Transit is renowned for its reliability, practicality and longevity for peace of mind, mile after mile. With the comfort and convenience of a home from home included in the back, this campervan conversion from Auto-Sleepers is no different. On the seating and safety front, you're sorted courtesy of five belted seats, two of which can carry Isofix child seats.
Expert rating: 5/5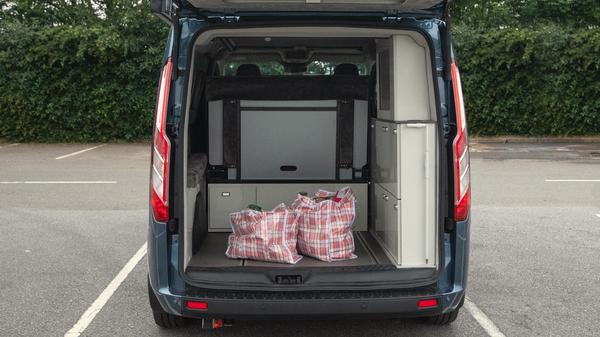 Design
Campervan conversions are often the best options for anyone looking for their first camping experience. With the convenience of being a familiar size on the road, with no massive motorhome dimensions or caravan towing needed for the unfamiliar or anyone that's not confident, it's an easy progression from a regular drive. The Transit base makes for compact campsite navigation and practical parking opportunities wherever you go. Inside, everything makes sense. The seating rails make converting travel and living set-ups a breeze, while even little touches like the amount of flexi-lights on hand around the interior mean that convenience is key whether it's day or night. There are a couple of considerations to be taken into account when it comes to your personal preference – where to store the toilet, or which cabinets to use so they're accessible given your chosen seating set-up, for example – but there are plenty of options to suit any need.
Expert rating: 4/5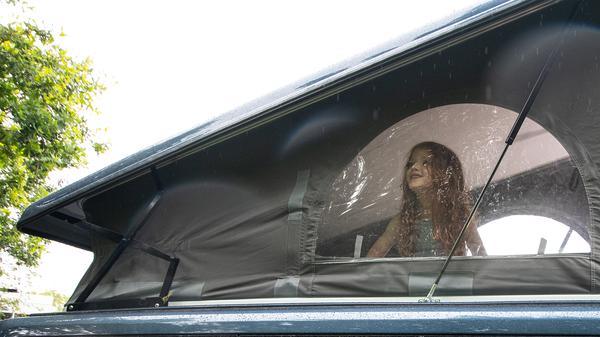 Living
The Air's Webasto ambient heating makes for comfortable campervanning any time of the year, while other essential amenities include a Dometic portable toilet, cold water shower point (perfect for summer or simply washing down dirty bikes and the like), along with fresh and waste water storage tanks. Two captain chairs mean that it's easy to spin them around and create a welcoming communal space in the living area. Manual tasks such as bed set-up are intuitive, while wireless phone charging and USB plugs ensure all your digital desires are fulfilled. The best thing about the Air from a social perspective though? The subtle addition of a bottle opener tucked away atop the kitchen space – it's a nice touch.
Expert rating: 5/5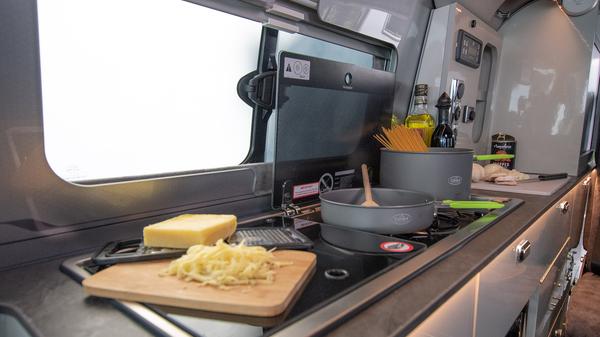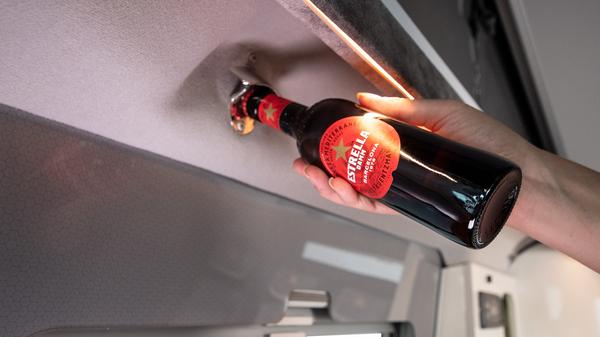 Dining
While the side-kitchen layout won't raise any eyebrows in the innovation stakes, it just does the job well, with a two-burner hob, separate grill, integrated fridge and gas BBQ point offering plenty of options for eating throughout the year. If you're eating indoors, you'll find the table situated to the back of the rear seating area. Shifting the seats forward or back also gives you plenty of choice when it comes to how much space you want to suit your needs, or how close you want the rear bench if you're having a family meal compared to giving the kids a snack while you get on with other tasks, for example.
Expert rating: 3/5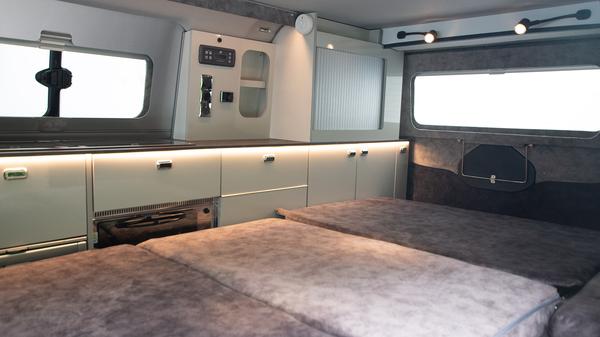 Sleeping
The Air sleeps four but the five seats while on the road and plenty of space for carrying kit mean that you could easy bring a tent with you for a fifth family member to sleep in on-site. Roof bed functionality is easy to set up and put away thanks to gas strut assists, while you can flood natural light into the living space or keep things dark when you need shut-eye by unzipping or zipping up the three fabric windows up top. Up top and down below, both beds are comfortable and spacious.
Expert rating: 5/5
Value for money
Around the £60,000 mark depending on your spec, it's an investment but one that will stand the test of time. The Thule Omnistor awning, while not automatic, does mean you can extend the living space on your pitch and shelter from the elements when you're digging through your bag for the keys after a walk. The good news is that it comes as standard, as does the Air's metallic paint and alloy wheels. As if the compact campervan dimensions weren't convenient enough, there are also plenty of assistance on the road thanks to (take a deep breath): sat-nav, speed sign recognition, cruise control, rear view camera, parking sensors, lane change alerts and blind spot information plus cross traffic alert, and more. All of your entertainment – DAB radio, MP3 compatibility and Bluetooth connection – is also provided by an 8in colour touchscreen. There's a lot going on while you're in transit.
Expert rating: 4/5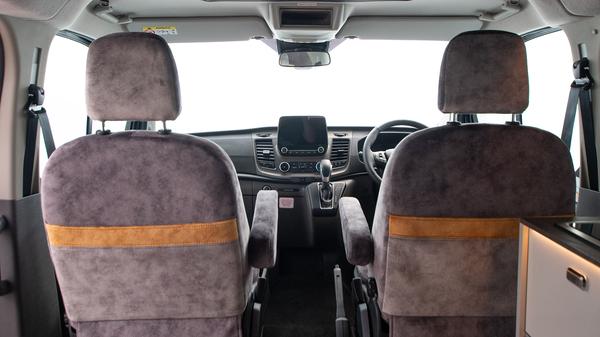 Why buy?
This is one of the best examples of a campervan that doesn't look like a campervan. The Auto-Sleepers team has kept the styling subtle and the bodylines sleek, hiding away water tanks and taps inside doors and under the vehicle. While this doesn't make a difference on practicality, it does mean that you can take the Air on the road for any purpose even when you're not holidaying, without raising too many eyebrows. The Ford Air campervan is available exclusively from Marquis Leisure.
Expert rating: 4/5