Expert Review
Zero SR/F (2019 - ) electric bike review
Electric bikes may be the future but common consensus is their performance, range and price isn't quite there yet. But Zero's new SR/F is the closest thing yet.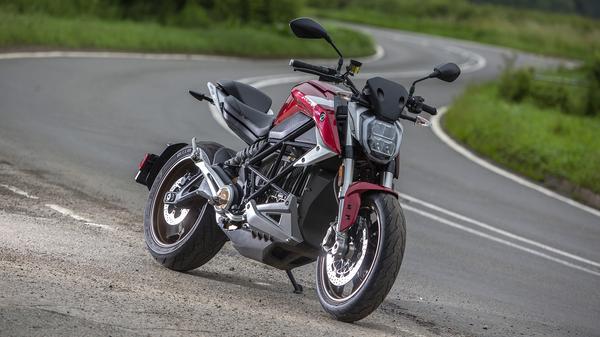 The Auto Trader expert verdict:
Available new from £19,045
US specialists Zero have come up with the most convincing electric bike yet with its new SR/F. With a new motor producing 110bhp and, even more impressively, 190Nm of torque, a credible chassis, realistic 100-mile range and all starting at £16,490, the future could be here, right now.
Reasons to buy:
Startling acceleration
Competitive road manners
Range and price becoming credible
Design
There's a lot to applaud here. First, Californian firm have been leading the way in electric bikes for the best part of a decade anyway but with this all-new SR/F they've arguably moved into 'credible motorcycle' territory for the first time. That's due to three reasons: its new electric motor gives a new standard in electric bike performance; its all-new tubular steel chassis, profile and cycle parts such as USD Sachs suspension and radial brakes provide the basics most bikers expect and, with a new TFT dash and improved style and detailing it's a more desirable lump of metal, as well. There may still be some way to go, but electric bikes are getting there.
Riding position
The SR/F is a slightly larger and heavier middleweight roadster. End of. Though there's clearly a big mass of battery between your knees/ankles, its still slim and manageable; the forward gait typical of many a midrange roadster and arms, feet and backside find their place naturally and comfortably. Of course, that sort of exposed riding position has its cons, too, with no weather protection and little by way of luxury, but if you think of the Zero as a Sunday afternoon fun bike, similar, say, to a midrange Ducati Monster, you won't be disappointed.
Practicality
The practicality of any current electric bike is something still of a moot point which inevitably sparks a discussion involving battery range, charging points, running costs and so on, so let's keep things simple: as a two-wheeler, the SR/F has limited practicality anyway, or certainly versatility – it's midrange roadster style determines that. But as a short-haul toy things become different. A rapid charging option is claimed to reduce recharging to under an hour; clever connectivity via a smartphone app offers also sorts of useful, modern convenience, such as security, charger finding, charging notifications and so on while, once fully-attuned to and taken advantage of, conventional motorcycles with their need for messy fuel, expensive servicing and so on suddenly seem from the steam age. This is a two-wheel runabout for the digital age.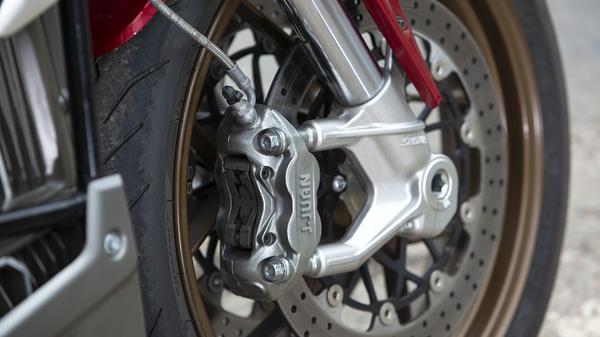 Performance & braking
We've rightly been skeptical about electric bike performance sometimes but the SR/F, truly, is a revelation. With the equivalent of 110bhp and, more importantly still, a whopping 190Nm available from its new ZF75-10 motor, off-the-line acceleration up to 60 or so is simply astonishing. With simple twist and go operation it's never been easier, too. Hold on and Zero claim a top whack of around 124mph with 80+ cruising a doddle as well – though it will quickly devour the battery. Braking impresses, too. Twin 'J-Juan' radially-mounted calipers and twin discs may a name new to many but the offer plenty of Brembo-style stopping power.
Ride & handling
Another area where this new Zero impresses. Thanks to its new Ducati-style tubular steel frame, Sachs monoshock rear and Sachs USD front end the SR/F's chassis is right up there with petrol equivalents for the first time. Yes, thanks to the battery, its noticeably heavier than those but the ride is still taut and controlled, the steering impressively sharp and the overall sensation one of a credible sporty roadster that revels in being hustled. The eerie virtual silence of the motor (although in truth there is something of an entertaining whine) does, however, take some getting used to.
Running costs
This, as with all electric bikes, is where it all starts to get a bit debatable. On the plus side; a full recharge should cost less than a couple of quid; there's no road tax and no emissions charge fees in zones such as London. So far so good. On the downside, the fast-charging 'Premium' version costs £18,490 (the base version is £16,490); charging cables are, inexplicably, extra and you can still expect a cost for consumables such as tyres and brakes pads (no chain as it's belt drive) much the same as the equivalent petrol bike. Overall, yes, it's promising. But whether the maths adds up is debatable and up to your personal requirements. Insurance can be expensive, too.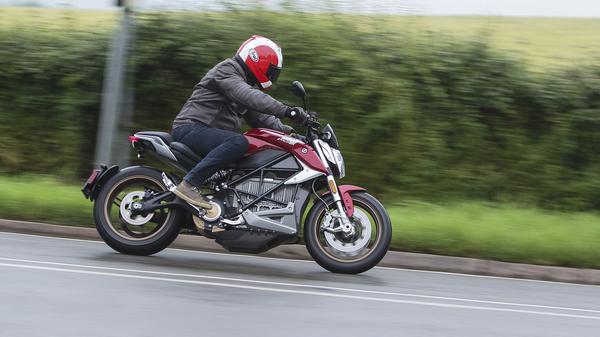 Reliability
With an ever more conventional chassis, including cycle parts, Zero having a decent and proven 10+ year track record and the electric power train having the bare minimum of moving parts, on face value, the prospects are good. On the downside, battery life remains questionable and electric bikes are still so new it hasn't fully been established or proven. A few irksome details such as iffy panel gaps around the tank lid and the lag between turning the key and the dahs lighting up and the throttle actually working give me cause for pause, too.
Warranty & servicing
Most of the bike has the industry-standard, two-year, unlimited mileage, manufacturer-backed parts and labour warranty. The battery itself, meanwhile, which is the same ZF14.4 lithium-ion battery found in other Zeros, gets a full five year warranty, which should set some suspicious minds to rest. Servicing is a relative breath of fresh air as well. With virtually no moving parts, servicing is little more than a relatively simple (and cheap) annual checkover.
Equipment
As a roadster most of use wouldn't expect most, even from a petrol version, so don't get too excited. That said, the SR/F does raise Zero's bar significantly. On top of the decent Sachs suspension and radial brakes, there's a new five-inch TFT display through which you have a choice of three riding modes plus there's also cornering ABS and traction control for the first time, too. While on this top-spec 'Premium' version you even get heated grips! That said, at well over £18K, it's also quite hard to see what you're actually getting for your money.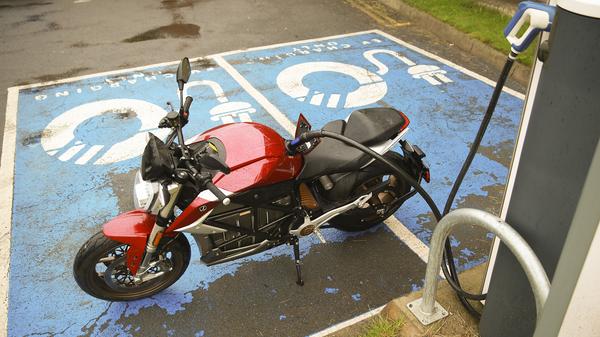 Why buy?
There currently (sic) aren't many bigger questions in motorcycling than 'Should I buy an electric bike?' And, to be honest, until now the answer almost always has been 'No'. Their range was too short, their performance lacking and their prices too high. The new SR/F, however, although it's still difficult to argue it's on a par with the best petrol bikes, does make the most convincing case yet, it's performance is exciting, dynamic and truly impressive, its practicalities in terms of range etc better than ever and its attraction as a two-wheeler definitely there. We certainly can see more 'early adopters' and digital modern types moving their way. For the rest of us, though, until the digital age truly dawns, that almost £20K price and lingering doubts about charging networks, residuals, insurance and sheer value remain – they're getting there though…