Expert Review
Zero DSR/X electric/adventure (2022-) review
The DSR/X is Zero's (and the world's) first electric adventure bike and the firm's new range-topper. With more power, tech, stature and versatility it's the US brand's best yet and proves electric bikes are closing in – at a price!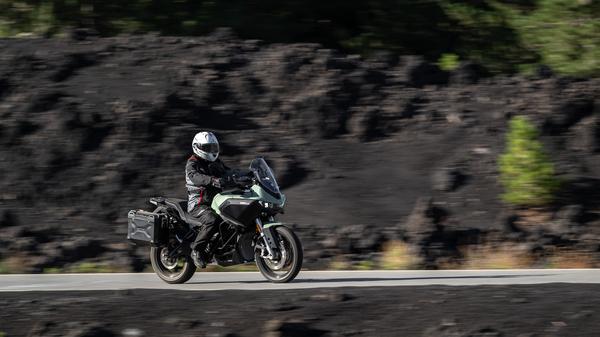 Words by: Phil West
Published on 22 December 2022 | 0 min read
The Auto Trader expert verdict:
Zero continues to be the leading electric bike manufacturer and the DSR/X is its best yet with performance, practicality and proportions to admire and make it probably the best full-size electric bike yet – but its near £25K price is still a hurdle.
Reasons to buy:
Full-size stature and credibility
Zero's best drivetrain and spec so far
Easy versatility and cheap running costs
Design
The DSR/X is the latest from the Californian electric bike specialists, is its first adventure style bike and is intended as its new range-topper, so as you'd expect it builds on Zero's previous bikes to achieve just that. Although the motor, power pack, chassis and styling appear derived from previous Zeros, most notably the SR/F and SR/S, most of it is all-new. There's a new motor, the latest power (battery) pack, the frame's been redesigned to give more ground clearance and new bodywork includes an adjustable screen and three useful storage compartments. It also all works well and is intuitive, comfortable and engaging. On the (very) slight downside, its weight and style means it's no real off-roader (but then adventure rivals like Kawasaki's Versys aren't either) and the overall spec is a little basic given its £24K price (Ducati's cheaper Multistrada V4 S, for example, has semi-active suspension, radar cruise control etc). But it's a decent attempt.
Expert rating: 4/5
Riding position
The DSR/X is supposedly an adventure bike so it has the tall, upright, wide-barred, faired riding position to go with it. It works well, too. Although the bike is tall, the seat is pleasingly accessible, taller riders will welcome its extra stature and substance (most previous Zeros were often a little 'dinky' and toylike), the comfort is good, the large TFT dash clearly gives all the information you need and its screen is usefully height adjustable on the move via a knob. Overall: no complaints.
Expert rating: 5/5
Practicality
In most respects the DSR/X is brilliantly practical – in fact it's arguably the most practical full-size electric bike so far. It's just as easy to ride, 'twist 'n' go stylee', as any previous Zero; its sizeable, adjustable screen adds long distance comfort; it's probably Zero's most pillion-friendly bike so far while the extra storage compartments are a bonus. Even the performance is more than adequate. The result makes the DSR/X a capable Sunday toy, an easy, effective commuter (up to a point) and even, to some degree, a two-up tourer. On the slight downside it's not really an off-roader; its claimed range on full charge is only 115miles (most big-tanked ICE adventure bikes set their stall out on being able to tour for over 300 miles on a tankful), and in reality is probably slightly less, and, without investing thousands more on a rapid charger or extra power pack, a full recharge takes 10 hours. In reality of course, for many riders, a 100-mile day/commute then overnight recharge, may be sufficient. But claiming the DSR/X is an adventure bike, against the massive ranges most ICE versions are capable of, counts against it here.
Expert rating: 4/5
Performance & braking
If you've never ridden an electric bike before, you'll be impressed. And even if you have, you'll be entertained. Zero say the DSR/X has 'an entirely new Z-Force 75-10X motor that produces a staggering 225Nm (166lbft) of torque', which is Zero's highest so far, along with 75kW (100bhp) of power. Although that power doesn't sound too great, it's the former that's important, propelling the DSR/X off the line and accelerating hilariously through its midrange more swiftly than any ICE bike can manage and all off a twist of the throttle with no recourse to clutch, gears, anything. There are also five riding modes – Rain, Eco, Standard, Canyon and Sport – with the latter two the liveliest although, if ridden hard in either, battery life plummets. Speed tops out at around 110mph, which realistically is fine for this kind of bike. Braking is decent rather than outstanding. There's a twin disc/four-piston radial caliper set-up at the front but the calipers are the slightly more budget J-Juan brand, not the Brembos you'd expect at this price (not that there's anything I could discern wrong with them), plus it's a heavy, tall beast that, in Sport mode has little engine braking and can be quite a handful to haul up.
Expert rating: 4/5
Ride & handling
Decent rather than exceptional. Suspension is taken care of by new, longer-travel Showas inverted forks and rear shock. Both are multiadjustable and give a comfortable, plush, controlled ride, although they lack the latest, ultra-sophisticated semi-active control of some rivals. Steering and handling is reasonably nimble and precise but, being a tall adventure bike with a more upright riding position means you feel more distant and slightly less involved than with, say, Zero's ZR/S roadster and this is exacerbated slightly by the DSR/X's larger, adventure-style 19inch front wheel and semi-knobbly Pirelli tyres. While the noticeably hefty weight, which also feels slightly more top heavy on the DSR/X than other Zeros, also counts against it slightly. But these are only slight niggles and are true of all adventure style bikes compared to their roadster siblings. In isolation it's all adequate and acceptable, but again, bearing in mind its price, the DSR/X hasn't the sophisticated sporting poise of ICE rivals such as Ducati's Multistrada V4 S.
Expert rating: 4/5
Running costs
As with virtually all electric bikes, this is the DSR/X's trump card. There's no road tax to worry about and Zero claim a 100-mile recharge should cost around £3 (compared to around £15 for a conventional, comparable ICE machine). There's also belt drive (which has been strengthened for the DSR/X) which should be more cost-effective than a chain. That said, however, other consumable costs such as tyres and brake pads are unlikely to be much different, insurance will be similar, too, while a lingering 'great unknown' with electric bikes is residual values which, considering the DSR/X's high initial outlay, could be excessive. Only time will tell.
Expert rating: 4/5
Reliability
Again, an all-new electric bike with a new motor and uprated power pack, not to mention a new style of machine in a sector of the market Zero's not been active in before, doesn't add up to huge confidence about reliability. That said, Zero is the longest established and most reputable of all electric motorcycle manufacturers, the DSR/X is its new, range-topping machine and the core mechanicals (electrical?) are all based on previously reliable components, so we have little to fear here.
Expert rating: 4/5
Warranty & servicing
Another area which can cause justifiable concern, especially for those new to electric bikes, but Zero has it covered better than most. Warranty-wise, the base bike is covered by an industry-standard, two-year, manufacturer-backed, unlimited mileage warranty for all parts and labour. Better still, the crucial power pack (battery) is independently covered by a further five-year, unlimited mileage warranty so, unless you plan on keeping your DSR/X for over five years, you should have few concerns. Servicing is simple and affordable, too. Being electric means there's virtually no moving parts as with a conventional ICE machine so annual services are little more than a general inspection, plus a check on brakes, suspension, belt etc.
Expert rating: 5/5
Equipment
For a £25 grand machine you might reasonably expect a high level of equipment. After all, the closest price-comparable ICE adventure bike, Ducati's exquisite Multistrada V4 S, has virtually everything you can imagine including semi-active suspension, radar-controlled cruise control, the works. In truth, the DSR/X isn't in that league. Some of its cycle parts such as the suspension and brakes simply aren't as high end – but it's not bad. There's a large, colour TFT dash, heated grips, riding modes, a reversing mode, adjustable screen and even three useful storage compartments. But that's your lot. Extra costs accessories are available, too, including aluminium luggage. But it is also worth pointing out here that the 'Power Tank' option to increase range is a further £2899 while the Rapid Charger, which takes recharge times down from 10 to one hour, is a whopping further £2459.
Expert rating: 4/5
Why buy?
There's no doubt that credible, competitive, compelling, full-size electric motorcycles are coming. When Honda, Yamaha, Ducati et al start unleashing what they've no doubt been developing for the last few years, motorcycling as we know it is going to change very rapidly indeed. Until then, however, the DSR/X is probably the best available. It's fun, fast, reasonably practical, a crowd-puller and, as a commuter or Sunday toy, makes increasing sense. But there's also no getting away from the fact that it's currently £24,150 and if you want to improve its practicality (with the Power Tank and Rapid Charger), it's actually nearer £30K. Simply, as it stands, when you can get a top spec Ducati Multistrada V4 S, for example, for just over £20K, which has an equally exciting 170bhp, better handling, a 200-mile range with no 'refuelling' issues, far better tech and components, a more extensive dealer network with better residuals and just as much kerb appeal, that's simply not justifiable. Unless you're determined to be an EV 'early adopter', that is…
Expert rating: 4/5