Expert Review
Yamaha YZF-R125 Sports Tourer (2008 - ) review
Third generation version of best-selling learner sports gets new GP styling, uprated engine and improved chassis to remain ahead of the pack

Words by: Phil West
Published on 14 June 2019 | 0 min read
The Auto Trader expert verdict:
Yamaha have given their class-leading learner sportster a thorough makeover for 2019 with improved, 'Rossi-alike' styling, revised, more flexible engine and improved chassis. It's pricey, yes, but the best just got better.
Reasons to buy:
Better-looking than ever
Improved midrange and chassis spec
Rossi replica' GP colourscheme option
Design
The restyle means the new YZF-R125 is, more than ever, a 'mini R1'. Now designed to resemble the latest R1 there's a new fairing complete with M1 GP bikes style air intake and twin LED headlights all conceived 'to project a strong and forceful look', the Deltabox frame has been refined further with new geometry while, at the rear, there's a new aluminium swing arm and a wider, 140-section rear tyre. If you mistake is for a bigger sportster then that's entirely deliberate. The option of a 'Rossi replica' paintscheme, meanwhile, is the cherry on top.
Expert rating: 5/5
Riding position
Although obviously sporty, the new R125 is also designed to be roomy, comfortable and easy to ride for the novices who are its target market. As a result, with a 825mm seat height yet well-placed and not-too-extreme pegs and handlebars plus a newly-designed, slim, 11-litre fuel tank, the riding position suits all sizes of rider and is reasonably comfortable both around town, although the low bars do become a slight pain after a while at slow speeds, and over longer distances as well.
Expert rating: 4/5
Practicality
Sure, on the one hand you can argue that a 15bhp sports bike has little practicality, because it's just 15bhp… and a sports bike. But for its target customer, novice 17-year-olds heading out onto the road for the first time, it lets them into a whole new world doing things they've never done before so it's a bit of a moot point. It's also worth saying that nor is the new YZF as extreme and single-minded as it looks. We confidently predict you'll see plenty of teens doing all sorts of things on the new YZF-R125 very soon.
Expert rating: 3/5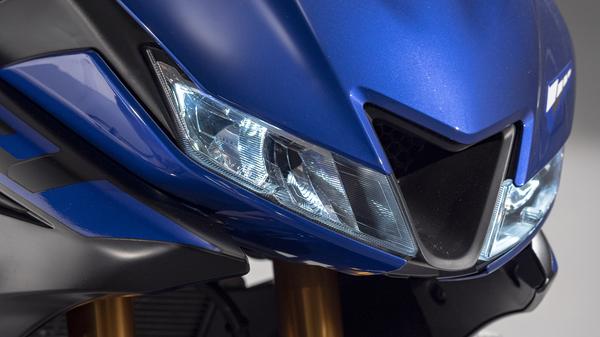 Yamaha YZF-R125
Performance & braking
Again, yes it's only a 15bhp 125, but within the A1 licence regulation they don't actually get much better (Aprilia's exceptional and even more expensive RS125 being possibly the only one). With power and weight restricted, Yamaha have cleverly improved its 125 by adding its Variable Valve Actuation (VVA) system which help boost low and midrange torque instead. The single front 292mm disc brake, meanwhile is essentially unchanged but feel is improved via improved front brake hose routing and a new rear caliper.
Expert rating: 4/5
Ride & handling
It's fair to say the old YZF-R125 was already one of the best handling machines in the category but with this new version Yamaha have raised the bar again giving its Deltabox frame revised steering geometry and adding a new, shorter, aluminium swing arm for even smoother and lighter handling (something which is a boon for novice riders, too). Nor is that the end of it as new 41mm inverted from forks plus a wider 140-section rear tyre improve the ride and stability, too.
Expert rating: 5/5
Running costs
The running costs of a learner four-stroke 125 should never be particularly high, no matter how sporty it is and the little Yamaha's fuel consumption is as impressive as ever – over 100mpg should be easily achievable. Add to that a miserly hunger for other consumables such as brake pads, tyres and chain and you've a bike that should cost a pittance to run. It's not as cheap as hugely economical commuters such as Honda's CB125, but it's not far off.
Expert rating: 4/5
Reliability
It's difficult to be certain for, as we write, the latest YZF-R is a substantially updated machine with a new engine, revised chassis and more. But based on the impressive track record of previous versions, along with the impressive build-quality of this European-made machine, we've no reason to be anything other than very optimistic. If buying used, however, bearing in mind the type of youthful owner it's likely to have had, check that it's been well looked after.
Expert rating: 4/5
Warranty & servicing
As with all over-50cc Yamahas – indeed like all of the leading manufacturers – the new YZF-R125 comes with a two-year, unlimited mileage, manufacturer-backed warranty covering parts and labour. Meanwhile, as before, valves need checking at just 3500 miles, when the air filter is also scheduled to be cleaned (with replacement at the major service every 7000), but for most owners that would essentially mean an annual service
Expert rating: 4/5
Equipment
Most 125s, by their very nature as entry-level machines that are intended to= be affordable, are fairly basic offerings, but the premium, aspiration YZF-R125 is better than most and this latest version moves things up another peg. Along with the VVA, aluminium swingarm and improved forks mentioned elsewhere, there's a fancy new reversed LCD digital display that has the flavour of a MotoGP unit. On top of that things like an Akrapovic can, crash bungs, bubble screen and more available as additional cost extras.
Expert rating: 5/5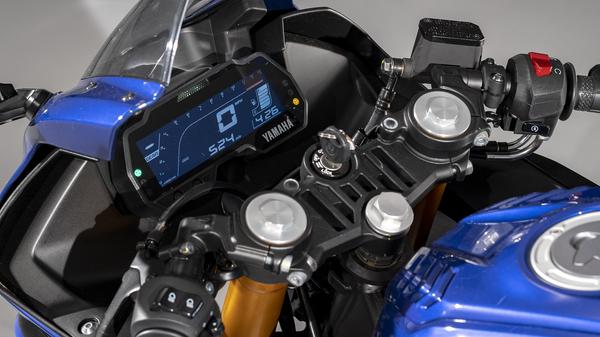 Yamaha YZF-R125
Why buy?
Yamaha's YZF-R125 has been the class-dominating 125 sports machine ever since the introduction of the original back in 2008 thanks to its big bike style, decent performance and handling and proven Yamaha reputation for build and features – and this latest version raises the bar yet again. It's style is freshened up and yet more 'Rossi replica' than ever, its performance and handling remain sporty, yet are now actually more road relevant than ever and its spec, thanks to the new clocks, suspension and VVA keep it on the top of the heap, too. The old YZF-R was the sports 125 we'd recommend most; right now it's an absolute no-brainer.
Expert rating: 4/5