Expert Review
Yamaha R1 Super Sports (2015 - 2019) review
The Yamaha YZF-R1 (2015 - ) is a fabulous sports bike. Focussed, furiously fast, great-to-ride, but not intimidating, it puts Yamaha right at the head of the super sports class
The Auto Trader expert verdict:
Available new from £17,558
This all new R1 is a stunningly powerful, sweet-handling and sophisticated machine that is right up there with the fastest and best in class in this outstanding year for new super-sports bikes. It's competitively priced and arguably incorporates motorcycling's most advanced electronics package, derived from that of the factory YZR-M1. There's no streetbike that more faithfully replicates the look, performance and feel of a MotoGP machine.
Reasons to buy:
Powerful, smooth, flexible and characterful engine
Brilliantly light, compact, agile and well braked chassis
Refined and rider-friendly MotoGP-sourced electronics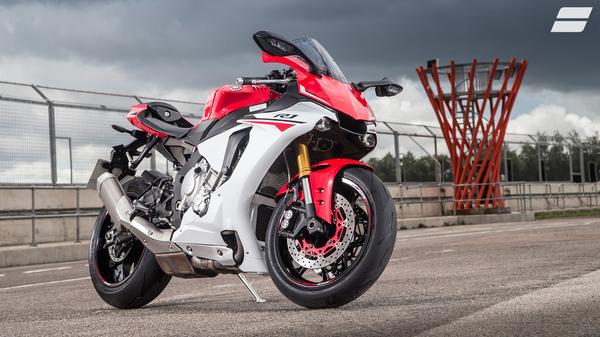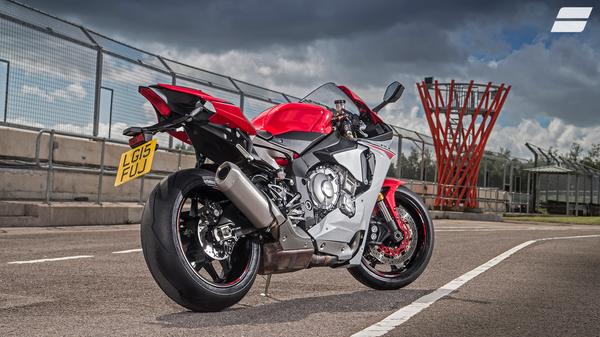 Design
"

The Yam is perhaps not the prettiest of superbikes, but it's brilliantly designed and superbly functional

"
The R1's racer-inspired design replaces the normal headlight with a small LED on each side of the smooth fairing nose. The 998cc, 16-valve engine retains Yamaha's crossplane crankshaft layout but has more oversquare dimensions and many other changes. The chassis is also new, based on an aluminium frame that follows the M1 by having a central air intake pipe that runs through the headstock to feed the enlarged airbox. Weight is saved by the aluminium fuel tank, titanium exhaust, as well as magnesium wheels and rear subframe. The Yam is perhaps not the prettiest of superbikes, but it's brilliantly designed and superbly functional.
Riding position
Yamaha makes no bones about the fact that this bike was designed primarily for racetrack performance, which inevitably means that it has low clip-ons and is very compact. Its screen is shaped for aerodynamics but is slightly taller than some race-replica items. The slim seat is slightly taller than the old model's (at 855mm), giving a fair bit of legroom, but one of the first impressions when you sit on the bike is how racer-like it is. Despite being very tall I had no problems on the track launch but some larger riders will probably find it a bit cramped, especially on longer trips.
Practicality
This R1 is a powerful, track-focused super-sports bike that makes the previous model seem like a sports-tourer, so you wouldn't expect it to make a particularly practical roadster. But that said, its engine is as flexible as it's powerful, and the Yamaha's light weight, superb brakes, sweet handling and sophisticated electronics – based on an Inertial Measurement Unit that senses movement in six directions, 125 times per second – will be welcome in any situation. Its 17-litre fuel tank will give a range of 120-plus miles, and its instruments and switchgear (including four easily set riding modes) are well designed and rider-friendly.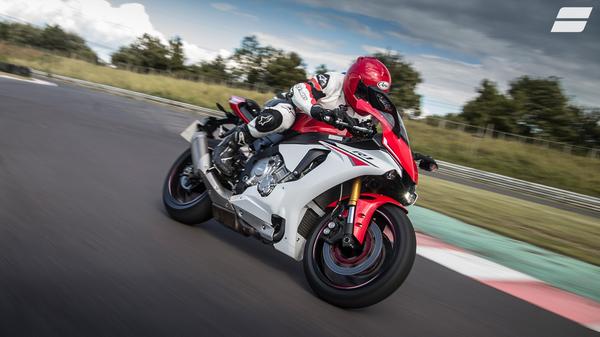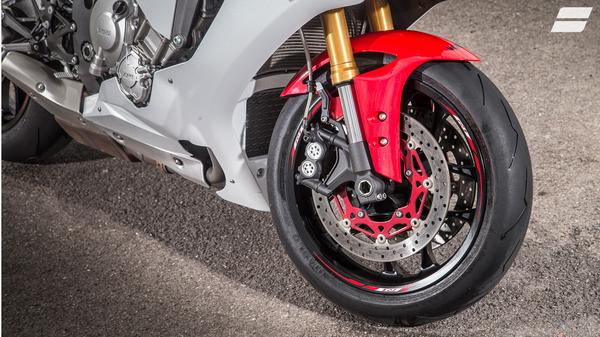 Performance & braking
"

Throttle response is crisp and accurate, even in the most aggressive of the four settings

"
The motor is magnificent: hugely powerful and also smooth, flexible and characterful for a straight four as it bellows its unique crossplane sound from the exhaust. Throttle response is crisp and accurate, even in the most aggressive of the four settings. The quick-shifter works flawlessly, although the R1 lacks the auto-blipper that allows clutchless downshifts on some rival sports bikes. It more than makes up for that with a state-of-the-art electronics package that combines traction control with a new slide control feature. Braking performance is excellent, aided by Yamaha's Unified Brake System, which adds some rear brake when the front is used, and moderates this depending on lean.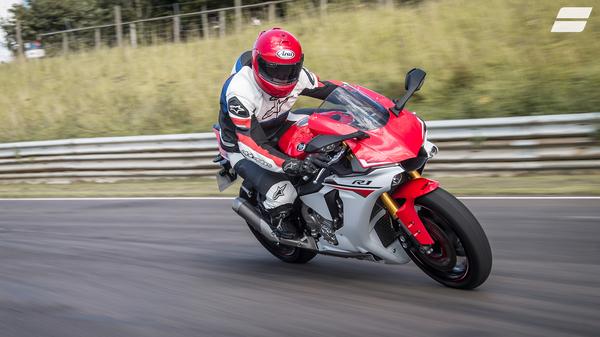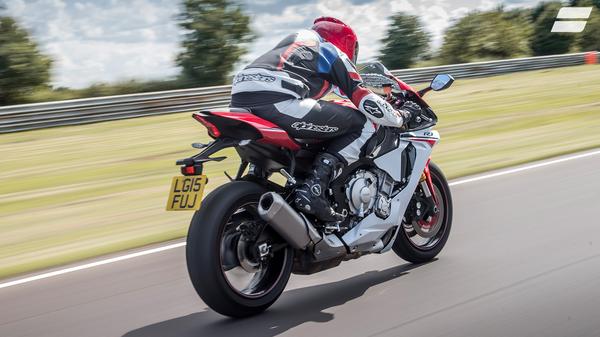 Ride & handling
"

Inevitably, the ride is firm but by no means harsh for such a track-focused machin

"
Handling is outstanding, with a combination of stability and agility that makes for effortlessly fast cornering. The rigid frame and high-quality suspension are part of the reason, with the electronics also helping. The action of the traction and slide control is difficult to differentiate but between them they allow hard acceleration while exiting a corner, with outstanding safety and control. Inevitably the ride is firm but by no means harsh for such a track-focused machine. Ride quality is better still on the limited-edition YZF-R1M, which features Öhlins semi-active suspension that can be firm when needed and compliant the rest of the time. The R1M also has carbon-fibre bodywork and costs £18,499; this year's tiny UK allocation is sold out.
Running costs
The R1 is a high-performance superbike so inevitably it won't be cheap to run, especially if you make the most of its performance. It comes with Bridgestone RS10 tyres which will grip well but wear fast, though not as quickly as the softer, track-day oriented RS10R rubber that was used on the launch at the Sydney Motorsports Park (formerly Eastern Creek). Then again, super-sticky rubber gives the best chance of lapping fast without expensive drama, so it's money well spent. Given that a standard R1 could lap at a pace that would have won a World Superbike race not too many years ago, we won't be complaining about running costs.
Reliability
It's always impossible to comment on an all-new bike's reliability with complete confidence, but Yamaha in general and the R1 in particular have very good reputations for reliability, so there are unlikely to be serious problems. Although almost every component is new, this bike is very much a continuation of proven YZF-series technology, much of which dates back even before the original, 20-valve R1 of 1998. And this bike is very much designed for hard use on a racetrack, so for general roadgoing pottering about it is hugely understressed.
Warranty & servicing
This is a very different R1 to all the previous versions but two things that haven't changed are the warranty – which remains two years, unlimited mileage – and service intervals. The 16-valve four requires an oil change and minor service at 6,000 miles; oil and filter plus major service at 12,000 miles; another minor one at 18,000 and then another major one, this time including valve clearances, at 24,000 miles. So pretty much par for the course for a Japanese multi, and fine for the majority of owners who aren't likely to cover huge distances anyway
Equipment
The R1's key equipment is its high-tech electronic system, which begins with a compact and attractive thin film instrument panel that gives a choice of road or race views. The lean-angle sensor (or IMU) controls the updated traction control system and new SCS slide control system, which can detect when the rear wheel is stepping out. There's an anti-wheelie function (called LIFt), and a launch control system for race starts. Accessories include a taller screen, pillion seat cover, engine protectors, billet levers, rearsets, Akrapovic slip-on silencer and a data-logger kit.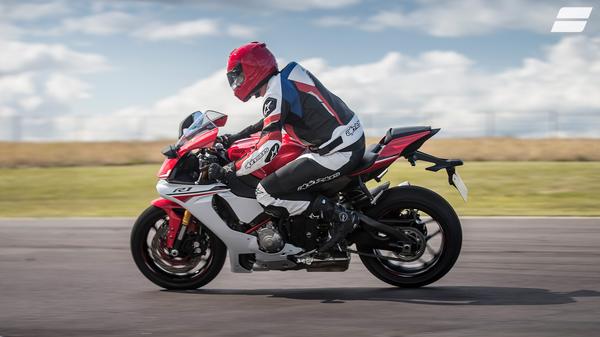 Why buy?
"

The R1 puts Yamaha right back at the front of the super-sports pack

"
The R1 is a brilliantly engineered and immensely capable MotoGP-bred machine that puts Yamaha right back at the front of the super-sports pack. It's easy to ride and supremely quick on track, and looks set to make an outstanding and very popular streetbike.