Expert Review
Yamaha XSR125 retro/roadster (2021-) review
New A1 125 brings style and versatility to learner category by blending class-leading MT-125 performance with 'Sports Heritage' looks borrowed from bigger XSR700 and 900.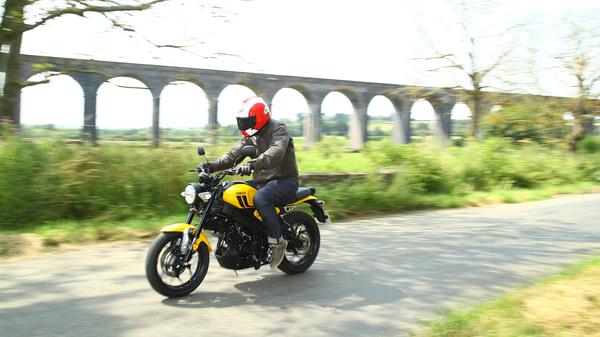 The Auto Trader expert verdict:
Honda's stylish, well-equipped and decent performing CB125R learner roadster has a new rival. The new XSR125 has an MT-125 engine/chassis d in semi-retro XSR bodywork to deliver decent performance and trendy style at a tempting price.
Reasons to buy:
Trendy, 'sport heritage' styling and quality detailing
Proven MT-125 performance and chassis
Roomy, upright riding position makes for a great learner – or commuter
Design
The XSR125 joins Yamaha's 'Sport Heritage' line-up of modern but retro-styled roadster as its junior member (the others being the proven and popular XSR700 and XSR900, which debuted in 2016. It's the result of an almost irresistible recipe, too: a proven, 'best in class' VVT-equipped 125cc motor and category-leading twin beam chassis, both from the MT-125/R-125, but this time with sweet, 'bang-on-trend' semi-retro, roadster/scrambler styling with lots of neat design touches such as polished alloy seat and mudguard brackets, in all the right places. It all works as efficiently and easily as you'd expect of a bike with that parentage, too. In short – what's not to like? We struggled to find anything, with only its price (£151 MORE than Honda's current class-leading CB125R) causing us any pause, although even that, being £200 less than the MT-125 and £350 less than the R125 still seems pretty good.
Riding position
Roadsters always make good learner bikes and commuters due to their comfort and ease of use and the same is true here. What's more, being only a 125 means that any comfort benefit to having a fairing is minimal. On top of that, the XSR has wider handlebars (by 15mm) and a more rearward hip point than its MT-125 sister bike, meaning its riding position is roomier still and better for larger or more mature riders. From the saddle everything is natural and instantly attuned to, the XSR is also slim, light (at just 140kg wet it's 2kg less than the MT-125) and ridiculously easy to manage and even its funky 'tuck and roll' ribbed saddle is thickly padded.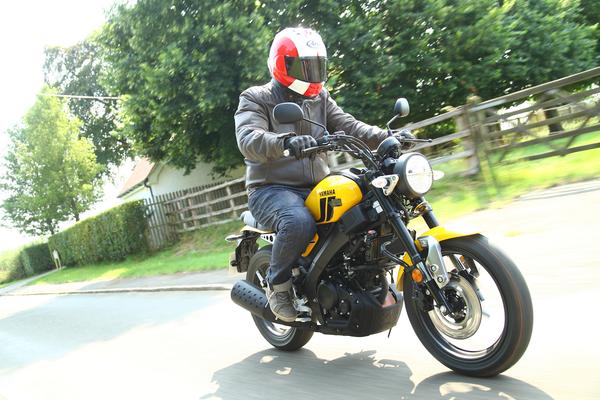 Practicality
We're docking a mark simply because the XSR is a more premium 125 compared to bargain-priced commuter runabouts such as Honda's currently £2799 CB125F and Yamaha's YS125 (now defunct, due to its air-cooled engine not meeting Euro5 regulations) so is by definition not QUITE as cheap to run, suited to running through winter, for bolting a top box to, and so on – but to be honest there's not much in it. If your idea of practicality is 125-sized, great around town, easy to ride, comfortable and proven, bikes don't get much more practical than this. Of course, if you need more performance or carrying, you shouldn't be looking at 125s in any case. But for what it is, there's few better than the XSR…
Performance & braking
The new XSR uses the proven, high tech and generally regarded to be 'best in class' engine from the established MT-125 roadster and R-125 sportster. As such, although only producing the 11kW (15PS) determined by the A1 class law and also still 'merely' a liquid-cooled, four-stroke single much like those of most rivals, it boasts more than a few clever technologies such as rudimentary Variable Valve Timing (VVT) to maximize performance both at low and high revs, a thermostat bypass system to speed up cold starting, slipper clutch and more. The result, although not startling different than some rivals, is arguably the best performance in the class. Braking, too, is more than decent. A 267mm front disc grasped by a two-piston caliper is supported by a smaller item at the rear both with ABS and we've no complaints about their performance.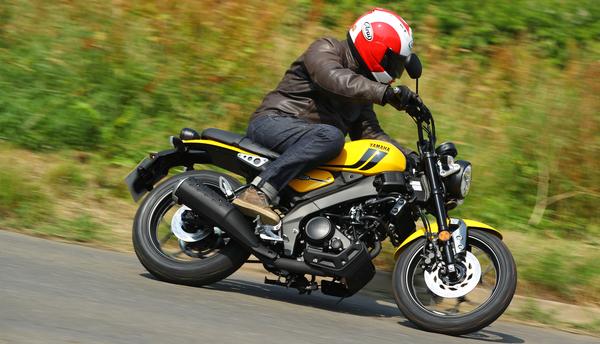 Ride & handling
Again, the XSR's chassis is essentially identical to Yamaha's established, slightly more premium MT-125 roadster in comprising a beefy twin spar Deltabox frame (albeit with different rear subframe due to the XSR's different seat design), with suspension identical to the R-125 sportster so we should have few complaints – and we don't. Up front are KYB inverted forks with beefy 37mm stanchions, which do a well enough job with at the rear, a single KYB monoshock. In truth, both ends feel very slightly 'budget', but this is a learner 125 not a £20K superbike. For its general use and target rider, however, we've no real complaints. Steering is nimble and instant; stability is decent and without vice and ride quality more than adequate.
Running costs
In a similar way to how we rated its 'Practicality', Yamaha's new XSR is docked one mark here simply for being a more premium 125. Sure, in terms of fuel economy, hunger for consumables such as tyres, chain, brake pads etc, it performs as cheaply as any other commuter 125, but the simply fact that its new price is almost £2000 more than Honda's benchmark, the CB125F, dictates that it'll lose more money over the length of its lifespan and thus, by definition, it'll cost more to run, too. Not by much mind…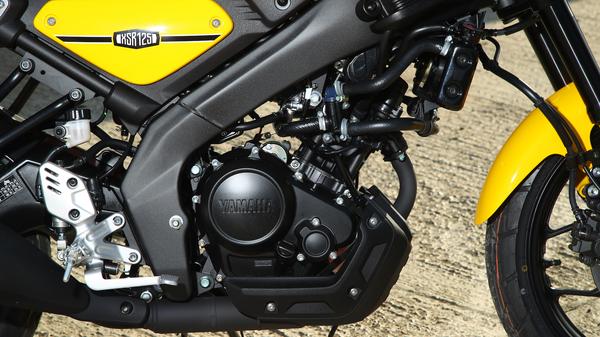 Reliability
Again, being a new model, we have to err on the side of caution when it comes to rating the new XSR125's likely reliability. That said, much of its make-up is known, proven to have a good track record and therefore of little cause for concern. Its 125cc, liquid-cooled engine is identical to that of both the sports R-125 and roadster MT-125, which have been in around since 2019 and 2020 respectively with immaculate reliability records. (In fact the only difference with the XSR version is its more retro-style exhaust.) Its chassis, too, is largely familiar and proven with its frame and suspension identical to those two machines (again, only the rear sub-frame is different). However, the instruments are new as are most of the miscellaneous parts. Do we think anything's likely to go wrong though? Nah.
Warranty & servicing
Backing up the XSR's likely excellent reliability and durability is the standard, manufacturer-backed, 24-month warranty covering all parts and labour. The service schedule, meanwhile, is identical to that of its sister 125s, being every 3500 miles or so, which may not sound much compared to larger bikes but in reality, considering the short, local riding most examples tend to do, is broadly equivalent.
Equipment
The XSR125 is a fairly pared-back 125 so we shouldn't expect the earth. There's no electronics, no fancy TFT dash, no luxury comforts such as heated grips or luggage, but what it does have is better than most comparable offerings and there's the added bonus of a decent array of official accessories available, too. The neat, revered LCD, digital round dash displays all the basics including clock, fuel, gear. The retro-style lights front and rear are both LEDs, plus there's also ABS and a form of slipper clutch. On the slight downside, however, the switchgear's a little basic and neither lever is span adjustable. There's also two accessory 'packs' available – the Racer Pack for £441.40 and including bikini fairing, knee pads, custom side covers etc, and a Street Pack, which is £346.95, and includes fly screen, radiator cover, engine protectors and different side covers. Cleverly, these can also be included into your PCP deal if you buy new.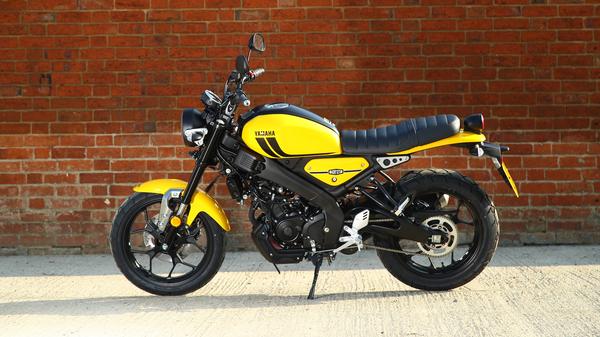 Why buy?
If you're after a 125 but don't fancy a pure sportster or roadster and like the current retro, scrambler style the XSR may be for you. It has all the performance of Yamaha's class-leading R-125 and MT-125 but with a style that's bang on trend, a slightly roomier riding position, lots of neat design touches and all for a price that's actually cheaper than both of them. For that reason the XSR has bags of appeal both as an A1 class learner and as an affordable round town commuter. Yamaha themselves say they expect its newcomer to be its best-selling 125 of all and we've absolutely no reason to disagree.