Expert Review
Yamaha V-Max Naked (2008 - ) review
Inspired by the original 1985 V4 hotrod, the reborn, all-new VMAX is Yamaha USA at its best: big, brawny, classy and the ultimate musclebike for the 'traffic lights GP'.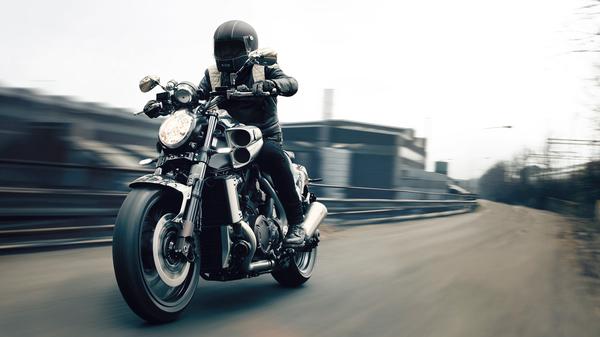 The Auto Trader expert verdict:
With its huge, unique V4 motor throwing out 197bhp and masses of torque motorcycling acceleration doesn't get any more vivid and fun than aboard a VMAX. Better still, its crowd-pulling style is classy, comfortable and (almost) practical, too. Not cheap, and the new Carbon version is more expensive still, but a helluva lot of bike (in every way) for the money.
Reasons to buy:
No other motorcycle accelerates like this
Definitive hot rod style
Delicious specification and build quality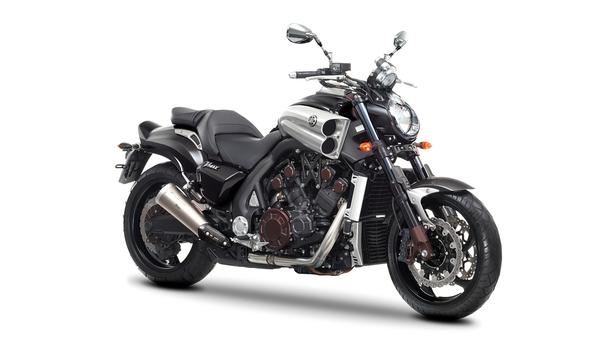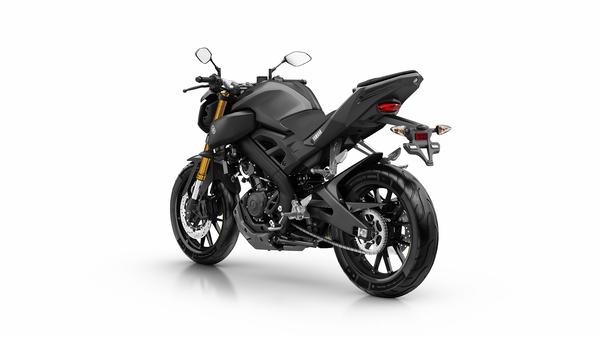 Design
Yamaha pulled no punches when it set out to reinvent its legendary 1980s VMax. The new version of the original US-style hotrod was a 'clean-sheet' design with a unique, 1679cc V4 engine, immense attention to detail, high spec cycle parts (eg radial six-pot brakes and multi-adjustable suspension) and superb build quality. What's more, neat design touches abound, such as the drag bike style gearchange light on the slick instrument pod.
Riding position
"

The VMAX might be big, brash and brawny, but it is also far less intimidating than that sounds

"
The VMAX might be a big, brash and brawny beast, but onboard it is also far less intimidating than all of that sounds. Though big, the seat is low, the riding position naturally upright, the reach to the bars easy. Yes it's heavy, but all of that weight is carried ultra-low, making man-handling it far easier. While feet fall easily onto the footpegs and all the controls are within easy reach (both levers are adjustable as well).
Practicality
No, the VMAX is not really either a bike for commuting on or popping to the shops, nor for two-up touring, but you'd probably be surprised at how many owners do both. With no luggage provision and not much more pillion space the big Yamaha is no workhorse but, despite the weight, it's easy to ride and accessories like screens, sissy bars and luggage means it can take in decent miles as well.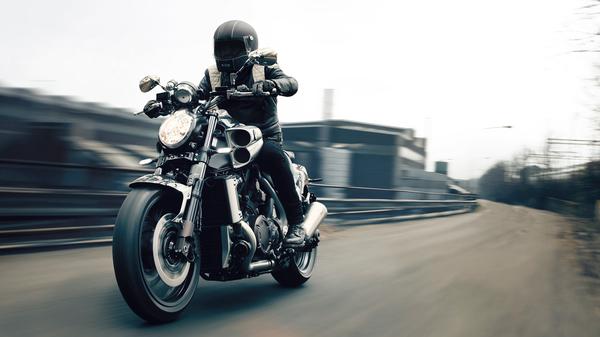 Performance & braking
Acceleration is rarely so brutal. The 65º V4 puts out a massive 197bhp at 9000rpm and, perhaps even more impressively, a whopping 123ft-lbs of torque. Combine that with a long and low chassis and fat 200-section rear tyre and the VMAX squeals and leaps away from the lights like nothing else. Nor is it intimidating to do so – its easy and hilarious. Thankfully, too, the twin six-pot brakes are up to the task of hauling that back down again.
Ride & handling
Despite all that, the VMAX handles decently well, too – and far better than any long, heavyweight cruiser has a right to. Quality, fully-adjustable, 52mm inverted forks at the front and an equally fully-adjustable monoshock at the rear, both held by an all-new, cast aluminium frame, means the VMAX is not just solid and stable, its ride is compliant and controlled and, although not the quickest steering bike on the planet, as you'd expect, it is pleasing to hustle through the turns as well.
Running costs
Running a VMAX was never likely to come cheap. When you add together the high-ish initial purchase price, an mpg figure which can fall down to the low 30s when ridden hard and an equally voracious appetite for consumables like rear tyres and brake pads again if ridden hard (and if you don't, what are you interested in a VMAX for?) it all results in higher running costs than most. But then, the best never did come cheap…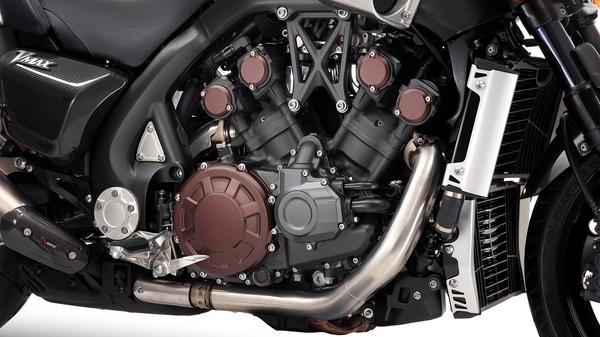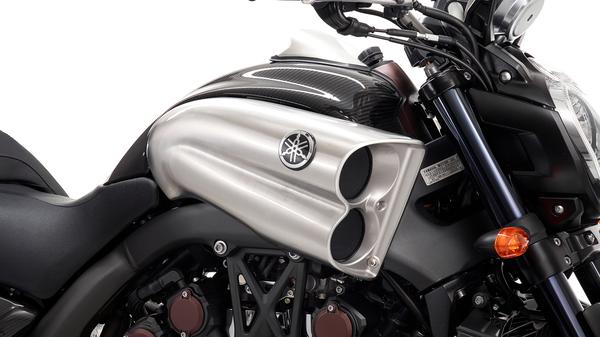 Reliability
Counter-acting those high-ish running costs, however, is a pretty impressive reliability record. Since being introduced back in 2008, despite the demands on its powertrain and chassis, there have been no significant reliability issues, which is another testament to the VMAX's over-engineered design. A well-looked after VMAX (and most are, these are prestige, pampered toys, after all), shouldn't bring with it any reliability concerns.
Warranty & servicing
A new VMAX comes with Yamaha's now-standard two years/24 months, unlimited mileage warranty while service intervals are impressively wide: oil and filter every 8000 miles with valve clearances etc check only every 26,000 miles.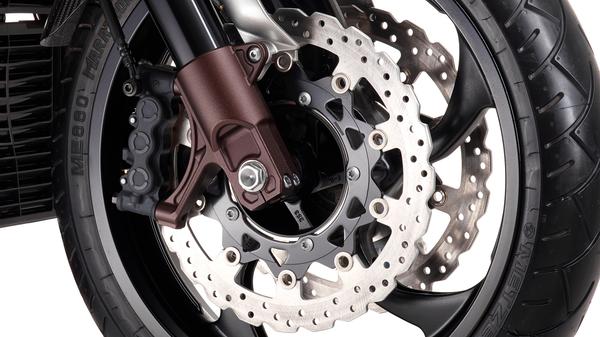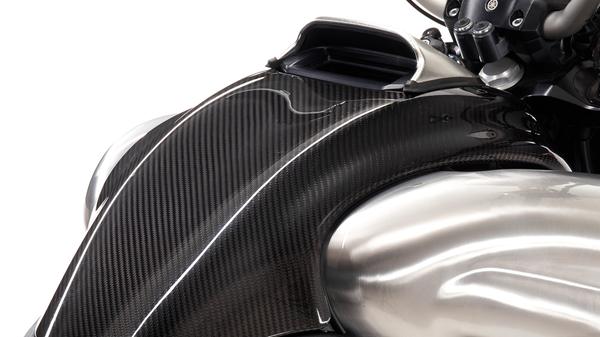 Equipment
The standard VMAX, although not festooned with the very latest in electronics as it dates from 2008, has always been a fairly lavishly equipped bike. Handlebars are tapered, the instrument pod is slick, there's an auxiliary instrument binnacle (mimicking the 1985 original) on the fake tank (the real one's under the seat) which includes a computer, brakes are by Brembo and much more. While the recent 'Carbon' version also includes, as the name suggests, more than a sprinkling of carbon fibre bodywork.
Why buy?
If you fancy a fire-breathing, US-style, two-wheeled hotrod, nothing much comes close to the VMAX. Nothing else (quite) has the same style, while literally nothing else has the same acceleration adrenaline rush. What's more, there's a whole sub-culture of fans, forums and clubs devoted to both this and the original. With the VMAX you're not just buying a bike, you're buying into a