Expert Review
Yamaha Tricity 300 (2020 - ) review
Yamaha's new Tricity 300 three-wheeled scooter could be a commuting game-changer – able to be ridden on a car licence and simple to ride yet with motorway cruising performance and masses of luggage space, it's the bike that thinks it's a car.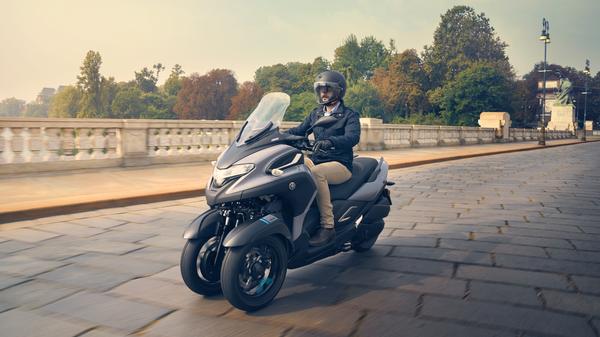 The Auto Trader expert verdict:
Leaning, three-wheeled scooters that give extra front end security are nothing new but the new Tricity 300 is also able to be ridden on a car licence, has great all-round performance and, via a tempting sub £100pm PCP deal, could redefine affordable, accessible commuting.
Reasons to buy:
Can be ridden on a car licence
Maxi-scooter comfort, luggage capacity and performance
Added novice-friendly security via three-wheeler design
Design
Leaning three-wheeler scooters may be nothing new with Piaggio's pioneering and successful MP3 dating back to 2006 and Yamaha's Tricity 125 first debuting in 2014 (not to mention its radical MT-09-powered Niken three-wheeler motorcycle in 2018) but the new Tricity 300 moves the game on. With its combination of larger (so more stable) 14in front wheels, clever 'Stand Assist' system which, at the touch of a button, instantly locks the machine upright for added security at traffic lights etc and, crucially, by having a slightly wider 'track' (the distance between the front wheels) of 470mm it's legally classified as a tricycle, not a motorcycle, meaning anyone over 21 can ride it on a normal, full, 'B' car licence. In fact, you don't even have to wear a helmet (although we fully recommend that you do). And it's that which, allied to its XMAX 300 maxi scooter underpinnings as well as a very tempting introductory £89 per month Yamaha PCP deal, marks the new Tricity 300 as a potentially game-changingly effective and affordable commuter. Which is probably just what we need in these trying, post-lockdown times….
Riding position
From its roomy footboards backwards the Tricity 300 is essentially identical to Yamaha's XMAX 300 maxi-scooter – and there's nothing wrong with that: a large, roomy and comfortable (for two) dual seat (although shorter riders may find the saddle a little tall and awkward to get on board) allied to a classic scoot upright riding position. The twin front wheels means the front end bodywork is wider and more protective than a normal scooter and the screen, although non-adjustable, does a good job with a taller version also available as an accessory. It's all natural, intuitive to ride and very comfortable with no aches or complaints after our 90-minute test ride. What's more, if you fancy riding year round, a 'Winter Pack' accessory kit is available, comprising apron, heated grips and handguards, which should make it genuinely comfortable and viable year-round commuter – even in Britain.
Practicality
After a spin on the Tricity 300 it's hard to imagine any current machine which is any more practical – it's that good. Although slightly cumbersome and heavy compared to a conventional scooter, like the XMAX 300 on which it's based the Tricity is a brilliant compromise of easy-to-ride scooter dynamics and 70mph+ maxi-scooter performance. There's enough luggage space under the seat for two full-face helmets when parked or a decent holdall and lock when on the move. Three wheels mean extra grip and security, particularly in the wet yet the Tricity still sufficiently nimble to wiggle through city traffic and, best of all, being rideable on a B licence, brings maxi-scooter practicality to car drivers for the first time without the need to go through the normal licence qualification rigmarole or even training – although, again, we fully recommend novices do. It's not perfect. There's no front 'cubby hole' as found on most scoots, we'd prefer an adjustable screen and added luggage capacity only comes via extra-cost accessories (Yamaha also offers a tempting 'Urban Pack' accessory kit, for example, which comprises 39-litre top box, carrier and tall screen) but, really, that's nit-picking…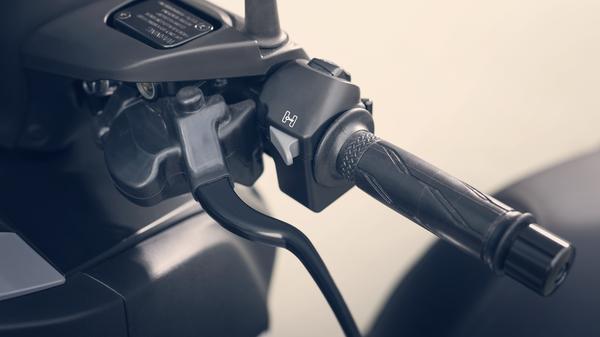 Performance & braking
As mentioned earlier, the new Tricity 300 is based on Yamaha's existing XMAX 300 maxi-scoot, so performance-wise, that means a liquid-cooled, fuel-injected, four-stroke, single-cylinder engine producing 28bhp transmitted via the usual scooter-style automatic, 'twist and go' transmission. The Tricity is understandably significantly heavier (by 60kg) than the XMAX but it's still enough to easily buzz up to around 75 and will happily cruise there all day, making it a viable motorway option (and will also creep up to about 85, depending on rider weight, if you hang on long enough). In the real world, that's similar acceleration and all-round performance to most middle-range cars, so fulfilling its commuter brief perfectly. Yes, it lacks the power of most bikes to accelerate much at 70, for zapping past cars for example, but realistically that's missing the point. Braking-wise, although heavy, those three wheels and the brakes attached are more than up to the job but again in a car-style kind of way. The right lever operates the twin front stoppers as usual and has plenty of power and feel. The left lever operates both front and rear, which is handy, we found, for adding a touch of extra feel when braking round a bend, for example. While, being a tricycle, the Tricity also has the legal requirement of a foot brake pedal which also operates both front and rear which, on our test, to be completely honest, we didn't even try. All come with ABS and there's also a useful parking brake handle/lever underneath the handlebars.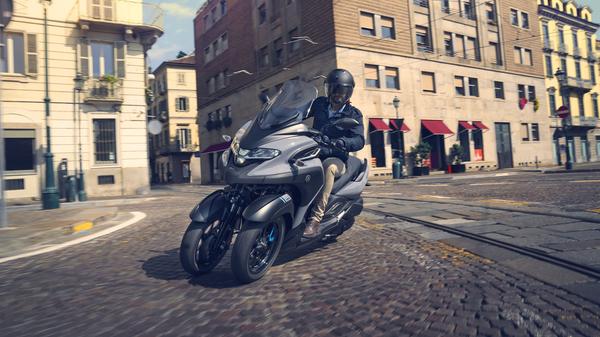 Ride & handling
You might expect that riding a modern generation, leaning three-wheeler may be an alien experience but their sheer brilliance actually means it's anything but. At standstill, initially, you're fully aware the Tricity 300 is a big, bulky machine, but on the move that disappears. It immediately proves to be a doddle to ride and, though you can't see them, the dynamics of those two front wheels feel little different to a conventional, single wheel scoot – and that's good. The ride is plush and cultured, and notably better than a conventional scoot over bumps and road imperfections. The steering, at speed, is light and precise (although at standstill it does seem a little heavier than usual) and there's absolutely no glitches or giveaways in the leaning mechanism. If ridden harder than is likely down twisty roads you become aware of the weight and a slight wallow can be provoked. But it's nothing to worry about and unlikely to happen with normal riding.
Running costs
Yes, a new list price of over £7500 sounds fairly steep for a 300cc scooter – and it is, if that's how you look at it. But the new Tricity 300 is also much more than that. When instead viewed as a fresh new commuting alternative it makes hugely tempting economic sense. The introductory £89 per month PCP deal (albeit with a £1510 down payment and final balloon payment of a fairly whopping £3825) makes a mockery of the costs of instead commuting by car or public transport; the 300cc engine should return 90+mpg and, although a three-wheeler, its tyre/brake consumables cost will be low, too. In fact, the only way to make commuting any easier and cheaper with this sort of performance, reassurance and practicality, would be to make it electric-powered, then you'd have no road tax or petrol costs, either!
Reliability
It's early days, of course, being a brand new machine, but the new Tricity 300 still has a proven 'backstory': Its engine and rear chassis are from the established XMAX 300 as first introduced in 2017 as an update on the previous XMAX 250, neither having any major reliability concerns. While it's radical leaning front end is also developed from the systems Yamaha previously introduced on both the 2018 Niken and 2014 Tricity 125, albeit with significant differences with both. With all that in mind, although we're reserving judgment, we see few reasons for any reliability concerns.
Warranty & servicing
The new Tricity 300 comes with Yamaha's standard two-year/unlimited mileage warranty, which covers all parts and labour. We'd also expect servicing costs to be reasonable and again akin to those of its XMAX 300 sibling, albeit with the proviso of slightly higher serving times/costs due to the added complexity of the twin wheel front-end.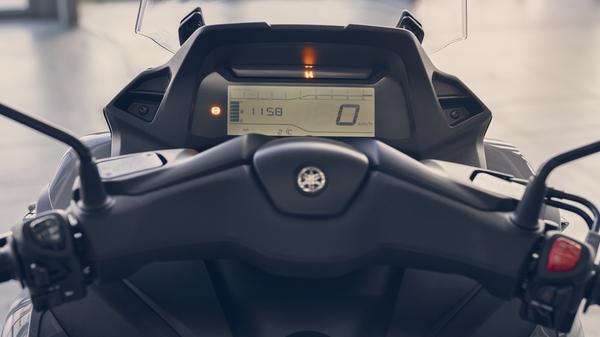 Equipment
Like its XMAX 300 sibling the Tricity 300 has been conceived as a more premium machine and so has a pretty impressive finish and specification. There's keyless ignition, using a fob you carry in your pocket; its cavernous underseat luggage compartment has a useful interior light; the bespoke digital LCD dash is comprehensive and stylish (although not quite up to colour TFT levels); there's ABS and traction control and its new 'Stand Assist' system, which locks the bike's leaning mechanism rigid at the push of a button (but not its steering or wheel rotation) is simply brilliant. (It is worth noting here, however that: first, although you can park the Tricity in this mode you should ideally also use the parking brake and, second, and just in case you were wondering, it can't be applied on the move: your speed has to be below 6mph and the throttle closed before an indicator, showing that it can be applied, comes on.)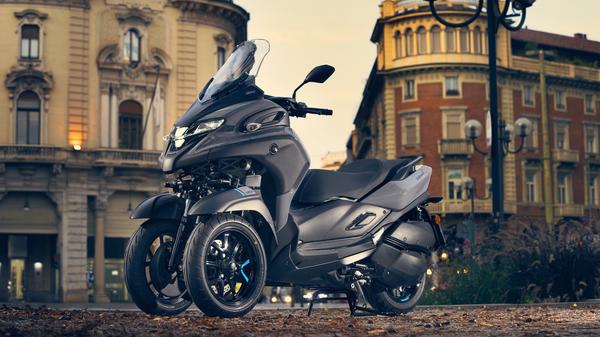 Why buy?
There's currently simply nothing quite like the Tricity 300, in being a leaning maxi-scooter, with all the reassurance and practicality that implies, but one you can also drive on a car licence AND buy with monthly payments of under £90. For those reasons, the Tricity 300 could very well be the best all-round commuter you can currently buy – it's accessible to nearly all; easy to use; hugely practical and brilliantly affordable. As we mentioned earlier, apart from a few niggles (the lack of an adjustable screen, no heated grips as standard etc), the only way we can imagine improving it is by coming up with an electric one with similar performance, then you'd have no road tax and no petrol costs to go with no need for a licence or even helmet. As we said, as far as commuters go, the Tricity 300 could prove a game-changer.