Expert Review
Yamaha Tracer 700 Sports Tourer (2020 - ) review
The original 2016 MT07-based Tracer 700 was brilliant, budget all-rounder. This significantly updated version gets better suspension, equipment and style for just £400 more.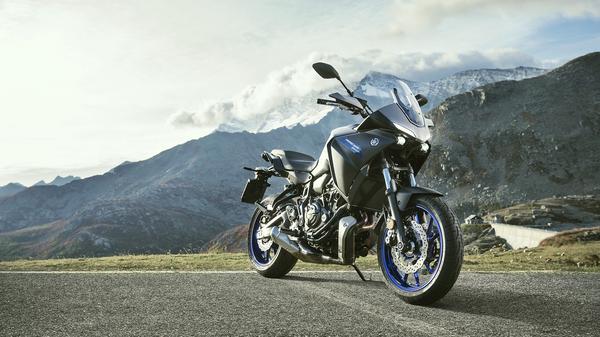 Words by: Phil West
Published on 30 April 2020 | 0 min read
The Auto Trader expert verdict:
The first Tracer 700 turned the lively, affordable MT07 roadster twin into a slightly more sensible but far more practical faired all-rounder. This new version raises the bar with added composure, quality and class but is no longer quite as cheap.
Reasons to buy:
Same accessible, affordable, all-rounder appeal
Light and lively MT07 underpinnings
Uprated quality, ride and equipment
Design
Although brilliantly functional and effective there's also no doubt the original Tracer 700 was a little safe, styling-wise and built down to a price, equipment-wise. Both have significantly changed with this revamp. Styling, with its quad light 'face' including mean twin LED projector beams, is sharper and more aggressive while equipment levels, mostly due to a slick new dash, adjustable screen, posher seat and new multi-adjustable suspension, now far exceed the Tracer's former 'budget' tag. It's just a shame the colours are so drab and switchgear still a little plasticky.
Expert rating: 5/5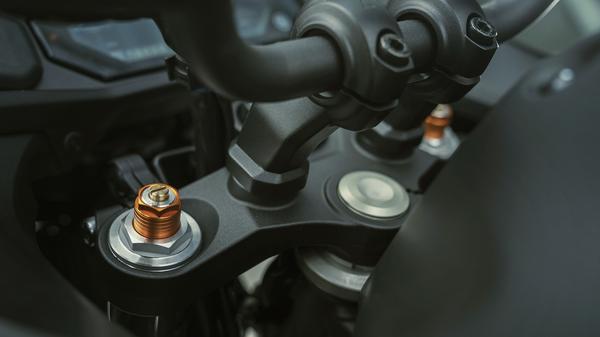 Riding position
There wasn't much wrong with the previous Tracer. Slim, light and lithe thanks to its MT07 derivation, it was also longer and roomier while its upright, 'adventure-esque' riding position was airy and decently comfortable – but this new version is better still. Roomier still thanks to 34mm wider bars there's also a new, thicker (by 10mm), more comfortable seat. We had almost no discomfort during a day-long test with only slight bum-ache after near-200 miles while the riding position was also both roomy enough for a 6'3" rider yet retaining enough MT-07-style nimble control for bags of mountain hairpin fun. No mean feat for a novice-friendly, affordable, sub-700cc twin.
Expert rating: 5/5
Practicality
Practicality was a particular strong point of the original Tracer, by virtue of basically being a faired, more versatile version of the brilliant, budget-priced MT-07 roadster and this uprated version has improved things further. Nimble yet long-legged, affordable but reasonably equipped and all-day comfortable yet easily manageable, the Tracer 700 is just as capable scything city traffic as it is gobbling up motorway miles. The one-hand adjustable screen is a welcome improvement (although the wind-beating difference is negligible) as is the improved dash, seat and ride quality. While four new, well-thought out accessory packs – Sport, Travel, Weekend and Urban – offer different luggage, screen and seat etc options which enhance its brilliant versatility further.
Expert rating: 5/5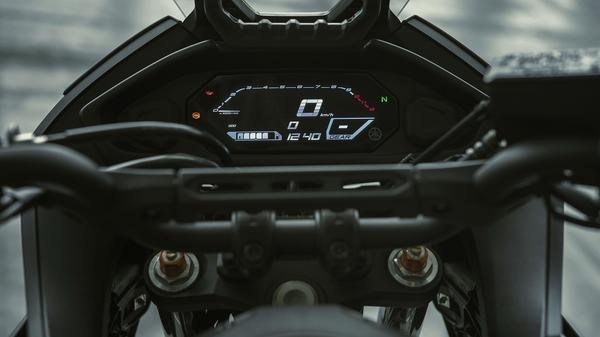 Performance & braking
Despite being reconfigured to comply with Euro5 emissions and noise regulations the Tracer 700's performance is virtually unchanged – no bad things seeing as its lively 74bhp and torquey midrange, as carried over from the Jackrabbit MT-07, were already among its best features. Revised fuel injection and ignition sees the peaks of both unchanged, although peak power now arrives 250rpm sooner while a two-tooth bigger rear sprocket helps makes it livelier still. In this guise, Yamaha's brilliant 'CP2' 689cc twin remains one of biking's best engines. Retardation, meanwhile, is taken care of by unchanged twin petal discs and 'blue spot' calipers which, considering the Tracer's light weight, are more than up to the job.
Expert rating: 5/5
Ride & handling
Although not poor, the old Tracer 700's conspicuously budget suspension, comprising over soft, non-adjustable forks and a preload-only adjustable, slightly harsh monoshock, was undoubtedly one of its weakest features. No more. Uprated, preload and rebound adjustable cartridge forks combine with a new, similarly-adjustable rear shock to give a pleasingly compliant and cultured ride that remains happily precise and in control even when the wick's wound up through the twisties. If the Tracer 700 remains something of a budget bike, it's no longer one afflicted with budget suspension.
Expert rating: 5/5
Running costs
As a budget-orientated middleweight twin the Tracer 700's always been a cheaper bike to run than most. The initial cost was affordable, high demand ensured decent residuals and gentle riding can result in mpg figures in the high 50s. The slight fly in its ointment, however, was its MT-07-derived performance 'bent', meaning it runs slightly fatter, more expensive performance tyres than some rivals, is likely to be ridden harder as a result, all of which adds up to a hunger for consumables – not just tyres but also brakes pads, chain, etc – that exceeds that of much of the competition. Overall, however, that should be a minor concern.
Expert rating: 5/5
Reliability
The original Tracer 700 dates back to 2016 with the MT-07 on which it's based, two years on top of that – with both having a largely untarnished reliability record, so you should have few concerns. Its budget nature, however, means that finishes and plasticky switchgear etc can be a little suspect, although it's worth pointing out that the French-built new version has significantly raised its standards across the board. Look after its finishes and exposed surfaces (especially if ridden through winter) and keep it maintained and serviced correctly and you'll have nothing to fear.
Expert rating: 4/5
Warranty & servicing
Although Yamaha's twin cylinder 'CP2' power unit has been updated to meet Euro5 with this Tracer – and by so doing becomes the first CP2-powered model (ahead of the MT07 and XSR700) to meet the new standard – the revisions are minor (fuel-injection, ignition, gearing) and so the service schedule is unchanged with major services every 6000 miles. Warranty-wise, the new Tracer 700 enjoys Yamaha's standard big bike warranty, covering parts and labour for two years, irrespective of mileage.
Expert rating: 4/5
Equipment
Although significantly improved with this new version by virtue of the handsome new 'reversed' LCD dash, one-hand height adjustable screen, LED lights all round and more comfortable seat, there's still no question the Tracer 700 is a fairly basic, uncomplicated bike. In most respects that simplicity – no rider modes or complicated electronics, simple, straight forward instruments – is both refreshing and ample. Few will ride the Tracer and want for much more – but if you do, look elsewhere. Yet, although quality is improved and most of the budget 'feel' is now gone, the Tracer 700 also remains an introductory, novice-friendly, frills-free machine.
Expert rating: 4/5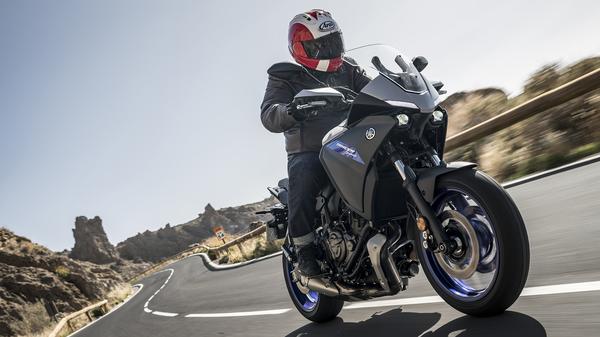 Why buy?
The original Tracer 700 was so affordable, versatile and fun it proved a compelling buy. But it was also slightly conservative and was conspicuously built down to a price – most notably with its suspension. That's now changed. New styling, screen, dash, seat and, particularly, suspension give it a new-found quality and attractiveness while its versatility is now almost unmatched. Of course, it also has to be said that a £400 higher price means it's now no longer quite the conspicuous bargain it once was but it's a far better bike and, at under £90 a month on a PCP, even more of a tempting buy.
Expert rating: 5/5