Expert Review
Yamaha Tenere 700 Adventure (2019 - ) review
Yamaha's new Ténéré 700 is an inspired blend of effective, twin-cylinder MT-07 power in a mid-size adventure bike chassis. The result is versatile, unintimidating, genuinely able off road and, above all, affordable.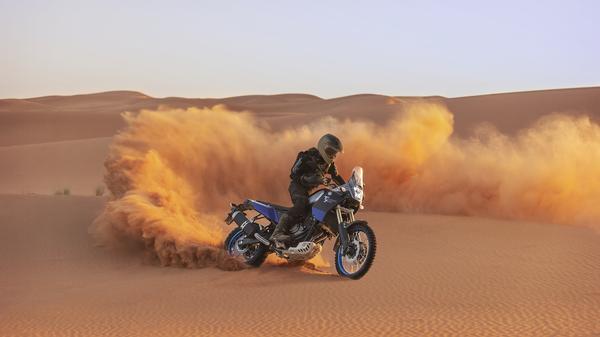 The Auto Trader expert verdict:
Available new from £8,409
Based on the MT-07, the new Ténéré may have been a long time coming, being touted around shows for a number of years as a 'concept', but it's been well worth the wait: slightly odd, Dakar Rally styling aside, it's brilliantly versatile, impressively able in the dirt and, above all, so affordable it makes big, expensive, 1000cc+ adventure bikes seem ridiculously excessive.
Reasons to buy:
Truly on/off-road capable
Adventure style with unintimidating proportions
Sub-£10K price
Design
The ingredients may be fairly predictable – MT-07-derived motor, new adventure style chassis complete with off-road cycle parts and Dakar Rally-inspired styling – but the execution and result is brilliant: the parallel twin works superbly both on and off road; the Ténéré manages to be both substantial yet unintimidating and accessible to less experienced riders; it's more versatile for more riders than virtually any other bike – which probably explains its Europe-wide sales success with over 8000 sold since going on sale at the end of 2019 – and, like the rest of the MT-07 family, it remains temptingly affordable, too. If that isn't successful design we don't know what it.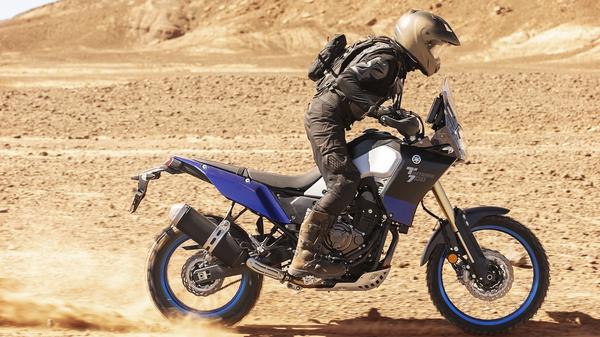 Riding position
With a different chassis, longer-travel off-road suspension and larger dirt wheels than its Tracer and MT-07 siblings, the new Ténéré 700 is taller than bikes, too, with a seat height of 880mm compared to 835mm and 805mm respectively, but unless you're particularly short you shouldn't let that put you off. That lofty saddle is also off-road slim, as is its new 16-litre tank, which helps your reach the ground. The roomy riding position is a great compromise of upright roadster and off-road trailie with wide bars and a commanding view and the Dakar-style screen makes a decent fist of protecting you from the worst of the wind and weather.
Practicality
On face value, it's the ideal all-rounder: far more capable off-road than most 1000cc+ adventure bikes (albeit still larger and heavier than dedicated single-cylinder 'trail' bikes) yet also a decent, reasonably long-legged road bike, too. If your riding is 50/50 dirt/road it's almost perfect, if not quite as adept in the dirt as KTM's higher spec, more expensive 790 Adventure. If, however, your off-roading is minimal or non-existant, larger, more luxurious adventure bikes are more comfortable while Yamaha's own updated Tracer 700 is a slightly better and more affordable road all-rounder. It depends on what you need.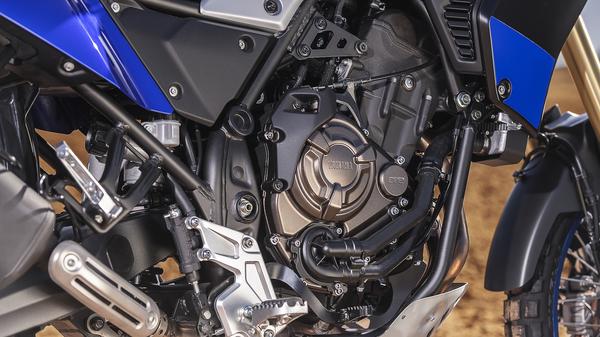 Performance & braking
The Ténéré 700's 689cc 'CP2' parallel twin engine has been lifted virtually unchanged from the MT-07/Tracer 700 and is universally admired for its combination of decent power (74bhp) and, even more so, for it's lively, off-the-throttle torque (50ft-lb). It's 'thrummingly' characterful, too. Overall, it's a middleweight peach: sufficiently easy and unintimidating to welcome relative novices yet still with enough punch and pzazz to entertain more experienced types, too. It also suits off-roading as well. The brakes are beyond criticism, too. Different to those of the MT-07/Tracer they comprise twin 282mm wavy discs up front grasped by new, non-radial Brembo calipers. The result is plenty of power and, even better, lots of feel, which is particularly important when riding off-road.
Ride & handling
The Ténéré also has different, longer-travel, off-road capable suspension than the MT-07/Tracer, comprising: Kayaba 43mm inverted front forks with 210mm of travel plus compression and rebound damping adjustment with a Sachs monoshock at the rear offering 200mm travel. Though good they're a little budget compared to the cultured ride offered by KTM's more expensive 790 Adventure and their slightly soft, off-road ability, along with the Ténéré's larger 21/19inch narrower wheels (compared to the MT-07/Tracer) means its road handling is inevitably slightly compromised, with less of the planted, assured grip those bikes offer. That's the lot of true dual-purpose bikes, however, and it's certainly not bad.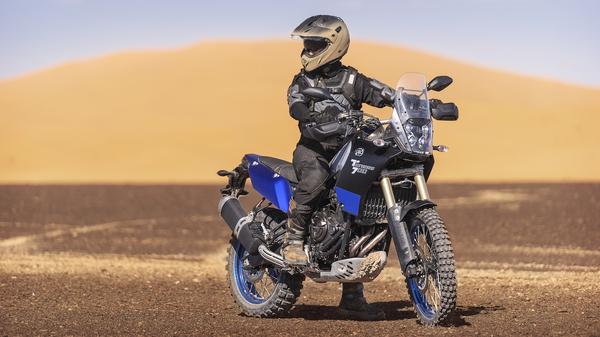 Running costs
All of Yamaha's MT-07 family, including the original MT-07 roadster and recently updated Tracer 700 all-rounder, have been designed with affordability in mind and the same is true of the new Ténéré. An impressively low initial purchase price (although the highest of the range) is reinforced by better-than-average residuals, while, although respectably punchy, its 74bhp performance has far less of an appetite for consumables such as fuel, tyres, brakes pads, chain etc than larger, more powerful, litre-class adventure bike rivals. That said, if used off-road, fuel consumption will plummet and its semi-knobbly tyres won't last as long as most road specific types so, overall, not as cheap to run as an MT-07 or Tracer, but far better than conventional 1000cc+ adventure bikes.
Reliability
The CP2 parallel-twin engine the new Ténéré 700 is based around has now been out for over five years and is well-proven with no major reliability issues, so, despite being a new model, you should have few concerns. As with the other bikes in the MT-07 family, however, the new Ténéré is slightly built down to a price and it does show in some areas, such as the slightly plasticky switchgear, fairly basic clocks and, has been shown on some older MT-07s, slightly suspect finishes, which has, in the past, led to premature corrosion if not looked after properly. It's early days with this new bike and the latest Tracer has shown an improvement, so our jury's still out, but it's the reason we've docked it a mark here.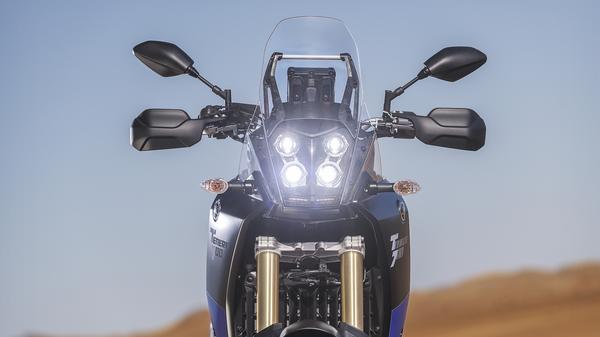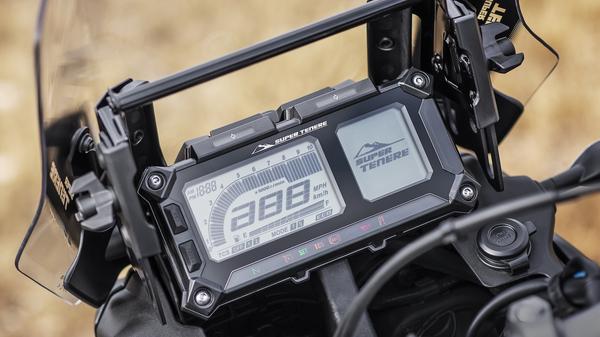 Warranty & servicing
Although the proven parallel twin motor has been updated along with those in the latest Tracer 700 and MT-07 to adhere to the latest Euro5 emissions/noise regulations, its service schedule is unchanged, with major services due every 6000 miles. Similarly, the new Ténéré 700 benefits from Yamaha's standard 'big bike' manufacturer-backed warranty, covering parts and labour for two years with unlimited mileage.
Equipment
Although fairly spartan and conspicuously built to be affordable the new Ténéré 700 is still reasonably equipped with all the basics required to be a credible, if not luxurious adventure bike. So, while the suspension and brakes are fairly good, there's no electronic modes or rider aids such as traction control, while the new dash is fairly basic, too, can be a little difficult to read in bright sunshine and the switchgear is fairly plasticky and flimsy, too.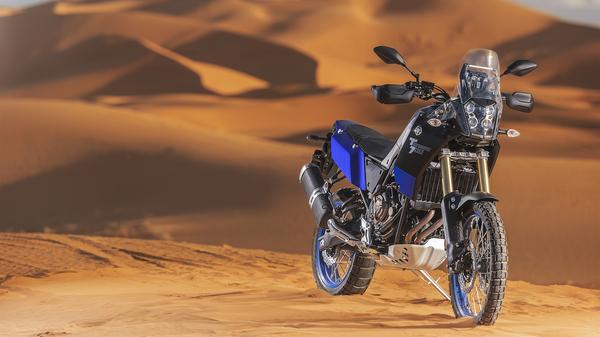 Why buy?
While not the only middleweight adventure bike, KTM, Triumph, Suzuki and more all have offerings in an adventure bike class previously completely dominated by full-bore, extravagant, 1000cc+ machines, the new Ténéré 700 certainly stands out for delivering true, dual-purpose, on and off-road adventure bike ability in a more manageable, lighter package and, crucially, at a temptingly affordable price. Here, truly, and arguably for the first time, is an adventure bike that's accessible to all, is just at home in the dirt as on the road and doesn't have to break the bank – that's why it's so good.
Browse all our new bikes here
.