Expert Review
Yamaha R3 Super Sports (2014 - 2018) review
The Yamaha YZF-R3 (2014 - ) is a racy, classy and fun-to-ride A2 licence-friendly sportsbike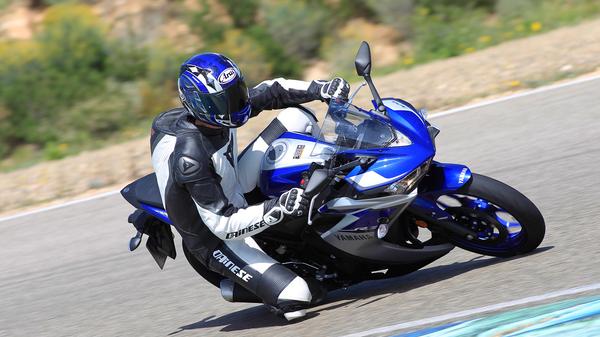 The Auto Trader expert verdict:
The YZF-R3 shares much of the racy, fully-faired style of Yamaha's bigger YZF-R and R6 but beneath its sleek full fairing it's a classy and rider-friendly 321cc parallel twin that's as happy in town as it is when attacking a twisty road, or even a racetrack. As a go-anywhere sports bike for A2 licence holders – or anyone else who wants race-bred style and lively performance at a very modest price – the R3 has got lots going for it.
Reasons to buy:
Smooth, rev-happy engine gives performance and racy character
Light, agile chassis provides excellent handling on road or track
All-round attributes include reasonable comfort and competitive price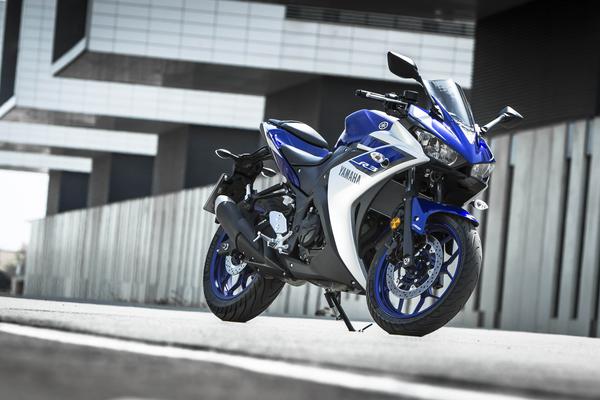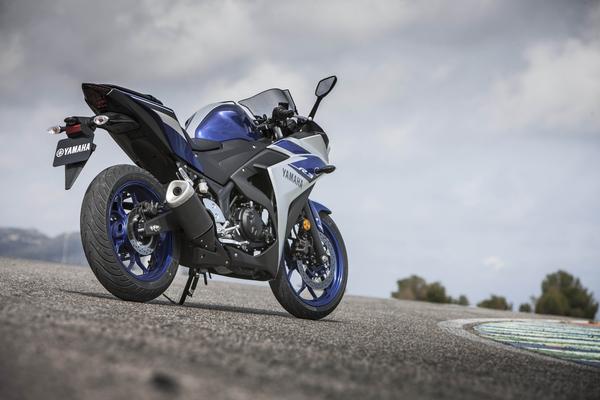 Design
"

It's an attractive and neatly designed machine

"
The R3's fully faired look and even its blue-and-white paint option are designed to fit in with Yamaha's other YZF sportsters. (It also comes in black.) Beneath the bodywork the parallel twin engine, which is down-sized to 250cc for some Asian markets, forms a stressed member of the tubular steel frame, which holds a steel swing-arm and near-vertical shock. Perhaps the Yamaha doesn't quite have the pure style of KTM's rival RC390, but it's an attractive and neatly designed machine that has enough visual similarities with Yamaha's YZR-M1 to keep Rossi fans happy.
Riding position
Although the R3 looks deliberately racy, Yamaha have chosen not to give it a radically sporty riding position that would limit its all-round appeal. It's intended as a learner-friendly newcomer for everyday and even urban use, not a track-focused super-sports weapon like the R1 and R6. So its clip-on bars are relatively high, and its riding position upright and relaxed, without too much weight on your wrists. But it's a compact bike whose fairly low seat (780mm) and high footrests mean it's better suited to slim young riders than old folk with dodgy knees.
Practicality
There's obviously a limit to how practical a 321cc twin could be for riders planning long or two-up trips, but as a mid-sized sports bike it does a reasonable job. The seat is fairly thin, and small for a pillion, who gets only a strap to hold. But wind protection is good and comfort reasonable for a sporty bike. Most riders will get close to 150 miles' range from the 14-litre tank. Generous steering lock aids urban manoeuvrability, although tall riders will find their knees getting in the way of the bars in very tight turns.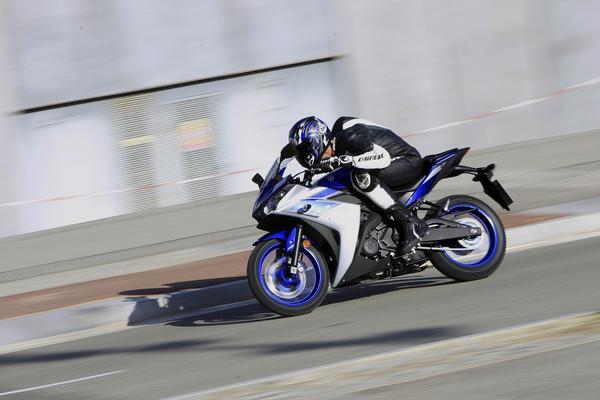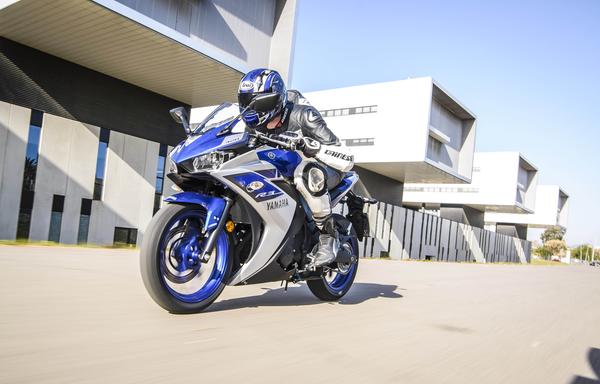 Performance & braking
"

It makes a maximum of 41bhp at 10,750rpm and loves to rev

"
Yamaha's all-new 321cc dohc, eight-valve parallel twin motor shares much of its technology with other R-series models. It makes a maximum of 41bhp at 10,750rpm and loves to rev, being happiest with its tacho nudging the red zone between 12,500 and 13,500rpm. At lower revs it fuels well and is rider-friendly but feels flat, so encourages use of the sweet-shifting six-speed gearbox, especially as it stays very smooth however hard you thrash it towards the top speed of about 100mph. There's plenty of braking power and an excellent ABS system as standard, although riders who brake with only two fingers on the lever will need a firm squeeze to get the best from the single-disc front stopper.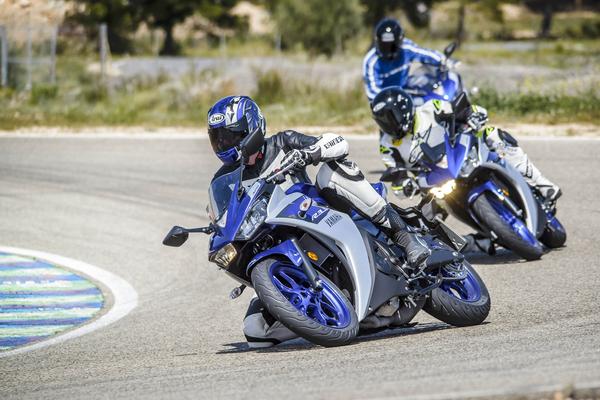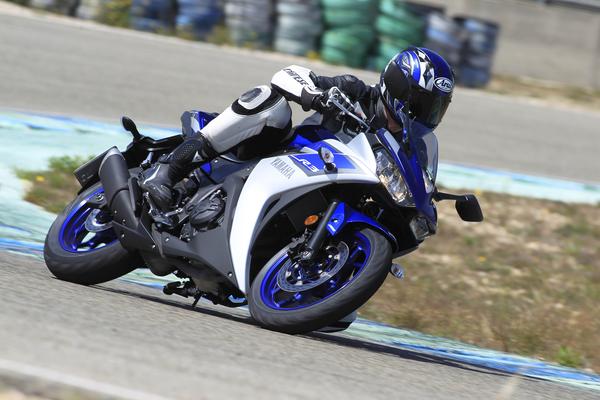 Ride & handling
"

The R3 impressed with its steering, stopping power and grip

"
The R3's relatively simple steel-framed chassis might seem basic compared with its aluminium-framed R1 and R6 equivalents, but it works extremely well and helps give excellent handling, helped by the bike's light weight of 169kg with a full tank. The only suspension adjustment is shock preload but that's fine because the units at both ends are respectably firm and well damped, while also giving very adequate ride quality. Even on track (the launch included laps of the Calafat circuit in northern Spain) the R3 impressed with its steering, stopping power and the grip of its fairly narrow Michelin Pilot Street tyres.
Running costs
This depends on whether you're comparing the R3 with another middleweight twin or a typical sports bike. But either way this relatively light, moderately powerful and respectably efficient bike should be inexpensive to run, partly because it will be light on consumables such as tyres and brake pads. Fuel consumption averaged 46mpg with constant thrashing on the road part of the launch ride, but could doubtless be improved to over 60mpg with more restrained use, although the Yam does demand to be ridden hard.
Reliability
It's impossible to talk about reliability of an all new bike with any certainty, but Yamaha's record in this respect is good and serious mechanical problems are unlikely. The R3 is produced not in Japan but in Indonesia, where Yamaha have built small-capacity machines for some time, but this should not affect build quality. Nor should the fact that the liquid-cooled motor revs so high and is likely to be worked hard by many owners, though it might mean that regular maintenance is even more important than with lower stressed powerplants.
Warranty & servicing
One advantage that the R3 has as a completely new design is that Yamaha have been able to make use of modern technology to give it long service intervals. Valve adjustment is due only every 26,000 miles, which means that most owners won't even have to think about it. The relatively simple parallel twin should also prove reasonably easy and inexpensive to service. Like other Yamahas the R3 comes with an industry standard two-year, unlimited mileage warranty.
Equipment
In typical middleweight fashion the standard level of equipment is fairly basic, but the fairing is well made, and holds usefully wide mirrors. The instrument panel looks neat, combines the analogue tacho with a digital speedo, and includes an adjustable shift light, plus gear indicator, fuel gauge and consumption reading, though the info can't be toggled from the bars and the indicators don't self-cancel. Numerous accessories are available, ranging from a dark screen and LED indicators to an Akrapovic slip-on can or full, non-street-legal exhaust system.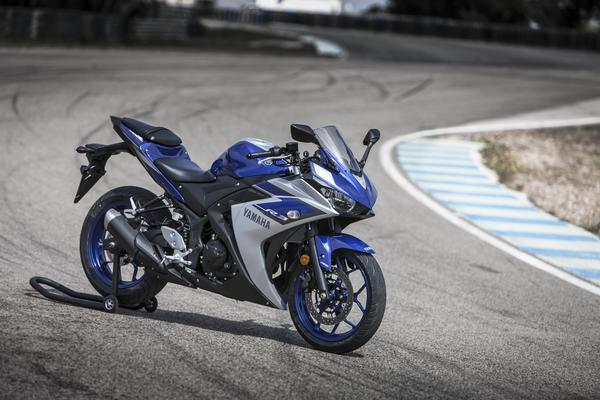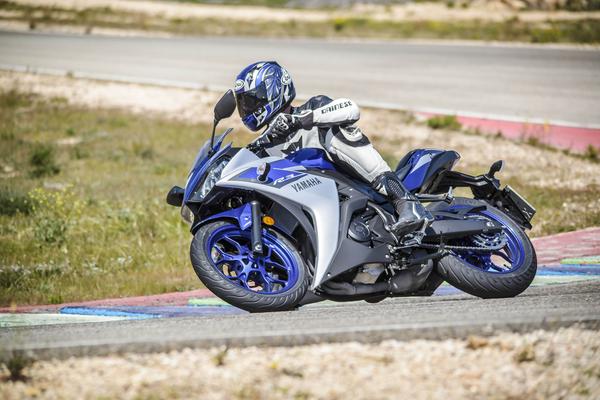 Why buy?
"

It's a sweet handling all-rounder that is fun to ride and inexpensive both to buy and to run

"
The R3 is a versatile sports bike with lots of appeal, primarily for A2 licence holders but also for more experienced riders who don't need huge horsepower but want a racy looking, lively, sweet handling all-rounder that is fun to ride and inexpensive both to buy and to run.