Expert Review
Yamaha R1 Super Sports (2020 - ) review
When the Yamaha R1 came out it was a pretty big deal, mainly because of its absurd amount of power. 150 BHP on a bike was rare then, that amount of power would've been impressive on a car. Here, Rory Reid takes the 2020 Yamaha R1 for a ride, will it still be as powerful now it is Euro 5 compliant?

Words by: Auto Trader
Published on 5 August 2020 | 0 min read
The Auto Trader expert verdict:
Every single version of the R1 since has made incredible power gains, when the last version came out it made 197 bhp, and now we have the brand-new 2020 R1 with a massive power increase of zero. Yes, power on this 2020 bike is the same as the old one, in fact it uses the same chassi, the same subframe and a very similar engine. With tweaks that ultimately don't amount to any more grunt. On the surface, it looks as if Yamaha haven't made much progress whatsoever, but there is a big reason for that. This doesn't make any more power or have a new chassis, because Yamaha had to concentrate on improving something else - emissions. The truth is that bikes (like cars) pollute the environment and the law makers in Europe have been cracking down on how much filth they can pump into the environment. All bikes have to comply with the very stringent Euro 5 emissions regulations. Usually engines can reduce their emissions by adding filters, however, this usually kills the power. Adding a bigger engine would regain that power, but bigger engines weren't an option for Yamaha, as the 1000CC limit is what makes it legal to go racing. Instead they had to clean up their act. They've done it by focusing on the 'boring stuff.' They've improved the efficiency of the engines combustion by using a more advanced combustion system, with new cylinder heads and injectors and four catalytic converters. This isn't a bike that's been designed to please the people, it's a bike that's been designed to please the people at the European Commission.
Reasons to buy:
On the surface, not much has changed with the R1 but it's an incredible bike and is now Euro 5 compl
Agile bike
I've ridden bikes with more power (on paper) but the R1 does not feel any slower than those
Design
In terms of design not much has changed, it looks a bit like a facelift but that's no bad thing as the previous bike was nice-looking. The fairing (the plastic bit around the bike) has had a bit of a tweak. I really like the thin LED lights at the front and these circular main beams below that. There's a huge air intake, which shovels air directly into the one litre Yamaha cross plane engine. As for the tank, it's nice and sculpted with these small carbon-fiber bits, which are really easy to grab hold off - essential for when you're braking hard. The seat is quite large, which is good if you've got a larger posterior and it's quite anatomically correct, it's shaped a bit like a bum. There's even a passenger seat on the back, designed for very tiny very brave passengers. Up front we've got the most flimsy set of switches I've encountered in a long long time. These things just look like they might break if you apply any kind of force. The screen shows the information nice and clearly but it doesn't look like it's been designed with any kind of flare or passion whatsoever. It's still a nice looking bike, let's swing a leg over and see what she's like on the road.
Expert rating: 4/5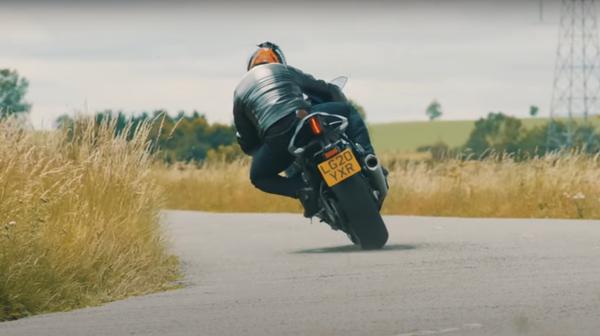 Yamaha R1 Super Sports (2020 - ) review
Riding position
The riding position is quite aggressive, the foot pegs are quite high up, the seat is high, the handlebars are low, it feels like quite a big bike. The suspension is quite racy as well. The damping is fluid, so it doesn't crash about, but there's not much give - you always feel what the road is doing. Good thing on a track, maybe, not so much around town.
Expert rating: 4/5
Practicality
This R1 is a powerful, track-focused super-sports. You wouldn't expect it to make a particularly practical roadster but it's massively accessible.
Expert rating: 3/5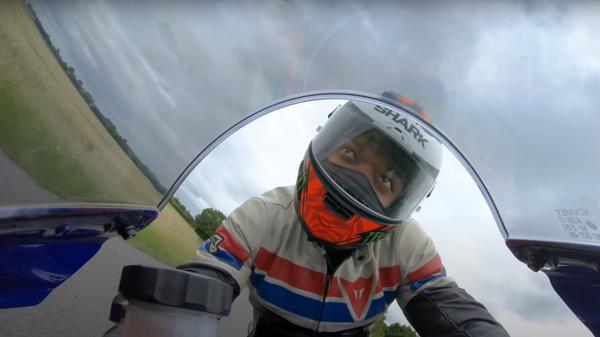 Yamaha R1 Super Sports (2020 - ) review
Performance & braking
There are four different riding modes on this bike (A,B,C and D), A being the fastest and D being the least aggressive. In D, it feels really tame, anyone can ride it because the power delivery in this mode is so lazy, it almost feels like a 600CC bike. If you keep the throttle open, the power builds massively, but this only happens when you're high up in the rev range, so it doesn't feel intimidating. However, if you pull over and switch modes, the R1 transforms. I skipped over mode C and went right up to B to see what it's all about. I've got to say it's not what I was expecting, it feels like I'm on a different bike. Before, it felt like a 600CC bike that didn't actually run out of power, now it feels completely deranged!
Expert rating: 5/5
Ride & handling
I didn't see what all the hype was about before but wow, the bike has really come alive. I find myself leaning on the brakes, they're really strong and they don't give me a lot of confidence there's definitely more acceleration power than there is braking power but they do stop well. Luckily the R1 is a pretty agile bike, it's big, but it changes direction very quickly. It's quite a physical ride, I don't feel I'd want to rush into quick changes of direction. If this was a dance, I'd say this feels more like a bike that wants to do the waltz, rather than the quick step. In saying that, it sticks to its lines quite nicely. The dominant trait with the R1 is the power. Mode B is plenty, but if you're brave enough to step things up to mode A, it becomes terrifying. The throttle response is blindingly fast, it spins up super quickly, you ride this surge of power. You don't have to ride it anywhere near the redline, from 10,000 RPM onwards, it feels like I'm sitting on an actual rocket. I've ridden bikes with more power (on paper) but the R1 does not feel slower than those.
Expert rating: 5/5
Running costs
As the R1 is a high-performance superbike, it inevitably won't be cheap to run, but it's money well spent. Given that a standard R1 can lap at a pace that could win races, we won't complain about running costs.
Expert rating: 4/5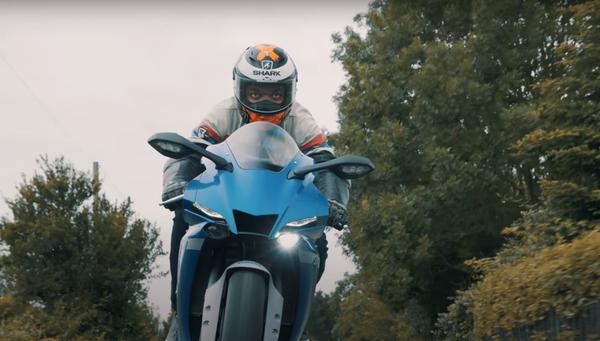 Yamaha R1 Super Sports (2020 - ) review
Reliability
Yamahas in general have very good reputations for reliability, so there are unlikely to be serious problems. This bike is very much designed for hard use on a racetrack, so for general roadgoing pottering about it is hugely understressed.
Expert rating: 4/5
Equipment
The R1 has a big safety net if you get things wrong. It uses a six axis inertial measurement unit (IMU), plus an accelerometer, which can work out how the bike is moving, 125 times a second. This then sends these signals to the ECU, which controls the bike safety systems. ABS, slide control, traction control and wheelie control are all available to help keep this bike shiny side up - it's a relief knowing that those systems are there to save you. The 2020 R1 is just as quick as ever. It may feel as if they've missed the trick in terms of not extracting any more power from the engine, preferring instead to boost efficiency, but this bike doesn't really suffer as a result.
Expert rating: 5/5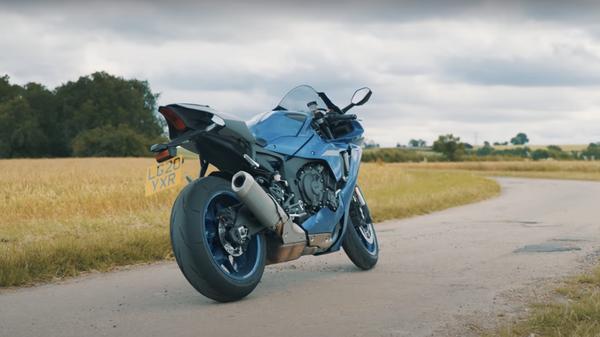 Yamaha R1 Super Sports (2020 - ) review
Why buy?
The R1 proves that the arms race to stuff sports bikes with more and more power, is just getting a bit silly. Okay it's not any more powerful than the previous version but, trust me when I tell you power is the last thing that this bike needs. The Euro 5 legislation had the ability to kill off bikes like this completely, so Yamaha should be applauded for standing firm and developing a solution that enables bikes like this to live on. The R1 is brilliant, it's super fast, it handles well and, yeah it's very track focused, but on the roads, even in the hands of a relative novice this is a bike that's still massively accessible, and that is definitely something worth applauding.
Expert rating: 5/5