Expert Review
Yamaha NMAX Scooter (2021 - ) review
Third-generation, Euro5 compliant version of Yamaha's best-selling premium, sporty-looking commuter scoot is better than ever and now has Honda's class-leading PCX125 firmly in its sights.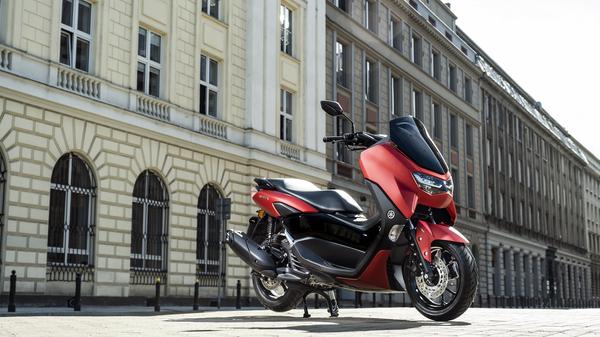 The Auto Trader expert verdict:
Available new from £3,075
There wasn't much wrong with the old NMAX, as its commuter popularity proved. But an all-new chassis, updated styling and extra features such as start/stop and Bluetooth connectivity make it a tempting alternative to Honda's best-selling PCX125.
Reasons to buy:
Classy, premium style
Easy, economical and versatile
Uprated engine now includes Start/stop
Design
Despite similar styling to the old 2018-on model this new NMAX is virtually all-new while keeping the family's 'sporty premium' look. An all-new chassis allows a lower CofG and larger fuel tank and underseat storage space. New bodywork is wider to give better weather protection and includes neat crash protectors. There's a new, multi-function LCD digital dash and lots of impressive detailing such as new LED lights front and rear which give a premium feel in what is still and affordable, accessible commuter scoot. It's not perfect but there's a lot to like and it's bang up-to-date spec-wise, so much so that, although slightly more expensive, it should give Honda's best-selling PCX 125 a run for your money.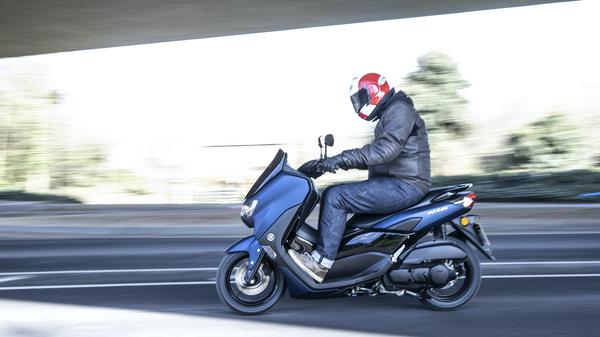 Riding position
Natural and comfortable the new NMAX also benefits from clever aerodynamics and wider bodywork which, despite a low screen, help make 60mph ring road cruising tolerable – even for two. The seat, too, is pleasingly broad and well padded. On the slight downside, the highish centre frame spar means it's also slightly 'step-over' rather than pure 'step-thru' and the bodywork on top of it demands your feet are placed in one of two (low or higher) positions. It's not a problem but on the move you feel you're locked in one position of the other and there's little wiggle room.
Practicality
As with some other 125 scooters – immense, particularly as a commuter, which makes it no surprise that the NMAX, along with Honda's PCX and others, has proved so popular as an affordable, accessible alternative to public transport during the pandemic. Being an A1 125 means, once you've a licence and CBT certificate, it's easily accessible. Being available on PCP from an initial £49pm and returning 130+mpg makes it cheap to buy and run and its blend of easy, town-traffic busting performance, reasonable luggage space and new, neat feature such as Start/stop and Bluetooth connectivity make it modern-day practical, too. You can even get a top box or winter 'apron' and heated grips, too, as official accessories.
Performance & braking
The NMAX's four-valve single has been reworked but produces the same 12bhp as before. Its clever switchable cam 'Variable Valve Actuation' system, which chimes in at 6000rpm upwards and 4000rpm downwards, is unnoticeable and maximises both low down torque and high rpm power. Around town it's without complaint, easy and zippy enough while still returning well in excess of 120mpg, enough for 200miles, thanks to the slightly larger new tank, before refills. On the slight downside, though, that 12bhp is exposed slightly on faster roads such as dual carriageways, where 60-65mph is its absolute maximum. Decent brakes include a new disc version at the rear and are reassuringly sufficient.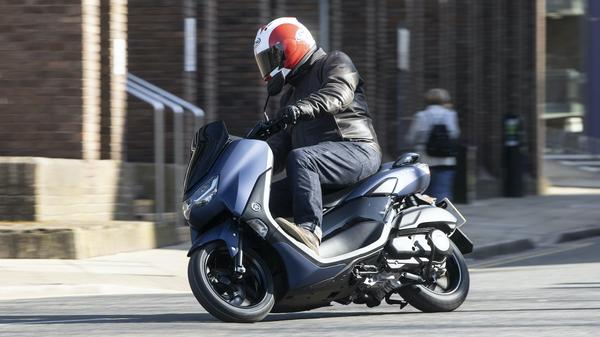 Ride & handling
Without comparing the old and new versions back to back it's difficult to be certain over the improvement provided by the NMAX's new chassis but I had no complaints after a half day's riding on city streets, A-roads and dual-carriageway. The NMAX has achieved that neat trick of being a manageable, unintimidating, easy 125 scoot but also with enough 'maxi-coot' style size and presence to help make the bike feel more substantial an you less vulnerable. The ride is plush, problem-free and has a premium feel. Yet it's also nimble and sufficiently balanced to allow feet-up U-turns in little more than a lane width. At the same time, though, it's perfectly stable and sure-footed at speed (well, 60mph) on faster roads. The twin shocks at the rear also have a ridiculously easy, 'twist n go' preload adjuster while high spec Ohlins shocks are available as an official accessory (although we can't really imagine anyone bothering).
Running costs
For a 125 scooter – indeed, for any kind of practical, consumer transport – it's difficult to imagine anything cheaper to run. The new NMAX's 'Start-Stop' system should aid economy further, putting the Yamaha on par with Honda's class-leading PCX125. It's also impressively cheap to buy and in-demand, which should bolster residual values. While consumption of consumables such as tyres, brake pads etc should be almost non-existent. Credible 60mph-capable commuters don't really get any cheaper.
Reliability
Although significantly updated, the NMAX has been around since 2015 and its engine, although its top end has been tweaked, is proven and reliable. On top of that, this is a relatively premium product with decent build quality, fit and finish and it's also a Yamaha which, in terms of track record, is second only to Honda and should provide complete peace of mind, something that can't necessarily be said for some cheaper, less proven and less well known Chinese-built machines which also can't offer the quality, expansive dealer network Yamaha has. Our only reservation? It's a brand new model, so we can't be certain there are absolutely no glitches, but we have no major concerns.
Warranty & servicing
There's little to fear here, either. As with all Yamahas, the new NMAX 125 comes with a reassuring two-year/unlimited mileage manufacturer-backed warranty from new for all parts and labour. Servicing is fairly typical for the breed being the usual oil changes after the first 600 miles then every 3500 miles or annually.
Equipment
Although the updates elsewhere (chassis, Euro5 engine etc) are welcome, it's the new NMAX 125's increased spec which you notice most and now arguably lifts it above the best-selling PCX125, so justifying the Yamaha's slightly higher price. Among these are: new Bluetooth phone compatibility; Smart keyless ignition, LED lights front and rear, large LCD digital instrument display and rear disc brake, none of which are matched by the Honda. There's also a useful power socket and a decent array of optional accessories including top box and rack, winter apron, tall screen, heated bar grips and even posh Ohlins sports rear shocks. I just wish the underseat luggage space would take my full-face helmet, although, admittedly, I have got a large head!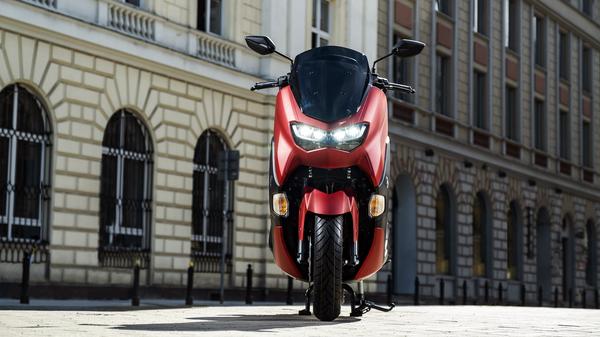 Why buy?
If you're after an affordable but still stylish, well-equipped and reasonably substantial 125cc commuter scooter – as many are due to the pandemic – the new NMAX makes a convincing case to be right up there with the very best. Yamaha is expecting big sales from this latest version and, by leap-frogging the traditional best-seller, Honda's PCX 125, in terms of spec, it may yet prove to do just the same in the sales charts, even if it does cost slightly more.