Expert Review
Yamaha MT-10 Naked (2016 - ) review
R1-based roadster is not just probably the best of the Japanese 'super nakeds' – it's right up there with the best of the Europeans, too!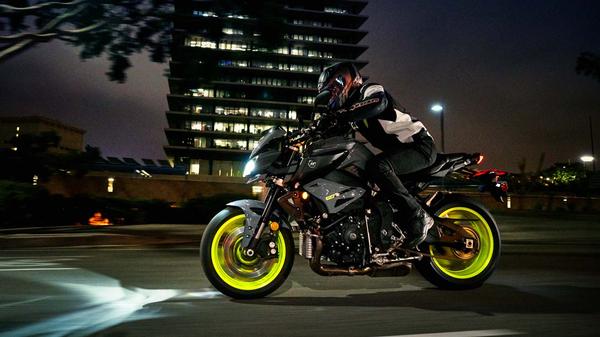 The Auto Trader expert verdict:
Available new from £12,653
Forget its oddball, 'Transformer' looks, the MT-10's R1-derived 'crossplane' power delivery, sweet handling chassis and surprisingly practical all-round ability makes Yamaha's super naked a brilliant buy.
Reasons to buy:
Gloriously grunty 160bhp performance
Better-than-average handling and brakes
SP and Touring 'packs' add to versatility
Design
Put those downright bizarre looks to one side for a moment – the MT-10 is a brilliant motorcycle. Yes, it looks like the offspring of an Autobot but the MT-10's underpinnings are beyond criticism being based heavily on the 2015 R1 superbike and that bike's phenomenally grunty, characterful and fast Crossplane transverse four-cylinder engine and aluminium Deltabox chassis arguably suit this upright super naked even better. The rest of the MT-10 isn't bad, either. The quirky styling includes a flyscreen to make it more practical; it's comfortable; there's R1 brakes and suspension; and although now starting to look dated (it was launched in 2016 after all) its dash and electronics work well, too.
Riding position
Classic 'sit up and beg' upright super naked riding position is comfortable enough, albeit a touch more cramped than many of its rivals, but the seat isn't the most comfortable. That said, a 'Touring Edition' version was offered from 2017-2018 with 'comfort seat', taller screen, hand guards and small soft panniers (all of which are available as accessories) which improves this and turns the MT-10 into a credible all-rounder, which is more than can be said for most 'super nakeds'.
Practicality
No super naked should, by design, be the most practical of machines. After all, as essentially stripped down superbikes their origins are as hooligan street bikes good for stunting, showing off and little more besides. That said, the MT-10 is more practical than most. It's flexible delivery, mostly comfortable riding position and even small fairing make everything from round-town traffic-busting to long distance motorway miles within the realm of possibility. It's also not so exotic and expensive that you wouldn't be willing to use year-round (as you'd be reluctant to do on, say, an MV Agusta or Ducati).
Performance & braking
The highlight of the MT-10 is undoubtedly its 'Crossplane' crank transverse four engine as pinched from Yamaha's R1 superbike. The peak power figure of 158bhp only tells part of the story, better still is its gargly, meaty, addictive midrange which launches the MT-10 out of turns and drives off towards the horizon with a distinctive soundtrack reminiscent of Valentino Rossi's MotoGP M1 – it's that good, sop good in fact it falls only very slightly behind newer, more exotic and expensive rivals such as Aprilia's Tuono and Ducati's Streetfighter V4. Aiding this brilliant motor is a slick quickshifter/autoblipper which became standard equipment in 2018 plus a half-decent 'suite' of electronics including three modes, easily switchable via the LCD dash, traction control and ABS – although in fairness, without a cornering IMU to allow cornering traction and ABS, they are now a generation behind the very best of its rivals. The brakes are equally impressive – again, straight off the R1 superbike with no complaints when it comes to power and sensitivity.
Ride & handling
The MT-10 is essentially an 'upright R1' so you'd expect its ride and handling to be decent – and it is, more than that in fact. The aluminium beam Deltabox frame is essentially identical to that of the superbike, but with added flex built in while front and rear suspension, comprising fully-adjustable KYB components, is decent quality, too. The result is surprisingly nimble steering (the MT-10's styling gives the illusion of being a bigger bike than it is) that's capable of hanging onto the coat tails of nearly all rivals, completely acceptable stability and a ride that, although not as plush and sophisticated as the semi-active systems of more modern rivals such as Aprilia's Tuono, is more than acceptable. Besides, if you fancy more sophisticated suspension, Yamaha also offer an 'SP' version of the MT-10 with semi-active suspension and colour TFT dash, however, although better, we're not sure it's worth the £3K premium.
Running costs
At the end of the day the MT-10 is a high performance super naked derived from a superbike, so as with most bikes of this type, running costs are higher than most. That said the Yamaha also fills an interesting middle ground between cheaper, less powerful, mostly Japanese nakeds such as Suzuki's £11K, 150bhp GSX-S1000 and the more exotic, expensive, powerful and mostly European versions such as Aprilia's 175bhp Tuono V4, Ducati's Streetfighter V4 and KTM's 1290 Super Duke R. As a consequence, you should expect the MT-10 to have running costs somewhere between the two groups, although its hunger for consumables such as tyres, brake pads and fuel is still greater than most.
Reliability
The MT-10 has been around since 2016 and even then was based on a proven, largely reliable design – the R1 – and there have been few reliability concerns since. Owners also generally give their bikes rave reviews when it comes to reliability. Although the paint and finishes on some Yamahas is not always the best, and is a particular criticism of the more budget MT-07, for example, the MT-10 is free from such concerns. There have been a few instances of some of the bodywork seeming flimsy or coming loose, plus a couple of sensor failures, overall there are no major issues.
Warranty & servicing
Yamaha's MT-10 has a more generous service schedule than most requiring an initial 500-mile service followed by annual/6000 mile interim services, an additional plug and filter change every 12,000 miles and, finally, the big valve check/adjustment service every 24,000 miles, so you should have no major concerns. When it comes to warranties, the MT-10 is supplied new with a fairly typical manufacturer-backed two year, unlimited mileage warranty covering all parts and labour.
Equipment
As with its pricing, performance and running costs, the MT-10 stands out for filling the middle ground between its Japanese rivals' more affordable, less potent super nakeds, such as Suzuki's GSX-S1000 and Honda's CB1000R, and exorbitant, explosive, true exotica such as Aprilia's Tuono V4 and KTM's 1290 Super Duke R – and the same is largely true when it comes to equipment as well. On top of that, the Yamaha is now aging slightly so it's spec is also starting to look slightly dated. As a result its electronic riding aids have no cornering sensitivity and its digital dash is of the older, LCD design rather than the latest TFTs. The 'Touring Edition' does comes with panniers, tall screen, heated grips and comfort seat and the SP variant with semi-active Ohlins and TFT dash , but the base bike, though dynamically brilliant is also now a little basic.
Why buy?
Though now starting to age, the MT-10, thanks mostly to its brilliant, R1-derived, 'Crossplane' crank engine, remains at the time of writing not only dynamically the best of the Japanese super nakeds but also right up there in terms of both excitement and practicality with the best of the more expensive European versions, too. Its power delivery is simply addictive, its handling more able than most and it's a more practical machine than you might expect, too – especially when fitted with touring accessories. On the downside, its components and electronics are now slightly dated, accessory options are limited and it hasn't the premium feel of the latest Europeans – but it's still a brilliant super naked at an increasingly tempting new – and used – price.