Expert Review
Yamaha D'elight Scooter (2019- ) review
Yamaha's stylish, easy urban runaround was introduced in 2019 as a quality, bargain-priced alternative to trendy Vespas and with updated styling and spec for 2021 is now better than ever.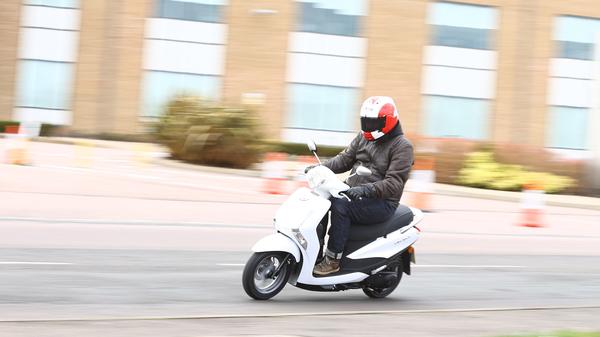 The Auto Trader expert verdict:
With new, 'semi-'50s', styling, the D'elight is Yamaha's less well known but cheaper take on the Vespa city scooter. It's light, simple and more affordable but has enough quality to appeal to 'city slickers'.
Reasons to buy:
Chic retro urban styling
Light, easy and practical to ride
Significantly cheaper than a Vespa
Design
The D'elight was first introduced in 2019 as Yamaha's lightest, simplest, cheapest, 'female-friendly' city scoot – and it scored on all counts. But it was also a little sensible and sober-looking. This 2021 update is a big improvement with more stylish, Vespa-inspired, semi-retro curves including lots of chrome and bright new colours (white, black or red) plus a sharp-looking, now-LED headlight, smartly styled new instruments and extra features including 'Start/stop'. All the old ease-of-use, economy and practicality remains but as an 'object of desire' that's almost £1500 cheaper than the equivalent Vespa it's a big step up.
Expert rating: 4/5
Riding position
The D'elight is intended very much as a novice-friendly, 'entry-level' scoot and is aimed largely at women. As a result it has comparatively dinky, 'cute' proportions that are completely unintimidating. It's also a true 'step-thru', so getting on board is akin to sitting on a bar stool with no need for ungainly, awkward or unladylike 'leg-cocking' over the saddle. On board, everything's natural and within easy reach and its 'twist 'n' go' throttle and bicycle-style brake levers means it's so easy your gran could ride it. That said, larger riders (5'10"+) may feel a little cramped and the D'elight's upright riding position and lack of a screen leaves the rider feeling a little exposed on faster roads such as 60mph dual carriageways – but then, that's not what it's been designed for.
Expert rating: 4/5
Practicality
The D'elight delivers pretty much the same practicality as any other 125cc scooter, certainly around town – and that's lots. It's easy to ride, makes cutting through city traffic a breeze, can be parked almost anywhere and has decent, lockable under seat storage for your helmet (although it won't take a large full-face), lock, shopping or lunch. There's also the usual 'shopping bag hook' inside the fairing between your knees if you need extra capacity. There's also a neat, new 'idiot proof' dial there, which opens either the seat or filler cap. That said, the D'elight's also built down to a price so it hasn't got everything. There's no inner fairing 'cubby hole', nor the keyless operation now available on some scoots. But for the price, we can't complain.
Expert rating: 4/5
Performance & braking
The D'elight is still powered by a fairly straightforward 124cc air-cooled, SOHC, two-valve single, although it's now been subtly updated to adhere to 2021's new Euro5 emissions and noise regulations. The result produces a fairly unremarkable 6.2kW, which equates to just over 8bhp. But although no rocketship or sports scoot, being so light (at just over 101kg wet Yamaha say it's the lightest in the class), means it's more than adequate around town, is sufficiently nippy away from traffic lights and will eventually get up to 60-65mph on dual carriageways. Braking is a similar story – the small, single disc at the front and drum rear are nothing special so are linked (the rear lever operates both front and rear brakes) but as long as you're not playing at being Valentino Rossi they're up the job.
Expert rating: 4/5
Ride & handling
Another area where, if ridden hard (which most examples certainly won't be), the D'elight's slightly budget nature is revealed – although in the real world, for most likely buyers, it's unlikely to matter. The front telescopic forks are fairly spindly and basic and jar and bottom out slightly over potholes. And the rear suspension is slightly 'boingey', too – but that's coming from a vastly experienced motorcycle road tester who's eaten too many pies rather than a novice waif whose more interested in social media than suspension. That said, to ride, the D'elight's so easy it's almost toy-like. Even the wheels are small, so, at speed, the Yamaha feels slightly less stable and secure than larger, bigger wheeled scooters, but it's not remotely a problem.
Expert rating: 4/5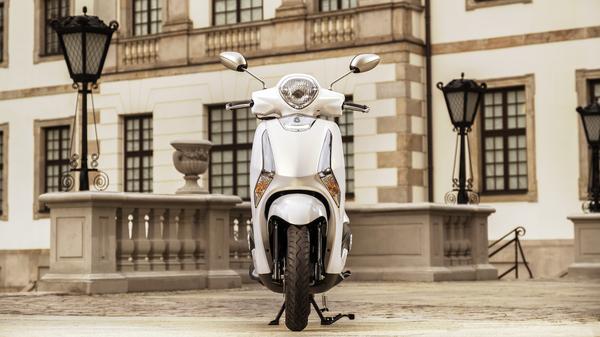 Running costs
It's hard to imagine a 125cc scooter – ie a machine with scooter practicality, the extra performance of a 125 and yet accessible to anyone over 17 with just a licence and CBT – that is any cheaper to run than the D'elight. With a sub-£2900 price when revamped in 2021 it's over £1300 cheaper than the equivalent cheapest Vespa – the Primavera 125 – Yamaha claim its revised powertrain should return around 190 miles from its 5.5litre fuel tank, making it incredibly economical (something helped by the addition of Stop/start, which means the engine cuts out when stationary in traffic) and its appetite for consumables such as tyres, brake pads etc, is likely to be minimal, too.
Expert rating: 5/5
Reliability
The new D'elight is an update of a previous, proven model with no reliability issues and also benefits from fairly impressive build quality (especially considering its low price) and generally simple, unfussy design. We hold back one mark simply because it is a new design with added 'Stop/start' and other changes, so we can't be 100% certain. Overall, however, we have no concerns.
Expert rating: 4/5
Warranty & servicing
Like other Yamaha scooters, the updated D'elight comes with the Japanese manufacturer's standard, reassuring, two year/unlimited mileage warranty for all parts and labour. Servicing is fairly standard, too, requiring a 600-mile oil and filter change when new and thereafter an annual checkover, fluids change etc which should cost little over £100 and has the added reassurance of being provided by a mainstream dealer from Yamaha's excellent, comprehensive network.
Expert rating: 4/5
Equipment
The D'elight, athough updated for 2021 and gaining some attractive, additional features such as 'Stop/start' and a now LED headlight, remains intentionally a budget-conscious, affordable, simple and slightly basic offering and so you shouldn't expect lavish levels of equipment. So, as mentioned, there are no inner cubby holes and the suspension and brakes are slightly basic. That said, it has more than enough to satisfy, is pleasingly designed and styled and is put together well. The simple fuel filler/seat latch switch is a neat touch, the new clocks are stylish and there's enough to make any owner proud. But if you want modern luxuries and technology such as Smartphone Bluetooth connectivity, you're looking in the wrong place.
Expert rating: 4/5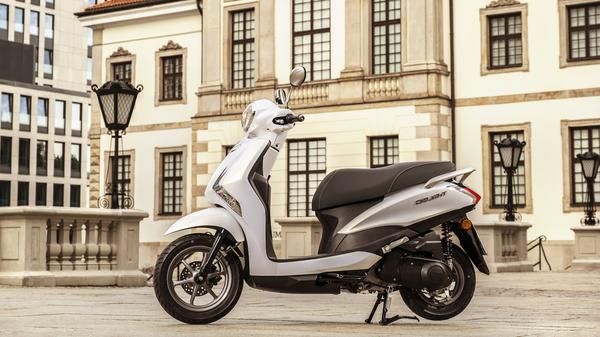 Why buy?
If you're a first-timer contemplating a stylish, round-town runabout the newly updated D'elight is one of the best and most affordable. Cheaper than a Vespa but from a trusted brand with quality build and an established dealer network, the D'elight is also incomparably easy to ride, impressively cheap to run and yet also pleasingly stylish with enough neat design touches to satisfy. Ultimately, of course, it's not a genuine Vespa and is a little basic in places, but at this price few are likely to complain.
Expert rating: 4/5