Advice
What are e-bikes?
E-bikes are battery-assisted push bikes that make pedalling easier, but what else are they capable of, and are they worth it?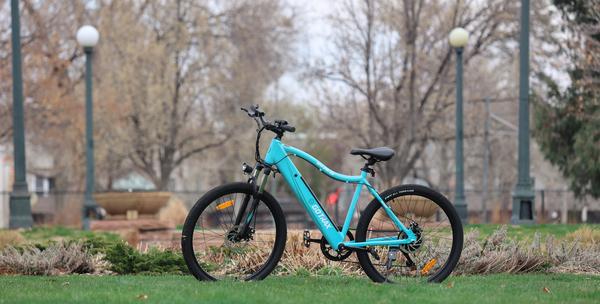 Words by: Andrew Woodhouse
Published on 13 March 2023 | 0 min read
Electric bicycles, commonly called e-bikes, are growing in popularity and sales are spiking – but will this trend catch on?
Let's look at what they are and whether they're worth it.
What is an e-bike?
To be classed as an
electric bike (e-bike)
, your bicycle will be equipped with an electric motor that boosts you when you're pedalling. Boost is the key word here – you need to be the one pedalling and you can't rely on the motor to just propel you down the road.
The amount of power you get out of the motor depends on how hard you pedal, and the level of support you've selected. The motor gets its power from a rechargeable battery mounted on the bike. You can charge the battery using a standard three-pin plug – our guide to
charging an e-bike covers that here.
What are the benefits of riding an e-bike?
That motorised power brings a number of benefits:
• They make it easier to get up hills without the same amount of effort as a standard bike would require. • They're a good option for commuting as it's easier to travel longer distances and save time, and you can use bike lanes to avoid congestion. • Even though the motor's helping you, it's still a good way to get exercise – strengthening muscles and getting the blood moving (improving cardiovascular health in the process). • That motor actually makes e-bikes a good option for people who aren't well suited for traditional biking or are recovering from injuries. • E-bikes obviously don't produce any tail pipe emissions, which helps reduce air pollution. • Far fewer resources are required to make an e-bike than a car, which helps keeps the overall carbon footprint of producing and running it down. • Charging an e-bike's battery can be pretty cheap, certainly when
compared to a car's tank of fuel
.
Drawbacks of an e-bike
There are, of course, drawbacks to e-bikes.
• They're more expensive than traditional bikes – both to buy and to maintain given the motor, battery and technology included. • They're heavier than traditional bikes and tend to have sturdier frames, making them trickier to cart around (for example, on a train or tram). • You'll need to keep them charged, which will either add to your electric bill or mean you need to visit charging points to keep the battery topped up. • Their top-speed (around 28mph) means there are concerns around their safety in pedestrianised areas and even on the road.
Are e-bikes legal in the UK?
Yes, but there are some limitations on the e-bikes you can use here – for example the level of boosting a motor can provide and the top speed at which assistance cuts out.
Read more:
Are e-bikes legal in the UK?
What are the best e-bikes?