Advice
Used bike buyers guide
Here's our top tips for ensuring you not only choose the best type of bike for you but that you also end up with a great example at a good price – not a dud you'll end up regretting.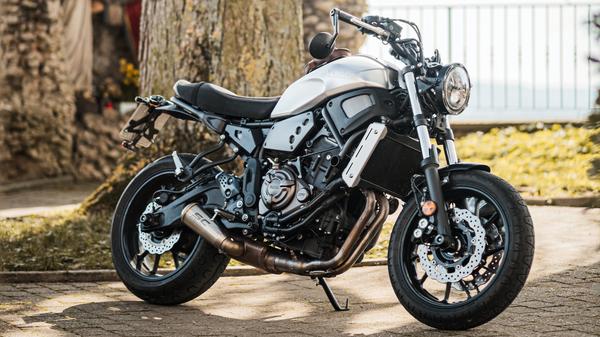 What licence/class?
Motorcycling licence classes are more complicated and restrictive than cars so you first need to understand what licence category of machine you're eligible to ride.
If you're 16 you only qualify for an AM class 50cc machine restricted to 30mph – and even then you need a provisional motorcycle licence and a Compulsory Basic Training certificate to be eligible to ride on the road and must display L-plates. If you're 17 you only qualify for an A1 class 125cc machine restricted to 15bhp with the same requirements. Even if you pass your full test you only qualify at this age to remove your L-plates. Anyone 17+ can also ride an A1 125 if they have the correct provisional licence and CBT. In both cases, after two years you must re-take CBT. At 19 you qualify to take the Direct Access route, which allows you to ride A2 licence category machines of up to 47bhp (often around 500cc). While at 24 (21 if you've held an A2 licence for two years) you qualify to take the test for unlimited A-licence machines. Find more information on licence types on our
new riders hub here
.
What size/type?
Now you know what licence category of bike you're eligible for the next stage is to decide what style of bike you want – do you want a sports bike or adventure style? – and there are dozens of others, whatever the capacity. What style you like is important, but also be realistic about the kind of rider you are, your experience, your physical limitations (if any) and the type of riding you want to do. Once you've decided on, say, a sub-600cc sports bike or a middleweight adventure bike, start doing your research about specific models – Autotrader has produced lots of 'Top 5' guides to different categories of bike, find out what you like and suits you best and come up with a short list of options.
New or used?
We all like new, shiny things – but they cost a premium. When getting a bike, buying new, thanks to the
different finance options available
, has never been easier or more affordable but there are downsides. Buying new also brings the peace of mind of a warranty, the latest features only new motorcycles have and possibly other bonuses such as accessory offers, dealer deposit contributions and so on. The biggest negative, of course, with buying new is the cost and, when operating on a budget, you can buy much 'more', leaving funds perhaps for biking gear, insurance and so on. Only you can decide, but take advice if possible from peers, other motorcyclists, friends and family about the best route to take.
Private or dealer?
If you've decided to buy a used bike, another crucial decision to make is whether to buy from a dealer or privately – and even, if from a dealer, what type of dealer. The basics are simple: dealer prices will likely be more expensive than private sales of any given bike purely because the dealer has overheads (premises, staff, insurance etc) that don't apply to private sales. On the other hand, buying from a dealer should give more reassurances, not only because they're bound by law under the Sale of Goods act but also because they're a trading reputation to uphold and are more likely to have checked and serviced if necessary any used bike. They're also more likely to offer a test ride. On top of that some of the leading manufacturers offer 'approved used' machine schemes through their dealers where used bikes are not only checked but offered with a warranty. Again, it's up to you and boils down what compromise you're prepared to make between reassurance and cheaper prices.
Age/use/condition?
Once you've settled on your budget and the type of used bike you want it's also important to make a decision about how old and what condition of bike you're prepared to accept. Generally speaking, the older the bike, the cheaper it is – but also the higher mileage and worse condition it is likely to be, too. Bikes up three years old may still have a warranty. Older ones from a dealer may be offered with a warranty, too. But a 15-year-old machine with 70,000+ miles from a private vendor comes with no guarantees.
Age and use also affects different types of bike differently. A purpose-built, large capacity tourer that's, say, seven years old and covered 40,000 miles is considered a young, understressed machine as long as it's been looked after. But a seven-years-old, 40,000-mile learner 125 will probably be on its last legs…
Paperwork/history
Used motorcycles, like any vehicles, have documented 'history' – and it's important you check it out, whether buying privately or from a dealer. The V5 will show how many previous owners it's had. A full 12-month MoT certificate on bikes over three years old is obviously desirable, as a bike without an MoT can't legally be used on the road. Previous MoT certificates and accompanying documentation about 'advisories' gives information about the bike's past. A full, correct and ideally main dealer service history is desirable, too, as it shows the bike has been correctly maintained but it's also worth noting when it was last serviced and when the next one is due. Some major services, such as for valve adjustment, can cost over £500 and many owners prefer to sell just before it is due. While the vendor may also have available receipts for any accessories fitted or other work carried out.
History checks
Another useful means of checking a bike's history, and thus having peace of mind about any prospective purchase, is doing a historycheck. These are computer searches which investigate a vehicle's history and can discover whether anything is irregular, for example having outstanding finance, whether its displayed mileage is legitimate or, at worst, if it's stolen. There's a variety on offer, are fairly cheap and recommended for reassurance.
We have history checks in partnership with Experian available on lots of bike adverts on Auto Trader Bikes, you can read more about them
here
.
Condition
When viewing a used bike obviously you need to be reassured about its condition. If you feel capable of doing this, fine. If not try to take along a friend or relative with perhaps more knowledge and experience (and objectivity) to help. In addition some of the motoring organisations such as the RAC offer this as a service for a small fee.
External cosmetic condition is important and relatively easily checked. Look for corrosion, damage, badly adjusted or worn components such as chain and tyres and try to examine hard-to-reach (and clean) areas, such as behind the exhausts, under the engine or the wheel hubs where corrosion can take hold if not thoroughly cleaned. Mechanical condition is important, too. Check all the controls work smoothly and correctly; try the brakes, steering and suspension; start the engine and look for any smoke or unusual noises. Again, if in doubt, try to take a more knowledgeable person with you.
Accessories
Used bikes are often fitted with accessories, whether they be performance exhaust, luggage or cosmetic items – but if you don't want them they're no use to you, especially if the original standard item doesn't come with the bike. If they are desirable consider their worth. Are they in good condition? Are they fitted correctly? A BMW R1200GS loaded with factory fitted options such as heated grips, ESA and luggage is usually more desirable than one without. But the opposite is probably true of a a GSX-R600 that has an illegally loud, budget silencer, garish coloured screen and crash 'mushrooms' that have been fitted by cutting the fairing….
Test ride
This is not always possible, certainly with private sales, but it's worth asking. If it is possible be sure to check your insurance status before you head off. On the move again check everything not only works correctly but, just as importantly, it's the sort of bike you expected it to be and still want. If all is good, head back and discuss a deal. But if you've any doubts at all don't be afraid to walk away. If you're not sure it's the type of bike you want, look elsewhere. If you're not sure it's the example you want, there are plenty more 'fish in the sea.'
Staying safe
Buying or selling a bike should be a pleasant, hassle-free experience' and at Auto Trader we do everything we can to make sure that's the case. You can find lots more handy hints and tips will ensure you stay safe online, whether you're buying or selling a bike
here
.