Expert Review
Triumph Trident 660 roadster/A2 (2021-) review
British firm's all-new, 'entry-level' roadster has all of Triumph's traditional three-cylinder 'nous' and handling, plus neat details in an affordable package.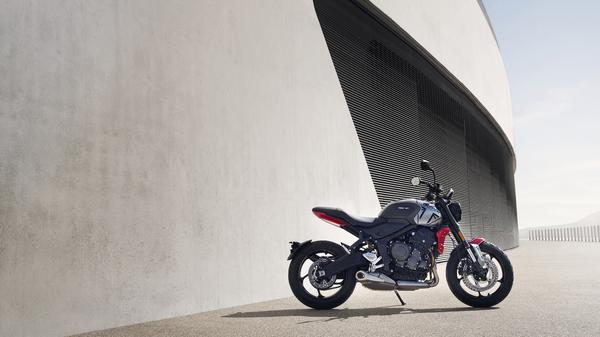 Words by: Phil West
Published on 26 December 2021 | 0 min read
The Auto Trader expert verdict:
Triumph's all-new, novice-friendly offering is its cheapest, most accessible bike yet but also has plenty of pleasing performance, character and quality touches.
Reasons to buy:
Clever, accessible design
Three-cylinder character and performance
Affordable enough to be a serious Yamaha MT-07 rival
Design
It's easy to assume the new Trident 660 is a more basic, budget version of the British marque's hugely successful Street Triple 765. It's not. Instead it's a clean sheet, all-new, entry-level, deliberately affordable roadster triple – and is very cleverly done, too. The engine started from the old Street Triple 675 but is so different it's effectively all-new; the frame is a simple, affordable, tubular steel design; there's new, pared-back, minimalist bodywork to match; fairly budget but still decent cycle parts and a minimal but stylish, effective and well executed instrument display. In one sense it's fairly basic, but for a 'first big bike' the Trident 660's got everything you need, is well thought out and nicely made and, for the price, we've absolutely no complaints.
Expert rating: 5/5
Riding position
Triumph is second only to Honda for delivering appropriate and well-developed ergonomics and the Trident is another classic example. It's an upright roadster so you'd expect ease and roomy comfort but the Trident is blissfully unintimidating from the outset, is somehow slim yet substantial, its seat is neither conspicuously high nor low and riders of all shapes and sizes commented that it was a doddle to get on with. No, there's no fairing or weather protection and pillion provision is minimal but those criticisms both come with the territory of being a novice roadster, after all. In every other respect, it's faultless.
Expert rating: 5/5
Practicality
A middleweight roadster such as the Trident can never do it all. Being 'naked' makes motorway miles a chore, it's not the greatest at carrying luggage, it certainly can't go off-road and it's not a luxurious pillion carrier, either. For all of those 'failings' we dock it a grand total of one mark – because it does everything else brilliantly. It's light and manageable enough to be accessible to all; it's sufficiently nimble and perky to be great around town; it's fabulous fun on B-roads and its slightly larger proportions and smoother three cylinder engine make it better at A-roads than, say, Yamaha's rival MT-07, too. True, Yamaha also does a faired, pillion-friendly 'sports-tourer' version as well, the Tracer 7, but Triumph have now also responded with a similar version of the Trident – the Tiger Sport 660, which probably will get 5/5 here.
Expert rating: 4/5
Performance & braking
Most Triumph triples are brilliant, offering an intoxicating blend of midrange grunt, top end revs and power, acceptable smoothness and pleasing character, and the Trident is another string to its bow. Peak power is 80bhp, which is more than enough to show a clean pair of heels when pushed hard against the 74bhp MT-07 twin, yet the Trident's 660cc triple is also tractable and flexible, too. It might not have the creamy, smooth, four-cylinder 90+bhp of, say, Honda's CB650R, or the addictive, perky punch of the Yamaha, but for most it does it all, all accompanied with a droning, gurgly soundtrack. Usefully, it's also available in a dealer-restricted, A2-compliant, 47bhp form which can then be derestricted when you qualify for your full licence. The brakes, though comprising fairly budget twin piston Nissin non-radial calipers biting onto big, twin 310mm discs, are more than sufficient, too, offering bags of feel and power.
Expert rating: 5/5
Ride & handling
Triumph is renown for producing well-developed, fine-handling machines and the Trident 660, although slightly built down to a price, is no exception. The suspension, admittedly, is a little on the budget side, comprising inverted 41mm but non-adjustable Showa telescopic forks at the front with a single Showa monoshock that's adjustable for preload only at the rear. And to be honest, it's not perfect. The rear seems a little overdamped on ripply surfaces, struggling to respond quickly enough and seeming a little juddery as a result. But on the whole that's a minor complaint. The ride overall is plush and comfortable while always remaining in control, the steering is involving and precise, the Trident is more stable than the MT-07 yet still nimble and the whole plot reminds very much of the early Street Triple through the twisties, and you don't get a much greater commendation than that.
Expert rating: 4/5
Running costs
As an 80bhp three-cylinder the Trident is never going to be quite as cheap to run as Yamaha's 74bhp MT-07 twin, being both more powerful, slightly thirstier and heavier, too – but there's not that much in it. Those higher revs and weight means you should expect mpgs in the 50s at best compared to the 60s of the Yamaha while the extra weight will mean a bigger hunger for tyres, brakes pads and even chain. On the upside, service intervals are decently wide and residuals should be good due to its popularity.
Expert rating: 4/5
Reliability
It's a little early to be certain seeing as, as I write, the Trident's all new and still under a year old, but going by owner feedback do far and the reputation of other similar Triumphs you should have few concerns. Most of the componentry is known and proven, the fit and finish is as good as any other Triumph, despite the Trident's slightly budget nature, and, being a novice-orientated machine, it's unlikely to have been thrashed to within an inch of its life, either. We've heard of no mechanical concerns with the only repeated issue being a glitch with its smartphone Bluetooth connectivity.
Expert rating: 4/5
Warranty & servicing
Like most rivals, the Trident 660 comes with a two year, unlimited mileage, manufacturer-backed warranty for all parts and labour, so no great shakes there. What is worth crowing about, however, is the Trident's extended, 10,000-mile service intervals, which Triumph has been confident to create due to the bike's relatively low state of tune. Triumph say the effect of that will be 2.7-7.5 hours less in a dealer workshop compared to some rivals which should add up to a significant saving.
Expert rating: 4/5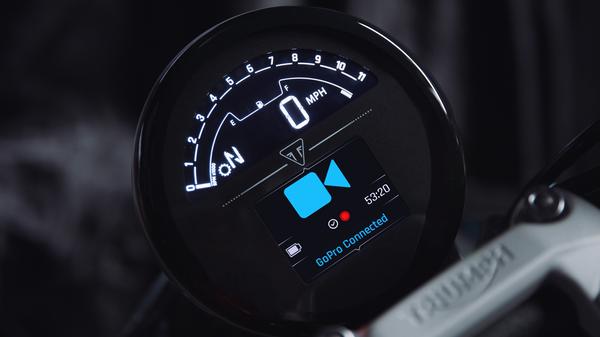 Equipment
Although a budget machine, the Trident 660 is better specced as standard than many rivals. There's an elegant, well-designed round dash that combines LCD and TFT elements and is packed with all the info you need in a clearly understandable way. There's also LED lighting throughout, an adjustable brake lever and quality Michelin Road 5 tyres as standard. Admittedly it's also fairly basic – the suspension isn't very adjustable, the rear end seems naked and there's no electronics to get excited about but what it has is useful and well finished, it's decent value and if you want more Triumph have a decent range of dedicated extra-cost accessories available including fly screen, Bluetooth connectivity, quickshifter, heated grips, crash protectors and more.
Expert rating: 4/5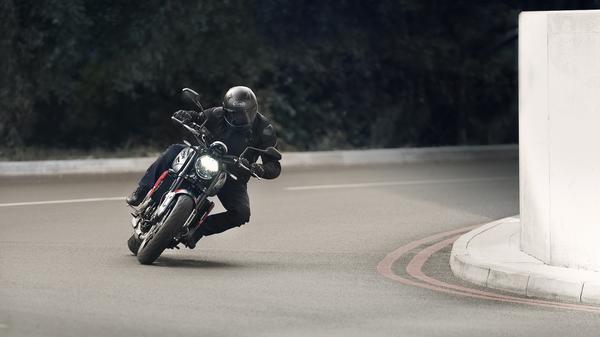 Why buy?
Until the Trident, Yamaha's brilliant, twin cylinder MT-07 had the affordable middleweight roadster market pretty much all to itself and has proved a huge success as a result. Kawasaki's similar Z650 is a little too 'cute' and lack's the Yam's broader ability and sheer fun factor. While if you wanted something bigger with more cylinders your only option was Honda's able but a little bland CB650R four. The Trident fits neatly within the two camps and does it brilliantly with the top end performance beating of the MT and enough handling and character to run it close the rest of the time. If you want an introduction to big bike motorcycling with some fable Triumph triple character and handling the Trident is the best value way of doing it.
Expert rating: 4/5