Expert Review
Triumph Tiger 900 Adventure (2021 - ) review
Triumph's original 2010 Tiger 800 set the standard for middleweight adventure bikes. Its all-new successor is better kin every way with this top spec, road-orientated version the pick for touring miles.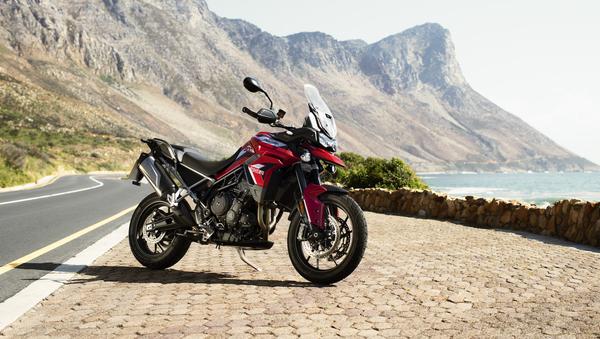 The Auto Trader expert verdict:
Available new from £9,803
Bigger, better equipped and wanting for nothing the top-spec, road-orientated version of Triumph's all-new Tiger questions the need for bigger adventure bikes.
Reasons to buy:
Astonishingly versatile
Massive spec and adjustability
Gruntier performance and improved chassis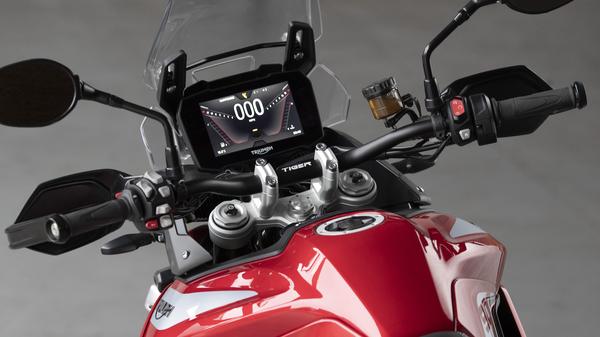 Design
Triumph's old Tiger 800 triple was a brilliantly versatile and characterful all-rounder and the all-new version is better in every way, while this top-spec 'road' version has such a phenomenal amount of features and adjustability it's almost too much. There are now five different Tiger 900 variants, three GT (road), two Rally (more off-road) with this top spec GT Pro having virtually every gadget and gizmo you can imagine (see below). The base bike is decent, if a little sensible, and most of the Pro's extra features are impressive. But some, such as over-complicated switchgear, fiddly-to-adjust screen and seat, bafflingly customizable and distracting big TFT screen, are an exercise in excess and could work better.
Riding position
Almost impossible to criticize as its seat, pegs, bars and screen are all adjustable and the seat and grips are heated, too – something before now unheard of on a 'mid-range' adventure bike. The seat itself is broad at the back, narrow at the front and you sit upright, 'in' the bike with broad bars and a big screen in front. It takes a pillion far more comfortably than most mid-size adventures, too. As such the GT Pro is a plushly comfortable, slightly more manageable touring alternative to full size adventures such as BMW's perennially popular R1250GS and, for the money, has a far better spec. But it also lacks the lightweight sporty attitude of some rivals such as BMW's F900XR or Yamaha's Tracer 9 GT.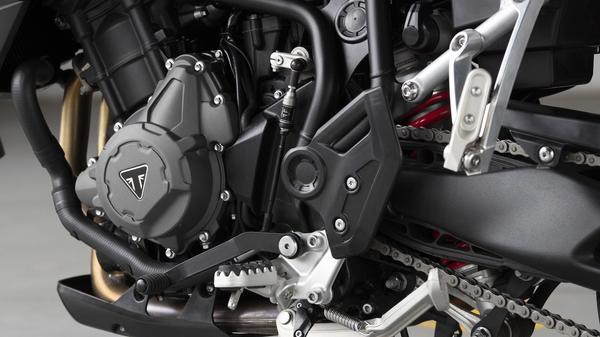 Practicality
If there was ever a middleweight bike that could do it all the Tiger 900 GT Pro is, surely, it. As a relatively low-seated, lighter weight (ish), middleweight adventure bike it's immediately a great all-rounder with a bit of off-road ability. It's reasonably nimble and manageable around town, takes a pillion and luggage better than most and still has a respectable degree of engaging sporting ability. While the cherry on top is the GT Pro's astonishing level of spec including heated seat/bars, cruise control, Bluetooth music and phone connectivity, the works. Yes, bigger adventure bikes manage all that, too, but the Tiger 900's smaller size makes it more manageable and manouvrable around town.
Performance & braking
The previous, entertaining but versatile 799cc triple has grown to 888cc but peak power is actually unchanged at 94bhp, Triumph instead choosing to bolster low and mid-range performance and craftily revise its character with a new crank which changes the firing order. The result is still brisk, although even with a standard quickshifter, not as sporty as some rivals, but it is gruntier, more flexible and practical, especially when carrying pillion and luggage, than ever. Braking is taken care of by twin 320mm front discs grasped by top-notch Brembo Stylema monobloc radial calipers operated even more impressively by a radial front master cylinder and aided by cornering ABS (the sort of kit you rarely find even on sports bikes), so is beyond criticism, although fully-loaded it's a big beast to haul up.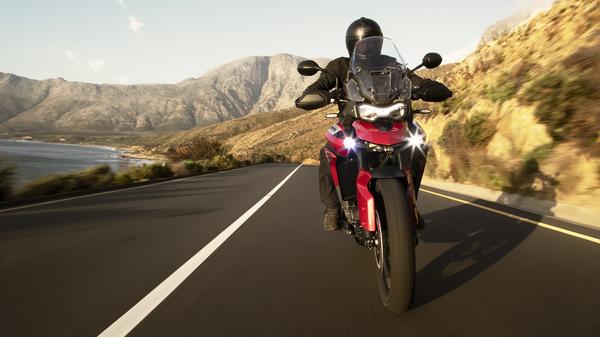 Ride & handling
Although the main frame is unchanged there's a new, unboltable aluminium rear subframe which helps save weight as does a smaller sump. The tank, meanwhile, is one-litre larger at 20 litres, which gives a massive range but makes it slightly top heavy fully-fuelled. On the whole, though, with quality Marzocchi suspension front and rear and, in this GT form, with a 19/17inch alloy wheel combo (the more off-road Rally versions have 21/17in wires), the Tiger is stable, neutral, well-balanced and easy steering, with no vices, although again possibly now more 'touring' than 'sports'. The icing on this particular cake, meanwhile, is, in this Pro spec, the Tiger 900's new electronically-adjustable rear shock absorber which adjusts the preload setting at the press of a button, although it's worth pointing out this is more for loading issues than to adjust the 'sportiness' of the ride, as is the case with BMW's much-lauded ESA system which adjusts both front and rear suspension.
Running costs
One of the appealing features of more mid-range adventure bikes such as the Tiger 900 (and previous 800) is that they're not only cheaper to buy but more affordable to run than full-bore, 1200cc+ versions – and that's still true of the new Tiger 900. It's 94bhp performance takes less of a toll on consumables such as tyres, chain, brake pads etc than a 150bhp version, it's cheaper to insure and gets more miles to the gallon as well. That all said, however, this GT Pro version, at well over £13K, is among the more expensive bikes of its type, if used fully loaded, two-up as intended, it's still a big, heavy old bus, Triumph mpgs have never been among the best and it has lots of sophisticated features that can only add to likely costs.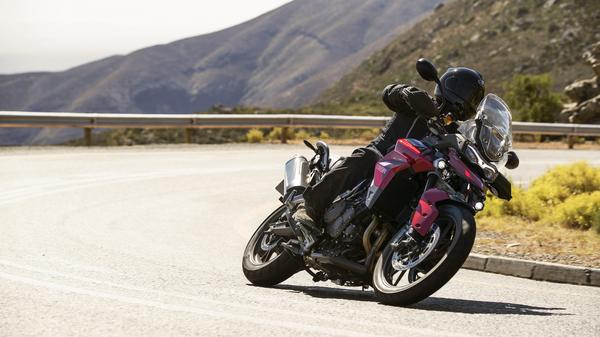 Reliability
Triumphs generally are built well with few reliability issues and the old Tiger 800 has been a best-selling mainstay of its range for over a decade with a devoted following and few reliability concerns so, although significantly updated, we've little reason for major doubts over the new version. That all said, it's worth highlighting that the GT Pro has an immense amount of tech to potentially go wrong, some fiddly design features such as the 'joystick' toggle on the left switch pod and seat height adjuster fail to fill us with confidence and, on our test, the screen adjustment mechanism unscrewed itself and proved awkward to use.
Warranty & servicing
All new Triumph motorcycles currently benefit from a manufacturer-backed, two-year warranty for all parts and labour, and this is also true of the new Tiger 900 GT Pro. Servicing-wise the Tiger 900's service intervals are fairly standard being every 6000 miles with valve adjustment every 12,000 and we've no reason to expect any major difference to the costs incurred on the previous bike, although it is worth saying that the high level of equipment on the GT Pro may incur some extra maintenance.
Equipment
This is where the GT Pro version of the new Tiger 900 really stands out – in short it has it all. Take in this little lot: huge, 7in, fully-customisable colour TFT screen which can be integrated with SatNav, Smartphone, music and Go Pro; five riding modes; cornering ABS and traction; heated grips and seat; adjustable screen, seat, pegs and bars; quickshifter/autoblipper; superbike-spec brakes/suspension; electric rear suspension adjustment, it even has a mainstand. In truth, it's not all perfect – the screen is awkward; the switchgear fiddly; the dash distracting and there's an argument that, sometimes, less is more. But if you want the most in this category, this is probably the one.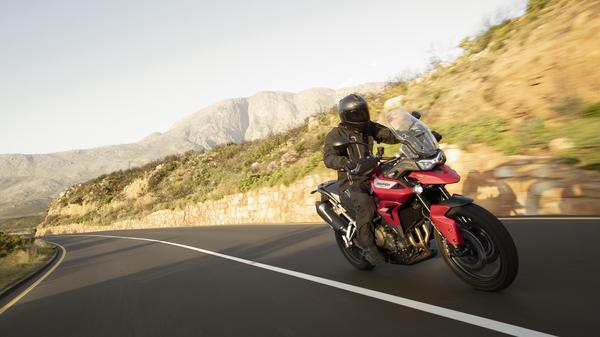 Why buy?
In this fully-loaded GT Pro trim, Triumph makes a convincing argument that, if you're after a truly versatile, luxury adventure bike capable of massive miles two-up, no longer do you need a £15K+, 1200cc monster. The new Tiger 900 truly can do it all and has the bonus of being cheaper and more manageable than those leviathans, too. The slight trade-off for that luxury versatility, however, is both lightweight sporting ability, where middleweight rivals such as BMW's F900XR and Yamaha's Tracer 9 GT are far more exciting, and big bore performance where the 94bhp Triumph can't match the ballistic 150bhp+ of bikes like Ducati's Multistrada or KTM's Super Adventure. For most of us, though, for most of the time, the 900 GT Pro does it all.