Expert Review
Triumph Street Twin Roadster/Retro (2016 - ) review
Triumph's entry-level Bonnie gets a significant boost with improvements to its engine, suspension, brakes and more – the result is a great introduction to retro roadsters.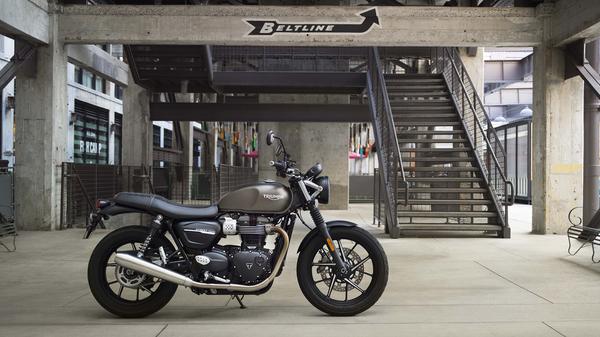 The Auto Trader expert verdict:
Available new from £7,420
The Street Twin was introduced as the more affordable, novice-friendly member of Triumph's retro Bonneville family in 2016. Though good then, for 2019, with more power, improved brakes/suspension and more, it's better than ever...
Reasons to buy:
Improved performance
Better ride and braking, too
One of the best introductions to retros
Design
The Street Twin is basically a more affordable version of the softer, more novice-friendly, 900cc Bonneville T100. As such, the 'retro roadster' basics of pleasant, twin cylinder engine, upright roadster riding position, twin shocks, bench seat and teardrop-shaped tank are all present but, to keep costs down, it lacks the more classy (and expensive) chrome, wire wheels, glossy paint and nicer metal finishes of its pricey brother. The Twin's still handsome and has been improved significantly with 2019's new clocks and slightly better spec, but it is a little drab and basic compared to the rest of Triumph's retro range.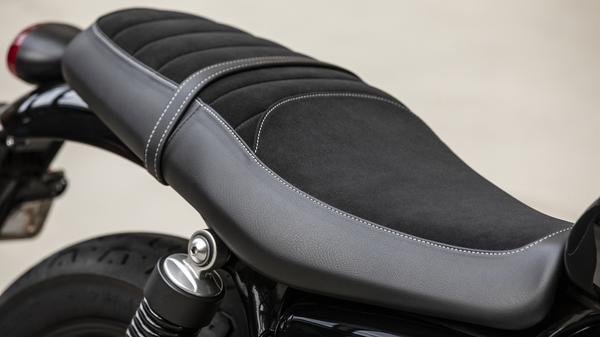 Riding position
Absolutely no complaints here. A retro-styled roadster often makes a great novice bike due to its upright riding position, usually smaller than average proportions, slim 'old school' style twin cylinder motor and so on, and the Street Twin, as it's deliberately aimed at less experienced riders, exploits all that to the full with an even lower seat than normal. As an easy to ride, 'newbie'-friendly city biker there are few 900cc machines that are better. The downside of all that, of course, is it's less well suited to motorways and long journeys…
Practicality
Easy to get on and just ride, light, nimble and perfectly suited to jinking through town centre traffic, a pleasing, comfortable and evocative machine for along Sunday ride-out and even passable at taking pillions – the Street Twin has a lot going for it. But it can't do everything. The small proportions, lack of weather protection and restricted luggage options rule out long distance touring while, with just 54bhp and a fairly simply chassis, it's no hard core sports machine, either. As a starter, 'do-most-things' retro, though, it's brilliant.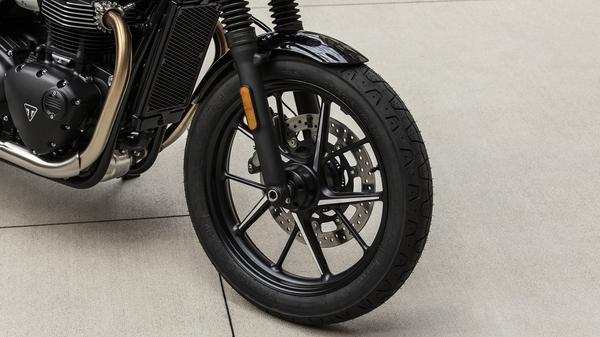 Performance & braking
The Street Twin was never intended, when first launched in 2016, as any kind of rip-snorting performance machine – quite the opposite in fact. Its 900cc twin was tuned for a soft 54bhp with a meaty, flexible, novice-friendly midrange. However, with rivals such as Ducati's Scrambler and Yamaha's XSR700 significantly brisker this 2019 version has been retuned to give 18% more power, to rev more freely due to lighter engine internals and all without sacrificing midrange torque. The result is still easy and flexible, but with a healthy does of extra pep at the top end to bring it back on par with most rivals. The brakes are uprated, too. A single disc may not be much to shout about but the new Brembo caliper is noticeably more powerful than the old Nissin.
Ride & handling
The ride of the original Street Twin wasn't bad and Triumphs have traditionally handled well but this is a step up again over the old model. The original was nimble enough and pleasingly easy to ride but the reworked KYB forks and twin shock rear, although still fairly budget and unadjustable – which is what you'd expect on a budget-orientated, novice machine – give a noticeably more refined and reassuring ride. The steering, meanwhile is as light and intuitive as ever and the sense of control you get is complete – just what you want, in fact, from a novice-targetted machine.
Running costs
Despite the updates the Street Twin basics remain unchanged: it's a reasonably lightweight and gently-powered middleweight aimed at the budget end of the category with no serious performance ambitions. All of that combined means it's decently cheap to run, too. Consumables consumption (fuel, chain, brakes pads, tyres) is better than average; the Street Twin is fairly affordable to buy and insure in the first place and Triumph residuals are better than many, too, all adding up to menial running costs overall.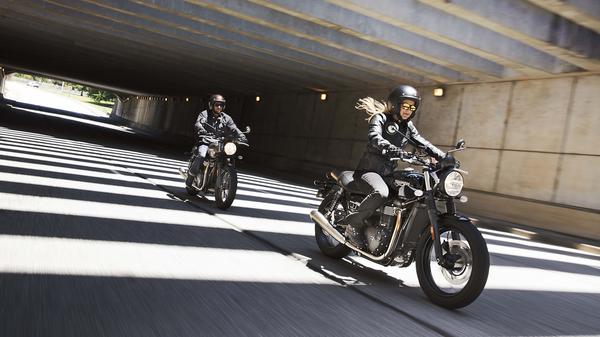 Reliability
Although there may be question marks over the Street Twin simply because of its slightly budget (for a Triumph) nature plus the uncomfortable fact that the Leicestershire firm's most British icon, its Bonneville family, are all these days made in Thailand to minimize costs, it's also true that the latest generation of Bonnevilles have an impeccable reliability record and that they're also the sort of Sunday toy that racks up minimal mileage and tends to get looked after. For all these reasons we've no concerns about the Street Twin. Do, however, look for dings and scrapes due to its novice nature.
Warranty & servicing
Like all modern Triumphs the Street Twin comes with a standard issue two-year, unlimited mileage manufacturer backed warranty for parts and labout, as is pretty much the industry norm. Major services are due every 10,000 miles, which is better than many. On top of that high mileages will be rare and it's an easy bike to work on by its very nature with everything exposed and no cumbersome bodywork in the way.
Equipment
Nobody would claim the Street Twin is the most lavish or luxuriously-equipped motorcycle out there – it's a retro-styled, budget, novice machine, after all. But it's not lacking for much and has been improved significantly with this 2019 makeover. There's a pleasing new, single dial instrument pod through which you can switch the two, new riding modes (Road and Rain); brakes are now Brembo, tyres are classy Pirelli Phantoms and the suspension's been improved, too. However, that is about your lot. But if you do want some more bells, whistles or cosmetic add-ons, Triumph's extensive accessories catalogue is now up there with the best.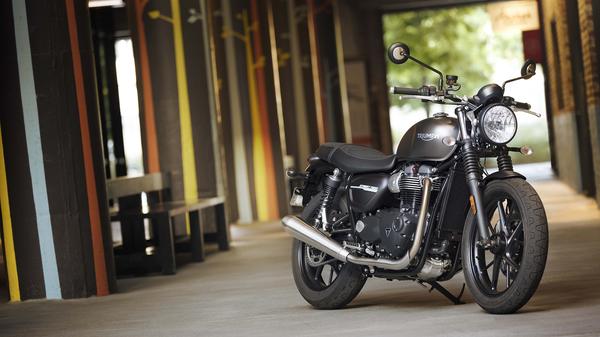 Why buy?
If you're new to biking, are interested in the whole fashionable 'retro/scrambler' thing and on a budget, you really can't do much better than the latest Street Twin. It's stylish, has one of the world's best biking brands on its tank, is a doddle to ride, there's an A2-conversion kit available, Triumph have a great, inviting dealer network with lots of finance deals plus there's lots of accessory opportunities to personalize your ride – it really does have it all. That said, Ducati's Scramblers run it close and its budget nature means it's duller, cosmetically, than I'd like. But if you like the look, you won't be disappointed.