Expert Review
Triumph Street Twin Retro (2016 - ) review
The Triumph Street Twin is the first model to emerge from a totally revamped and newly categorised family of models sold under the iconic Bonneville name

Words by: Jon Quirk
Published on 12 April 2016 | 0 min read
The Auto Trader expert verdict:
The Triumph Street Twin combines British charm with modernity and everyday usability to compete in the increasingly popular retro sector. It may not be the dynamic benchmark, but it's enjoyable to ride, well finished and superbly detailed to evoke those nostalgic café racer memories. If you're in the market for a retro motorcycle, the Street Twin must be on your shortlist.
Reasons to buy:
Classic appeal with modern manners
Flexible engine also boasts rich soundtrack
Customisation extends appeal to a younger audience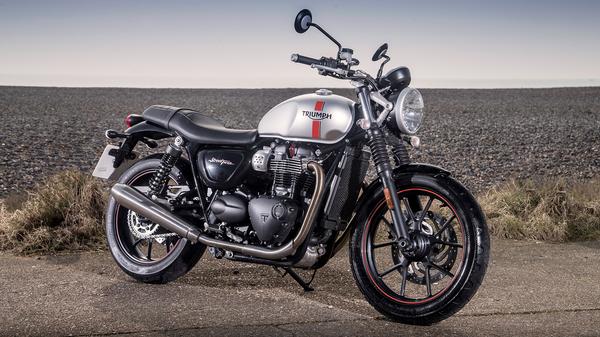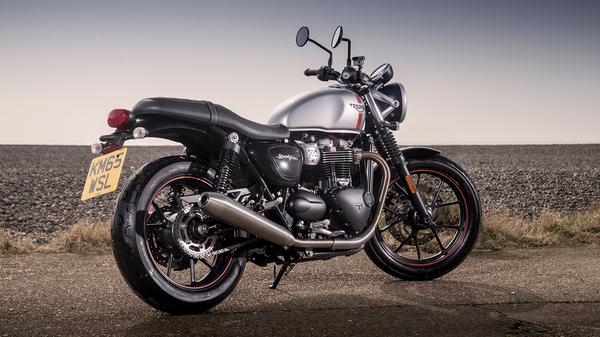 Design
The Bonneville silhouette hasn't altered much since the nameplate was introduced by Triumph in 1959. This may be a modern motorcycle, but there are some classical nods – NGK-style plug caps and a curved exhaust that disguises a hidden catalytic converter - that have been expertly judged to not appear naff or pastiche. You may also notice a complete absence of Bonneville branding, as the moniker is now reserved for the higher capacity and more expensive Bonneville T120.
Expert rating: 5/5
Riding position
At 750mm, the seat of the Triumph Street Twin is Harley-Davidson low, so will suit shorter or less confident riders in getting both fleet flat on the floor. The bars are quite low and a good arm stretch away, while the pegs are slightly rearward-set to offer a mildly sporty stance. Mirrors are small but well located to be useful, while the padded bench seat is comfy enough for pillions on short trips.
Expert rating: 4/5
Practicality
Practicality has been vastly improved over the previous-generation Bonneville. It's as if Triumph went through the previous bike's flaws, one by one, like a giant checklist. Basic irritations like a lockable fuel filler cap, fiddly steering lock and awkwardly located ignition chamber have been remedied, while the addition of an under-seat USB port and a slim digital screen (which displays information including gear position, odometer, average economy, fuel range and time) is very welcome. Further, it's possible to spec a pair of canvas panniers and a large flyscreen to make the Street Twin more commuter-friendly.
Expert rating: 4/5
Performance & braking
A new black-painted radiator installed in front of the tubular steel frame is evidence of the Street Twin's new liquid-cooled, 900cc, eight-valve parallel twin engine. It has a 270-degree crank, which gives it V-twin-like levels of burbling charisma and it's coupled to a five-speed gearbox to develop 54bhp at 5900rpm and 59lb ft at 3200rpm. The 'High Torque' badging on the engine casing also alludes to the key character, with the Street Twin expertly performing quick traffic light getaways thanks to a light action, slipper-assist clutch and punchy performance as soon as you open the throttle. The redline may be limited to 7000rpm, but the deliberate low-rpm tune encourages you to enjoy the generous mid-range. Brake feel is consistent, but unfortunately the stopping power of the Street Twin is less impressive. The 310mm front disc with two-piston caliper and 255mm disc on the rear don't feel strong enough to halt 198kg of bike, and you find yourself having to squeeze the levers slightly harder than you hoped.
Expert rating: 4/5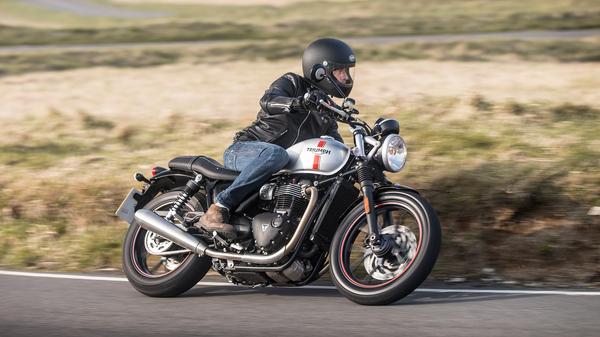 Ride & handling
"

The Street Twin feels utterly stable mid-corner

"
Thanks to wide bars, smooth ride-by-wire throttle and low centre of gravity, the Street Twin feels well balanced and easy to ride around town. The centre of mass feels near your shins, so while that offers great low-speed stability, it does mean that the weight is more noticeable when leaning the bike into high speed corners. It may not have the alert responses of a Yamaha XSR700 (and, we'll be honest, little does) but whereas the previous-generation Bonneville would soon get flustered with its wallowy chassis and crashy rear suspension, the Street Twin feels utterly stable mid-corner, carving a constant arc with confidence from the firm suspension and grippy, retro-inspired Pirelli Super Phantom tyres.
Expert rating: 3/5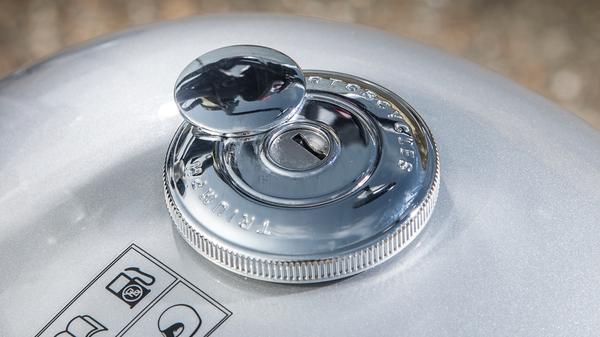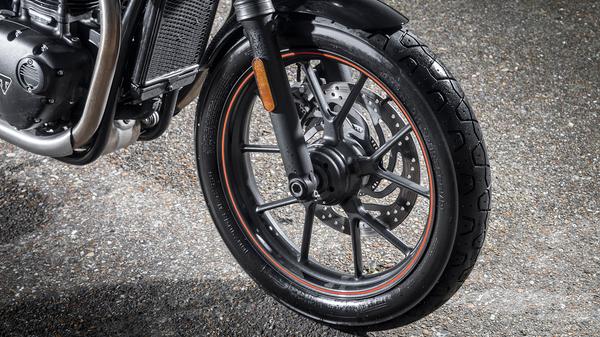 Running costs
The Street Twin doesn't offer quite as much bang-per-retro-buck as a Yamaha XSR700, but it arguably offers a more authentic experience. With an estimated 76mpg and a riding style that encourages cruising rather than attacking every corner, the consumption of consumables like tyres and brake pads will be low, too.
Expert rating: 4/5
Reliability
The Street Twin may be retro in theme, but this is a modern bike you can ride every day. It's too early to report on any mechanical or electrical glitches, but we're expecting this bike to live up to Triumph's well established, exacting standards.
Expert rating: 4/5
Warranty & servicing
The Street Twin comes with a manufacturer-supported two-year, unlimited-mileage warranty. Servicing intervals have increased from 6,000 miles on the previous-generation Bonneville to 10,000 miles.
Expert rating: 4/5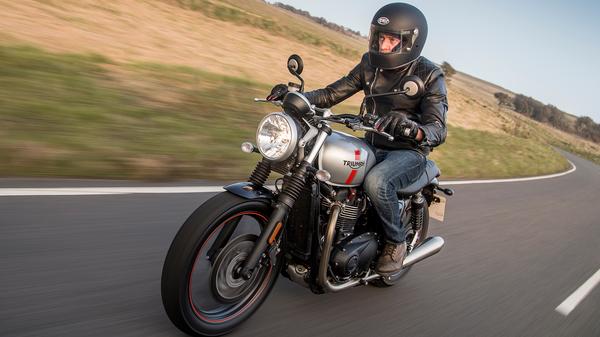 Equipment
"

There are more than 150 official parts available to enhance the look and performance of your Street Twin

"
ABS and traction control – which you can switch off from the bars – are fitted as standard, there's a USB charger under the seat, and heated grips and a tyre pressure-monitoring system are optional extras. Further, there are more than 150 official parts available to enhance the look and performance of your Street Twin. Triumph also offers 'inspiration kits' which bundles a number of parts and accessories to create a themed style, be that Scrambler (Vance & Hines high-level exhaust, sump guard and ribbed flat seat) or Urban, with dropped bars, LED indicators, wax cotton single pannier and tinted flyscreen.
Expert rating: 5/5
Why buy?
If you liked the previous 865cc Triumph Bonneville, then you will love the Street Twin. It maintains and nurtures all of Triumph's wonderful heritage, but presents it in a package that now performs better, handles better, sounds better and, in our eyes, looks better than its predecessor.
Expert rating: 5/5