Expert Review
Triumph Street Triple 765 Naked (2017 - ) review
The old 675cc Street Triple was already by far the best bike in the middleweight super naked class. This all-new version, which comes in three different main variants, is better is every way.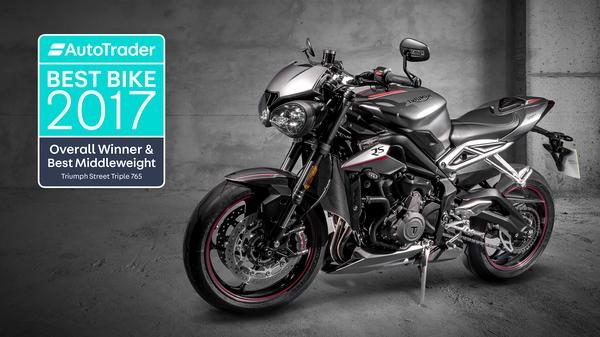 The Auto Trader expert verdict:
Available new from £8,103
The fabulous Street Triple didn't need improving – but Triumph has done it anyway, with more choice, performance and sophistication. It's a great value and fun-packed all-rounder that comes in a form to suit everyone.
Reasons to buy:
Three different versions to suit every pocket
Enlarged three-cylinder is characterful, effective and fast
Top spec 'RS' is hugely classy, yet still affordable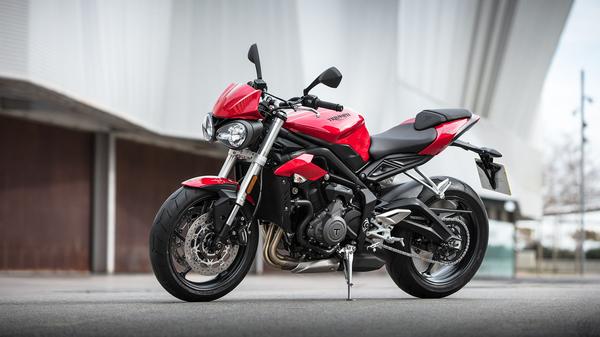 Design
Triumph hit the nail on the head when it launched the original Street Triple (essentially a naked version of the then 675 Daytona supersports) back in 2007. Back then it was light, fun, versatile and characterful. That recipe was updated sufficiently in 2013 with new looks and improved dynamics, to stay well and truly ahead of the pack. Now Triumph has done it again, improved the base bike all round and now offers it in a wide variety of specifications: from base, budget 113PS 'S', to posher, faster 118PS 'R', all the way up to full bling 123PS 'RS'. In short, every base is covered, and done so brilliantly.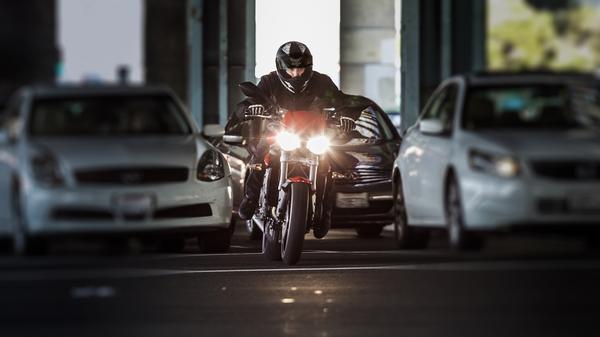 Riding position
Not much new or otherwise to report here, but then the old 'Striple's semi-upright posture has always been pretty much perfect for a naked bike anyway. Triumph's middleweight gem has a knack of fitting almost all sizes and types of riders, from novices to track day loons. Even better still, with this new 765 version, Triumph is also offering a 'LRH' (Low Ride Height) version for the first time, with a unique suspension and seating set-up that's 30mm lower than the standard bike.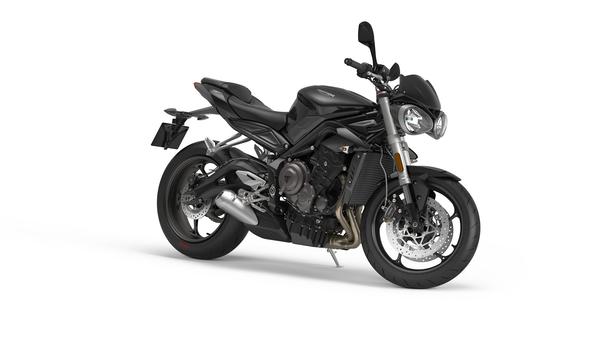 Practicality
It doesn't have a big touring fairing or fitted luggage as standard, but in every other respect the new Street Triple can do it all, especially as so many different variants are available. There's an A2 ready version; the budget and novice-friendly 'S'; the posher 'R'; and up to the 'RS', which has enough performance and sophisticated electronics to keep the most hardcore sports fan entertained. But whichever you go for, the 'Striple also has a delightful, easy to use engine, and great handling chassis. Plus, it's light and nimble, too.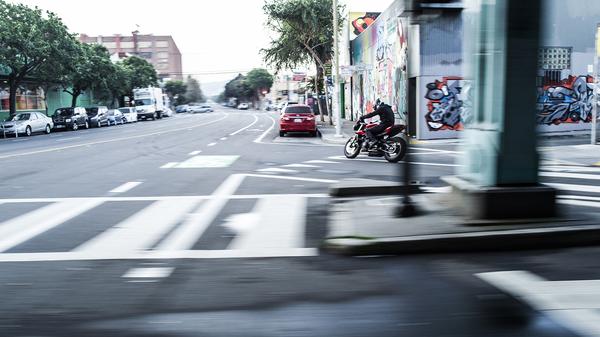 Performance & braking
Even in old 675cc form, Triumph's three-cylinder engine was a gem, being the perfect compromise between revvy power and flexible, characterful torque. Now, bored and stroked to 765cc and benefitting from electronics including rider modes, traction control and more, it's even better still. So good, in fact, this is arguably the perfect road motorcycle engine. Brakes-wise, depending on model, fairly conventional Nissins or full bling Brembo monoblocs are available. All are more than capable, with the superbike-standard Brembos proving sublime.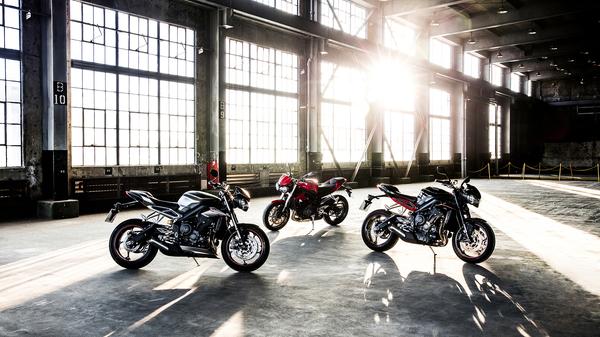 Ride & handling
Another aspect that is so good it's beyond criticism. Triumphs traditionally handle well, with the old Street Triple standing out for being light, nimble and an intuitive steerer. The new 765, however – particularly in its higher spec forms – takes things up another notch. The mid-priced 'R' has quality, fully adjustable Showa units front and rear, while the top-of-the-range 'RS' goes a step further still with a remote-reservoir Ohlins rear unit. Middleweight roadsters have never been so exquisite, nor have they delivered such a classy ride.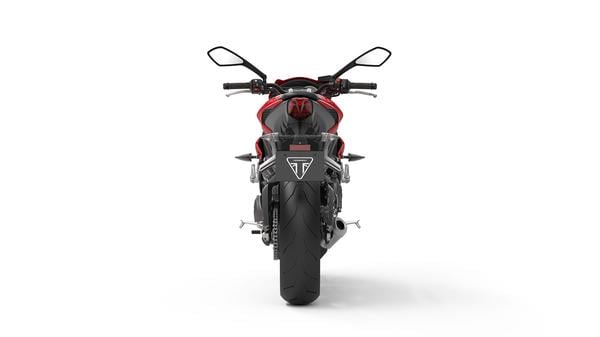 Running costs
One of the few areas where anyone could find any sort of chink in the new Street Triple's armour, but even then it's not much. Thanks to the new, base 'S' version, along with the 660cc A2 variant, the cheapest 'Striple is more affordable than ever. What's more, these lower-end versions won't break the bank when it comes to day-to-day running costs and its appetite for consumables such as tyres, chain, brake pads and so on. That said, a hard ridden 'RS' variant will be closer to superbike running costs than a budget middleweight.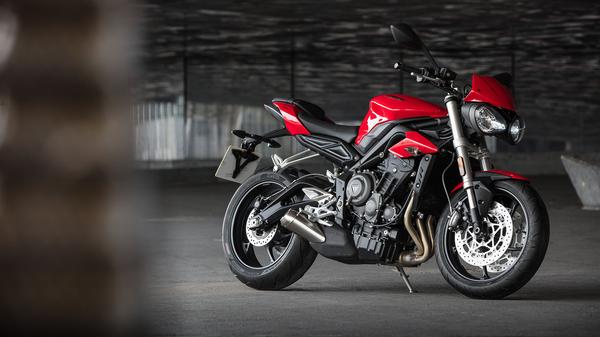 Reliability
The reliability of Triumph's motorcycles has been pretty good. The Street Triple (which in previous 675 form has already shifted over 50,000 units worldwide), is better than most and has drawn universally glowing praise from its owners, so we've little to fear here. This should be even truer with the 765, as build quality, componentry and detailing all seems to have gone up a significant notch, as well.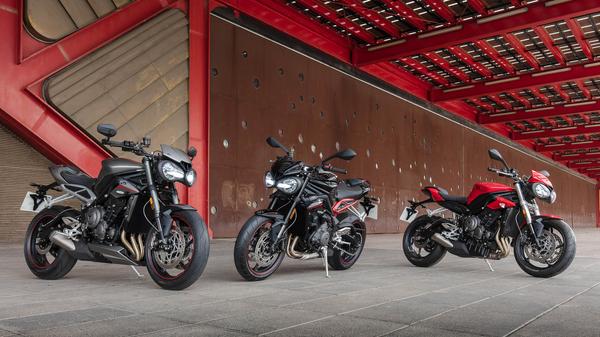 Warranty & servicing
This aspect of the new 765 Street Triple is pretty much par for the course as well, with major, top-end, services due every 12,000 miles. It's not as good as some, admittedly, but not too bad either. The manufacturer-backed warranty is standard issue stuff, as well being the usual 24-months/unlimited mileage parts and labour offering.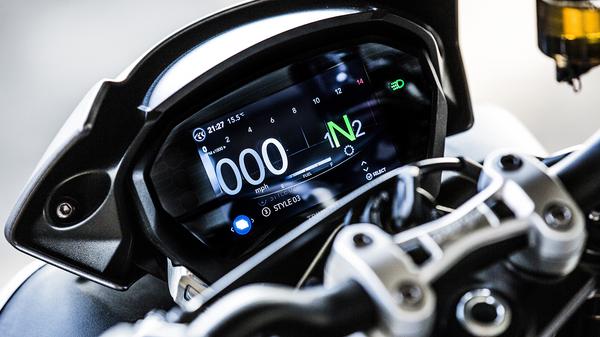 Equipment
You pays your money, you takes your choice. With the new 765 Street Triple, choice is everything: five different standard versions are available, all with different levels of specification and price, so you should have no complaints. The top-of-the-range 'RS' version, meanwhile, has equipment levels more akin to a flagship superbike than a middleweight roadster. It includes full colour TPFT display; electronic rider aids including five rider modes; LED headlights; Brembo brakes; Ohlins suspension, and more.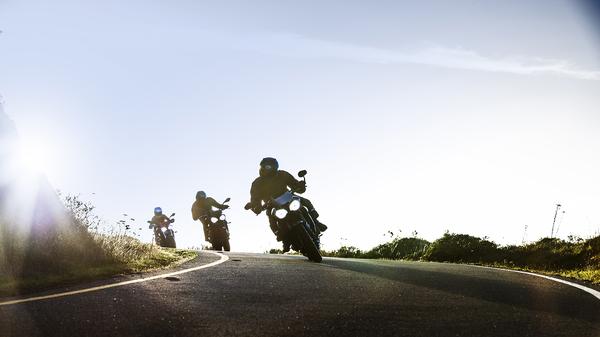 Why buy?
The new 765 Street Triple is so good and offers so much to so many different riders, that the question really should be 'Why not buy?'. As a basic roadster/first big bike, the base 'S' is brilliant, fun and affordable. While in top spec 'RS' trim, Triumph's newcomer really is a track-ready mini superbike that'll both satisfy the most demanding of sports nuts and deliver as everyday round town transport. No other bike does so much.