Expert Review
Triumph Street Scrambler Custom Cruiser (2017 - ) review
Triumph's smaller retro scrambler, the 900cc Street Scrambler, gets a complete revamp for 2019 to offer more style and ride ability and become, arguably, the benchmark bike of its type.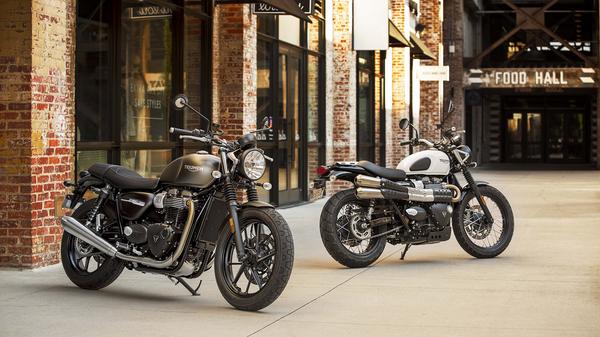 Words by: Phil West
Published on 20 May 2019 | 0 min read
The Auto Trader expert verdict:
Triumph led the way with retro 'scramblers' with its first Bonneville Scrambler in 2006 so it's only fitting that its latest versions lead the way. The newly updated, 900cc Street Scrambler is arguably the definitive example offering a friendly, easy ride, bags of style plus affordability, too.
Reasons to buy:
Classic style with improved spec
18% power boost to 64bhp now class competitive
New rider modes, Brembo brakes and instruments
Triumph Street Scrambler Custom Cruiser 2019 review
Design
The fashionable, retro 'street scrambler' design template is now well established – take a retro roadster twin and give it added trail style with larger, off-road wire wheels and semi-knobbly tyres, longer travel suspension, MX bars and so on – but Triumph have refined it further with this latest Street Scrambler. Stylish new clocks now include rider modes, there are new Brembo brakes, significantly uprated performance and lots of neat design touches that'll please any 'old school' buff (although it is worth pointing out that a lot of the most desirable bits – knee pads, headlamp cover, handlebar pad, luggage rack etc etc, are all extra cost accessories).
Expert rating: 4/5
Riding position
Essentially the Street Scrambler is intended as a middleweight, novice-friendly machine so there's nothing intimidating here. It's derived from the entry-level roadster Street Twin, after all, while Triumph also now have their new 1200 Scrambler if you're after more extreme performance. But though low, upright and easily manageable, thanks to its slightly longer suspension, bigger wheels and higher handlebars, the Street Scrambler is also more substantial than the Street Twin and therefore more appealing to larger riders, without in any way compromising its easy manageability. Bear in mind, though, with no fairing or screen, that upright, wide-barred riding position can make long distances or motorway cruising a chore.
Expert rating: 5/5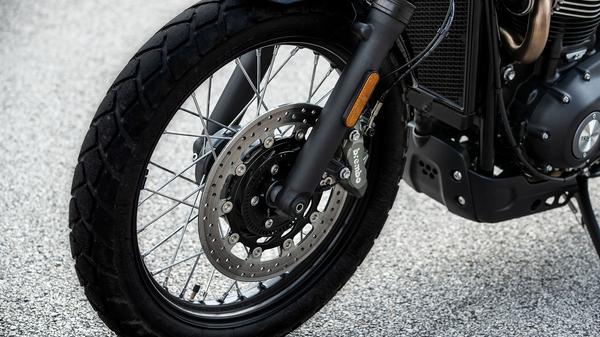 Triumph Street Scrambler Custom Cruiser 2019 review
Practicality
For most intents and purposes, the new Street Scrambler is brilliant: it's easy to get on with and ride; makes a decent urban commuter or Sunday leisure bike, can even take a pillion or luggage and is not completely adverse to a little bit of off-roading. It's no full-on adventure bike, though, and with no fairing touring can become a pain while more dedicated dirt machines are far better in the mud. But as a pleasing, easy, short-hop all-rounder, it's fine.
Expert rating: 4/5
Performance & braking
Both have been significantly improved with this new model. The first Street Scrambler, introduced as part of Triumph's all-new extended Bonneville family in 2017, was based around the smaller 900cc version of Hinckley's new parallel twin (the Thruxton, T120 etc use the 1200cc version) which produced a mere 54bhp and used a fairly average Nissin front brake. Now, for 2019, and along with a host of other updates, the engine's been uprated significantly to 64bhp and there's a new, more powerful Brembo brake. Neither, it has to be said, put it at the top of the class, but they're enough of an improvement to let it keep up with more potent rivals such as Ducati's Scrambler 800s.
Expert rating: 4/5
Ride & handling
The Hinckley-built Triumphs (although, to be strictly accurate, the British firm's Bonneville family have been produced out of its wholly-owned facility in Thailand for more than 10 years), have a well-deserved reputation for decent handling and its retro bikes are no different. Although there's nothing cutting edge about its chassis design or componentry its refined and effective. Low, narrow and neutral you feel at home and in complete control from the get-go; the ride is plush, smooth and reassuring and the Street Scrambler steers sweetly, too. It might not look it, but this is a bike you can truly hustle through the bends and have a blast on.
Expert rating: 4/5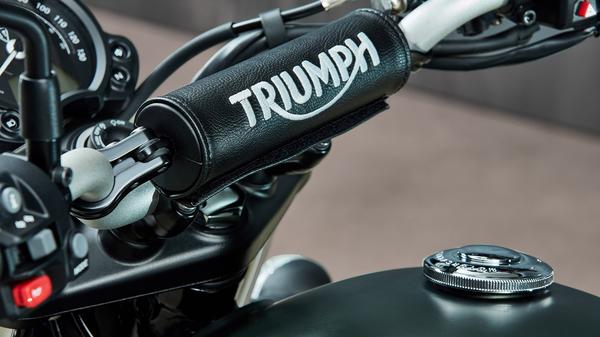 Triumph Street Scrambler Custom Cruiser 2019 review
Running costs
Despite the fact that you can go mad with the Triumph accessories catalogue and quite easily end up with a Street Scrambler costing the thick end of £12K, at heart it's a novice-friendly, affordable, accessible first big bike and its affordable running costs reflect that. The base price of £9300 (if you can stick to it) is reasonably affordable; although uprated, its 64bhp performance isn't going to gobble up tyres, chains, brake pads or other consumables and its reasonably economical, too, easily capable of achieving well over 60mpg with gentle use.
Expert rating: 4/5
Reliability
Although it's still early days on exactly this spec of the latest Triumph Bonneville engine, it's fair to say that a) there have been no widely reported major issues with this latest incarnation of the Triumph twin, either in 900 or 1200cc forms and, b), although uprated to 64bhp, this smaller unit remains in a fairly 'soft', under stressed state of tune. On top of that, few examples, considering the nature of the bike, are likely to be abused or thrashed, all of which adds up to little to worry about, overall, in terms of reliability.
Expert rating: 4/5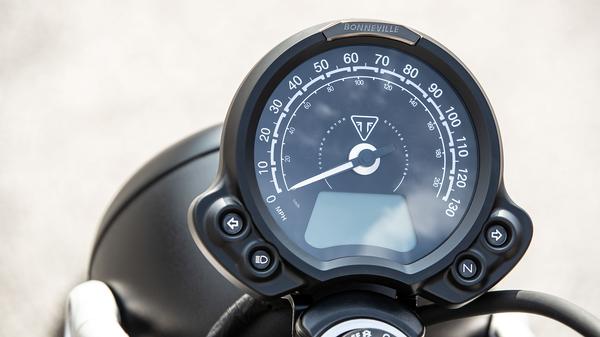 Triumph Street Scrambler Custom Cruiser 2019 review
Warranty & servicing
Triumphs are fairly typical when it comes to warranties and service schedules of all the major motorcycle manufacturers in that they offer a standard two year/unlimited mileage manufacturer-backed parts and labour warranty on the Street Scrambler while, servicing-wise, minor services (checks, oil changes etc) are due annually or every 5000 miles with major services (valve clearance adjustments, some replacement of parts every two years or 10,000miles.
Expert rating: 4/5
Equipment
Although significantly upspecced from the old Street Scrambler, most significantly with stylish new, multi-function clocks, the addition of three switchable riding modes and a new Brembo instead of Nissin front brake caliper, it's also worth remembering that, in standard trim, it remains a fairly basic bike with few frills. But that's part of the simple, 'olde world' retro pleasure, too. Besides, if youy want more, Triumph will happily supply all manner of extra cost goodies, ranging from posh shocks and exhaust to huge variety of cosmetic bolt-ons if so required…
Expert rating: 4/5
Why buy?
When the original Bonneville Scrambler was launched back in 2006 it immediately hit a nerve in appealing to those who fancied a retro roadster but wanted something more substantial and rugged and with a bit of Steve McQueen/The Great Escape or '60s Baja scrambling cool – so much so, in fact, that it spawned a whole host of imitators from the likes of Ducati, BMW and more. Now Triumph has hit back and raised the bar with a bike that becomes the new benchmark and definitive retro 'scrambler'. Gentle, pleasing, stylish and useful it scores on plenty of levels and now, with improved performance and spec, it'll satisfy more riders than ever.
Expert rating: 4/5