Expert Review
Triumph Street Scrambler retro/scrambler (2021-) review
Class-leading retro scrambler got its third update for 2021 with styling and engine updates to meet the latest Euro5 regulations and remains the definitive bike of its type.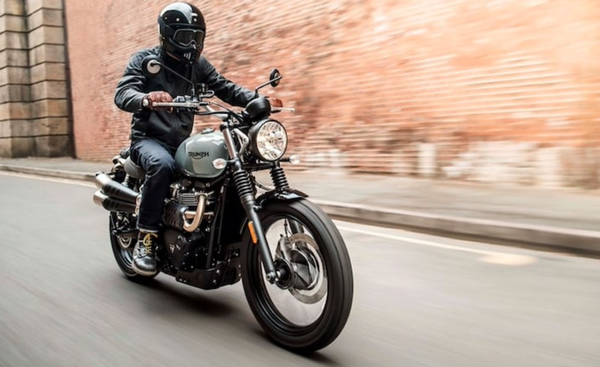 Words by: Phil West
Published on 14 February 2022 | 0 min read
The Auto Trader expert verdict:
Triumph introduced the original Bonneville Scrambler in 2006 as 1960s trail style version of its popular retro roadster. That proved so successful it spawned a whole class. The all-new 2017 replacement, the 900cc Street Scrambler, was more entry level but received a power boost in 2019. Now, for 2021, it's better yet: charming, easy to ride, authentic, it remains the definitive Scrambler.
Reasons to buy:
Still the definitive scrambler package
Uprated styling and spec
Accessible manners and price
Design
Triumph set the template for all scramblers to follow with its original Bonneville Scrambler in 2006 in being a classic retro roadster, in this case the 865cc Bonneville, with extra 'scrambler style by way of semi-knobbly tyres, upswept silencers and trail-style high bars. The 2017 900cc replacement added modern tech and novice-friendly manners but with just 54bhp and a slightly basic spec, lost a little performance and class. Performance was improved to 64bhp in 2019 and now, with new paint, race-style side panel and extra quality touches it has the class to match, too. The rest of the bike impresses, too. Think 'scrambler' and the new Street Scrambler should be on your shortlist.
Expert rating: 5/5
Riding position
Slim, light enough, with a comfy, ribbed bench seat, low-ish footpegs and high trail style handlebars, all adds up to the Street Scrambler being easy and unintimidating with upright riding position and a roominess conventional retro roadsters can't match thanks to its higher bars. It's easy and enjoyable from the outset, pleasing on sunny Sunday country rides and its nimble manners also make it a decent and stylish commuter or town bike.
Expert rating: 4/5
Practicality
The lack of fairing protection and high bars means you're exposed on motorways and long distances will be a chore. Those high bars also mean you're not as connected with the steering as a low-barred café racer or similar and all the improve classic detailing also makes the later Street Scrambler a bike you won't want to take out in the rain or grime. Nor is there much by way of luggage possibilities (although a single, classic pannier is available as an extra). That said it's a surprisingly decent all-rounder if you're not planning g to do extensive miles.
Expert rating: 4/5
Performance & braking
Although improved from the 2017 original's 54bhp, the latest Street Scrambler's 64bhp peak is still nothing to get excited about, although it does compensate with plenty of torque and together with its five-speed gearbox there's enough lazy performance to pretty much keep up with seemingly far sportier rivals. Front brake is adequate rather than excelling, too, comprising a single disc with a Brembo for piston caliper, although this is conventionally, rather than radially-mounted, as is the case with better specced rivals. Pushed hard you'll find yourself using the rear brake as well more often than you might expect.
Expert rating: 3/5
Ride & handling
Triumphs invariably handle better than most and the Street Scrambler, although inevitably compromised slightly by its slightly budget components, retro twin shock suspension and scrambler semi knobblies and high bars, is no exception. Sure, the Hinckley marque offers better-handling (and higher performing) retros, such as the Street Twin, standard Bonneville roadster and café racer Thruxton, so large now is Triumph's retro family. If that's important, go for one of them. But the Street Scrambler is far sweeter handling than it looks, is light and accurate and its ride pleasant and rewarding.
Expert rating: 4/5
Running costs
As an affordable, entry-level (Triumph also now offers the far more hardcore Scrambler 1200 XE and XC for more experienced scrambler buffs), underwhelmingly powered retro that's more than likely to be ridden gently, Street Scrambler running costs were never likely to be high. It's affordable in the first with better residuals than most. Insurance and road tax is relatively cheap; fuel economy can easily be in the 60s or even 70mpgs and, with just 64bhp and mild manners, its hunger for consumables such as tyres, chain and brake pads is better than most, too.
Expert rating: 4/5
Reliability
Comments have occasionally been made about the fact that all Triumph's Bonnevilles have been made in Thailand since 2008 but in reality they're designed and extensively developed in Britain, their quality, generally, is far better than most, their retros are rightly considered among the best of the breed and reliability issues are virtually non-existent. On top of all that, the Street Triple is now on its third iteration and has been continually refined and improved since its 2017 launch. We're only reserving judgement slightly because this version has had engine updates to comply with Euro5 and as a result is still too new to be sure.
Expert rating: 4/5
Warranty & servicing
Little change here, despite the updates. Triumph has long offered a standard, manufacturer backed, two year/unlimited mileage warranty for all parts and labour and that's still the case with the new Street Scrambler. On top of that, despite its mechanical updates, its service schedule is unchanged, too, requiring minor services annually or every 5000 miles with major services (valve timing checks etc) due every 10,000, although with the twin cylinder machine being so easy to work on , that shouldn't be a major concern either.
Expert rating: 4/5
Equipment
Although the previous model's basic spec wasn't bad, including Brembo brakes, a neat multifunction but still retro-looking dash with LCD panel and switchable riding modes, it wasn't great, either, although as an old-school scrambler, maybe that didn't matter much. With this latest version, it's moved up slightly with a neat, new, aluminium 'race plate' side panel complete with etched 'Street Scrambler' logo, new brushed aluminium headlamp brackets and smart new paint options. It's not a revolution, admittedly, but then it didn't need to be, and the result is very welcome.
Expert rating: 4/5
Why buy?
If you're after a retro, a scrambler can appeal for its extra 'Steve McQueen' style rugged looks, roomier riding position that suits taller riders and even slight off-road ability. Their slimness and upright riding positions make them great town bikes, too. Of this breed the Triumph Street Scrambler stands out. The British firm's original 2008 Scrambler started a whole new class; the 2017 reinvention as the Street Scrambler made it more novice-friendly and modern and this latest version brings a touch of class to go with its friendly all-rounder abilities that means it more than retains its benchmark status. It's still the one to beat.
Expert rating: 4/5