Expert Review
Triumph Speed Triple 1050 Naked (2015 - ) review
Top-spec Ohlins-equipped version of the Brit firm's class-defining super naked has been fully updated and uprated. There's the same unique style and three-cylinder character but now with added ability and electronics.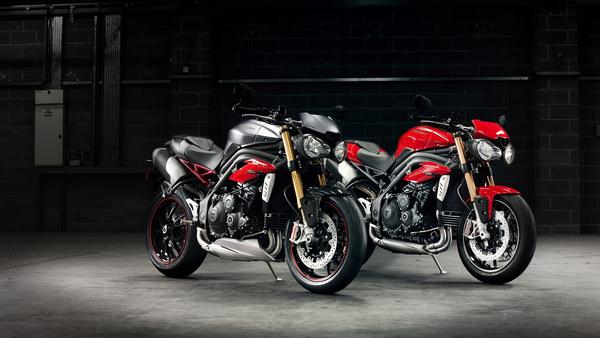 The Auto Trader expert verdict:
Available new from £11,605
Arguably Triumph's best bike. The first Speed Triple was the original 'super-naked' and has defined the class (and been one of Hinckley firm's best sellers) ever since. The first 'R' version, with uprated Ohlins suspension and more, came in 2012. Now this version, with a retuned, Euro4-compliant engine, refreshed looks and new electronic rider aids, takes things up another level again.
Reasons to buy:
Three cylinder style and character
Real world, flexible 138bhp performance and handling
Uprated R components and new electronics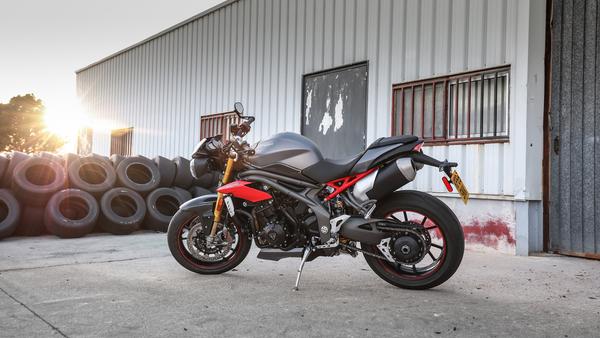 Design
The Speed Triple is the classic, definitive 'super naked'. Ever since the 2nd generation T509 in 1997 the Hinckley firm's roadster triple has been a best seller due to its mix of aggressive style, three-cylinder character and real-world performance in an affordable package – and it's remained there through three incarnations since. The uprated 'R' version, with forged wheels, Ohlins suspension, Brembo brakes and more added to the allure in 2012 and, for 2016, it's been reinvented and uprated again. The original appeal is still there, but, now controlled with ride-by-wire, there are now five rider modes, traction control and more.
Riding position
Pretty much unchanged from before. The Speed Triple's ergonomics are definitive 'super naked' in being upright, with flattish bars but still an aggressive, semi-sporting gait, which is great for sports riding and general hooning about but can leave the rider feeling a little exposed on long journeys (although an accessory fly screen can take the edge off this). Being a triple, also means the Triumph is noticeably lighter and leaner than most four-cylinder rivals although it's still heftier than most twins, such as Ducati's latest Monsters…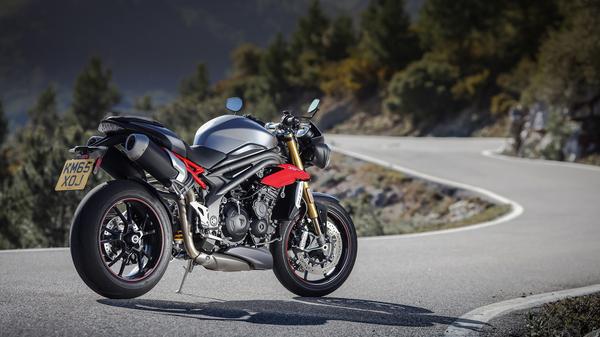 Practicality
For such an extreme and uncompromising-looking machine, super-nakeds like the 'Speedie' are actually far more versatile than they appear – as long as high mileage touring isn't a priority. Being upright, they're both comfortable and give good visibility, can commute, jostle with sports bikes through the twisties and even take a pillion reasonably well. Instead, as the 'naked' name suggests, its over long distances, at motorway cruising speeds, where the Triumph is most conspicuously lacking and the lack of wind and weather protection makes itself most felt.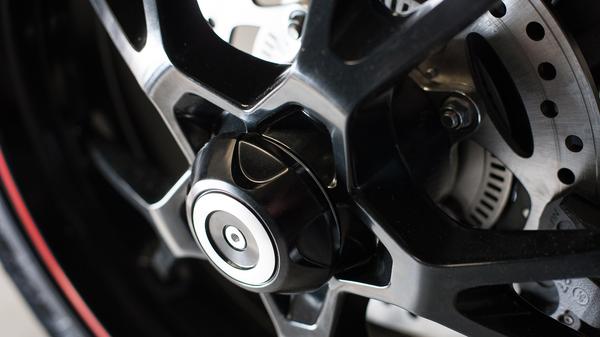 Performance & braking
Another of the Speed Triple's fortes. As its origins were as a defrocked Daytona sportster – hence the 'naked' name – you'd expect the Triumph to perform – and it does. But by modern, 200bhp superbike standards, the Speed Triple, now with 138bhp, a flexible three-cylinder delivery and an upright gait, is definitely more road than track orientated. That said, in this 'R' guise, which gives it lighter carbon body panels, uprated Ohlins suspension and more, it's definitely better than most while the meaty Brembo radial brakes (now common on both the S and R versions) are right up there with the best.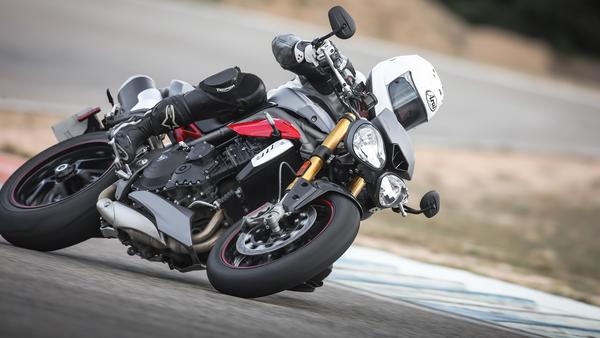 Ride & handling
Again, and particularly thanks to the slicker, more sophisticated ride provided by the R's Ohlins suspension, it doesn't get much better than this. OK, a proper, more high tech sportster will take things to another level on track, but as a road-orientated machine, the upright, stable, slickly-suspended and yet still; sharp Speed Triple is a fun-packed delight and less likely to twitch and bounce as lighter, more sharply-steering machines. On a bumpy, unevenly surfaced British backroad, not much will come close.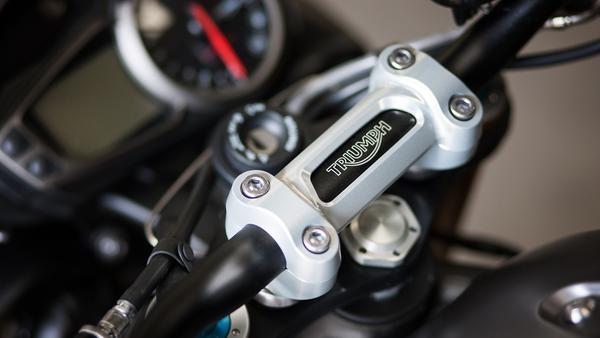 Running costs
One of the Speed Triple's strengths among the super naked class has long been its reasonable affordability, durability and decent running costs compared to rivals derived from more extreme sports machines – BMW's S1000R springs to mind here. This new version's little different. With 'just' 138bhp its appetite for tyres, pads, chain etc is better than most and the Triumph can be slightly cheaper to insure as well. Yes, the Speedie's still a fairly extreme performance machine, especially in this 'R' spec, but running costs are not as bad as some.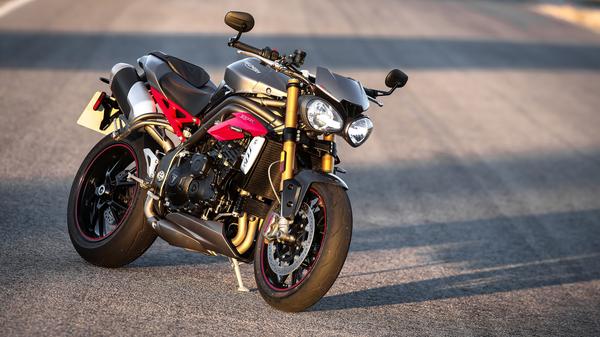 Reliability
Admittedly, being a new model, it's a little early to be certain, but all the available evidence about the new Speed Triple's reliability is positive. First, it's heavily based on the previous model introduced in 2012, which has had an unblemished reliability record. While, second, as we write, this latest version has now been on sale for the best part of two years with so far no horror stories emerging. That, combined with the fact that virtually all Triumphs have proven pretty solid and reliable, means we have few qualms here…
Warranty & servicing
Like most of the mainstream motorcycle brands, all Triumphs come with a standard two-year/unlimited mileage, manufacturer-backed, parts and labour warranty. Servicing, too, is fairly typical, being every 6,000 miles with a valve check every 12,000 – although this has now fallen behind some rivals, most conspicuously Ducati, who's larger machines now usually require their valve checks at only every 15,000 miles. On the plus side, being a triple (rather than a four), Triumph services take less time and are less costly than some, too.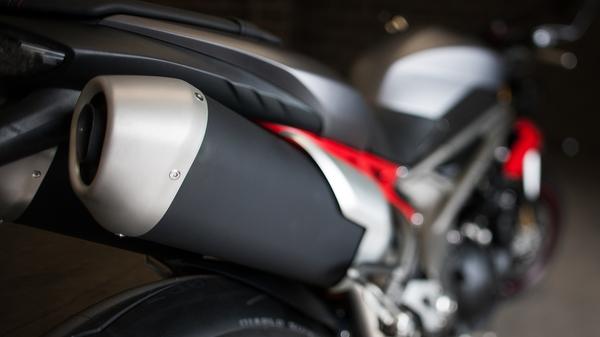 Equipment
Speed Triples have never been the most lavishly equipped of motorcycles – they're pared-back sportsters, after all. But this latest version, especially in 'R' spec, is now right up there with the best. The new ride-by-wire throttle means it now has a full electronic rider aids suite including rider modes, traction control; there's a posh, new LCD dash; Brembo brakes are standard on both models while the R also gets top notch Ohlins, carbon-fibre body panels – the list goes on. On top of all that, there's also an enviable optional extras list.
Why buy?
The Speedie has long been a very tempting buy; that's why it's proved so successful and long-lived. It's stylish, characterful, versatile (ish), a great road performer and has always been reliable and decent value as well. This latest version improves things all round and in this 'R' spec adds a little bit of delicious exotica on top. Admittedly, you have to pay a little extra for that privilege but if what the Speed Triple offers appeals, this is certainly the best of the bunch.