Expert Review
Triumph Rocket III (2020 - ) review
Triumph has revived its monster Rocket 3 with an all-new, leaner, meaner and far more sophisticated 2500cc version. With 165bhp, a massive 163ftlbs yet a slick chassis it's a hot rod that handles.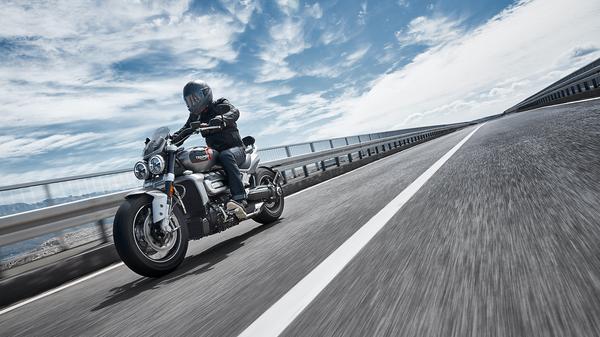 The Auto Trader expert verdict:
Available new from £19,505
The old 2005-2016, 2294cc Rocket had monster power (146bhp) but huge weight (367kg) – and certain crassness, too. This all-new beast is not just more powerful, it's far lighter, has a top spec chassis and oozes sophistication. Hot rods simply don't have any more.
Reasons to buy:
Astonishing acceleration and grunt
Equally impressive chassis and sophistication
Roadster R complimented by versatile GT version
Design
On face value Triumph has replaced the old, monster, inline three-cylinder Rocket hot rod with… a new monster, inline three-cylinder Rocket hot rod. But there's much, much more to it than that. The brilliance of Triumph's redesign is not the all-new, more powerful, more torquey yet lighter and Euro5-compliant 2500cc motor, whose performance is rightfully the star of the Rocket show, but its astonishingly-improved chassis, handling and sophistication. The style is slicker and less comic book crass than before, too, although some detailing is a little fiddly while, overall, perhaps inevitably, it remains a little vulgar as well – but then that's part of the appeal.
Riding position
The new Rocket comes in two guises with the main difference being the riding position: The roadster 'R' has a higher, single seat with conventional peg placement and narrow-ish bars so reminding of a naked or streetfighter. The GT tested has a lower, twin seat, more forward pegs and foot controls and wider, higher bars for a more relaxed, cruiser gait. The GT is more than adequately comfortable over distance although, with most of your weight on your backside, it can be jarring over potholes.
Practicality
The very idea of the old cartoon character-esque, bulbous and monstrous Rocket being practical was almost laughable, although latter 'bagger'/tourer versions certainly made some sense in the US. This time round things are much improved. Though visually huge, the new Rocket 3 is far lighter (by almost 50kg), slightly smaller and, although still a big, heavy bike, far more manageable. In this GT trim it'll also tour reasonably happily, the small flyscreen deflects the worst of the weather, it can take luggage and a pillion, wiggle through commuter traffic far better than you might expect and handles entertainingly and reassuring on A-roads, too. Sure, that's missing the point slightly, but the Rocket 3 is now much more than a 'one trick pony' hot rod that only fleetingly is any use.
Performance & braking
Now we're talking. With a big 165bhp on tap from its monster 2500cc triple and, even more impressively, 163ftlbs at just 4000rpm, explosive figures which are matched only remotely by Yamaha's now deleted 200bhp/123ftlb 1700cc VMAX, the Rocket 3 simply blasts away off a closed throttle like nothing else. And if that drag strip/hot rod performance doesn't appeal, you're looking in the wrong place. Better still, this new version is now kept in check via the latest electronics – sophisticated, lean-sensitive traction control and more – while output in the lower gears is restricted as is top speed (to 138mph). But although tamed, don't for one moment think this is a neutered beast. Just as impressive is the new Rocket 3's brakes – true superbike standard Brembo Stylema four-pot radial calipers up front biting onto big, dinner plate discs and supported by and equally meaty four-pot set-up at the rear. Together they offer plenty of power, even more impressive feel and… the Rocket 3 needs them!
Ride & handling
This might not by an area where you'd expect the monster Rocket to excel – but this new version certainly does. A massive weight loss programme combined with an all-new, rigid aluminium frame, quality suspension components and Triumph's usual expert handling finesse combine to give the new Rocket astonishingly able and entertaining handling plus a surprisingly cultured and plush ride. In GT form, with its feet forward pegs, sometimes that ride is compromised as jars from pot-holes or big bumps go right through the rider's back-side. But on A-roads (or even twisty B-roads, up to a point), the Rocket is a corner-carving joy with plenty of steering accuracy, enough precise feel to hold or adjust a line, lots of ground clearance and sufficiently incisive braking for fine-tuning and adjustment. No 2500cc, 300kg+ cruiser has ever handled so well.
Running costs
You get a lot of everything with the new Rocket 3 – performance, size, weight, equipment, comfort, everything in fact – and this is where you start paying. It's too early days to be certain, of course, but on top of the high initial purchase price (currently £20K+ for the GT, a grand less for the R) and likely hefty depreciation, that new 2500cc triple burns fuel at a rate of around 40mpg (less if caned hard), its huge performance is likely to equate into a similar hunger for tyres (with that fat 240-section rear not coming cheap) while its hefty weight will shorten the life of the likes of brake pads, too. Still, at least it has shaft drive so you won't need to worry about chains…
Reliability
As implied above, the latest Rocket 3 GT is an all-new model from the sump up, is a high performance machine and, as we write, has been on sale for under a year so it's impossible to be certain about reliability. That said, Triumph generally has a good track record for reliability and the previous Rocket was around for over a decade with no major problems recorded which will have provided a great starting point for the new machine.
Warranty & servicing
The new Rocket 3 R and GT both come with Triumph's standard two-year/unlimited mileage, manufacturer-backed warranty for all parts and labour – which is virtually now the industry standard, although a few, BMW and Indian among them, now offer even longer warranties. Servicing is fairly standard, too, with main services due every 10,000 miles and the expensive valve check/adjustment services only due every 20,000 miles.
Equipment
Another area where the new Rocket 3, in both its guises, excels – although, considering its near-£20K price it could be argued that so it should. Apart from top quality cycle parts including those Brembo Stylema brakes, the new Rocket benefits from a full compliment of the latest electronic rider aids, a sophisticated (to the point of complicated) dash and switchgear set-up and, in this GT trim, also benefits from heated grips, a flyscreen and pillion backrest. There's also plenty more available as official Triumph accessories. In that context, with spec similar to the equivalent priced Ducati XDiavel, it's actually not bad value.
Why buy?
Hot rods like the Rocket 3 are a specialist breed, primarily aimed at the two-wheeled equivalent of the US muscle car market and have few rivals – only Ducati's XDiavel, Harley's FXDR and Yamaha's now sadly-deleted (in Europe) VMax come close. The Triumph, however, is the newest and probably most dramatic of the bunch. The performance of that massive 2500cc triple never fails to raise a smile and simply outguns all others. Better still, its sophisticated chassis and electronics are more than up to handling all that to the extent that the R3 is, genuinely, a credible, useful all-rounder. Get it in GT trim and it's a half-decent luxury tourer, too – and one that accelerates away from the lights like virtually nothing else.
Browse all our new bikes here
.