Expert Review
Triumph Bonneville Bobber (2017 - ) review
British favourites Triumph continue to lead the way with its retros. 2016's all-new Bonneville roadster twins spawned 2017's US-custom influenced Bobber in turn leading to this even better blacked-out, fat-tyred version.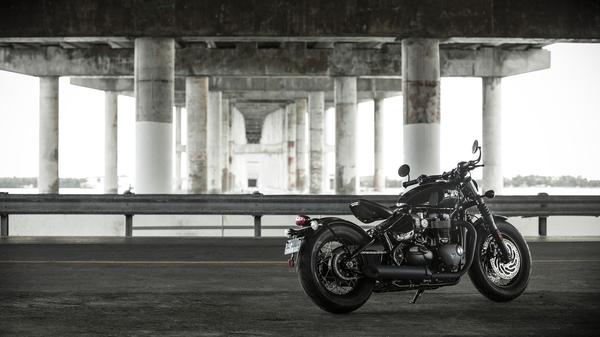 The Auto Trader expert verdict:
Available new from £10,650
Triumph's Bonnevilles continue to set the retro roadster benchmark and this blacked-out, fat-tyred, US-style version does the same for the currently popular bobber breed. Character, easy manners and value are all ahead of the pack.
Reasons to buy:
Authentically minimal bobber style
Typically easy Triumph handling and flexible Bonneville powertrain
Lots of customizing potential
Design
British firm Triumph's attempts at US-style cruisers used to be something of an embarrassment – not any more. The first, Bonneville Bobber in 2017 was a triumphant (sic) marriage of Triumph's retro roadster Bonneville 1200 with the chopped down, single 'tractor' seat fashionable bobber style that first developed in the US in the post-war period. This Black version, which followed, took things a stage further with a smaller 'balloon' front tyre, extra disc, improved suspension and an all-round 'blacked-out' look. The result not just looks meaner and more authentic, it handles and stops better, too.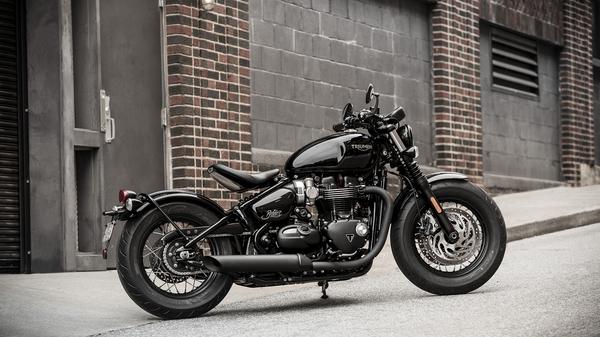 Riding position
You wouldn't expect a riding position so stylized and Spartan could be decently practical and comfortable, but Triumph, like Honda, shine when it comes to ergonomics and the Bobber Black is Hinckley's most recent example. It's not perfect, even Triumph can't work miracles on what is still a chopped down cruiser at the end of the day, there's too much weight on your backside for that, but it is easy to get on with, surprisingly neutral and comfortable enough over shorts hops. No room for pillions, though…
Practicality
There's no getting away from the fact that the Bobber Black is more about form than function but Triumph have stiill done an admirable job of producing a bobber that's fun on country rides, can commute and even tour if you can put up with a lack of luggage and weather protection. Don't get carried away, though, if any of those things are your priority, look elsewhere. But if you want an easy-to-get-on-with cruiser that looks great, will gain plenty of admirers, yet can still do some of the above, you won't be disappointed.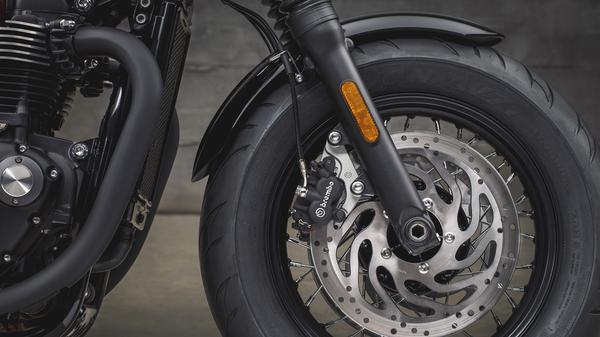 Performance & braking
Don't make the mistake of assuming the Bobber Black is all show and no go. With its slightly detuned, 76bhp 1200cc Bonneville twin it's certainly more brisk than many often larger cruisers while also still delivering flexible, unintimidating drive. What more, there are two switchable riding modes, Rain and Road, while its brakes, uprated over the single disc of the basic Bonneville Bobber, now comprise twin discs at the front grasped by Brembo calipers. And although these, being only two not four-piston calipers, aren't quite as sharp as expected and occasionally require the assistance of the rear brake, they're certainly better than on most bikes of this type.
Ride & handling
Again, you wouldn't expect any bobber, with its chopped down saddle, low slung style and balloon tyres, to particularly excel here, but Triumph once again have excelled. The Hinckley bikes have a deserved reputation for fine handling and as a result the Bobber Black rides and steers far better than you probably expect, with sweet, neutral steering and a comfy-enough ride. Again, too, it's not perfect: the fairly short travel, unadjustable suspension sees to that, but for most people, most of the time, especially considering the sort of cruising buyers of this sort of bike will do, it's more than sufficient.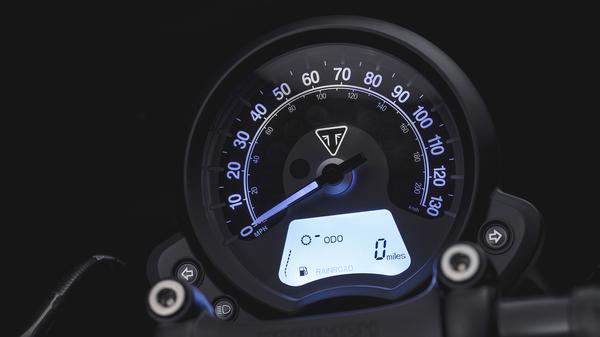 Running costs
You might expect fashion-conscious 1200cc twins to be quite costly to run, but not so here. Though a full 1200ccs, the Bobber is in a soft state of tune, easily returns over 55mpg and certainly hasn't a voracious appetite when it comes to consumables such as tyres, chain, brakes pads and so on. Insurance is pleasingly reasonable, too, while the Bobber is the sort of Sunday toy that also means annual mileages are unlikely to be high.
Reliability
Although a fairly recent design we kind few reasons for concern over reliability. The powertrain is identical to that of the slightly detuned Bobber, itself based on the T120 Bonneville as introduced in 2016, all with no scare stories since. On top of that, it's the sort of bike that's unlikely to be ridden hard, almost certain to be looked after and cleaned well while Triumph's overall reliability record, irrespective of the Bonneville family actually being built by its factory in Thailand, is impeccable, too.
Warranty & servicing
All modern Triumphs (even if they're 'retro-looking!) comes with the firm's now standard, two-year, unlimited mileage, manufacturer-backed warranty for parts and labour, which is also typical for the leading major motorcycle manufacturers, so you should have no concerns here. Servicing for the Bobber is fairly typical, too, with major services due every 10,000miles. It's a fairly simple and straightforward machine to work on, too, so you shouldn't fear any scary bills.
Equipment
Seeing as the very essence of a 'Bobber' is, after all, to be pared to the bone and do without any frills and luxuries you'd be forgiven for not expecting much here – the Bobber Black doesn't even have a pillion seat, after all. But in truth, Triumph have made a decent effort of making it practical. So, there's two riding modes (Rain and Road), a decent amount of information via the instrument binnacle and even cruise control, while things like heated grips and even luggage are available as optional extras.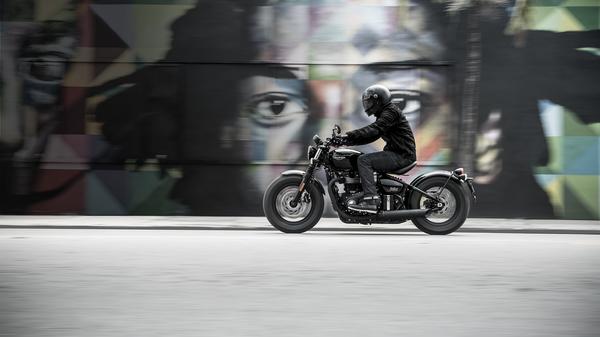 Why buy?
Traditional chopper-style cruisers may have faded in popularity and off the ranges of many manufacturers but their place has, to some degree, been replaced by the fashionable Bobber – and Triumph's latest offering is undoubtedly among the best. By blending the modern mechanicals of the 1200 Bonneville with a US-influenced retro style – yet still with reasonable practicality and versatility – the Bobber Black looks great, rides well (at least over short Sunday rides), has some practicality and is eminently customizable, too. In fact, for the 'hipster' in all of us, there are few better.