Advice
The best motorcycle safety tips for new riders - ranked!
By keeping safe on the roads, you stay alive. RideTo our training partner look into their top tips into keeping safe on the roads.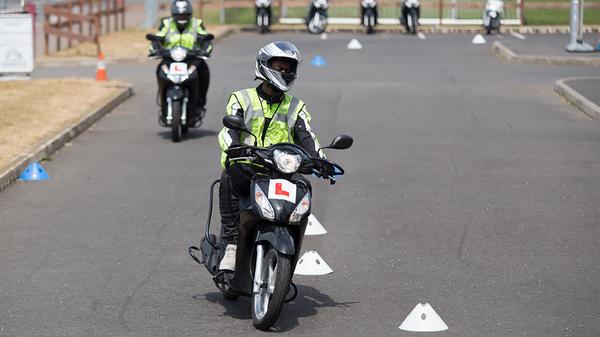 When you think motorcycle safety, it's natural to consider things such as your helmet, motorcycle clothing and equipment - including safety functions on your bike - first and above all else. But whilst all of those elements of a motorcycle rider's paraphernalia are important, it's the way in which - and how - you actually ride that's the most important aspect of any motorcycle riders' ability to stay safe on the road.
So with that in mind, here are some of our top safety tips for riders (new or old!)...
1. Learn the rules of the road
When you're first learning to ride, having to memorise the highway code and trying to pass your theory test feels like it's doing nothing more than getting in the way of your actual riding. But the rules of the road are what keeps everyone safe on the road and have been developed over the past century to help all road users keep safe.
It sounds really 'preachy' but if everybody stuck to the rules of the road - that includes not just speed limits but also overtaking areas, taking notice of the slow markings in danger areas as well as general signage - then the number of accidents and casualties on the road would be dramatically reduced. The message is really simple. If you want to stay safe on the roads, then the first thing that you should always do is to make sure that you're following the rules.
2. Always ride within your ability
How many times whilst riding have you found yourself carrying a little bit too much speed into a corner, or perhaps attempting a turning manoeuvre that has had the bike wobbling more than you would like?
It's true that there are some truly excellent riders on the road, and you could well be one of them, but whilst it might be exciting to attempt to take that next roundabout with your knee down like the guy on the Suzuki GSXR-1000RR that has just zoomed past your right-hand-side, is a public, probably busy road really the time to try? The majority of road accidents involving motorcycles happen when either the other road user hasn't been paying attention or when the bike rider overestimated their abilities and made a mistake. There isn't a lot you can do about other road users, but if you are confident that you're riding within your own limits, then you've already cut your risk of an accident substantially.
3. Always be prepared
Fail to prepare, prepare to fail… Decoration is preparation…
There are a hundred-and-one sayings attempting to extol the virtues of being ready for all eventualities, and the reason they exist is because it's eminently good advice. There are two main aspects to your riding that you'll be taught if you ever attend an advanced riding course. The first is 'make progress' which essentially means, keep going at as strong a speed as you can, whenever it's safe to do so. And how do you do this? By using the second, core piece of advice which is 'be prepared'. What we mean by this isn't that you should make sure you've got your wet-weather riding gear with you at all times (although we will discuss this later on), but rather that you keep checking the road and the environment around you at all times; paying particular attention to the distant road ahead. If you look up when you're riding, and extend your vision beyond that of what is immediately in front of you, you can get as full a picture of the environment into which you're about to ride as possible. This means that you can spot that tractor ahead earlier, or that muddy patch of road beyond the next bend because you've already noticed it when coming down the hill. Prepare for the corner after next.
4. Ride a bike that matches your style - and skill level - of riding
This piece of safe-riding advice might actually be a bit controversial, because many would argue that it doesn't really matter what type of motorcycle you're riding, and if you're a good rider then you should be able to ride anything, right?
Well, whilst we believe that to be generally true, the style of bike that you're riding can vastly affect your levels of comfort whilst riding and this can massively affect your safety. If you're only used to riding a low-to-the-ground cruiser that has your feet placed on boards in front of you and have never ridden a litre sportsbike with your stomach pressed against the tank and your feet placed high and behind you on pegs before, then it stands to reason that you're not going to feel as confident as you would normally. Add to that the effect that this new stance will have on your experience of cornering and handling and it's easy to see why this piece of advice makes sense. So we're not saying only ride the same style of bike that you're used to - in fact we'd fully recommend riding any and all available machines available to you in order to determine which style of bike you actually prefer - but if you're intending on popping out for a 'spirited' ride, then we thoroughly recommend doing it on a machine that you feel comfortable with.
5. Plan ahead (the weather forecast is your friend)
This could well have been placed into the 'Always be prepared' section, but we felt that it deserved being singled out. Because planning and aforethought is everything when taking a long motorcycle trip.
It's one thing to ride on local roads known to you and within a known environment, but when taking a longer journey it always pays to plan ahead. Familiarising yourself with the direction and roads you're going to take means that you'll already have been made aware of any potential hazards or problems en route, which means that you instantly have an advantage. The same should be said for the weather forecast. Yes, we know it sounds obvious but you'll be amazed as to how many riders we've encountered hiding from the rain under bridges or sheltering under trees within a lay-by because they hadn't expected the storm on the horizon to be so strong. And regardless how good a rider you are, wet weather is unquestionably more hazardous to your riding than when it's dry; whether that be because of the greasier roads or the reduced visibility caused by the rain. At the very least, if you'd planned ahead, you would have known to have packed your wet-weather riding gear and those waterproof gloves, so you could have arrived at your destination in relative comfort, feeling dry and without icicles for fingers!
6. Be happy!
The more we think about this one, the more we think that we should have placed it at the top of the list, because it effectively underlines every safety tip that we've already mentioned.
Being alert, comfortable and aware means that you'll have eliminated a lot of the stress of riding. And by reducing this stress you're instantly making yourself more relaxed. And it stands to reason that the more relaxed you are, the happier you'll be. And motorcycling - above all other things - should be enjoyable and fun.