Expert Review
Suzuki V-Strom 650 Adventure (2015 - 2018) review
The class-defining V-Strom may have been the original and best midi-adventure bike since 2004, but despite a 2011 facelift, it was overdue an update. This restyle with extra goodies delivers, but doesn't leap ahead.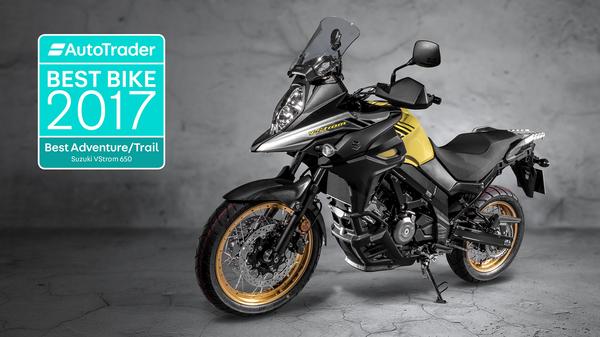 Words by: Phil West
Published on 10 April 2017 | 0 min read
The Auto Trader expert verdict:
The V-Strom 650 has always been a brilliant, budget all-rounder, mostly thanks to its invigorating and flexible V-twin engine and an ability to tick lots of boxes without ever excelling. Ageing since its last 2011 update, this Euro4-forced reinvention is an improvement everywhere. It looks fresher, yet loses nothing in terms of value and ability, but it's no great leap ahead.
Reasons to buy:
Improved looks and spec
Slightly improved performance
Still a brilliant value all-rounder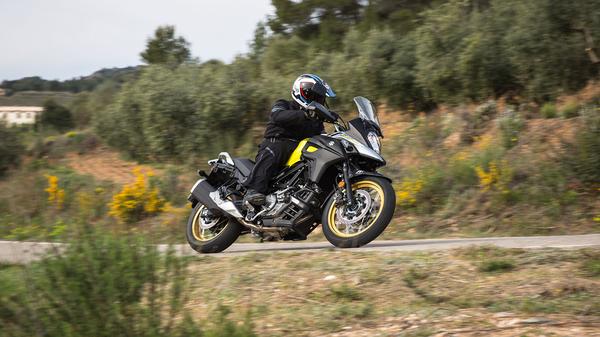 Design
Although perfectly usable, the preceding V-Strom (introduced in 2011), now looks more than a little old, so it's had a complete facelift for 2017. It's modelled on the bigger 1000 V-Strom introduced in 2014, complete with historic DR-Big style beak. On the 2017 model, the saddle is slimmer and more comfortable, the screen is now three-way adjustable (with an Allen key), lights are now LEDs, clocks are refreshed, and there's also an XT version with wire wheels, hand guards and belly pan (as pictured here) for £500 extra.
Expert rating: 4/5
Riding position
The V-Strom's new bodywork brought with it the opportunity to improve the bike's riding position slightly, too. Not only is there a new, thicker padded 'comfort' seat, it's slimmer at the front than before, so it's easier for shorter riders to reach the ground. The adjustable screen is a bonus, too, although it's a shame you need tools to do it. Pillions are well catered for (for a middleweight), with a decent seat, plenty of leg-room, and meaty grab handles cast into the alloy rear rack.
Expert rating: 4/5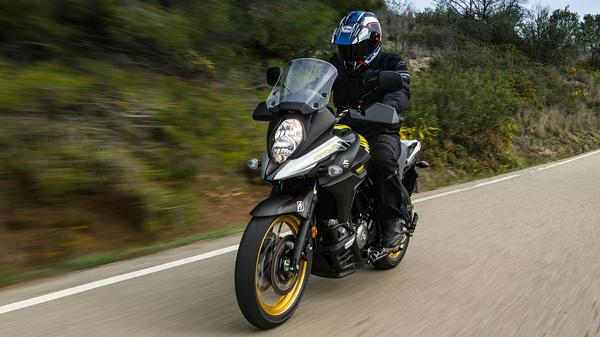 Practicality
Motorcycles don't get much more practical than the V-Strom 650, as the preceding models had already proved. It's easy to ride, comfortable over distance, nimble around town, decent fun, and able to carry luggage and pillion as well – and all for bargain money. Most of that's unchanged with this new version, but one significant improvement is the new rear subframe and pannier mounts, which means cases fit far more snugly – and more narrowly – than before, which was one of the few criticisms of the old model.
Expert rating: 5/5
Performance & braking
There's no getting away from the fact the perky, flexible, 645cc V-twin is getting long in the tooth, dating back all the way to 1999's first SV650, but it's still a goodie. Euro4 tweaks and a host of internal mods (there's 60 new parts, apparently) raises both power and torque very slightly, and improves fuel consumption, but the sensation is much the same. The 71bhp is enough for all jobs, and it's decently flexible, too. It's a great, engaging, practical engine, that's getting on a bit. Brakes, too, are unchanged and nothing special – twin discs with budget two-piston calipers – but do the job OK.
Expert rating: 4/5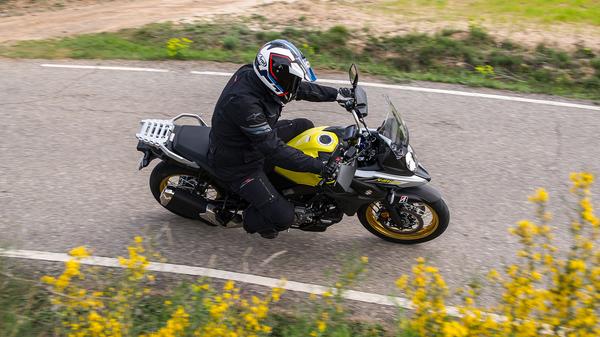 Ride & handling
Although much of the new V-Strom has been updated for 2017, its suspension (along with the brakes) has not. That said, although not particularly sophisticated and budget orientated, the conventional, non-adjustable telescopic forks and preload-only adjustable rear shock are as well set up as ever, and do a good job delivering a sufficiently plush ride. Yet, there's still enough firmness and control to be precise and entertaining through the twisties. The V-Strom's no sportsbike, admittedly, but it's far better and more fun than those looks suggest.
Expert rating: 4/5
Running costs
Underneath all those fancy new body panels and the uprated spec (the V-Strom 650 now has traction control for the first time, along with Low RPM Assist and Easy Start to go with its ABS) the Suzuki V-twin is still very much a cost conscious machine. Better still, engine tweaks mean Suzuki now claim the best fuel consumption in the category. It all adds up to an understressed, frugal and affordable machine that beats most when it comes to day-to-day running costs, especially considering its abilities.
Expert rating: 5/5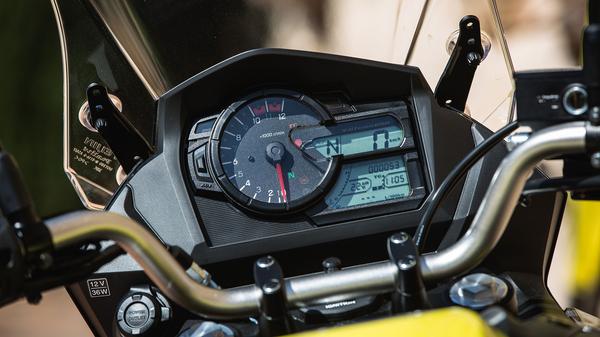 Reliability
Although on face value the 2017 V-Strom 650 is a new model, because it's more a thorough update of an already proven motorcycle, we have absolutely nothing to fear. The V-twin engine has been significantly reworked, but it should be barely more stressed than before, and its reliability record over the last 13 years and throughout all sorts of hard use and extreme mileages, has been impeccable. Better still, the standard of fit, finish and detailing has now been improved, too, so cosmetically it should be more durable.
Expert rating: 5/5
Warranty & servicing
Nothing to report here. Although significantly updated and with a decent raft of new internal parts (pistons, rings, cams, etc.) Suzuki has made no changes to the V-Strom's service schedule for this new 2017 model. That's said, it's fairly par for the course anyway. First oil and filter at 600 miles, then every 5,000 thereafter, while valve checks come every 15,000 miles. It's fairly easy and straightforward to work on, too, so you can forget any scary bills. Warranty is the standard two years/unlimited mileage offer.
Expert rating: 4/5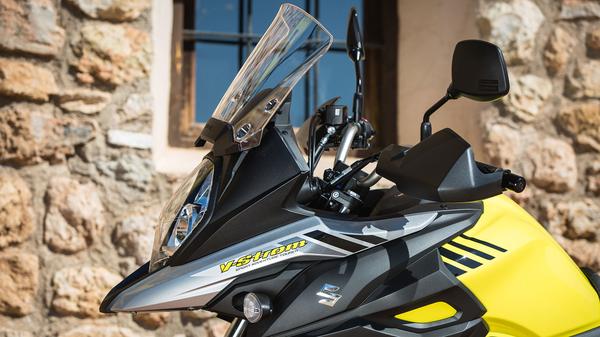 Equipment
It's always tricky to get the spec level right on budget bikes, but Suzuki has done a great job of embellishing its new V-Strom 650 while retaining its budget price. New traction control, Low RPM Assist and Easy Start are welcome, as is the adjustable screen, new 12v socket, and improved seat. It's enough but still hardly flash, and most rivals these days also have switchable riding modes. The new, alternative XT version, which comes complete with tasty wire wheels, belly pan and hand guards, does looks far better, and all for just £500 more.
Expert rating: 4/5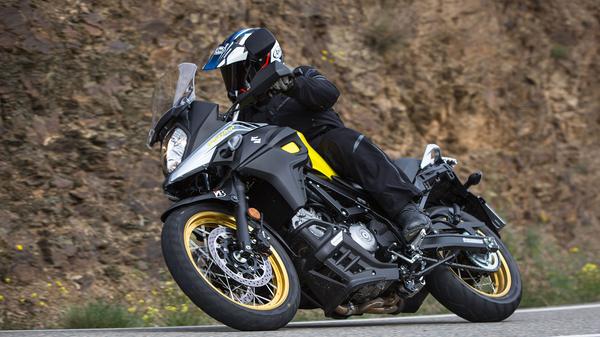 Why buy?
The question should almost be, 'why not?' Suzuki's V-Strom 650 has always been a brilliant all-rounder. It's a bike for all reasons, at a brilliant budget price, and with a perky jewel of an engine. This new version is just the same, only better. It does it all: long hauls two-up, entertaining scratching along country lanes, or a mile-eating or commuting workhorse. It's still all that, but now better looking, better equipped, slightly more perky, and even more economical, too. It's not the latest and greatest, but there's an awful lot to like.
Expert rating: 4/5