Expert Review
Suzuki V-Strom 1000 Adventure (2017) review
Suzuki's slightly budget adventure offering was reintroduced in 2014 with a reworked version of the old TL1000 V-twin. It was worthy, rather than thrilling. This year brings a few tweaks to meet Euro4, and while it's better, it's not better by much.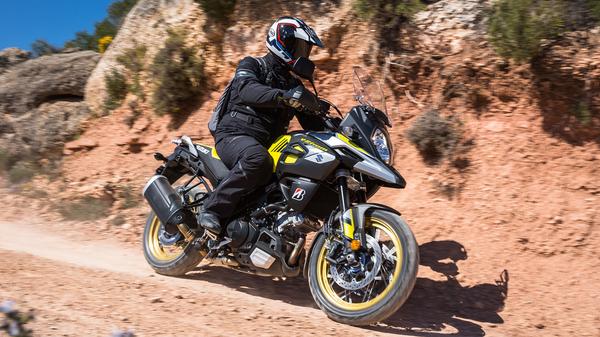 The Auto Trader expert verdict:
The re-introduced V-Strom has always been battling near the budget end of the adventure bike class, but it's a decent performer with a few nice touches. The updates to the 2017 model improve on that, and now bring a tastier XT option. It's no great shakes, but it's effective and good value.
Reasons to buy:
Subtle improvements, but all welcome
Cornering ABS and easily adjustable screen a boon
A decent all-rounder, especially for the price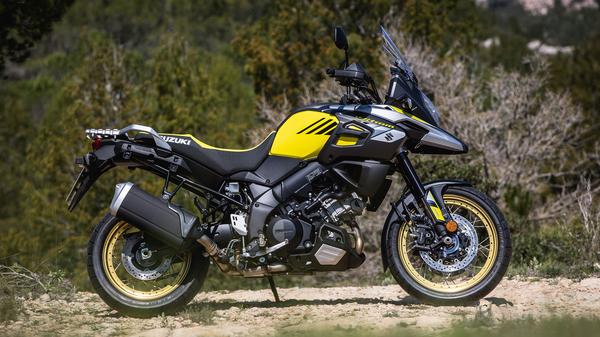 Design
When re-introduced in 2014, the new V-Strom 1000 was considered an adequate, affordable adventure bike, albeit one lacking star quality and with slightly dubious looks. This year's changes, though a subtle improvement, don't really change that. The nose and headlamp are new, as is the screen, all of which are good. Plus, there's now an XT version for £500 more which gets wire wheels and tapered handlebars (the hand guards and belly pan are standard on the 1000), but it doesn't add up to much worth getting excited about.
Riding position
There wasn't much wrong with the old version. But, like the 2017 650 version, the big V-Strom also gets a new, comfort seat, while the taller screen is a bonus, too (unlike on the 650, you can adjust it on the move with one hand). However, compared to some better-equipped adventure rivals which have adjustable riding positions and a more sophisticated specification all round, the Suzuki's still a little rudimentary, but perfectly adequate.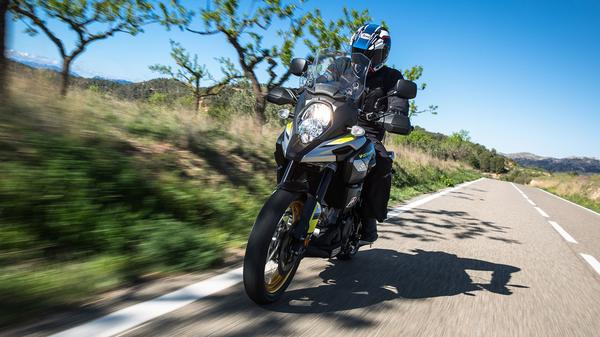 Practicality
A huge part of the appeal of large capacity adventure bikes as a whole is their virtually unmatched all-round practicality, and the big V-Strom is typical of the breed. It's comfortable enough for two over long distances with luggage, has decent weather protection, is slim and nimble enough to make a decent traffic-busting commuter, and yet, with 100+bhp and an alright chassis, is reasonably engaging on twisty roads as well. It's just that plenty of adventure bikes do some or all of those things a little bit better…
Performance & braking
With decent enough, radially-mounted four-piston brake calipers and 1000ccs, the big V-Strom should rate well. Trouble is, though adequate, this category is one of the most competitive of all, and the Suzuki's nearly 20-year-old engine is starting to show it. Yes it's brisk and versatile, but its delivery is also wooden, slightly harsh and uninspiring. The new 650 V-Strom is a decent bike with a shining star of an engine: the 1000 is a decent bike with an uninspiring one…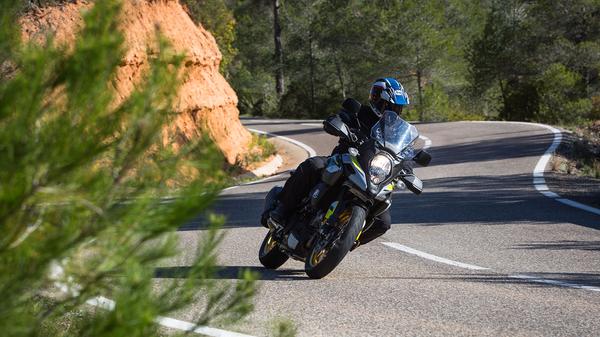 Ride & handling
With higher spec, multi-adjustable inverted forks, and a decent rear shock, you'd be forgiven for expecting great things, handling-wise, from the 1000 V-Strom. None of these things have changed with this 2017 refresh, except for the welcome addition of the new cornering ABS system developed on the latest GSX-R1000 superbike. Even then, the big Suzuki remains adequate, rather than engaging or inspiring. Considering the price, that'll be enough for most buyers, but it isn't as much fun as its little brother, and there are far better handling big adventure bikes out there.
Running costs
With a slightly budget specification and a fairly undemanding 100-odd bhp output, the big Suzuki V-Strom has never been the most expensive of big adventure bikes to run. The changes it's received for 2017 – which Suzuki claim significantly improve its fuel consumption – should improve that further. In addition, chain and tyre life should be fairly good, while its service costs are reasonable, too. Overall, big adventure bikes don't get much better in terms of running costs.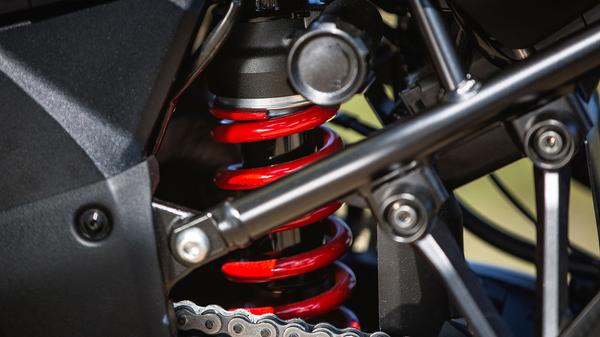 Reliability
Suzuki's TL V-twin may be long-lived, but in most respects (and in most guises, it's so far powered around nine different models), it's been not just brilliant but bullet-proof, too. Although it feels a little old and uninspiring in this latest guise, we've no reason to doubt its reliability. What's more, with most of the cycle parts also unchanged, there should be little to fear there, either. And, with a fairly basic spec compared to the electronic trickery of some, there's not as much to go wrong.
Warranty & servicing
As with considerations about reliability, there's nothing much to write home about here. The previous, reintroduced V-Strom 1000 has proved fairly solid, and with so little changed with this new one, its service schedule and standard warranty is unchanged, too. Oil and filter is due every 7,500miles, valves every 15,000, while a standard two year/unlimited mileage warranty is in place as before.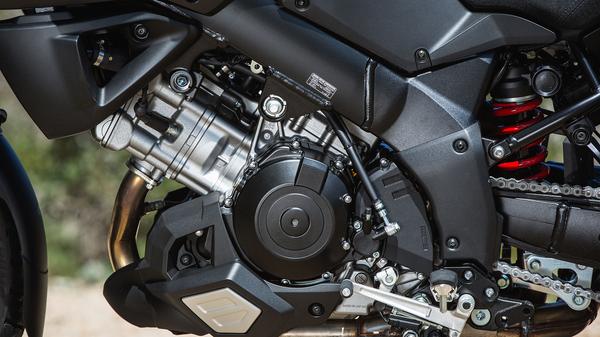 Equipment
While both the new 650 and 1000 V-Stroms remain budget-orientated machines, as Suzuki intended, their specification has undoubtedly been improved, which is a plus. The 1000 has most of the basics you would want: adjustable screen, ABS, new cornering traction control, adjustable suspension, radial brakes, and more, so it's not exactly spartan. Trouble is, many rival adventure bikes are now about as gadget-laden as it gets, with those far more expensive offerings from KTM, BMW and Ducati standing out.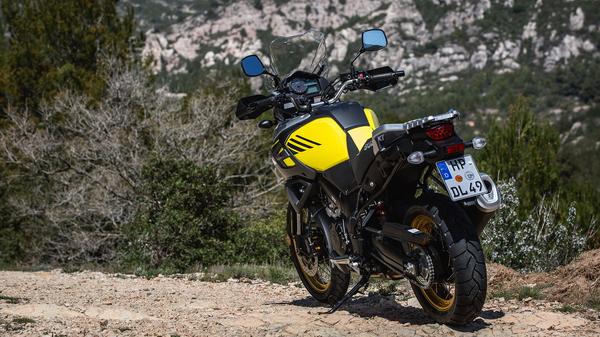 Why buy?
If you're after a full-size adventure bike on a limited budget, the new V-Strom 1000 is better than ever and you won't be disappointed. It's a decent ride, ticks all the vital boxes and more, and realistically gives you about 80% of the Ducati Multistrada 1200S experience for around 30% (more than £5,000, less). That's a big deal, and makes the Suzuki a tempting choice, while the blingier XT version is even better yet. Just don't expect to be the most talked about kid on the block…