Expert Review
Suzuki M1800R Intruder Custom Cruiser (2006 - ) review
The Suzuki M1800RZ is as good a hotrod-style cruiser as Japan offers, trouble is it's now a little long in the tooth and outgunned by more recent (and more expensive) American and European rivals.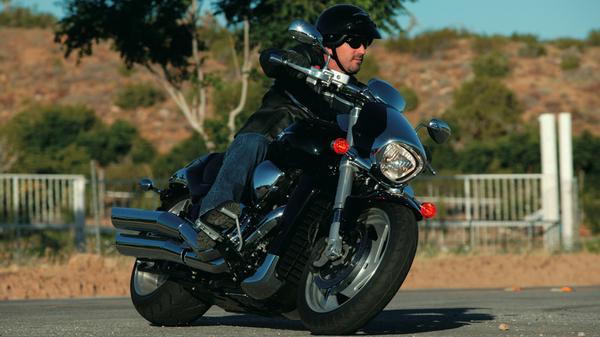 The Auto Trader expert verdict:
Available new from £12,650
Hot rod-styled power cruiser is one of the best of the (Japanese) breed although a little long in the tooth now, being introduced in 2006. Even so, it's, outlived all its Japanese rivals with its blend of classic V-twin power, musclebike styling and performance and decent value and build quality. Lacks the authenticity of a Harley or Victory, sheer presence of Rocket III or F6C and dynamic ability of Ducati's Diavel or Yamaha's VMAX but is far cheaper than most of those, too.
Reasons to buy:
Proven mechanicals and rugged durability
Pleasing, unintimidating all-round performance
Cheaper than most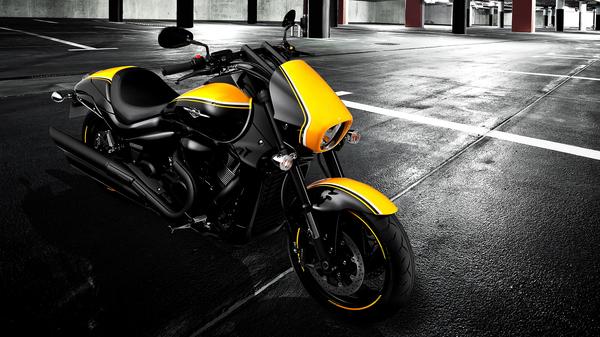 Design
"

Although sleek and impressively refined there's no getting away from the Suzuki's bold, brazen style

"
The big, bad M1800RZ landed with a massive 'whump' when it first came out in 2006 thanks to a blend of monster V-twin and mean and moody, 'hot rod' styling. Although sleek and impressively refined there's no getting away from the Suzuki's bold, brazen style: It's heavy, long, fat-tyred, aggressive and puts out masses of torque – great for straight 'drags', as per its style, less so for the turns and as a result more at home (and more popular) in the US than in the UK.
Riding position
Again, classic 'hot rod' rather than laid back cruiser. Aggressive, semi-drag bike style means pegs are less forward than conventional cruisers and the bars are straighter, too which, added to the long and low stance and equally low and fat seat, results in a cruiser with more menace and aggression than most. Comfortable enough, though, at least over short to middle distances, but if you want a true long distance, two-up cruiser you'd be better off with something with more comfort and weather protection.
Practicality
The M1800RZ is more about pose than practicality. It's sheer size and bulk means it's fairly cumbersome (although with its weight all down low it's well-balanced) and awkward around town while the lack of long distance comfort, weather protection or luggage limits its high mileage appeal. That said, the RZ is more novice-friendly than its looks and spec sheet suggests and its ergonomics aren't that extreme either.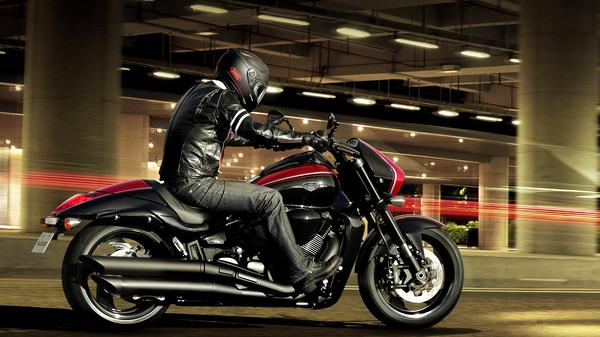 Performance & braking
"

The M1800RZ is all about being able to blast away from the traffic lights in a straight line

"
Dynamically, the hot rod appeal of the M1800RZ is all about being able to blast away from the traffic lights in a straight line thunderously well. With a massive 118ft-lbs of torque on tap from the big V-twin it does it impressively well, too. At the same time, being Japanese, it's much smoother, and steers and stops better than many of its more bristly American rivals, as well. Trouble is, since the Suzuki's introduction, there's also now many other 'hot rods', for example the Diavel, VMAX, F6C and more, that do all of these things even more impressively still.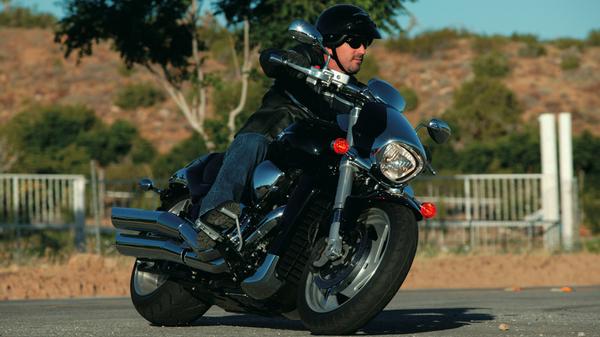 Ride & handling
"

The Suzuki's a doddle to ride, smooth and refined with a relatively plush ride

"
To be blunt, far, far better than the M1800RZ's looks suggest. Forget the heavy, long and low stance, the Suzuki's a doddle to ride, smooth and refined with a relatively plush ride and, despite its length, steers acceptably, too. OK, so it's not exactly nimble, its short-travel suspension is exposed by potholes and speed bumps and you'll be shown a clean pair of heels by anything remotely sporting in the twisties, but it's still pleasing enough for this type of bike.
Running costs
A monster, 1,800cc 'drag bike' is never going to be the cheapest two-wheeler to run but again, being Japanese and with fairly civilized, refined manners, service and maintenance costs and hunger for consumables isn't as voracious as it might be. Ridden gently you can expect mpg in the 50s+ and tyre and brake pad wear barely more rapid than most other bikes. Of course, if you treat ever stop light like the 'Christmas tree' at Santa Pod raceway, things can be very different.
Reliability
There are some downsides with choosing a Japanese cruiser, lack of authenticity to the American Dream being the main one. But there are upsides, too – and this is one of the biggest. Like most Japanese motorcycles, the M1800RZ has refinement, durability and build quality in spades. In its long production run, no major faults have come to light, in fact it's proved as solid as they come. Look after it, both mechanically and cosmetically and keep to the service schedule and there's little reason for any concern.
Warranty & servicing
Although a slightly aging design, the M1800RZ has pretty standard service intervals and costs, with major services every 12,000 miles or so. It's also fairly easy to work on with no major foibles and, being shaft drive, there's no chain to keep adjusted or replace. Like other Suzukis, the M1800RZ Intruder comes with a two-year, unlimited mileage warranty.
Equipment
What you see is what you get: chrome, chrome and more chrome, a massively fat rear tyre to match the hugely grunty V-twin engine and not a lot else. There's no electronics or rider aids, no lavish touring comforts or luggage, no windscreen or surplus bodywork. Instead everything's minimal and more about form than function. Even the instrument display is dominated by a small, bar 'tacho' and not a lot else.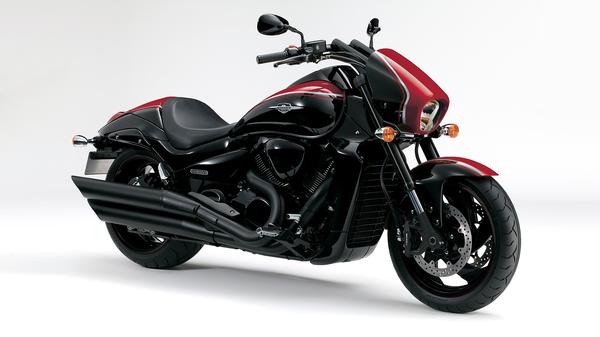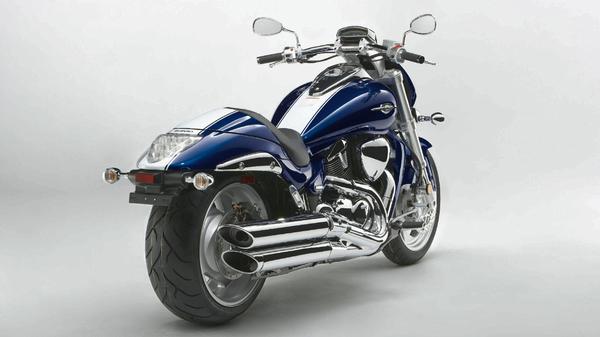 Why buy?
"

For the money, there's none better

"
If you fancy this style of bike, for the money, there's none better. The M1800RZ looks great, has bags of stomp and attitude, has all the right bits in all the right places and is completely reliable. It's also great value and goes, turns and stops better than most, too. In fact, the only, snobby reason why you wouldn't want one is because it says 'Suzuki' (subtly mind) on its side rather than something American or European.