Expert Review
Suzuki GSX1300R Hayabusa 'hyperbike' (2021-) review
The original 1999, 190bhp 'Busa rewrote 'hyperbike' rules to become a superfast Suzuki icon. This overdue but thorough reinvention adds sharper style, modern electronics and class to reclaim its crown.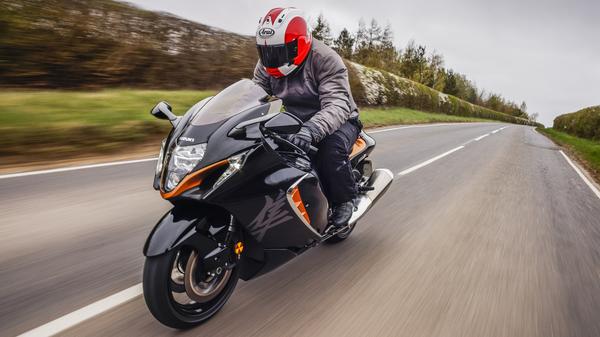 The Auto Trader expert verdict:
Available new from £11,750
Suzuki's legendary, cult hyperbike was long overdue a 21st century reinvention. Now it's got it – and more. Still ballistically fast and not for the feint-hearted, the new 'Busa is now also classy, cultured and sophisticated.
Reasons to buy:
Virtually unmatched straight-line performance
Comprehensive all-new electronics and matching dash
Iconic image refreshed with extra quality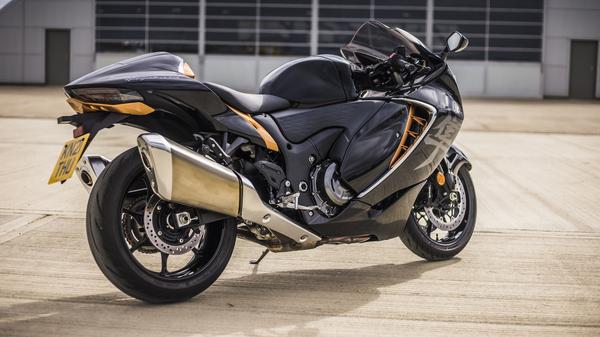 Design
The Busa's distinctive, iconic, ultra-aerodynamic silhouette remains and will please loyal fans, but most of this new version is subtly new. The styling is much sharper and classier since the last update in 2008. The build quality and specification is better and, most impressively of all, there's an all-new, full 'suite' of electronic rider aids including modes, cornering ABS, traction, launch, 'hill-hold' and even cruise control, with the flashy, fancy dash to match. This new 'Busa may not be the six-cylinder or turbo Suzuki dallied with and may still be slightly old school and crass, but it's fully-modernised for the 21st century and once again is a worthy, classy flagship for the Suzuki brand.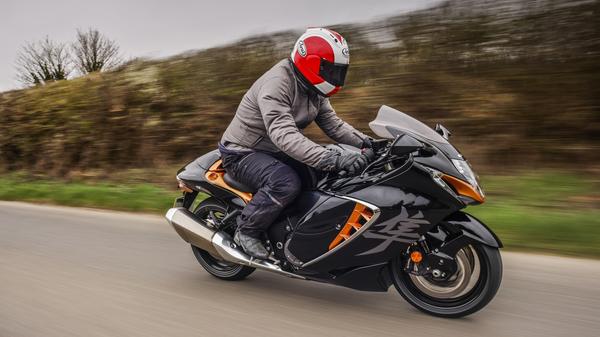 Riding position
The original 1999 'Busa was always more extreme, less comfortable and not the all-rounder the previous speed king, Honda's Super Blackbird, was and the same, although slightly improved, is true again here. Although slightly lighter overall and with bars that are 12mm nearer the rider, the footpegs remain contortingly high and taller riders will struggle to crouch anywhere near the low screen. You do acclimatize and the mirrors are impressively good but it's always slightly extreme for touring mileages and pillions need to be devoted. Die-hard Hayabusa fans and sprinting speed fiends, however, probably won't care one jot.
Practicality
The original 'Busa was no sports-tourer/all-rounder and Suzuki makes no bones about the same being true with this new version. Instead it's a faster, more extreme 'hyperbike' that, being targeted at the road, is also more luxurious and stable (ie longer and heavier) than a pure sportsbike. As a fast M-way or carving A-road mile-eater it works and its enormous, less demanding power delivery and cultured ride makes it (almost) easy. But that's the limit of its practicality. Around town it's a wide, heavy, wrist-aching monster; pillions and luggage aren't really welcome and running costs are as massive as its performance. But if you want the most in terms of image and performance that's the price you pay…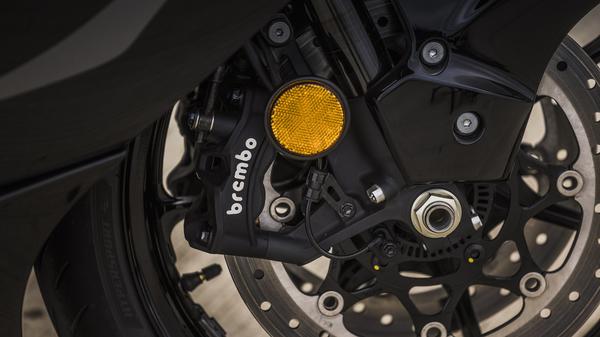 Performance & braking
You can be disappointed by the fact that the new, now Euro5-compliant Hayabusa is still a 'mere' 1340cc four-cylinder and not the turbo or six-cylinder some hoped for. Plus its peak of 190PS at 9700rpm is actually a couple DOWN on the old bike. But you'll forget all that the moment you ride it in anger. The midrange is now significantly beefed up which makes its blisteringly acceleration better than ever, its delivery is slicker and more refined and a baffling array of electronic aids (three pre-set rider modes plus three more custom options, multi-switchable traction, engine braking and launch control and more) also makes it more controlled and cultured than ever. Make no mistake: this is still a humungously powerful, almost brutal performer – and in 'hyperbike', straight-line terms probably once again the best there is – but it also now comes with a classy, sophisticated sheen. Braking, too, is now bang up to date – as it needs to be: the latest spec Brembo Stylema radial calipers on bigger 320mm discs with a 'combined' operation (the front lever also operates the rear) and cornering ABS. At big speed you still need a big handful, but there's a finesse and class that's a step up from before.
Ride & handling
Make no mistake, the Hayabusa is no nimble sportsbike. Long, low and heavy, the emphasis instead is on stability at speed – which it delivers, in spades. But this latest 'Busa, thanks to a slight weight shaving, revalved and recalibrated, quality, multi-adjustable suspension and its involving riding position also makes for an impressive A-road carver. Yes, turns need to be planned and lines committed to but the reward is very creditable cornering speed backed up with a classy, real roads ride quality. A 200mph magic carpet ride? That's not far wide of the mark and right on the money for what a hyperbike should deliver. Just don't expect lively, lithe and rapid changes of direction.
Running costs
Hyperbike ownership never comes cheap. On top of the as-launched £16,499 ticket price, the new 'Busa also 'piles through the pounds' in plenty of other ways, too. Insurance will get top banding (as does road tax); it's thirstier than ever for fuel (reckon on low-30mpgs at best), which translates to a slightly disappointing 130-odd miles from its now one-litre smaller 20-litre tank; it's specially-developed fat 190-section Bridgestone rear tyre should be expected to have a fairly minimal lifespan, too and the new 'Busa can be expected to chomp through brake pads, chains, sprockets etc more vigorously than most, too. As we said earlier: if you want this kind of performance, it's the price you pay…
Reliability
Broadly similar styling, capacity and engine layout aside, the 2021 'Busa is fundamentally new with over 550 different components including most of the engine internals (pistons, rods, cams, crank etc) and all of the electronics, so it'd be reasonable to be cautious about reliability. That's said, the big Suzuki is also a long established, proven and refined machine with a solid track record and one which Suzuki has also conspicuously improved the quality of, so we have zero cause for concern.
Warranty & servicing
The big new Hayabusa benefits from Suzuki's standard, manufacturer-backed, two year/unlimited mileage warranty, which covers all parts and labour and can optionally also be extended to three years. Service intervals are fairly typical for bikes of this type with major services every 7,500 miles.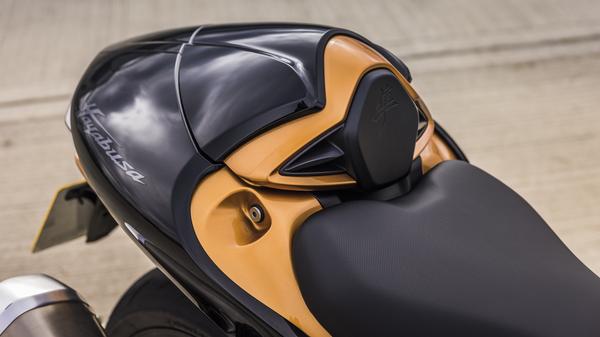 Equipment
This is another area where Suzuki has significantly upped its game with the new Hayabusa. Where the old, 'generation 2', 2008 machine was starting to show its age, the new 2021 version gains not just improved finish and styling, there's the aforementioned extensive suite of electronic riding aids with a stylish new comprehensive dash and switchgear to match; uprated brakes and suspension; new seven-spoke wheels; integrated LED lights all round and more. The pillion-covering seat 'hump', however, is a £180 extra while other extra cost accessories include a range of biller cosmetic parts, two different tank bags and heated grips, for £344.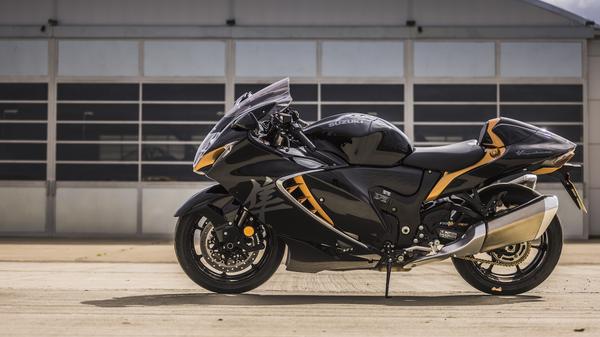 Why buy?
You can argue whether 'hyperbikes' llke the class-defining Hayabusa have had their day, after all, nearly all of its rivals, such as Kawasaki's ZZ-R1400 and Honda's VFR1200F, have now fallen by the wayside. It's also true that hyperbikes' appeal – ballistic performance (that's now matched by many superbikes) but in a more stable, heavy, street package, now seems more limited. But what's undeniable is that Suzuki has succeeded, against all sceptical suspicions, in full-updating its old warhorse, by doing so has created a 190mph missile with few, if any rivals that'll more than satisfy 'Busa diehards and has overall come up with an astonishing, modern, 'Top Trumps'-fast flagship that'll be the talk of any street. The new Hayabusa certainly won't be for everyone and arguably has limited practicality, but if you get your motorcycle kicks via the fastest, flashiest, most testosterone-filled machine available, you won't be disappointed.