Expert Review
Suzuki GSX-S1000 Naked (2021 - ) review
Suzuki's 'affordable', GSX-R-derived super naked gets a total restyle, Euro5 update and improved spec for 2021 – yet is still a bargain price.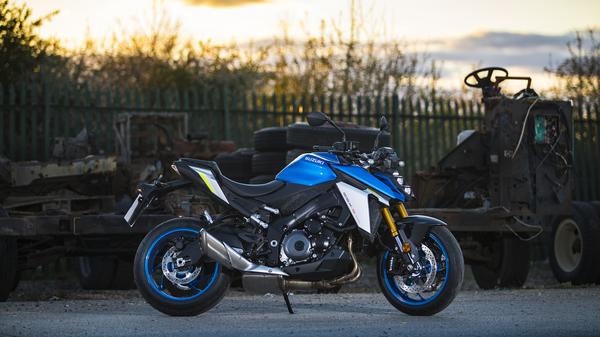 Words by: Phil West
Published on 4 October 2021 | 0 min read
The Auto Trader expert verdict:
Six years after its launch Suzuki's big, old GSX-R1000-based and budget priced super naked gets an overdue update. It's still as impressively competent and affordable as ever, and still has a meaty 150bhp, despite Euro5 tweaks, but it's more aggressive styling won't be to everyone's taste.
Reasons to buy:
Meaty, real world naked performance
Decent handling with multi-adjustable suspension
Most affordable of Japanese nakeds
Design
Suzuki set out to make its new GSX-S 'sharper, stronger, smarter' and as a result gets an all-new, sharper, more aggressive look in place of its predecessor's slightly anonymous curves. The result is a little 'Marmite': there's stacked, twin LED headlights (which, following the similar new V-Strom and 'Busa, is quickly becoming a Suzuki signature), more pointy bits than Edward Scissorhands and even MotoGP-style 'winglets'. There's also improved finishes including 'urban camo' overlays and a new dash, so it's definitely a more modern look. Many, however, have already expressed a preference for the original…
Expert rating: 3/5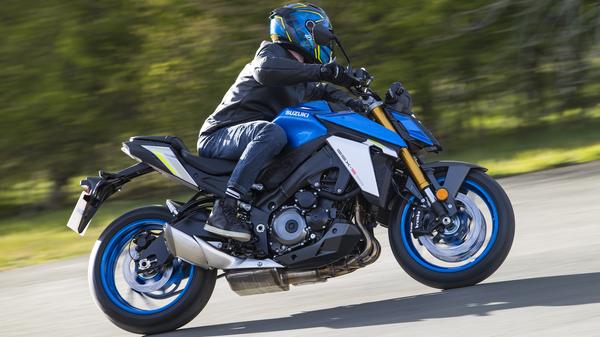 Riding position
There wasn't much wrong with the old GSX-S which delivered a typically neutral and upright super-naked stance. For the new version, however, the bars are now 23mm wider and 20mm nearer the rider for a more upright riding position, and, although the tank's two-litres larger at 19-litres, is in no way bulky, due to having a deliberately narrow rear. Pillion provision, meanwhile, as is the case with many super-nakeds, is just about passable rather than lavish and comfortable.
Expert rating: 4/5
Practicality
A big, four-cylinder, 1000cc, superbike-derived supernaked is never the most practical of machines due to its inherent lack of weather protection and fairly extreme performance, but many manufacturers have actually made great strides in improving the versatility of their offerings in recent years and the new GSX-S is better than many. It's manageable and neutral plus sufficiently grunty to be decent around town. It's comfortable and easy to ride and unless you plan on doing masses of motorway miles, its lack of a fairing is rarely missed.
Expert rating: 4/5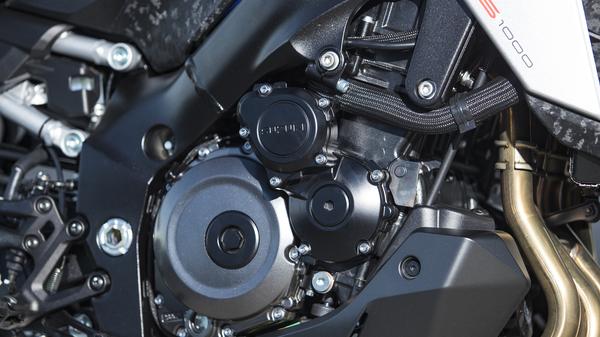 Performance & braking
The GSX-S is intended as an 'affordable naked' rather than an out-and-out 'super-naked' such as Aprilia's class-leading, £15K, 175bhp Tuono or KTM's similarly potent £16K Super Duke R. As such, with 'only' 150bhp from its old GSX-R1000K5 engine and slightly more basic cycle parts and electronics, the GSX-S isn't quite in the same league as those two machines. That said, the Suzuki is also a better performer than you might expect, too. Modifications to meet Euro5 have actually boosted peak power a tad from 148 to 150bhp. The long stroke motor is smooth, progressive with a fat, meaty midrange, new standard quickshifter and three riding modes. Braking, too, is better than you might predict with big Brembo radial brakes at the front which are better than many in this class.
Expert rating: 4/5
Ride & handling
Again, although a slightly 'budget'-orientated bike, the GSX-S has classier suspension and cycle parts than its £11K price might suggest and as such has better ride and handling than many, too. Suspension front and rear is multi-adjustable, the ride is decently refined and more than competent and the GSX-S steer and handles well, too. Steering is sharp enough and it holds its line well and, although slightly bulkier and heavier than some rivals, the GSX-S can be hustled on the road to great effect. As a 'street super naked' it wants for little.
Expert rating: 4/5
Running costs
Big, 1000cc performance bikes are never cheap to run, whether they're the latest superbikes or even slightly older super nakeds, as per the GSX-S1000. With 150bhp+ to deal with in a sporty chassis they have a greater hunger than most for consumables such as fuel, tyres, brake pads, chain and so on while a high-ish initial price means depreciation can be pretty costly, too. That said, the GSX-S is a more budget naked, is cheaper than many new and has lower power than high-end 'super-nakeds' as well, not that all this makes it an exactly cheap bike to run…
Expert rating: 4/5
Reliability
Although the new GSX-S is a significantly revamped machine with almost every aspect either new or updated, the key ones that potentially affect reliability are little changed. The original GSX-S1000 came out in 2015, there have been virtually no mechanical reliability issues reported since and that bike's engine was also essentially that of the GSX-R1000K5 which dates all the way back to 2005. The chassis components, too, are largely unchanged (although the forks do have different internal settings) while the standard of quality and finish has been improved throughout, too, all of which bodes well for the durability of this new version. We do, however, have to reserve judgement on the new 'SIRS' (Suzuki Intelligent Ride System) electronics, although even they are a simpler version of the system already introduced on the latest V-Strom and Hayabusa.
Expert rating: 4/5
Warranty & servicing
Like most modern larger capacity machines from the major Japanese manufacturers, the new Suzuki GSX-S1000 benefits from a standard two year/unlimited mileage manufacturer backed warranty for all parts and labour. As the engine is largely unchanged, service intervals aren't affected and remain at every 4000 miles or annually whichever comes first although the expensive valve adjustment service isn't due until 14,500miles. Being a naked, without fiddly fairing panels to remove also helps keep servicing costs down a little.
Expert rating: 4/5
Equipment
Again, the latest GSX-S1000 is intended very much as an 'affordable' naked rather than an ultra-exotic 'super naked' such as Aprilia's Tuono, KTM's Super Duke R or even BMW's latest S1000R so you shouldn't expect the very best of cycle parts, electronics and so on. That said, you get a decent amount of kit, for a naked that is, for your £10,999 (when new) which represented a significant improvement over the original. There's a new, 'reverse LCD' digital dash (although it's a little fiddly to read), electronics which include three riding modes, traction control and ABS (but no cornering ABS or launch control etc) plus a new addiction of a slick quickshifter. The suspension is pleasingly multi-adjustable, which is a bonus, and the brakes are also quality Brembos, too. But 'all-singing, all-dancing' the GSX-S is not.
Expert rating: 4/5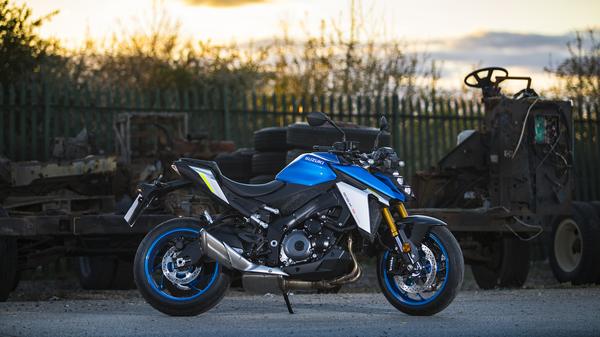 Why buy?
The original 2015 GSX-S1000 was a surprisingly competent and affordable naked that performed better than most realized, especially on real world roads. Even so, as a late-comer to the class and with fairly sober styling it was often cruelly over-looked – hence this striking update. For the most part it's worked. The new GSX-S is as usable, effective and affordable as ever but now boasts slightly improved performance, a better spec and looks that stand out in a crowd. It's not perfect and that styling won't appeal to everyone but it's a lot of performance naked bike for the money.
Expert rating: 4/5